#Horoscope #Aries #Taurus #Gemini #Cancer #Leo #Virgo #Libra
#Scorpio #Sagittarius #Capricorn #Aquarius #Pisces
#Horoscope – overview of this week
The Center for the New Age is pleased to present
your Free Weekly Horoscope for December 11 – December 17, 2016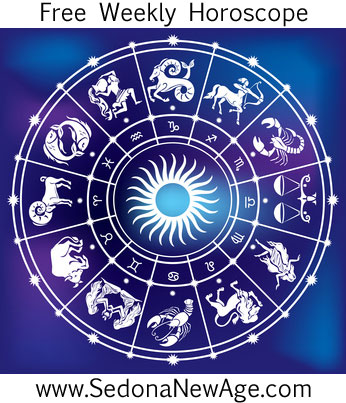 Receive our Free Weekly Horoscope in your Inbox

---

Aries Taurus Gemini Cancer Leo Virgo Libra Scorpio Sagittarius Capricorn Aquarius Pisces
Full Moon in Gemini on December 14 brings amazing talk, speeches, mind games and intellectual pursuits. People may tend to babble senselessly and very few are able to keep their minds on what they're doing, thinking, or feeling for very long. Ideally, this is a good time astrologically to pace one's self and relax the mind at various intervals. It may also be a time when our minds are relentlessly active and difficult to calm or ease. Full Moon in Gemini goes straight to charging our nervous systems, and we quickly discover that quieting down or easing an overworked nervous system takes some extra time after it has been running at top speed.
Aries Taurus Gemini Cancer Leo Virgo Libra
Scorpio Sagittarius Capricorn Aquarius Pisces

For more information about your Horoscope and what the stars
have in store for you, order one of our detailed
Astrology Reports!
Want to know the theme of your relationship? This report compares your temperaments and personalities, whether you are married or living together.
Compatibility Report

Reveal as much information about you and your partner intention of opening doors of understanding and awareness.
Love Cards Report
Free Weekly Horoscope for your Sign
Aries: The Full Moon on December 14 is likely to be a climax to the social whirl and general fast pace, but there's something about this Full Moon that may not be easy. Saturn's opposition to the Moon suggests that there's a lesson to be learned, be it patience, persistence, or something else, and this may be the moment at which you get serious about a long-term plan or dream.
---
Discover a personal profile and 1-year forecast based on advanced calculations of your name and birth date.
Numerology Report
---
Taurus: With the Full Moon on Wednesday creating a climax in the financial area, it would be prudent to pace your spending and to not go overboard. Perhaps you could find other ways to show your love for people. Taurus is naturally creative and often gifted at making things, so why not create a gift of something you've made? There will definitely be lessons to learn around the Full Moon, but if you can follow this week's advice, they needn't be difficult.
---
Need a guide for your growth and personal evolution based on astrological influences upon your personality?
New Age Natal Report
---
Gemini: December has a strong relationship theme, and the Full Moon around December 14 could signal a time for change. Maybe it's time to make or break. Either way, the planets are calling you toward greater responsibility and maturity in your relationships with others, and this would be an appropriate time to work toward sorting out any problems. Once that's done, you can begin to capitalize on the fun and general enjoyment that Jupiter wants to bring.
---
This interpretation of your birth chart is written in simple language could be beneficial in self undestanding.
Merlin Report
---
Cancer: Do you need to take better care of yourself? Maybe you need to work less and rest more, or perhaps you need to sort things out at work so that you can be happier and less stressed in your daily life. December 14, the Full Moon, will be the peak date when issues pertaining to work or health come to a head, but from this point on, it will be easier to make progress. In the meantime, "Take care of your body with steadfast fidelity. The soul must see through these eyes alone, and if they are dim, the whole world is clouded." (Johann Wolfgang von Goethe)
---
Indra reveals your life's contradictory urges & drives as well as your basic motivation, perceptions, inclinations and character.
Indra Report
---
Leo: With the Sun and Saturn in your zone of creative expression and authenticity, it could be that now is the time to make a commitment to having more fun in your life or to give greater priority to your creative or artistic interests. December 14 with the Full Moon in Gemini, is the peak date when issues involving creativity, children, and your need for an authentic life will come to a head Perhaps all that's needed is determination to schedule regular time for your own pleasure. When you've done that, you will find you have greater enthusiasm for your work, and it becomes easier to create a more genuine life.
---
Want a detailed report for parents to help with the child's growth to strengthen the assets and avert possible problems that the child could face in their life?
Child Astrology Report
---
Virgo: You are in a communication mode this week with the Full Moon in Gemini. Personal relationships take center stage and you agree to meet with people you would normally have no contact with. This is also a good time to resolve personal relationships if they have been floundering. You are in the mood for solutions and don't want altercations or acrimony. You are willing to take a step back and allow anyone to vent his or her feelings because you definitely don't want to carry grudges into the holiday season.
---
Want a birthday to birthday practical guide to help you recognize opportunities and to learn from them.
Astrological Solar Return Report
---
Libra: Saturn is casting a Scrooge-like attitude at odd moments this week, particularly around December 14 when the Full Moon highlights some tension in your thoughts and general approach to the world. It would be prudent at this point to remind yourself that, in the words of Shakespeare, "There is nothing either good or bad but thinking makes it so." The best use of the Saturn energies is to apply constructive thought to whatever it is that you need to do, such as tackling problems before they get out of hand or knuckling down and preparing for your success.
---
Want to know the actual dates when the energies will influence your life in money, career, relationships, and communicaton?
Astro Forecast Report (3 months)
---
Scorpio: Financial responsibility (whatever that means to you) continues to be the key for you this week. Maybe this means not overspending. Maybe you need to practice greater control or take constructive action to be inventive and find alternative ways to give gifts instead of the usual consumerist approach. "When the mind is controlled, all sorrows cease" said Sai Baba. Your mind is everywhere Scorpio, but it is not in pain. It is just that you are inquisitive and curious and want to know more about everything. This is not the time for sustained hard work; rather, this is the week for socializing, networking, pleasure, joy and satisfaction.
---
Want a one year forecast to understand the scope of influence for your personal Cards of Destiny?
Cards of Destiny Report
---
Sagittarius: With the Sun and Saturn in your sign, this is another week in which you are in a strong position as long as you keep your thoughts positive, which shouldn't be too difficult as Sagittarius is blessed with the most jovial and optimistic of attitudes. Even with this accolade, you can have odd moments of gloom when Saturn is around, so try to be mindful that thoughts create reality. You are likely to benefit in some way from being sociable, so even if you don't feel like it, making an effort to join a party this week could be a good move.
---
Contemplating a move? This report tells how you will react to the energies of the specific locations for relationships, finances, and security.
Relocation Information Report
---
Capricorn: With a Full Moon across your health axis around December 14, it would be advisable to pay close attention to your well-being, especially if you've overdone things a bit. You want your voice to be heard and you seem to proclaim your intentions from the rooftops. However, taking time to rest when you need to could be a simple antidote, and you can avoid festive illness by pacing yourself and not overloading yourself with things to do.
---
Discover your character traits, relationship and career potentials – based on Edgar Casey Readings.
Cayce Past Life Report
---
Aquarius: The Full Moon is in Gemini on Wednesday and you may be confronted with a great deal of goings on. Even if you are not racing ahead, you have a handle on your affairs which is saying a lot. The focus of this week plunks squarely on family. Your children and partner have demands. Elders have their issues. Your hands are full and you navigate through troubled waters with the dexterity of a boatman. You work your way through troubles with peace, patience, rationale and intellect. Your emotions are well under control and that is the key.
---
Discover your past life connections that can carry over into your current life, accounting for interests, habits, even phobias.
Karmic Past Life Report
---
Pisces: With strong planetary activity at the top of your chart, you may be in the public eye more than normal. It also means you'll have more than your fair share of responsibility. Perhaps you will have family duties you can't escape or maybe work will demand more of your time. Either way, the Full Moon on Wednesday is likely to bring any imbalance to a head, and this will be a good point at which to say, "Enough is enough!" Work toward creating balance especially between your private and professional lives this week.
---
Discover your soul's intention for this lifetime, the lessons to be learned, qualities to develop, problems to be resolved, services to be rendered.
Karmic Insight Report
---
For more information about your Horoscope and what the stars
have in store for you, order one of our detailed
Astrology Reports for Couples!
---
Want to know the theme of your relationship? This report compares your temperaments and personalities, whether you are married or living together.
Compatibility Report

Reveal as much information about you and your partner intention of opening doors of understanding and awareness.
Love Cards Report