#Horoscope #Aries #Taurus #Gemini #Cancer #Leo #Virgo #Libra
#Scorpio #Sagittarius #Capricorn #Aquarius #Pisces
#Horoscope – overview of this week
The Center for the New Age is pleased to present
your Free Weekly Horoscope for December 25 – December 31, 2016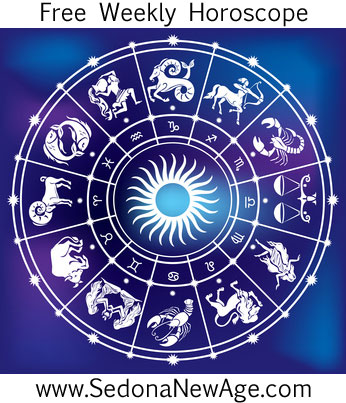 Receive our Free Weekly Horoscope in your Inbox

---

Aries Taurus Gemini Cancer Leo Virgo Libra Scorpio Sagittarius Capricorn Aquarius Pisces
Venus in Aquarius trine Jupiter in Libra (December 25 – January 4, 2017) is a favored and prize aspect that allows for greater potential to receive and expand gifts of love. Love (Venus) is harmoniously placed with prosperity and opportunity (Jupiter). This is a great time to use love to expand your outlook on life.
Venus in Aquarius sextile Saturn in Sagittarius (December 25 – January 1, 2017) emphasizes the vibrations of love, magnetism, beauty and also sensuality. This aspect often provides an opportunity to attain desired objects. Saturn's influence emphasizes the awareness of time, limitations and restrictions. It also harnesses our dedication to responsibility and discipline. There is a passionate drive at this time to protect loved ones and limit their exposure to whatever creates the protective one's concern. The sextile aspect allows for greater opportunity to stand on guard favorably and be protective in a way that will be easily understood.
Mercury in Capricorn sextile Neptune in Pisces (December 26 – December 30) serves as a good time to communicate with those who are an aid in spiritual matters. Mercury sextile Neptune is an opportunistic time to apply the work of prayers and spells. Take this opportunity to internalize thoughts and beliefs and mold them into a workable understanding.
Mercury in Capricorn sextile Mars in Pisces (December 28 – January 1, 2017) brings out opportunities that can be received, recognized, communicated and acted upon. News or information may lead to the taking of immediate action that has the potential for a very favorable outcome which makes this a superb time to seek employment.
New Moon in Capricorn December 29th urges us to create new goals and set new heights for ourselves. In the marketplace, there is the classic busy shuffle and serious, determined moods abound. This is a grounding and much more stable time – uplifting and challenging at the same time.
Aries Taurus Gemini Cancer Leo Virgo Libra
Scorpio Sagittarius Capricorn Aquarius Pisces

For more information about your Horoscope and what the stars
have in store for you, order one of our detailed
Astrology Reports!
Want to know the theme of your relationship? This report compares your temperaments and personalities, whether you are married or living together.
Compatibility Report

Reveal as much information about you and your partner intention of opening doors of understanding and awareness.
Love Cards Report
Free Weekly Horoscope for your Sign
Aries: The end of the month – and the year – sees you in a determined frame of mind with one eye on the future. The New Moon accompanied by Pluto and Mercury on December 29 make the final days of 2016 an opportunity to transform your life by embracing any changes that need to happen, especially in your professional life. As the old year gives way to the new, you are in a great position to change your role in the world and to use your ideas and ingenuity to create a new kind of destiny.
---
Discover a personal profile and 1-year forecast based on advanced calculations of your name and birth date.
Numerology Report
---
Taurus: The end of the month brings an optimistic flavor and is especially conducive to altering your beliefs. If your ideology hasn't been doing you any favors – for example, if you feel that there's not enough to go around or that you don't have what it takes – then the end of the month is perfect for challenging your deeply held beliefs about yourself and the world so that you can go forward in 2017 with a more adventurous outlook and a belief that almost anything is possible.
---
Need a guide for your growth and personal evolution based on astrological influences upon your personality?
New Age Natal Report
---
Gemini: The month ends with a New Moon and a cluster of planets in your zone of transformation, effectively inviting you to shed your old skin and emerge anew. This transformational energy is ideal for the transition of one year into another as we naturally feel Inclined to say, "Out with the old and in with the new." Take a moment around December 29 to identify the old you would like to be rid of and the new feature you would like in your life. Then make it your mission in 2017 to implement the appropriate changes.
---
This interpretation of your birth chart is written in simple language could be beneficial in self undestanding.
Merlin Report
---
Cancer: At the end of the month, a cluster of planets along with a New Moon and Mercury retrograde make this an important time in your relationships. Are you happy with the way things are? Do things need to be aired in order to clear grievances or confusion? Is there a relationship in your life that could do with transforming or, if that's not possible, letting go? Try not to let personal baggage weigh you down as you move into the new year. Since 2017 looks to be an important year for you, you will want to make sure you're not hindered in your personal life. Change what you can, and let go of the rest.
---
Indra reveals your life's contradictory urges & drives as well as your basic motivation, perceptions, inclinations and character.
Indra Report
---
Leo: The end of the month is all about creating a more authentic life. As the planets gather in your zone of work, health and daily affairs, it will become impossible to ignore a problem that undermines your work or your health. Perhaps the solution is to identify where in your life you're unhappy or not being true to yourself, and as the old year gives way to the new, make it your mission to be an advocate for your truth and to start living the life that you have always dreamed about.
---
Want a detailed report for parents to help with the child's growth to strengthen the assets and avert possible problems that the child could face in their life?
Child Astrology Report
---
Virgo: As the year draws to a close, the planets are gathering in your zone of fun, creativity and authenticity, making this the ideal time to focus on what you love and to manifest more of this in your life during 2017. Therefore, it would be good to spend some time at the end of the year tuning into yourself so that you can identify what it is that brings you joy. With Jupiter in your house of money promising abundance when you need it, you can't – and shouldn't let insecurities about finances hold you back from taking a big leap forward.
---
Want a birthday to birthday practical guide to help you recognize opportunities and to learn from them.
Astrological Solar Return Report
---
Libra: Toward the end of the month, the planets gather in your domestic zone setting a quiet and contemplative mood alongside the need to tend to any domestic issues or family matters. Sometimes we can get bogged down with family stuff especially that which keeps us locked in the past. Try to let go of the old stuff now because in 2017, you have a huge opportunity to change your life for the better and shape it into something rather magical.
---
Want to know the actual dates when the energies will influence your life in money, career, relationships, and communicaton?
Astro Forecast Report (3 months)
---
Scorpio: On December 29, a New Moon is accompanied by Mercury retrograde and powerful Pluto in your zone of the mind. This suggests that your attitude is everything, and as Earl Nightingale said, "A great attitude does much more than turn on the lights in our worlds; it seems to magically connect us to all sorts of serendipitous opportunities that were somehow absent before the change." Your attitude is the key to a successful 2017, and the more you realize and utilize the power of your mind, the more you will be able to manifest your dreams in the months ahead.
---
Want a one year forecast to understand the scope of influence for your personal Cards of Destiny?
Cards of Destiny Report
---
Sagittarius: The end of the month shifts the focus toward money, and the New Moon on December 29 is a great time to turn over a new leaf with material matters. Whether it's a new approach to how you earn your money or deciding to develop a more prosperous and abundant attitude, the end of 2016 sees the focus on creating greater empowerment and new beginnings in your finances. If you want to change or develop the way in which you earn your living, there is good evidence to suggest that a transformation is on its way.
---
Contemplating a move? This report tells how you will react to the energies of the specific locations for relationships, finances, and security.
Relocation Information Report
---
Capricorn: The year finishes on a powerful note as the New Moon accompanied by Mercury retrograde and Pluto all gather in your sign. It's as if there's something you need to do or something you need to change, be it asserting yourself more, reclaiming your power, or making a big transformation in your life. Therefore, December 29 might be when you decide to create a change, embrace a new start, or simply look forward to moving into a time of greater opportunity. 2017 looks ripe for greater success and achievement, so as the year draws to a close, it could be helpful to consider the following words by Bob Dylan: "A man is a success if he gets up in the morning and gets to bed at night, and in between he does what he wants to do."
---
Discover your character traits, relationship and career potentials – based on Edgar Casey Readings.
Cayce Past Life Report
---
Aquarius: The end of the month brings the need for rest and quiet contemplation, so try to schedule some time for yourself. In fact, the more you can retreat and tune into the inner plane, the less likely you are to experience an eruption of your unconscious, which could happen around the New Moon on December 29. By taking time to examine any feelings and emotions as they come up, you can prevent them from getting out of hand. The key to a successful transition between the old and the new year is one of mindfulness, so get quiet, go within, and listen to the whispers of your soul so that you can heal any wounds you might have.
---
Discover your past life connections that can carry over into your current life, accounting for interests, habits, even phobias.
Karmic Past Life Report
---
Pisces: At the end of the month, there is emphasis on your friends and social life, and there might be one or two matters that need resolving here. A transformation could be called for in a friendship or in a role you play in a group or organization. It looks as though something can't continue as it has been, and the end of the year is ideal for sorting out what you want from life and not being afraid to put the necessary changes into place. With Mars in your sign, you will have all the courage, confidence, motivation and enthusiasm need to be bold and to make things happen.
---
Discover your soul's intention for this lifetime, the lessons to be learned, qualities to develop, problems to be resolved, services to be rendered.
Karmic Insight Report
---
For more information about your Horoscope and what the stars
have in store for you, order one of our detailed
Astrology Reports for Couples!
---
Want to know the theme of your relationship? This report compares your temperaments and personalities, whether you are married or living together.
Compatibility Report

Reveal as much information about you and your partner intention of opening doors of understanding and awareness.
Love Cards Report