#Horoscope #Aries #Taurus #Gemini #Cancer #Leo #Virgo #Libra
#Scorpio #Sagittarius #Capricorn #Aquarius #Pisces
#Horoscope – overview of this week
The Center for the New Age is pleased to present
your Free Weekly Horoscope for January 1 – January 7, 2017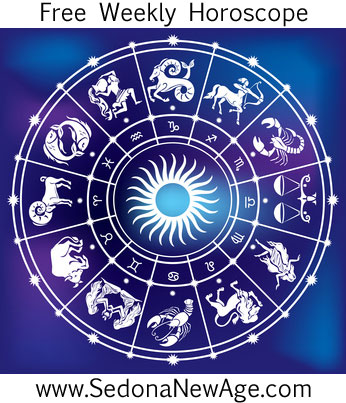 Receive our Free Weekly Horoscope in your Inbox

---

Aries Taurus Gemini Cancer Leo Virgo Libra Scorpio Sagittarius Capricorn Aquarius Pisces
January 1 Mars, the planet of activity and action, is conjunct Neptune, the planet of mysticism and spiritual bounty in the sign of Pisces (January 1 – January 14). There is mysticism, romance and adventure in the air with this conjunction. Mars comes on very strong, directing the forces of our actions, while Neptune evokes a deeper, more dramatic spiritual awareness.
January 3 Venus enters Pisces until February 2. Venus is the feminine planter of love and Pisces is an extremely feminine, dreamy, and spiritual placement for the love force of Venus. Matters of the heart will emphasize passivity, tenderness, sensitivity and the need for a gentle approach towards love's expression.
Wednesday Mercury enters Sagittarius (January 4 -January 12). Think "exploration" and "new perspectives." News is always more philosophical when Mercury is in this sign. People will be more curious to know what is happening in the world and more aware of global perspectives. Mercury in Sagittarius offers an opportunity to share your visions of a better world with others.
First Quarter Moon in Aries on January 5 energizes our moods, and inspires an upbeat, outgoing and forward manner. Aries Moon is a superb time to get in tune with your own personal levels of energy, strength and vitality. It is a good time to apply diligence and inspired ability to your work and brings on an expression of courageous vigor, as well as a sense of bold adventure. As a general rule, moods are marked by confidence and sometimes by cantankerous forcefulness and the drive to make a lasting impression.
Aries Taurus Gemini Cancer Leo Virgo Libra
Scorpio Sagittarius Capricorn Aquarius Pisces

For more information about your Horoscope and what the stars
have in store for you, order one of our detailed
Astrology Reports!
Want to know the theme of your relationship? This report compares your temperaments and personalities, whether you are married or living together.
Compatibility Report

Reveal as much information about you and your partner intention of opening doors of understanding and awareness.
Love Cards Report
Free Weekly Horoscope for your Sign
Aries: You begin the new year with the focus on your direction in life, and as Mercury retraces his footsteps, you too could find yourself backtracking in some way. For a while, this will feel frustrating. Perhaps you're not making as much progress as you'd like, or maybe you're not able to move forward just yet. Maybe there's confusion about where you're going. With Uranus in your sign opposite Jupiter, this is an exciting phase in your life, but it's one you need to think carefully about before making any rash moves. Aries isn't the most patient of signs, so reflecting on the words of Ray A. Davis could help you this week: "Patience is not passive waiting. Patience is active acceptance of the process required to attain your goals and dreams."
---
Discover a personal profile and 1-year forecast based on advanced calculations of your name and birth date.
Numerology Report
---
Taurus: Imagine an animal that's been kept in captivity for many years and then set free. How might the animal feel? Some animals might initially feel a bit wary or a little insecure after living in the confines of its cage. Other animals might feel euphoric as they stretch their legs and breathe fresh air for the first time. You might not have been imprisoned in that way, but you could have felt a sense of confinement either by circumstances or your own attitudes. Now, though, as the new year commences, the planets are ushering you out of your cave and into the world. There is, it seems, a larger role that you are destined to play. Now is the time to cast off your shackles and adopt a more adventurous spirit.
---
Need a guide for your growth and personal evolution based on astrological influences upon your personality?
New Age Natal Report
---
Gemini: Transformation is your theme for January, as the year opens with a cluster of planets in your zone of rebirth. Perhaps it's time for a change. Do you need to shed your skin and emerge anew, or do you need to release an aspect of your life that has ended? Oftentimes we hold on when the natural process is to let go. Ask yourself a simple question that might help point the way forward: "What do I need to do to live in a more fun, creative and authentic way? Let your answers guide you as you enter the new year.
---
This interpretation of your birth chart is written in simple language could be beneficial in self undestanding.
Merlin Report
---
Cancer: The year begins with a focus on relationships and the need to make changes that will support your domestic situation and your direction in life. It's likely that these three areas are linked in that one is affecting the other. For example, relationship challenges could be affecting your home life or work. There are many opportunities available in your home, family, life purpose and career areas, but it seems as though something needs resolving. When you've done that, you should find that life begins to get a whole lot easier. Don't expect everything to be sorted out this week, though; this could be an ongoing theme throughout the year, but by making the effort to talk and listen in a heartfelt manner, you will make progress that will set you up for positive transformations later on.
---
Indra reveals your life's contradictory urges & drives as well as your basic motivation, perceptions, inclinations and character.
Indra Report
---
Leo: Your year begins with a focus on your daily life, so the big question is this: Are you happy with the way you spend your days? If not, what can you do to create the kind of life you want? You might think that the answer is too difficult, but the planets suggest that your biggest block is your beliefs about what's possible. Perhaps you need to open your mind. Of course, there are certain constraints on us: if we're forty-five, we're never going to win Wimbledon or play professional football, but we could join a local club and enjoy ourselves by simply playing with and meeting other like-minded people. If you can't change your job because you need to pay the bills, start looking at whether you could reduce the hours you work (and the amount you spend) to make more time to do something you want to do. If your health isn't great, work with the planetary emphasis of transformation to give yourself a tune-up, reminding yourself that you have the power to heal yourself.
---
Want a detailed report for parents to help with the child's growth to strengthen the assets and avert possible problems that the child could face in their life?
Child Astrology Report
---
Virgo: With the Sun in the creative area of your chart, the new year is the perfect time to ask yourself what you would like to create in your life. Imagine that you are the artist of your life. What bit on the canvass would you erase, and what would you paint in? Would the colors be vibrant or subtle? Who would be in your picture? What would you be doing? You have more power than your realize to make your life the way you want it, so use the first week of the year to get clear about your vision and commit it to paper.
---
Want a birthday to birthday practical guide to help you recognize opportunities and to learn from them.
Astrological Solar Return Report
---
Libra: Your year begins with Jupiter in your sign – a promise of good things to come but it is being challenged by Pluto and Uranus in your home and relationship zones. Are there issues in either of these areas that could be holding you back? If so what can you do to improve things? This is the perfect time to cleanse your home. Do a whole house cleaning to lift the energies and remove anything you consider toxic. Consider that toxicity can occur on an emotional and psychological level too. For example, that picture that you don't really like or the object that is associated with a bad memory needs to go! Be ruthless in your cleansing, knowing that the changes you make in your environment reflect the transformation going on deep within you, which is what this current phase is really all about – a gradual shifting from the old you to the new you.
---
Want to know the actual dates when the energies will influence your life in money, career, relationships, and communicaton?
Astro Forecast Report (3 months)
---
Scorpio: New years are often quiet times as people settle back into their routines and contemplate what they want from the year ahead. For you, though, it looks as if there'll be little quiet time as the Sun joins Mercury retrograde and Pluto in the busiest sector of your chart. There will certainly be lots to think about and plenty to do in your immediate environment, or you might even find yourself undertaking short journeys. To others, it could seem that all the rushing about and busy-bee activity is counterproductive. After all, don't you deserve a rest? Well, actually, what you do this week could prove to be rather productive, so keep going, but try to pace yourself and maintain a patient approach in the face of delays. Good things come to those who wait!
---
Want a one year forecast to understand the scope of influence for your personal Cards of Destiny?
Cards of Destiny Report
---
Sagittarius: The new year begins with a focus on money and your material situation. This doesn't have to be negative. You might decide to make an important purchase, spend time repairing a treasured possession, or channel your energy into a money-making project. All these would be good expressions of this material energy, and the key to not getting sucked into negativity about material matters (such as having too much debt or being swamped with work) is to focus on what you can do rather than on what you can't. Actually, Pluto's presence suggests you have more power than you realize to alter your situation for the better; you just have to believe in yourself and apply the energy and determination. Remember, though, with Mercury retrograde, results won't come instantly, and there might be a period of frustration, as circumstances seem to thwart your best efforts. Remind yourself that everything happens when the time is right and not a moment before.
---
Contemplating a move? This report tells how you will react to the energies of the specific locations for relationships, finances, and security.
Relocation Information Report
---
Capricorn: As the year kicks off, we find you in a powerful position where you can make some big changes to your life, especially where your life direction is concerned – your home and family. Be open to opportunities in the former and willing to make changes in the latter. There could be a little tension at first as you struggle to determine what exactly is the best way forward, and Mercury retrograde in your sign at the beginning of the week suggests that this is a week you could benefit from pondering any perplexing matters. Remember, though, that the trump card is in your hands, and what you need to be as your new year begins is bold and assertive.
---
Discover your character traits, relationship and career potentials – based on Edgar Casey Readings.
Cayce Past Life Report
---
Aquarius: Leaving the past behind is rarely an easy thing to do, but if there's one time of the year that encourages that process, it has to be the new year. The start of 2017 is no exception, as the energies encourage you to let go and move on. Close the door on the past, and spend more time in quiet contemplation so that you can hear more clearly the whispers of your soul, guiding you to the path that is right for you. Be open to seeing things differently; it'sl too easy, especially as we get older, to get stuck in our ways. Every now and again it can be good to be jolted out of our routines, so if someone suggests something that you feel resistance to, it might actually be in your best interests to say yes.
---
Discover your past life connections that can carry over into your current life, accounting for interests, habits, even phobias.
Karmic Past Life Report
---
Pisces: Your year begins with a sense of possibility as the planets gather in the zone of your hopes and wishes. Now is the perfect time to set your intention for the year ahead. Formulate a vision of how you want your life to be, and then believe firmly that it is possible. Finances and your material life might seem unstable, which can add fuel to any fear or insecurity you have about making changes, yet to carry on as you have been is counterproductive. Also, with Jupiter in your zone of wealth, it is very possible that money will come when you need it, often from surprising sources, but you need to take a step forward with faith in your heart before the support will come. "The universe will pay you to be yourself and do what your really love" (Shakti Gawain).
---
Discover your soul's intention for this lifetime, the lessons to be learned, qualities to develop, problems to be resolved, services to be rendered.
Karmic Insight Report
---
For more information about your Horoscope and what the stars
have in store for you, order one of our detailed
Astrology Reports for Couples!
---
Want to know the theme of your relationship? This report compares your temperaments and personalities, whether you are married or living together.
Compatibility Report

Reveal as much information about you and your partner intention of opening doors of understanding and awareness.
Love Cards Report