#Horoscope #Aries #Taurus #Gemini #Cancer #Leo #Virgo #Libra
#Scorpio #Sagittarius #Capricorn #Aquarius #Pisces
#Horoscope – overview of this week
The Center for the New Age is pleased to present
your Free Weekly Horoscope for January 8 – January 14, 2017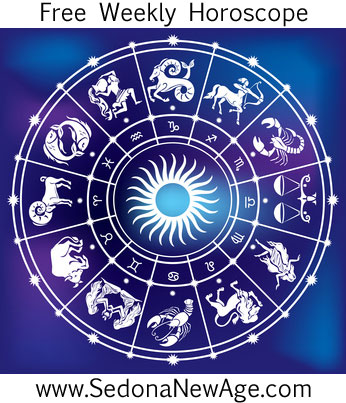 Receive our Free Weekly Horoscope in your Inbox

---

Aries Taurus Gemini Cancer Leo Virgo Libra Scorpio Sagittarius Capricorn Aquarius Pisces
Mars in Pisces is sextile Pluto in Capricorn (January 11 – January 19). The planet of action (Mars) is in a favorable position to Pluto, the planet of the generations. This is a superb time to take up activities with people of a different culture, or with someone who is of a different level of maturity or experience. This is also potentially a good time to reconcile differences.
Full Moon in Cancer on January 12 emphasizes Mom and maternal energy, and people may be moody or especially preoccupied with their feelings. Nurturing activities and emotional support are the best ways to approach the Full Cancer Moon. Be careful not to overeat, but be sure to enjoy heartwarming, delicious and nourishing foods.
Venus and Neptune are conjunct in Pisces (January 12 – January 20). Venus represents love, magnetism, and attraction, while Neptune (the higher octave of Venus) represents spiritual love and the melding of spiritual energies. Venus conjunct Neptune can be utilized to reach a higher vibration of feminine, spiritual love. This allows beauty, femininity and personal attraction to be connected with the higher spiritual vibrations of the universe. This is an ideal time to connect with one's own guardian angel and spirit guide. Venus conjunct Neptune, if utilized, will bring great wisdom.
Mercury enters Capricorn (January 12 – February 6) affecting the general course of communications with an enterprising focus on negotiations. It also places an emphasis of communications on the accomplishment of goals. While Mercury is moving along in a direct fashion through Capricorn, there is clear, non-nonsense business talk. The overall expression of communications and news begins to focus on more down to earth issues, often with a serious tone to discussions. Everyone has a job to do and the incentive to do that job must be solid communications on matters of control and this is the key to Mercury in Capricorn.
Aries Taurus Gemini Cancer Leo Virgo Libra
Scorpio Sagittarius Capricorn Aquarius Pisces

For more information about your Horoscope and what the stars
have in store for you, order one of our detailed
Astrology Reports!
Want to know the theme of your relationship? This report compares your temperaments and personalities, whether you are married or living together.
Compatibility Report

Reveal as much information about you and your partner intention of opening doors of understanding and awareness.
Love Cards Report
Free Weekly Horoscope for your Sign
Aries: Domestic matters are likely to come to a head this week, as the Full Moon on January 12 illuminates the base of your chart. This sheds light not just on your home and family challenges but also on your deepest self. From past and childhood issues to inner complexities, this Full Moon is likely to be very illuminating. Taking time to be with your feelings is important, and your biggest challenge right now is to balance the big areas of life: your home and family, your career and professional life, and your relationships with the need to be your own person. If any of these are impinging on your desires or well-being, this is the week when you should say enough is enough.
---
Discover a personal profile and 1-year forecast based on advanced calculations of your name and birth date.
Numerology Report
---
Taurus: If you don't want to meet yourself coming backward, you will need to be very organized in the time up to the Full Moon on January 12. This is likely to be a busy week, and things could easily become stressful if you find yourself with too much to do and not enough time to do it. That's why it is important to get done as much as you can at the beginning of the week. Don't leave things until the last minute. On another level, the Full Moon is likely to highlight an area of weakness in your reaction to a situation or in your attitude and general approach to life. Perhaps you need to be more positive or more proactive. Maybe you need to push out of your comfort zone or believe in yourself a bit more. Either way, this Full Moon is likely to feel like a revelation if you watch with mindfulness what is going on around you.
---
Need a guide for your growth and personal evolution based on astrological influences upon your personality?
New Age Natal Report
---
Gemini: The Full Moon on January 12 falls in your zone of money and resources. This is likely to result in a material nature coming to a head, and the process could be quite revelatory and possibly a little dramatic. Much of the stress can be eased, however, by letting go. It's natural to want to hold on to what is ours, but if everyone else is trying to hold on to what they believe is theirs too, things can get unpleasant. Ask yourself whether you really need the thing in question and what you can gain by letting go. Your theme this month is transformation and rebirth, and you can't do that when you're holding on.
---
This interpretation of your birth chart is written in simple language could be beneficial in self undestanding.
Merlin Report
---
Cancer: Hang on to your hat, Cancer. This could be a roller coaster of a week! The Full Moon in your own sign at the pinnacle of a grand cross is likely to bring plenty of things to light, some of which might not be pleasant at first. Here's what you need to remember: Whatever occurs this week, especially around January 12, is an opportunity for you to make some important changes that will lead you to a better situation. You're likely to feel stretched in various directions, and you need to work out your priorities. Are there things being asked of you that you don't really need (or want) to do? The Full Moon in your sign says it's okay to put your own needs first for a while. Perhaps this is a week when others need to stand on their own.
---
Indra reveals your life's contradictory urges & drives as well as your basic motivation, perceptions, inclinations and character.
Indra Report
---
Leo: A dramatic Full Moon on January 12 in your house of the past suggests that something is likely to come to light this week that you might wish would stay hidden. There is some truth in the phrase, "it's best to let sleeping dogs lie, so if you have a choice in the matter, it might be best not to wake Fido! However, if things come to the surface and cause disturbances in other areas of your life you will need to deal with the matter in the most practical and efficient way you can. Leos are very good at dealing with problems. It could also be that you suddenly realize things can't go on as they are and you need to make changes in your life that will support your health and well-being. If you can remember to make your well-being your priority, then whatever comes up this week is likely to be for your highest good.
---
Want a detailed report for parents to help with the child's growth to strengthen the assets and avert possible problems that the child could face in their life?
Child Astrology Report
---
Virgo: While this week's Full Moon might be a volatile one, it should still catapult you forward. Events might not be easy, but they will be worth the effort. Keep in mind that you are the artist of your life and aim to cut yourself free from anything that has been sabotaging you, including destructive habits, limiting beliefs, and old patterns. Virgos can sometimes feel like victims or martyrs, but a surge of power flowing through your veins is likely to stifle the notion.
---
Want a birthday to birthday practical guide to help you recognize opportunities and to learn from them.
Astrological Solar Return Report
---
Libra: A volatile Full Moon at the top of your chart on January 12 puts the emphasis on your professional life and your direction, and it might also involve matters with your home and personal situation. With a grand cross affecting the key areas of your life, this is a time you need to be very mindful of your choices and actions. You might feel that you're being held back by personal demands, but press on anyway. This Full Moon will benefit you if you can make yourself visible. This is a great time for a spot of self-promotion to push yourself forward, and the best way to do that is to tell yourself that you deserve the opportunities coming your way. This is your time.
---
Want to know the actual dates when the energies will influence your life in money, career, relationships, and communicaton?
Astro Forecast Report (3 months)
---
Scorpio: The Full Moon on January 12 puts the emphasis on adventure, and this could be a real eye opener of a week when your beliefs about something shift. That is not a bad thing since we can all get too entrenched in our beliefs. If the story you tell about yourself has weaknesses (and whose doesn't??) – such as "other people are out to get me" or "things always end badly for me" – then use the illuminating power of this Full Moon to challenge these preconceived ideas. Then perhaps what you've been quietly hoping might happen will happen, despite logic being against it. Trust your inner guidance and gut feelings, as this link to the unseen is particularly strong for you right now. If it feels right, go for it; if it doesn't, give it a wide berth.
---
Want a one year forecast to understand the scope of influence for your personal Cards of Destiny?
Cards of Destiny Report
---
Sagittarius: The Full Moon on January 12 brings a cathartic and regenerating feel to proceedings this week, making this a good time to throw out those old and useless things. You might decide to transform something in your home or work to regenerate a relationship, financial situation, or an aspect of yourself. Problems around money could be tricky for a while, but the Full Moon will bring such matters to a head. In the meantime, though, it might help to consider the nature of power where money is concerned to see which side of the fence you're on. For example, borrowing money automatically puts us in the thrall of the lender, and intimate relationships can suffer by imbalances of financial power. Try to create a healthier balance in your material life to create healthier, happier relationships.
---
Contemplating a move? This report tells how you will react to the energies of the specific locations for relationships, finances, and security.
Relocation Information Report
---
Capricorn: The Full Moon in your opposite sign on January 12 brings a certain amount of tension to your relationships, especially as this Full Moon is contained within a very volatile grand cross. Perhaps this is make-or-break time with a particular relationship. Maybe there's someone you need to distance yourself from, or at the very least, you need some breathing space in order to decide what's best for everyone. Once the confusion or drama has cleared, you will be better able to move forward and focus on the relationships that enable you to flourish. Remember that your current greatest potential for growth, joy, and fulfillment lies in what you can create and achieve in the outside world. Try not to let family dramas and personal issues knock you off course.
---
Discover your character traits, relationship and career potentials – based on Edgar Casey Readings.
Cayce Past Life Report
---
Aquarius: With a Full Moon in your health-and-work zone, it is likely that one or both of these areas will be brought into focus. While there could be some confusion or even a bit of drama around January 11 and 12, once the dust settles, it will be easier to see the way forward. Avoid indulgences, especially concerning your health, as this should be a time in which your diet and lifestyle should be supporting you. Once again, the energies encourage the action of letting go, so identify what is holding you back or causing harm, and make a concerted effort to rid yourself of it.
---
Discover your past life connections that can carry over into your current life, accounting for interests, habits, even phobias.
Karmic Past Life Report
---
Pisces: With a Full Moon and a grand cross on January 12, this is likely to be a dramatic week for most people. For you, the key factor relates to authenticity. Answering the following question will help you make the most of what the planets are currently creating. On a scale of 1 to 10, how true to yourself are you being? Let your answer facilitate any changes that need to be made. Sometimes we can only take small steps toward a plan or a vision, but each step will have positive results, leading to more steps forward, until one day, you find yourself living your ideal life. The message for this week is to not be afraid to start making changes that will make you happier.
---
Discover your soul's intention for this lifetime, the lessons to be learned, qualities to develop, problems to be resolved, services to be rendered.
Karmic Insight Report
---
For more information about your Horoscope and what the stars
have in store for you, order one of our detailed
Astrology Reports for Couples!
---
Want to know the theme of your relationship? This report compares your temperaments and personalities, whether you are married or living together.
Compatibility Report

Reveal as much information about you and your partner intention of opening doors of understanding and awareness.
Love Cards Report