#Horoscope #Aries #Taurus #Gemini #Cancer #Leo #Virgo #Libra
#Scorpio #Sagittarius #Capricorn #Aquarius #Pisces
#Horoscope – overview of this week
The Center for the New Age is pleased to present
your Free Weekly Horoscope for January 15 – January 21, 2017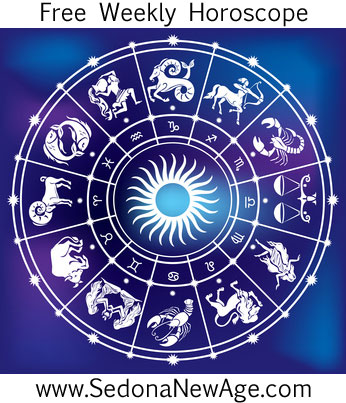 Receive our Free Weekly Horoscope in your Inbox

---

Aries Taurus Gemini Cancer Leo Virgo Libra Scorpio Sagittarius Capricorn Aquarius Pisces
Last Quarter Moon in Libra on January 19 reminds us of the need to continue working on the imbalances in our relationships. This is the time to let the emotional pressure be released, and to handle matters with friends and loved ones carefully and congenially. The Last Quarter Moon aspect confirms the need to make amends with others and unite peacefully. If some aspect of your connection to a friend or loved one disrupts your sense of peace, reach within for the answers. A balanced response will follow, but don't expect instant answers.
Mars in Pisces square Saturn in Sagittarius (January 19 – February 2) commonly affects actions with a sense of poor timing. Adamant forces are interfering with defense lines that are drawn for emotional protection, and activities often run into obstacles in using discipline. This is a good time to proceed with extra caution and to continue to stay constantly focused during Mars square Saturn days.
Venus in Pisces sextile Pluto in Capricorn (January 20 – January 25) means business when it comes to making proposals of love. Venus is in Pisces where the law of attraction is irresistible, easy going, and artistically uplifting. Pluto in Capricorn brings dutiful allegiance to matters of fate. This aspect implies that even in the midst of hardship, opportunities are arising with regard to the things we treasure and are attracted to, and also in matters of love and affection (Venus). These opportunities often are born out of fate or destiny (Pluto), or sometimes are a result of an unexpected twist of fate.
Aries Taurus Gemini Cancer Leo Virgo Libra
Scorpio Sagittarius Capricorn Aquarius Pisces

For more information about your Horoscope and what the stars
have in store for you, order one of our detailed
Astrology Reports!
Want to know the theme of your relationship? This report compares your temperaments and personalities, whether you are married or living together.
Compatibility Report

Reveal as much information about you and your partner intention of opening doors of understanding and awareness.
Love Cards Report
Free Weekly Horoscope for your Sign
Aries: As the Sun moves into your zone of hopes and wishes, your future becomes highlighted with the promise of better things to come. You can help this auspicious event by taking a step toward the kind of future you wish to see, whether it's for you or humanity. In fact, good advice now is this: Be the change you wish to see. At the same time, you need to be mindful of throwing caution to the wind, as the current alignment is very volatile. The old adage "if it feels good, do it" might not be enough. It is advisable to visualize the long-term consequences of your actions. If it looks good, go for it. If you're not so sure, let patience and prudence be your guides.
---
Discover a personal profile and 1-year forecast based on advanced calculations of your name and birth date.
Numerology Report
---
Taurus: The Sun's arrival in your zone of success puts the emphasis on your ambitions in life. Are you happy with where you're going, or do you need to adjust your course? Will it help to formulate a plan, or do you feel life works better when you go with the flow? It seems as though you have a contribution to make to society, but perhaps there is a wound or a challenge that you need to overcome before you can fully move forward. Notice whatever fears and insecurities pop up this week, and instead of ignoring them or stuffing them back down, invite them over for a chat. What are they trying to protect you from? Have a dialogue with your fear. Treat it kindly, and you will feel strong enough to do what you need to do.
---
Need a guide for your growth and personal evolution based on astrological influences upon your personality?
New Age Natal Report
---
Gemini: The Sun's move into Aquarius is helpful for you, bringing a lighter vibration along with a sense of possibility and adventure. The heaviness of the previous weeks is beginning to fade now; at the very least, you'll see the light at the end of the tunnel. This is a good week to try something new, break out of your familiar patterns, or pack your suitcase and head off in search of a little adventure. The new perspective that you gain from broadening your horizons is likely to have a positive effect in other areas of your life particularly your relationships, career and goals.
---
This interpretation of your birth chart is written in simple language could be beneficial in self undestanding.
Merlin Report
---
Cancer: The Sun's shift into your zone of transformation makes this the ideal time to shed your old skin. What do you need to let go of? What isn't working for you anymore? What baggage are you carrying that's weighing you down? It isn't easy for Cancers to let go of the past, but this is one time in your life when a big door of opportunity is opening up for you, and you need to be ready and able to walk through it. You can't do that when you're facing the opposite direction. Keep your attention on the present, and you will be more likely to notice the gifts when they present themselves.
---
Indra reveals your life's contradictory urges & drives as well as your basic motivation, perceptions, inclinations and character.
Indra Report
---
Leo: The Sun's move into Aquarius reduces some of the emphasis on daily troubles and brings a happier, lighter vibration into play. You can look forward to a more social and potentially romantic time and enjoy yourself with other people. That's not to say that the need to transform your daily life is over, because Pluto is going to be influencing such matters for a while to come. This means that the intensity of the previous weeks will lessen, and you can focus on other things. It could also help to remember that quite often, other people are the key, and by creating happier relationships with people, difficulties in other areas of your life can fade or seem easier to surmount.
---
Want a detailed report for parents to help with the child's growth to strengthen the assets and avert possible problems that the child could face in their life?
Child Astrology Report
---
Virgo: The Sun's arrival in your health and work zone on January 20 makes this a good week for sorting out various areas of your life. This could mean clearing your office so that you feel more organized, dealing with issues that have been getting in the way of progress, or tending to matters at home or in your personal life. The Sun in this most productive area of your chart will give you the energy and impetus to get things done. This is an ideal time to boost your health by improving your diet or lifestyle. As William Londen says, "To insure good health: eat lightly, breathe deeply, live moderately, cultivate cheerfulness and maintain an interest in life."
---
Want a birthday to birthday practical guide to help you recognize opportunities and to learn from them.
Astrological Solar Return Report
---
Libra: The Sun's move into your fun-and-creativity zone marks the beginning of a positive few weeks when you can allow yourself to ease off the work and invite more fun and joy into your life. Actually, there's no reason why that can't be the norm, but we tell ourselves all kinds of nonsense, including that we have to work hard for our money or that we have to suffer for our art, so we often choose the path of suffering rather than the path of joy. This week, the universe is drawing your attention to the path of joy and how delightful it feels to be walking it. Notice what lifts your spirits, what makes you happy, what energizes you, and what you would love to do more of. Then ask yourself the question, "Can I make these things a regular part of my life?"
---
Want to know the actual dates when the energies will influence your life in money, career, relationships, and communicaton?
Astro Forecast Report (3 months)
---
Scorpio: As the Sun moves to the very base of your chart, a more introspective mood begins to creep in. A good use of this transit is to focus on improving your home, perhaps clearing out old energies or tending to jobs that need attention. Another productive use of the Sun moving across the nadir of your horoscope is to spend time in quiet contemplation. Become aware of the baggage you might be carrying around, or forgive parents and people from your past. All this healing within you or your home will allow you to emerge later feeling more able to make choices that facilitate a greater sense of authenticity and subsequent happiness.
---
Want a one year forecast to understand the scope of influence for your personal Cards of Destiny?
Cards of Destiny Report
---
Sagittarius: There is a much lighter feel to the energies this week as the Sun moves into a positive and light-hearted area of your chart. Gone is the intensity of the previous week and that dramatic Full Moon, leaving you with a much clearer vision and a bit of a spring in your step. You're likely to be busy; however, most of this will be pleasant and in the form of short journeys, visiting people and places. There will be plenty going on in your world. There could also be some challenges in your personal and domestic life, but these can be alleviated by making constructive changes that end a personal situation. The healing of family and ancestral wounds should be a part of your focus this week. When you have the courage to heal the past – through forgiveness, compassion, or acceptance – you can move on to a brighter phase of life.
---
Contemplating a move? This report tells how you will react to the energies of the specific locations for relationships, finances, and security.
Relocation Information Report
---
Capricorn: As the Sun moves into your money zone, the time is ripe to turn your attention to your material resources. Do you have enough? Are you making money in a way that feels healthy and fulfilling? Do you have enough time to enjoy the fruits of your labors, or are you too busy to stop and smell the roses? The Sun's journey through your second house invites you to slow down a little and enjoy what life has to offer. This might mean being more present so that you can appreciate the small joys that surround you. It could mean opening yourself up to greater sensuality – perhaps enjoying a massage or the feel of fresh sheets on your bed. There are many ways in which you can be reminded of the beauty of life, and your mission for the weeks ahead is to appreciate all that's good in your world. Even if life is full of difficulties, make sure you find spaces in your week to remember what's important.
---
Discover your character traits, relationship and career potentials – based on Edgar Casey Readings.
Cayce Past Life Report
---
Aquarius: The Sun returns to your sign on January 20 marking a positive new beginning when you should be feeling good about yourself. This is the point at which you gain in energy, optimism, confidence and enthusiasm, so if life hasn't been easy recently, you can look forward to an improvement in your overall well-being. Use this opportunity to embrace new opportunities – say yes to invitations (even those you might normally feel averse to) – and make headway with your plans. Try not to let money issues hold you back from living a more fulfilling life. Many times people use money as an excuse for not doing things or for staying stuck, yet planetary activity suggests that you need to overcome your fears and insecurities in this area. Once they're cleared, you will find that life opens up in some exciting ways.
---
Discover your past life connections that can carry over into your current life, accounting for interests, habits, even phobias.
Karmic Past Life Report
---
Pisces: As the Sun moves into the zone of your soul, the time has come to retreat from the fast pace of life and to create spaces in your day for quiet time and reflection. It might be that tiredness creeps up on you. If so, take this as a sign that you need to rest. You might need extra energy for personal matters, as a whole host of planets, including Venus and Mars are currently gathered in your sign. Saturn's square to these planets suggests a certain amount of frustration, and you probably need to spend some time healing wounds or dealing with challenges. If your current direction in life isn't supporting your well-being or it's creating problems in your personal life, you need to ask whether what you're doing is really worth it. Prioritize your own healing, and everything else will fall into place.
---
Discover your soul's intention for this lifetime, the lessons to be learned, qualities to develop, problems to be resolved, services to be rendered.
Karmic Insight Report
---
For more information about your Horoscope and what the stars
have in store for you, order one of our detailed
Astrology Reports for Couples!
---
Want to know the theme of your relationship? This report compares your temperaments and personalities, whether you are married or living together.
Compatibility Report

Reveal as much information about you and your partner intention of opening doors of understanding and awareness.
Love Cards Report