#Horoscope #Aries #Taurus #Gemini #Cancer #Leo #Virgo #Libra #Scorpio #Sagittarius #Capricorn #Aquarius #Pisces #Horoscope – overview of this week
The Center for the New Age is pleased to present
your Free Weekly Horoscope for February 5 – February 11, 2017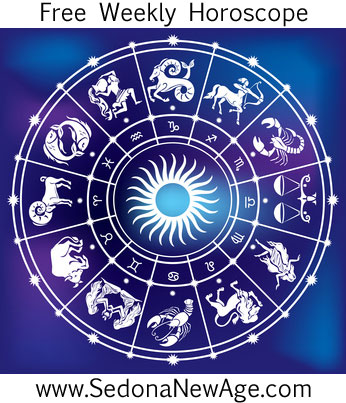 Receive our Free Weekly Horoscope in your Inbox
---
Aries Taurus Gemini Cancer Leo Virgo Libra Scorpio Sagittarius Capricorn Aquarius Pisces
Mercury is the planet that represents the thought processes, as well as the means by which we communicate the message we are sending out into the world. On Tuesday, Mercury enters Aquarius (February 7 – February 24) the fixed air sign of the zodiac, which represents humanity's knowledge. As the force of communication (Mercury) travels through the constellation of fixed thought and meditation (Aquarius), there are great opportunities for us to share and empower each other through our knowledge. Mercury in Aquarius is also a special time to speak out on humanitarian issues and the rights of freedom. Eccentric talk and unusual subjects will fill the air waves while Mercury is in Aquarius.
Jupiter turns retrograde on Monday (February 6 – June 9). While Jupiter is retrograde through Libra this winter and spring, the economy may appear to be receding or to be progressing very slowly, while unpredictable and volatile market trends are likely to occur. It is important to apply wisdom and caution in the economic area of our lives and in our livelihood, so we may see future growth when Jupiter resumes a forward course.
Mercury in Aquarius sextile Venus in Aries (February 10 – February 15) reminds us of the need to declare our love, and may well be called "the messenger of love." Mercury engages us with the need to relay information while Venus puts us in touch with what it is we are attracted to in life. Here is an opportunity to embrace love, art and the joys of the senses by verbally acknowledging and wooing others with the pleasures that our attractions have brought to us.
Full Moon in Leo on Friday captivates our moods with a wild and instinctual push. It reaches its peak early in the morning, creating a day of playful, imaginative and creative expressions of mood. There may be an opportunity here to enhance and harmonize friendships and family situations in a fulfilling and enriching manner. Moon in Leo puts us in touch with those places, people and things to which we feel loyal. Many folks may find themselves feeling somewhat courageous and confident. As a general rule, warmth and vitality is generated in our moods with the Full Moon in Leo.
A penumbral lunar eclipse accompanies this Full Moon. This event takes place when the Moon moves through the outer part of the Earth's shadow. Often mistaken for a normal Full Moon, lunar eclipses are essentially "full moons on steroids." They tend to be regarded as "wild cards," with their overall presence being one that uproots, that forces us forward and burns the bridge behind us.
Aries Taurus Gemini Cancer Leo Virgo Libra Scorpio Sagittarius Capricorn Aquarius Pisces
For more information about your Horoscope and what the stars have in store for you, order one of our detailed
Astrology Reports!
Want to know the theme of your relationship? This report compares your temperaments and personalities, whether you are married or living together.
Compatibility Report
Reveal as much information about you and your partner intention of opening doors of understanding and awareness.
Love Cards Report
Free Weekly Horoscope for your Sign
Aries: The lunar eclipse on February 10 gives you permission to be a little selfish. Most people would throw their hands up in horror at such a statement, but Aries understand the importance of fulfilling their needs in order to be healthier, happier and saner people. When we suppress our needs, we also suppress a whole load of anger, and it's possible that you could see one or two eruptions if you haven't been marching to your own drumbeat. The eclipse says it's time to take your life off the back burner and do what you want to do.
---
Discover a personal profile and 1-year forecast based on advanced calculations of your name and birth date.
Numerology Report
---
Taurus: With a lunar eclipse in your domestic zone on February 10, you may need to pay attention to your home and family or to your inner needs. It is likely that something buried will come to light, ranging from a lost item turning up to suppressed emotions rising to the surface or old ghosts reappearing. Whatever appears in your world at this time, see it as an opportunity for closure in preparation for the new beginnings to come. Clear your clutter, lay the past to rest, and observe the signs that point to your next steps.
---
Need a guide for your growth and personal evolution based on astrological influences upon your personality?
New Age Natal Report
---
Gemini: Busy times are ahead, but you will be more likely to flourish if you can reduce distractions and focus on the bigger picture. Do you have a plan or a big idea? If so, now is the time to make progress and begin implementing it. Don't worry if your plan or idea seems scary; the whole point of stepping into the unknown is that there are no guarantees or safety nets. However, if it feels right in your heart, then chances are that all will work out well. The following quote by Earl Nightingale points the way forward: "A great attitude does much more than turn on the lights in our worlds; it seems to magically connect us to all sorts of serendipitous opportunities that were somehow absent before the change.
---
This interpretation of your birth chart is written in simple language could be beneficial in self undestanding.
Merlin Report
---
Cancer: It is easy to think that if we had more money, all our problems would be solved, but interestingly, studies show that the wealthier a nation becomes, the more depressed and anxious its people are. If you have enough money to pay the bills and put food on the table, then perhaps the tensions in your life don't have their roots in material lack. The lunar eclipse on February 10 brings to a head a financial or material matter and its strongly suggestive of a rebirth. All you have to do is be willing to go along for the ride.
---
Indra reveals your life's contradictory urges & drives as well as your basic motivation, perceptions, inclinations and character.
Indra Report
---
Leo: The lunar eclipse in your sign on February 10 could instigate a turning point or at the very least bring some much-needed clarity to a difficult situation. In a way, this eclipse could feel like various strands are pulling together, leaving you with a sense that everything will work out fine. Relationships are a key factor and any issues need to be balanced against what you want and need. Changes may need to be made that don't compromise your integrity. This eclipse is very much about getting to know yourself and then demonstrating that to others.
---
Want a detailed report for parents to help with the child's growth to strengthen the assets and avert possible problems that the child could face in their life?
Child Astrology Report
---
Virgo: We are all shaped by our pasts, and if our pasts weren't great, then we have our work to do to truly flourish. If we consider that a tiny grain of sand needs friction to become a beautiful pearl, then we begin to see the purpose of adversity. Inasmuch as a lunar eclipse occurs in a sensitive area of your chart on February 10, remind yourself of Nietzche's famous saying, "That which does not kill me makes me stronger." Then close the door on what has been, and put your energy into the things that really matter.
---
Want a birthday to birthday practical guide to help you recognize opportunities and to learn from them.
Astrological Solar Return Report
---
Libra: Expect a turning point with your future as a lunar eclipse on February 10 illuminates your path and enables you to see the way forward, so if you've previously been a bit confused about where you're going, you can expect to feel much clearer and more optimistic about your potential to manifest your dreams. Friends might also play a key role this week (for better or worse), and this eclipse will help you to decide who is a true friend and who isn't. As Walter Winchell said, "A real friend is one who walks in when the rest of the world walks out."
---
Want to know the actual dates when the energies will influence your life in money, career, relationships, and communicaton?
Astro Forecast Report (3 months)
---
Scorpio: If you've been experiencing any confusion or uncertainty regarding your direction in life or with your career, then the lunar eclipse at the top of your chart on February 10 is good news for you. This eclipse will illuminate the path ahead and cast a positive glow over your professional life as well as your goals and ambitions. Good questions to ask would be, "What is my purpose, and where do I want to be going?" Any previous confusion about such matters is likely to clear, leaving you with a willingness to make empowering changes that will put you on the right track.
---
Want a one year forecast to understand the scope of influence for your personal Cards of Destiny?
Cards of Destiny Report
---
Sagittarius: Of all the signs, yours is the least likely to get stuck in a rut or to become narrow in your outlook, but with Saturn in your sign, even you can start to forget what it is that really makes you feel alive. If life has become a bit humdrum or if there is too much work, and not enough play, the lunar eclipse on February 10 will help you regain your adventurous spirit and encourage you to break out of your comfort zone. This is the week to embrace adventure, broaden your horizons, see things from a new vantage point, and allow your heart to direct what you do. Following where your energy seems to want to take you is good advice right now. This isn't a prescription to be completely selfish; rather, to spend more of your time doing what you love.
---
Contemplating a move? This report tells how you will react to the energies of the specific locations for relationships, finances, and security.
Relocation Information Report
---
Capricorn: It's time to clear out the cobwebs as a lunar eclipse on February 10 takes place in your psychological basement. Useful activities around this time include clearing out clutter, restoring items to their former glory, or delving within your psyche to illuminate your shadows and clear out psychic debris. We all carry baggage from the past, but after a while, we need to let some of it go; otherwise, it is difficult to get anywhere. Transform what you can, and get rid of the rest. This will leave you in prime position for the new beginnings just around the corner.
---
Discover your character traits, relationship and career potentials – based on Edgar Casey Readings.
Cayce Past Life Report
---
Aquarius: Relationships are the name of the game as a lunar eclipse on February 10 illuminates your partnership zone. This could bring a turning point in a particular relationship, and the thing to remember is this: "Affection is responsible for nine-tenths of whatever solid and durable happiness there is in our lives." This quote by C. S. Lewis reminds us that ultimately our connections with others foster the greatest happiness – not money, success or possessions. Letting go of your material attachments and reaching out to others is a challenge that will be richly rewarded.
---
Discover your past life connections that can carry over into your current life, accounting for interests, habits, even phobias.
Karmic Past Life Report
---
Pisces: A lunar eclipse on February 10 brings illumination and encourages you to freshen up your daily life. Work and health are likely to be featured, and it might be time to consider which is most important. It's easy to fall into the pattern of living to work, so if things have become a bit of a strain – if your health isn't great or if you're not as happy as you know you could be – then listen to your body, and consider how you can make some positive changes. As Joy Page says, "You inner knowing is your only true compass." Even small changes can make a big difference.
---
Discover your soul's intention for this lifetime, the lessons to be learned, qualities to develop, problems to be resolved, services to be rendered.
Karmic Insight Report
---
For more information about your Horoscope and what the stars
have in store for you, order one of our detailed
Astrology Reports for Couples!
---
Want to know the theme of your relationship? This report compares your temperaments and personalities, whether you are married or living together.
Compatibility Report
Reveal as much information about you and your partner intention of opening doors of understanding and awareness.
Love Cards Report