#Horoscope #Aries #Taurus #Gemini #Cancer #Leo #Virgo #Libra #Scorpio #Sagittarius #Capricorn #Aquarius #Pisces #Horoscope – overview of this week
The Center for the New Age is pleased to present
your Free Weekly Horoscope for February 26 – March 4, 2017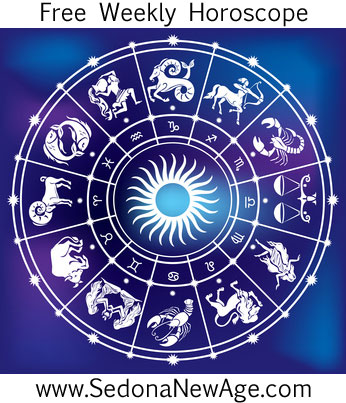 Receive our Free Weekly Horoscope in your Inbox
---
Aries Taurus Gemini Cancer Leo Virgo Libra Scorpio Sagittarius Capricorn Aquarius Pisces
New Moon in Pisces on February 26 focuses our attention on the need to get in touch with our own beliefs, and to inspire these beliefs with devotion and renewed faith. A good place to begin is with the self, believing in oneself and one's own capabilities and possibilities. A solar eclipse on Sunday morning, although not visible in the Western Hemisphere, will encourage us further to embrace our multi-dimensionality and become all that we are and all that we can be.
Mars in Aries opposite Jupiter in Libra (February 27 – March 4) may bring an acute awareness of those places where there is economic oppression or shortcomings. Active forces are diametrically opposed to expansive fortitude. This aspect creates activities around humanitarian and moral issues.
Mercury and Neptune are conjunct in Pisces (March 4 – March 14). Mercury in Pisces brings out the mystic in all of us and adds quite a bit of color and flair to the imagination in relayed messages. Neptune in Pisces focuses on the realm of the imagination typifying the subtle, sensitive and hypersensitive parts of our being. It is extraordinarily rare for these two planets to be conjunct in Pisces, but the areas of our lives that have required challenge, struggle, sacrifice and transformation now bring us to a place where we can talk about them. This is a time when people instinctively know their own fate, and the course they must travel in years to come.
Aries Taurus Gemini Cancer Leo Virgo Libra Scorpio Sagittarius Capricorn Aquarius Pisces
For more information about your Horoscope and what the stars have in store for you, order one of our detailed
Astrology Reports!
Want to know the theme of your relationship? This report compares your temperaments and personalities, whether you are married or living together.
Compatibility Report
Reveal as much information about you and your partner intention of opening doors of understanding and awareness.
Love Cards Report
Free Weekly Horoscope for your Sign
Aries: The second eclipse of the month falls in your soulful zone on February 26 and suggests that now is the time to draw something to a close. At the very least, it's time for a change or for letting go of something. However, in your desire to be free of something, you might overreact. There is a very volatile alignment this week that suggests it would be easy to act without thinking and to go over the top. The eclipse encourages you to retreat from the daily fray, make time for peace and quiet, and listen to the whispers of your soul so that you can more clearly determine your next steps. At the very least, taking time for reflection will make you less likely to fly off the handle or to say or do the wrong thing.
---
Discover a personal profile and 1-year forecast based on advanced calculations of your name and birth date.
Numerology Report
---
Taurus: The solar eclipse on February 26 is an auspicious one for you, promising a brighter future and new beginnings. Mars and Uranus are still flinging open doors and unleashing a lot of dust and dirt in your psychological basement, but as long as you're up for a psychic spring cleaning, this is good news. Don't fear what happens this week; instead, see it as a time for developments, such as important lessons to learn, opportunities for healing, or the chance to free yourself from old ties and limitations. Do what you can to clear out the old. You can address this on a physical level or by visualizing yourself cutting cords to people, situations, or places that are holding you back. All the clearing will put you in prime position to benefit from the new approach that the solar eclipse brings. This is definitely the week to keep repeating the mantra, "out with the old and in with the new."
---
Need a guide for your growth and personal evolution based on astrological influences upon your personality?
New Age Natal Report
---
Gemini: The solar eclipse on February 26 offers a new beginning in terms of your life direction or your vocation or both. If you don't feel that you're truly fulfilling your purpose, give some thought as to what you were put here for and then take a step toward it. The Mars-Uranus conjunction becomes exact on the same day as the eclipse, making this a hugely important time and one in which you need to consider your needs. As Christopher Morley says, "There is only one success – to be able to spend your life in your own way."
---
This interpretation of your birth chart is written in simple language could be beneficial in self undestanding.
Merlin Report
---
Cancer: The solar eclipse on February 26 falls in your zone of adventure and is auspicious for growing optimism and broadening horizons. We can only achieve what we think we're capable of achieving. If we grew up surrounded by people who expected great things of us, our chances of accomplishing things in the world is greater than for someone from whom little was expected. This eclipse challenges any limiting beliefs you might have about yourself and encourages you to change the way you see the world, which will, in turn, help you to find the key to your problems.
---
Indra reveals your life's contradictory urges & drives as well as your basic motivation, perceptions, inclinations and character.
Indra Report
---
Leo: The solar eclipse on February 26 is likely to bring a wakeup call that may prompt you to ask yourself whether it is time for a change or transformation. Life has a habit of molding us into something quite different from our original selves, so a good question to ponder is this one: "Can you remember who you were before the world told you who you should be?" Don't be afraid to shed your old skin if it means you get to emerge anew.
---
Want a detailed report for parents to help with the child's growth to strengthen the assets and avert possible problems that the child could face in their life?
Child Astrology Report
---
Virgo: The solar eclipse on February 26 signals a turning point in your relationships. This is make or break time, but any relationship worth its salt will stay the course. Conversely, any relationship that falls and fails to get back up again is probably best left where it is. It's always worth remembering that when a door closes around a solar eclipse, it is fate stepping in to bring an end to something that isn't meant to be. Not all Virgos will experience drama in their relationships, but for those born between August 24 and September 6, this is likely to be a big time in your personal life. For all Virgos, there is opportunity to heal, move on, forgive, or experience a higher kind of love. Take whichever is relevant for you, and let compassion be your guiding light.
---
Want a birthday to birthday practical guide to help you recognize opportunities and to learn from them.
Astrological Solar Return Report
---
Libra: This could be an interesting week. On the one hand, you have a cardinal T-square involving your sign, which means that things could get rather feisty. At the same time, you have a solar eclipse in your zone of work, health and everyday life. In short, there could be fireworks in your relationships, drama at home, and changes in your work all of which could put a strain on your health. Regarding your work, you might need to be ready to leave something behind or break an old pattern. If a door closes this week, it's because something better is waiting for you, so don't try to cling to something that has had its day. Your work and day-to -day life require you to adopt a different approach, perhaps a go with the flow approach, or to move toward an avenue that inspires you or that allows for greater vision. As far as your relationships are concerned, someone might be pushing your buttons or resisting your wishes. If so, stay strong in your center and remember that you have a right to be you!
---
Want to know the actual dates when the energies will influence your life in money, career, relationships, and communicaton?
Astro Forecast Report (3 months)
---
Scorpio: A solar eclipse on February 26 in your house of fun, creativity and authenticity is likely to bring a turning point in your life whereby you feel the need to dance to your own tune. If something is no longer working for you or if you have a desire to have more authority over your life, then this is the week when you can focus on bringing the old situation to an end and begin to plant seeds for new life to develop. The time for worrying about what others think is over. As Andre Gide said, "It is better to be hated for what you are than to be loved for what you are not."
---
Want a one year forecast to understand the scope of influence for your personal Cards of Destiny?
Cards of Destiny Report
---
Sagittarius: The solar eclipse on February 26 falls at the base of your chart, affecting your home and family and your roots and foundations. You may see a chapter of life coming to a close; if so, allow it to go, knowing that nothing leaves your life unless it is the right time for it to do so. This eclipse is preparing you for new beginnings, but first you need to let go of something or someone, and this needs to be done with compassion, forgiveness and acceptance. Try to adopt a "go with the flow" approach to whatever is going on in your life, especially where home and family matters are concerned. Trying to control anything is impossible right now, so hand it over to a higher power and give thanks for its existence, no matter how short of long it was.
---
Contemplating a move? This report tells how you will react to the energies of the specific locations for relationships, finances, and security.
Relocation Information Report
---
Capricorn: Carl Jung said, "When an inner situation is not made conscious, it appears outside as fate." What is happening in your world that you don't understand? What message is fate trying to impart to you? This is a hugely volatile and dramatic week with matters peaking around February 26 as a T-square involving your sign occurs on the same day as the solar eclipse. It might be almost impossible for you to keep life on an even keel not just because your own feelings are hard to manage but also because you can't control how other people are, and you certainly can't stop fate from stepping in and altering the course of your life. Of course, it is possible that you might see the positive side of fate in the form of a wonderful new beginning or a happy development, but for those Capricorns who feel life is unfair or rather too challenging, go back to Jung's quote and consider how events might be mirroring a part of you. Sometimes we feel shocked by an event, but deep down inside, we know it is to be a blessing in disguise. The advice for this week is to roll with it, and trust that the universe knows better than we do what is best.
---
Discover your character traits, relationship and career potentials – based on Edgar Casey Readings.
Cayce Past Life Report
---
Aquarius: The solar eclipse combined with a volatile T-square on February 26 might make it difficult to keep a calm and level head. The negative expression of these energies would be seen as being needlessly controversial, rebellious, or harsh with your words and thinking. The best use of these energies is to cut yourself free from that which has become restrictive, to stand up for yourself and be assertive and to not tolerate unfairness and injustice directed at you or someone else. Be really careful, though, that anger over an injustice doesn't get out of hand; instead, use your anger as fuel for change. All of this might relate to money and material matters, from the way you earn a living to the amount of money you have. The eclipse asks you to break old material patterns and let go of possessions or situations that aren't serving your soul. In a nutshell, this week invites you to start fresh where money and material matters are concerned and to speak your truth with love and compassion.
---
Discover your past life connections that can carry over into your current life, accounting for interests, habits, even phobias.
Karmic Past Life Report
---
Pisces: This is an important week for you as a solar eclipse falls in your sign on February 26. This is likely to coincide with an ending of some sort. Quite often, solar eclipses bring about an end of a chapter or the closing of a door. Since this eclipse is aligned with Neptune and the south node of the moon, there is a very strong message to release something that is no longer right for you. Basically, whatever happens this week is for your highest good although it might not feel like that at the time. Trust that the universe knows better than you do and you are being guided to a better life. With a very strong emphasis on the material side of life, this eclipse could bring changes to your work or financial situation, but it could also relate to intimate relationships. Ultimately, this week invites you to begin a new chapter, move on, and bring change to your material existence.
---
Discover your soul's intention for this lifetime, the lessons to be learned, qualities to develop, problems to be resolved, services to be rendered.
Karmic Insight Report
---
For more information about your Horoscope and what the stars
have in store for you, order one of our detailed
Astrology Reports for Couples!
---
Want to know the theme of your relationship? This report compares your temperaments and personalities, whether you are married or living together.
Compatibility Report
Reveal as much information about you and your partner intention of opening doors of understanding and awareness.
Love Cards Report