#Horoscope #Aries #Taurus #Gemini #Cancer #Leo #Virgo #Libra #Scorpio #Sagittarius #Capricorn #Aquarius #Pisces #Horoscope – overview of this week
The Center for the New Age is pleased to present
your Free Weekly Horoscope for March 5 – March 11, 2017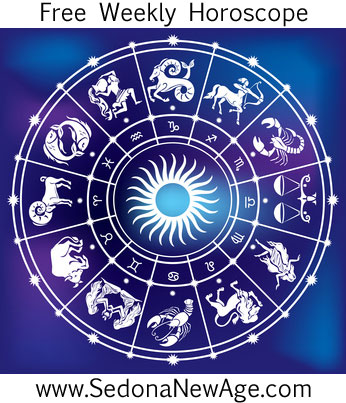 Receive our Free Weekly Horoscope in your Inbox
---
Aries Taurus Gemini Cancer Leo Virgo Libra Scorpio Sagittarius Capricorn Aquarius Pisces
First Quarter Moon in Gemini on March 5 puts us in touch with how we feel about our thoughts. If you don't like how you feel about them, endeavor to change or alter your way of thinking. Omit thoughts which attempt to defeat your sense of purpose; encourage thoughts that uplift and inspire your spirit. Be careful not to overdo the caffeine. Learn to relax and stay focused and all will be well.
Mars in Aries trine Saturn in Sagittarius (March 5 – March 7) suggests our actions brings gifts, provided there is an application of discipline and timing. This may be a good time to apply diligent practice to one's favorite sport, especially those physical activities which demand precision and perfect timing. A timely gift of strength of will, coupled with the rewards of hard work, harmonize to bring positive results. To fully benefit from this aspect, one must be persistent in taking action with regard to important matters.
Mercury in Pisces sextile Pluto in Capricorn (March 8 – March 12) brings favorable dialog concerning where to draw the lines. This is a good time to make an impression, to teach and to communicate to others those important matters that must be clarified. Timely information and news represents a gift or blessing. Important news comes with this aspect and news concerning the end of a long and arduous task brings relief.
Mars enters Taurus on Friday (March 10 – April 20). Mars represents all modes of action. In the fixed earth sign of Taurus, Mars' action is keenly affected through the physical realms, making this a primary time to work active energy through the body, or convert affirmative action in the physical world into a state of change. Mars generates heat, which can often appear explosive under pressure. Taurus people are reminded to keep a cool sense of control at all times and stay aware of a tendency towards temper tantrums.
Aries Taurus Gemini Cancer Leo Virgo Libra Scorpio Sagittarius Capricorn Aquarius Pisces
For more information about your Horoscope and what the stars have in store for you, order one of our detailed
Astrology Reports!
Want to know the theme of your relationship? This report compares your temperaments and personalities, whether you are married or living together.
Compatibility Report
Reveal as much information about you and your partner intention of opening doors of understanding and awareness.
Love Cards Report
Free Weekly Horoscope for your Sign
Aries: Everyone needs to rest occasionally – even Aries people – so as the Sun joins Neptune in your zone of repose, try not to push yourself if your body doesn't have the energy. Of course, you have the dynamic Mars in your sign for most of the week, which is bound to give you huge bursts of energy and dynamism, but you could easily overdo and burn yourself out so pace yourself, and make time to meditate or whatever helps you to relax and unwind. Keeping yourself grounded is wise right now so get out into nature or you can get a massage, do some yoga postures or spend twenty minutes grounding yourself with your bare feet on a patch of grass. By keeping your energy levels and nervous system in balance, you should find that your body is able to do what you need. If it doesn't, then it's definitely time to rest.
---
Discover a personal profile and 1-year forecast based on advanced calculations of your name and birth date.
Numerology Report
---
Taurus: Of all the zodiac signs, Taurus most needs to have periodic cleansings. This is because you're a fixed earth sign and nothing holds on to things more than fixed earth . Over time, you can suffer from too many accumulated toxins in your body, too much clutter in the house, or too many outdated beliefs clogging up your mental hard drive. The current planetary picture is very supportive in helping you to let go of whatever no longer serves you. If you're suffering from fatigue, a foggy head, or a general lack of get-up-and-go, then having some kind of clear-out could be just what the doctor ordered. From a short fast or detox to a spring clean, release what is no longer helpful to make space for fresh energy.
---
Need a guide for your growth and personal evolution based on astrological influences upon your personality?
New Age Natal Report
---
Gemini: With Neptune and Mercury gathered in your career zone, this is a time to gently feel or intuit your way forward rather than trying to make things happen. You could dream about the answer to a current career problem, or the universe might give you a sign for the way forward. By becoming still, you could find that you can sense the way forward. The body is a great compass, and if we tune into its messages, it will point the way forward, so whether your heart sinks or rises when you think about a particular matter, that in itself is a big clue. Follow your energy, and you will end up in exactly the right place.
---
This interpretation of your birth chart is written in simple language could be beneficial in self undestanding.
Merlin Report
---
Cancer: With a cluster of planets at the top of your chart, your attention is very much focused on where you're going in life, whether that applies to your career and ambitions or to your purpose in general, which ideally could be one and the same. Of course, not everyone's purpose revolves around work, and it probably wouldn't be healthy to think that's all there is to life. Family, creativity or helping others might be a big part of your purpose. Whatever your purpose is (and if you're not sure, then now is a very good time to figure it out), the cosmos is granting you a big opportunity to fulfill it, and you could very well need to be bold and brave to manifest it.
---
Indra reveals your life's contradictory urges & drives as well as your basic motivation, perceptions, inclinations and character.
Indra Report
---
Leo: Which part of your life needs transforming? Which aspect of you could benefit from change and renewal? If we consider that the outside is a mirror for what is going on within, then it makes more sense to seek to change in your inner self before trying to make external changes, especially if you've been trying for some time to effect changes in the outside world to no avail. On the simplest level, this week would be good for some spring cleaning or taking something old or shabby and renewing it. On a deeper level, take the part of yourself that is currently feeling angst (jealousy, anger, fear or insecurity) find the root cause, and then try to heal it. Actually, the best way to heal any problem in your life right now is through acceptance and forgiveness.
---
Want a detailed report for parents to help with the child's growth to strengthen the assets and avert possible problems that the child could face in their life?
Child Astrology Report
---
Virgo: "A part of kindness consists in loving people more than they deserve" (Joseph Joubert). It's not always easy for a Virgo to keep on loving when repeatedly confronted with someone's flaws, but it seems that is the challenge for the week ahead as Neptune aligns with the Sun in your relationship zone. There is likely a relationship in your life that could benefit from a dose of forgiveness, a sprinkling of acceptance, and a dash of honest communication. It could also help to see whether one or both of you are repeating and old pattern that needs breaking. Perhaps it's time to do things differently?
---
Want a birthday to birthday practical guide to help you recognize opportunities and to learn from them.
Astrological Solar Return Report
---
Libra: There are two things to be aware of this week. The first is that things are changing in an important relationship. So long as these changes bring either growth or liberation, you should go with it and not try to resist whatever weird, wonderful, or strange things that might be occurring. It may also be appropriate to seek to inject or embrace some spark into your partnership, especially if things have become a bit stale. Or it could be that someone new is the source of all the excitement. Try to stay on an even keel, and make sure that when you are being pushed out of your comfort zone, you are going in the right direction. Too much excitement could cause health imbalances, which is the second matter to be aware of. You might not be as robust as usual, so extra care needs to be taken this week to get plenty of rest and relaxation. A spiritual discipline such as yoga, tai chi, or meditation will do much to ground you in what could be a rather dizzy week.
---
Want to know the actual dates when the energies will influence your life in money, career, relationships, and communicaton?
Astro Forecast Report (3 months)
---
Scorpio: As the Sun journeys through your creative house of enjoyment and recreation, the emphasis is firmly on fun. Is there enough fun in your life? If not, what would you need to do to make your life more enjoyable? This could range from very small changes like joining an art class or taking up a hobby to making fundamental changes that reflect the truth of who you really are. Neptune's presence suggests the need for some kind of creative inspiration. Music, dance, film, photography and painting are good starting points to help you discover more about yourself and consequently, the type of changes you'd like to make.
---
Want a one year forecast to understand the scope of influence for your personal Cards of Destiny?
Cards of Destiny Report
---
Sagittarius: Now is the time to focus on your home and family and to nurture your loved ones (and yourself), and to correct any imbalances that might have been showing up in previous months. This could mean fixing problems or attending to the needs of your family. With Neptune's presence at the base of your chart, the potential for a transcendental or inspirational experience is rather high, so be alert for moments to treasure in your heart forever. This is also a very good time to forgive and forget and to release the past and your attachments to people and places that are no more.
---
Contemplating a move? This report tells how you will react to the energies of the specific locations for relationships, finances, and security.
Relocation Information Report
---
Capricorn: As Neptune drifts through your communication zone, you have the potential to lose yourself in something rather lovely – a film, a work of art, a book, a meditation, a trip to the sea or a poem, anything that touches your soul. In fact, the more you can indulge the beautiful and the sublime, the less likely you are to become embroiled in the tensions going on around you. Your domestic situation looks particularly volatile. There could be sudden problems or disruptions in the home or with family, but adopting a peaceful approach will do much to ease the situation. As Wayne Dyer said, "Conflict cannot survive without your participation."
---
Discover your character traits, relationship and career potentials – based on Edgar Casey Readings.
Cayce Past Life Report
---
Aquarius: Buddhists say that attachment is the cause of our suffering. If only we could let go when necessary, we could save ourselves a lot of grief. Neptune in your material zone suggests that letting go of something you can't have is a wise move. Whatever it is – wealth, a person, a possession, or a job – remind yourself that what's for you won't go by you, so everything else can drift on by, and that's fine. You probably have all that you need, which is what you should focus on right now.
---
Discover your past life connections that can carry over into your current life, accounting for interests, habits, even phobias.
Karmic Past Life Report
---
Pisces: With the Sun, Neptune and Mercury clustered together in your sign, this is a moment to go gently into the world, trusting your impressions and offering your healing and compassion to all who need it. You're likely to feel rather sensitive right now, so try to avoid brusque activities and harsh environments. Instead, subject yourself to the gentle, the beautiful and the sublime. You may also be feeling inspired, so if you have any artistic or creative gifts, now is the ideal time to make use of them. Music, dance, photography, art, poetry, film – these are all mediums in which you can lose yourself to transcend everyday worries, especially financial ones, and find your personal nirvana.
---
Discover your soul's intention for this lifetime, the lessons to be learned, qualities to develop, problems to be resolved, services to be rendered.
Karmic Insight Report
---
For more information about your Horoscope and what the stars
have in store for you, order one of our detailed
Astrology Reports for Couples!
---
Want to know the theme of your relationship? This report compares your temperaments and personalities, whether you are married or living together.
Compatibility Report
Reveal as much information about you and your partner intention of opening doors of understanding and awareness.
Love Cards Report