#Horoscope #Aries #Taurus #Gemini #Cancer #Leo #Virgo #Libra #Scorpio #Sagittarius #Capricorn #Aquarius #Pisces #Horoscope – overview of this week
The Center for the New Age is pleased to present
your Free Weekly Horoscope for March 26 – April 1, 2017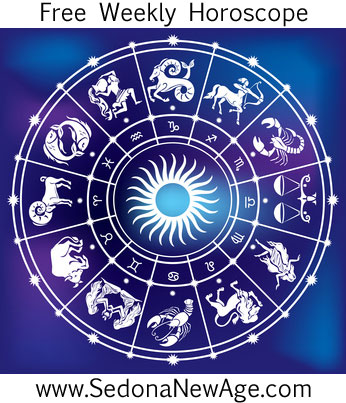 Receive our Free Weekly Horoscope in your Inbox
---
Aries Taurus Gemini Cancer Leo Virgo Libra Scorpio Sagittarius Capricorn Aquarius Pisces
Mars in Taurus sextile Neptune in Pisces (March 27 – April 4) brings the vitality of Mars' energy into a favorable position with the spirit-awakening influence of Neptune. This is a place where we can safely dump our anger and can potentially make a connection with a spiritual healing process. Mars is active and masculine, while Neptune has a very nebulous and passive guise that affects our deeper inner sense of beliefs and spirit. When these two planets are placed in a favorable position to each other, personal spiritual breakthroughs can be made.
New Moon in Aries on March 28 invokes the powers of initiation; it is the essential part of regenerative force to take the initiative and to start anew. This is the time when the new parts of the self begin to emerge, and our moods are encouraged by confidence, motivation, courageousness and fiery intent. Now is the time to generate and promote inspiration and happiness.
Mercury in Aries trine Saturn in Sagittarius (March 29 – April 4) brings favorable communication which tells us how, and where, to draw the lines for ourselves. This is a good time to make an impression, to teach and to communicate to others those important matters that must be clarified. This is also a good transit for making important decisions and for serious discussions, negotiations and business dealings. With common sense and an eye toward practical results, this is the ideal time to sign contracts especially those involving real estate.
Jupiter in Libra square Pluto in Capricorn (March 30 – May 17) is likely to bring an economic shift that might be rather hellish. Jupiter represents expansion, prosperity and social advancement while Pluto represents transformation, power and fate. This aspect ensures the demand for new enterprises will be in conflict with institutional powers. Beware of the potential for large scale deception in business as the powers that be are likely to exhibit too much greed. Avoid heavy gambling, new credit lines, risky and hasty expenditures. Expect a few rounds of difficult transformation with regard to economics over this tricky period of Jupiter square Pluto.
Mercury enters Taurus (March 31 – April 20) and communications will focus on manifesting sales and generating economic growth. It is a good time to clarify matters involving valuables and to focus on documents, contracts , speeches and business procedures. Mercury is the messenger, the speaker and the director of the subject matter at hand. In the fixed earth sign of Taurus, Mercury inspires the inclination to buy, sell, trade and barter. This is a time to accurately record practical matters and events, and to communicate about finances.
Aries Taurus Gemini Cancer Leo Virgo Libra Scorpio Sagittarius Capricorn Aquarius Pisces
For more information about your Horoscope and what the stars have in store for you, order one of our detailed
Astrology Reports!
Want to know the theme of your relationship? This report compares your temperaments and personalities, whether you are married or living together.
Compatibility Report
Reveal as much information about you and your partner intention of opening doors of understanding and awareness.
Love Cards Report
Free Weekly Horoscope for your Sign
Aries: The New Moon in your sign on Tuesday sets the scene for beginning a new chapter in your life. With Venus accompanying this New Moon, the time ahead has the potential to be very lucrative – not just in terms of money but to a sense of abundance and fulfillment that runs through all the veins of your life. For example, you could experience an increase in love, creativity and general happiness. Any new ventures or projects that you begin now look very favorable so long as you maintain a responsible and mature attitude that doesn't shirk from the effort needed to see them through. Saturn sits in the background of this New Moon reminding you of the importance of effort, commitment and responsibility. If you can factor those three virtues into whatever you're doing, success will be forthcoming.
---
Discover a personal profile and 1-year forecast based on advanced calculations of your name and birth date.
Numerology Report
---
Taurus: The New Moon in your zone of the past on March 28 suggests that it's time to close a door on something that no longer has a place in your life, or you need to heal something from the past. Something could emerge that you'd prefer to keep hidden or not have to deal with. Such reactions are a strong indication that you need to be courageous and face your inner demons so that they no longer have power over you. Remember, with Mars in your sign, you're in a position to move mountains, but if you're weighed down by things, it's going to be very difficult. Let go of what you no longer need, and you'll find you have more energy to expand on the present.
---
Need a guide for your growth and personal evolution based on astrological influences upon your personality?
New Age Natal Report
---
Gemini: Now is the time to focus on new beginnings. The New Moon on Tuesday is a great opportunity to consider how you would like your future to be and to begin planting the appropriate seeds. You will need to apply effort though, since Saturn is getting in on the act, as if to say that now is the time for greater maturity, responsibility, persistence or commitment. In other words, don't expect that the New Moon will wave a magic wand and transform matters, but it might create the right environment for your positive intentions and constructive efforts. This is also a good time to make positive changes to your social life – friendships, groups, societies or organizations. Don't be afraid to leave the past behind; if a friend or a group no longer works for you, there'll be plenty of more suitable options for you to discover very soon. Ultimately, this New Moon refers to your role in the world and whether it's time for a change.
---
This interpretation of your birth chart is written in simple language could be beneficial in self undestanding.
Merlin Report
---
Cancer: The theme of success and achievement continues as the New Moon on March 28 blesses you with the opportunity for new beginnings and opportunities with your ambitions. Venus joins this New Moon, creating a sense of magic and lining your path with fairy dust. However, as with all tales of enchantment, there is a dark figure lurking in the shadows waiting to spoil everything. That figure could take the guise of a work colleague, your health could be sabotaging your success, or it could be something else. Regardless of whether you can identify this shadow or not, all you have to do is learn the lesson that this shadow is trying to impart, whether that's persistence, maturity, responsibility, boundaries, patience or accepting your limits. Accept your lesson with good grace knowing that when you do, the path ahead will begin to sparkle again.
---
Indra reveals your life's contradictory urges & drives as well as your basic motivation, perceptions, inclinations and character.
Indra Report
---
Leo: The New Moon on Tuesday falls in your zone of travel, adventure and higher learning making this the perfect time to broaden your horizons and stretch your mind through advanced learning or other cultures and different places – anything really within your comfort zone. This is a great time to entertain new ideas and concepts or to stimulate your mind through subjects that give you a sense of meaning. In fact, the purpose of the Sun (and New Moon) in this area could be to discover greater meaning in your life or to find something that gives you new meaning. Follow your impulses and creative urges, as these will point you in the right direction.
---
Want a detailed report for parents to help with the child's growth to strengthen the assets and avert possible problems that the child could face in their life?
Child Astrology Report
---
Virgo: The New Moon on March 28 brings the potential for a deep and lasting transformation so if you feel you'd benefit from shedding your old skin or reinventing yourself, now is a good time. Sometimes all that's needed is the intention. If you have a heartfelt desire to change, don't worry about the whys and wherefores; just trust that your intention will carry you forward. At the very least, this New Moon encourages you to turn over a new leaf and to clear out the old to make way for the new. In this sense, you are now entering a powerful time in which your actions will strongly ripple out to the world around you.
---
Want a birthday to birthday practical guide to help you recognize opportunities and to learn from them.
Astrological Solar Return Report
---
Libra: With a New Moon in your relationship zone on Tuesday, you now have a golden opportunity to renew an important relationship. Perhaps it's time to change your expectations or to do things differently. Maybe it's time to forget the past and allow the relationship to begin again. New relationships can also begin around this New Moon, but with Saturn squaring the retrograde Venus aligned with this New Moon, it might be prudent to move carefully and not jump in where angels fear to tread. Saturn's presence suggests the need for maturity and self-discipline in your relationships. Perhaps there is a lesson that needs to be integrated so that your relationships can move to a new level. Maybe it's a case of accepting that patience and persistence will win out in the end. Maybe it's time to appreciate the value of commitment and to realize that when you put your faith in someone, miracles can happen.
---
Want to know the actual dates when the energies will influence your life in money, career, relationships, and communicaton?
Astro Forecast Report (3 months)
---
Scorpio: The New Moon on Tuesday is good news for your work and your health, as the potential to manifest new beginnings is strong now. This is an ideal time to pay attention to your health by improving your diet or taking up some form of exercise. This New Moon also favors new starts in work, projects, job roles and so on. Venus is conjunct this New Moon, suggesting that changes or opportunities could be auspicious, but with Saturn getting in on the act, there is something that you will need to be mindful of. For example, with Saturn in your house of money, you could take a more fulfilling role or job but with less pay, or you might decide to invest in your health by employing a good practitioner who isn't cheap. So long as you do what feels right, which will result in long-term health and happiness, things will most probably be worth the material sacrifice.
---
Want a one year forecast to understand the scope of influence for your personal Cards of Destiny?
Cards of Destiny Report
---
Sagittarius: Tuesday's New Moon should bring further opportunities for fun, relaxation, creativity or enjoyment. This is especially likely to be the case with Venus aligned with the Moon. However, if you don't make the effort, then the opportunity could be lost. Saturn's presence with this New Moon suggests that initially it might be easier for you to not bother. You might feel less inclined than usual to make the effort to do what your soul needs for replenishment or that you don't have the time. This would be a grave mistake. The more we reject replenishment, the more likely we are to sink into a depression or become ill so get out your pen and paper to list some activities that will bring you joy. You fill find that you return to your work and duties with more energy and enthusiasm for everything you need to do.
---
Contemplating a move? This report tells how you will react to the energies of the specific locations for relationships, finances, and security.
Relocation Information Report
---
Capricorn: The New Moon on March 28 falls in your domestic zone, making this the perfect time to renew things in your private world – home, family and foundation. The emphasis is on new beginnings with home and family matters, but to ensure smooth progress, it might help to cut the cords from people, situations or places that need to be left behind. When we're attached to things from our pasts, it can make it difficult to move on or to be fully present. Shamans refer to these attachments as soul loss, which can result in illness, depression, tiredness or general malaise. If you have suffered from any of these, it might be worth visualizing yourself cutting free from those things in the past you are still attached to. This will pave the way for a healthy and refreshing new beginning.
---
Discover your character traits, relationship and career potentials – based on Edgar Casey Readings.
Cayce Past Life Report
---
Aquarius: The New Moon on Tuesday brings possibilities in the form of new ideas, propositions, or good news. This is a good time to set your mental dial to "positive" because so much that happens in your world is the result of what is going on in your head. Therefore keep your thoughts buoyant and your feelings positive. The vibe you put out into the world is going to be stronger than usual. You will have the ability to influence others and your environment more than normal, perhaps by what you say or simply through the energy you're radiating. A good quote for you to ponder under this New Moon is by Earl Nightingale: "A great attitude does much more than turn on the lights in our worlds; it seems to magically connect us to all sorts of serendipitous opportunities that were somehow absent before the change."
---
Discover your past life connections that can carry over into your current life, accounting for interests, habits, even phobias.
Karmic Past Life Report
---
Pisces: The New Moon in your money zone on March 28 sets the scene for new financial beginnings. Since Venus accompanies the New Moon, the picture looks rosy indeed! However, Saturn's square to Venus suggests that it won't be enough to sit and visualize the winning lottery numbers or put out cosmic orders for riches and abundance although that won't hurt, of course. If you want to guarantee success, then some effort will be needed. The current cosmic picture favors setting your intention and backing it up with action. Then you can visualize and say your prayers!
---
Discover your soul's intention for this lifetime, the lessons to be learned, qualities to develop, problems to be resolved, services to be rendered.
Karmic Insight Report
---
For more information about your Horoscope and what the stars
have in store for you, order one of our detailed
Astrology Reports for Couples!
---
Want to know the theme of your relationship? This report compares your temperaments and personalities, whether you are married or living together.
Compatibility Report
Reveal as much information about you and your partner intention of opening doors of understanding and awareness.
Love Cards Report