#Horoscope #Aries #Taurus #Gemini #Cancer #Leo #Virgo #Libra #Scorpio #Sagittarius #Capricorn #Aquarius #Pisces #Horoscope – overview of this week
The Center for the New Age is pleased to present
your Free Weekly Horoscope for April 2 – April 8, 2017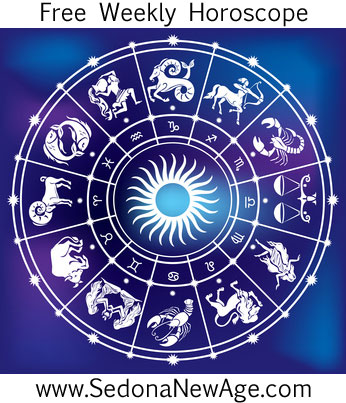 Receive our Free Weekly Horoscope in your Inbox
---
Aries Taurus Gemini Cancer Leo Virgo Libra Scorpio Sagittarius Capricorn Aquarius Pisces
First Quarter Moon in Cancer on April 3 urges us to share our feelings and take care of emotional needs, particularly in the light of our home. Home focused activities bring warm expressions of contentment. With First Quarter Cancer Moon the emotional current tends to be magnified. Nurturing foods and trustworthy company are important components of today's activities. Treating ourselves and others in a nurturing way becomes the key to enhancing or cleansing our emotional perspective. Be careful not to push the buttons of sensitive people and use words wisely while considering the feelings of yourself and others.
Venus enters Pisces (April 2 – April 28) and the planet of magnetism, attraction and love will be placing our desires and attention on Pisces related talents and practices. Music, poetry, the arts, psychic phenomena, spiritual and religious practices will all be endearing attractions and lively pursuits now through April 28th. Venus is the feminine planet of love and Pisces is an extremely feminine, dreamy and spiritual expression being animated by the love force of Venus. Love endeavors will emphasize passivity, tenderness, sensitivity and the need for a gentle approach towards love's expression.
Mars in Taurus is trine Pluto in Capricorn (April 5 – April 18). Discerning, cautious, and practical action leads to positive, monumental and powerful transformations. Actions taken now are more likely to have favorable results or to be influential with higher powers. This is a good time to resolve personal aggression directed towards the views and differences of another generation or of established powers.
Saturn in Sagittarius turns retrograde on Wednesday (April 5 – August 25). Saturn represents discipline, responsibility and the tenacity required to get the job done. Sacrifices may be necessary in order to complete important projects, and discipline and perseverance are essential. During Saturn retrograde, there will be a lot of work to do, retracing steps in the areas of life that need restructuring. It may be difficult, although not impossible, to begin new endeavors that require structure and the investment of time or commitment. Keep a steady check on quality control while Saturn is retrograde.
Venus in Pisces square Saturn in Sagittarius (April 8 – April 15) creates obstacles and restrictions in love. External responsibilities and restrictions can cause separation or obstacles in the way of love and nurturing. It may be difficult to engage in romance as these obstacles will seem to be relentless, and the demands of the world may overrule even our own essential needs. Romantic gestures may be misinterpreted or ignored despite our earnest attempts. This aspect can benefit relationships, however, if you're willing to work hard. You may have to accept a partner's need to set boundaries, which for the time being, allows them to feel secure.
Aries Taurus Gemini Cancer Leo Virgo Libra Scorpio Sagittarius Capricorn Aquarius Pisces
For more information about your Horoscope and what the stars have in store for you, order one of our detailed
Astrology Reports!
Want to know the theme of your relationship? This report compares your temperaments and personalities, whether you are married or living together.
Compatibility Report
Reveal as much information about you and your partner intention of opening doors of understanding and awareness.
Love Cards Report
Free Weekly Horoscope for your Sign
Aries: This is a good week to try something new or dare to be different. If you have become stuck in a rut in any way, the universe should shake you out of it. Perhaps you will witness a new beginning or a fresh start. Maybe you'll have a new experience that blows the cobwebs away. Either way, the beginning of April is a great opportunity to clear the decks and invite fresh new energies into your life. And with Mercury and Mars in your house of money, you might also want to seize any opportunity to create or manifest a better financial situation. You could start by valuing your gifts and talents and not holding back when it comes to going after what you want.
---
Discover a personal profile and 1-year forecast based on advanced calculations of your name and birth date.
Numerology Report
---
Taurus: April is a month to get your ideas and energy out into the world so that you can make headway with something that you would like to achieve, create or manifest. Mars in your sign imbues you with the necessary energy, confidence and motivation to get moving, and Mercury (also in your sign) gives you the edge as far as communication is concerned. If there's something you want or need, now is the time to ask. You might find that your self-worth needs some examining as Saturn's square to your ruling planet Venus is likely to highlight any holes in your confidence, so this is a good opportunity to look at why you might not feel deserving of good things – because you should. Maybe it has to do with love, money, ease or success. Challenge any notion that you're somehow not good enough.
---
Need a guide for your growth and personal evolution based on astrological influences upon your personality?
New Age Natal Report
---
Gemini: "In everyone's life, at some time, our inner fire goes out. It is then burst into flame by an encounter with another human being. We should all be thankful for those people who rekindle the inner spirit" (Albert Schweitzer). Your social life looks set to sparkle this week, and there could be new people on the horizon who will shake things up a bit. Sometimes we can get a bit stuck in our ways, and it's often through others that we are introduced to new and exciting things. This is a good week to do something fun with a friend, meet new people, accept an invitation to something you might not normally do, or join a group. You might also find yourself contemplating your ideal life, so now is an opportune time to consider how much of a gap there is between your ideal life and your actual life and to try to close that gap, even if it's just by changing one small thing.
---
This interpretation of your birth chart is written in simple language could be beneficial in self undestanding.
Merlin Report
---
Cancer: A change is as good as a rest, so the saying goes, and if you can apply this to your career or life's direction, you might find that life begins to take on a more colorful hue. The change may happen without your intervention, but if we consider Carl Jung's theory that "when an inner situation is not made conscious, it appears outside as fate,'' then we would have to conclude that any change or opportunity that comes along will be coming from within you, so embrace it knowing that it is an important part of your story.
---
Indra reveals your life's contradictory urges & drives as well as your basic motivation, perceptions, inclinations and character.
Indra Report
---
Leo: "Don't be too timid and squeamish about your actions. All life is an experiment. The more experiments you make the better." Ralph Waldo Emerson hints at your best approach as the Sun and Uranus in your zone of adventure encourage you to break free from convention and add some spice to your life. If there's a situation that has become stale or difficult, adopt an experimental mindset, and try a new approach. Perhaps a good philosophy to try is to ask, "What would happen if….?" The more daring you are, the more likely you are to find yourself in a position of success.
---
Want a detailed report for parents to help with the child's growth to strengthen the assets and avert possible problems that the child could face in their life?
Child Astrology Report
---
Virgo: Sometimes it's the small changes that have the most lasting effects. If you're currently facing a situation that feels daunting and seems to require a huge change, then start small. What simple changes can you make today? This week is your chance to be bold, to maybe even do battle with an inner demon, but it will not be as daunting or as heavy as you fear. Prepare to let go of an emotion, a habit, toxins in your body, or clutter in the house. The more you can clear and cleanse, the more likely you are to witness a rebirth.
---
Want a birthday to birthday practical guide to help you recognize opportunities and to learn from them.
Astrological Solar Return Report
---
Libra: Now is the time to create some sparkle in your relationship, especially if things have become a bit stale. Think about what first drew you together, and re-create that magic, or take a trip that inspires you to reconnect. If you do not make an effort to inject change into your partnerships, then you could find that fate steps in and shakes things up a bit, which may or may not be to your liking. The important thing to remember is that your relationships aren't meant to stay the same. If change happens, welcome it.
---
Want to know the actual dates when the energies will influence your life in money, career, relationships, and communicaton?
Astro Forecast Report (3 months)
---
Scorpio: Exciting changes with your work or daily life are in the cards, especially if you're prepared to think outside the box and do things differently. Perhaps the old approach isn't working anymore, and you need to think of alternatives. By daring to be different, you will get yourself noticed, which might then lead to opportunities that never would have happened if you had stayed within your comfort zone. Your health might also benefit from the same experimental approach, so if improvements are needed, try something new.
---
Want a one year forecast to understand the scope of influence for your personal Cards of Destiny?
Cards of Destiny Report
---
Sagittarius: "To be yourself in a world that is constantly trying to make you something else is the greatest accomplishment." Ralph Waldo Emerson reminds you of the importance of being true to yourself, so if you feel that recent times or events have taken the wind from your sails or gradually molded you into something you're not, then now is the time to kick back and insist on your right to be you. Be taking the time to consider who you are and what is important to you, you will rediscover what it is that makes you feel glad to be alive.
---
Contemplating a move? This report tells how you will react to the energies of the specific locations for relationships, finances, and security.
Relocation Information Report
---
Capricorn: "We shape our dwellings, and afterwards our dwellings shape us." Winston Churchill hints that he might have known more about feng shui than he let on! We cannot expect to be surprised when our surroundings influence us, so if something's not quite working in your life, take a look at your home to see whether anything is amiss. This is an ideal time to clear your clutter and to consider what in your home is important and what is unnecessary. The resulting space will free up a lot of energy.
---
Discover your character traits, relationship and career potentials – based on Edgar Casey Readings.
Cayce Past Life Report
---
Aquarius: Although we often forget it, our attitude is the key to our success. Consider how when faced with a negative situation, we slip into moaning or complaining about it or sometimes adopt a defeatist attitude. It's important to remember that you can change a situation by changing your thoughts. Earl Nightingale sums it up nicely: "A great attitude does much more than turn on the lights in our worlds; it seems to magically connect us to all sorts of serendipitous opportunities that were somehow absent before the change."
---
Discover your past life connections that can carry over into your current life, accounting for interests, habits, even phobias.
Karmic Past Life Report
---
Pisces: Changes in your financial situation are likely, so if all hasn't been great, things are about to improve. At worst, the picture looks unsettled, so be prepared by putting a little money aside for unforeseen expenditures. If things have been unsatisfactory for a while, then now is the time to make changes that will empower you. An innovative approach will work best, and it might be that you need to be bold and take some chances. As Shakti Gawain says; "The universe will pay you to be yourself and do what you really love."
---
Discover your soul's intention for this lifetime, the lessons to be learned, qualities to develop, problems to be resolved, services to be rendered.
Karmic Insight Report
---
For more information about your Horoscope and what the stars
have in store for you, order one of our detailed
Astrology Reports for Couples!
---
Want to know the theme of your relationship? This report compares your temperaments and personalities, whether you are married or living together.
Compatibility Report
Reveal as much information about you and your partner intention of opening doors of understanding and awareness.
Love Cards Report