#Horoscope #Aries #Taurus #Gemini #Cancer #Leo #Virgo #Libra #Scorpio #Sagittarius #Capricorn #Aquarius #Pisces #Horoscope – overview of this week
The Center for the New Age is pleased to present
your Free Weekly Horoscope for April 23 – April 29, 2017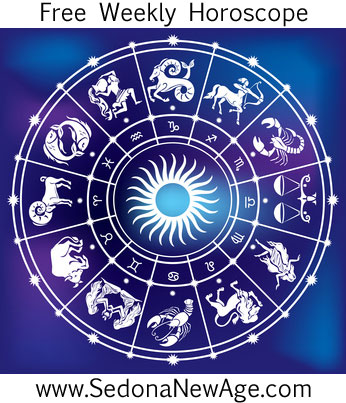 Receive our Free Weekly Horoscope in your Inbox
---
Aries Taurus Gemini Cancer Leo Virgo Libra Scorpio Sagittarius Capricorn Aquarius Pisces
Mercury in Aries trine Saturn in Sagittarius (April 24 – May 1) brings favorable dialog concerning where to draw the lines. This is a good time to make an impression, to teach and to communicate to others those important matters that must be clarified. Timely information and news represents a gift or blessing. Important news comes with this aspect and news concerning the end of a long and arduous task brings relief.
New Moon in Taurus on April 26 emphasizes the acquisition of new possessions, or it could mean there is a need to restore, replenish and maintain the old ones. Personal contentment can be found in possessions. Search for the value of what you need and want. This serves as a good time to clean the bad energy off misguided objects of power. The Moon is exalted in Taurus and calls to us to enjoy the beauty that surrounds us.
Venus enters Aries on Friday (April 28 – June 6) and the expression of beauty, love and attraction takes on a fascination for the warrior spirit. While Venus is in the sign of Aries, the expression of love and beauty becomes a reflection of the self. Attraction is often impulsive and unpremeditated. Venus represents magnetic draw and attraction, and at this time the planet of love and beauty focuses our attention on the force and fire of Aries related interests such as competition, rights of selfhood, and initiation into new endeavors. Venus in Aries brings out the warrior and conqueror quality in people and a new sense of life and vitality is brought to the surface. Remember, Aries rules the head; there are numerous ways you can use your head before plunging head first into love matters. At the same time, it is wise not to be so militant in the display of personal defenses and in the expression of one's true feelings of affection. New love is inspired with Venus in Aries.
Aries Taurus Gemini Cancer Leo Virgo Libra Scorpio Sagittarius Capricorn Aquarius Pisces
For more information about your Horoscope and what the stars have in store for you, order one of our detailed
Astrology Reports!
Want to know the theme of your relationship? This report compares your temperaments and personalities, whether you are married or living together.
Compatibility Report
Reveal as much information about you and your partner intention of opening doors of understanding and awareness.
Love Cards Report
Free Weekly Horoscope for your Sign
Aries: It's time to change your relationship with money. The New Moon in your financial zone on April 26 brings the opportunity for new beginnings or a fresh start in all material matters. Thinking in a positive and innovative way could well be the key. For example, if you need to improve your financial situation, then write down five ideas that could help you generate more cash, and choose the one that has the most energy for you. With Mercury and Uranus in your sign, thinking outside the box will be rewarded, so don't let other people talk you out of something just because they can't see the possibilities. If you have a zany idea, follow it. It could lead somewhere rather interesting. With all this mental energy taking place, you could feel quite wired, so it's important this week to ground yourself. Go for a walk in nature, take a relaxing bath, get a soothing massage, or do some gardening. These activities could help to keep you grounded and relaxed.
---
Discover a personal profile and 1-year forecast based on advanced calculations of your name and birth date.
Numerology Report
---
Taurus: On April 26, you are blessed with a New Moon in your sign, making this an ideal time to focus on new beginnings. What do you want to create? What changes would you like to make? Is something new coming into your life, and if so, do you need to create a space for it? Be particularly alert to signs from the universe or insights from your dreams or sudden revelations. Mercury and Uranus together in your unconscious and spiritual zone will give you a direct line to your higher self, making it easier to tune into what you need to do. It will be like having your dial set to Angel FM so be ready to receive messages, and whatever you do, don't ignore them. If you get a sudden impulse to turn left instead of right or you have a dream in which you receive an answer, follow it through. By allowing yourself to be inspired by signs and messages beyond your conscious mind, you might discover the answer to a long-standing dilemma.
---
Need a guide for your growth and personal evolution based on astrological influences upon your personality?
New Age Natal Report
---
Gemini: The New Moon in your quiet zone on April 26 suggests tentative new beginnings, which at this stage might just be a thought or an idea. It is important to nurture this new idea by encouraging it to grow, perhaps by thinking of it often and protecting it from the criticism or cynicism of others. Perhaps you could create a vision board of things that appeal to you and that you would like to manifest in your life. Be gentle with yourself at this time, for you, like your baby ideas and hopes for the future, might feel a little delicate. Demonstrate your faith in the new by releasing the old. When we make space for the new – even if we're not yet sure what the new is – we prove to the universe that we are serious about our intentions, and the universe in return sends us proof that we're on the right path.
---
This interpretation of your birth chart is written in simple language could be beneficial in self undestanding.
Merlin Report
---
Cancer: The New Moon in your social zone on April 26 makes this the ideal time to plant new seeds relating to the changes and developments that have occurred during the past few weeks, especially those relating to friends, groups, organizations and your intentions for the future. If you successfully answered the call of Mercury retrograde by resolving any issues connected with friends and groups or by going over matters connected with your future and your hopes and ideals, then you should find that this New Moon helps your desires to take shape. Use the energies of this New Moon to wipe the slate clean and to focus your intentions firmly on the future and how you would like it to be, remembering that positive visualization is a much better tool than fear, doubt and worry. Finally, if you are able to think outside the box and generate one or two different ideas, creative or inspiring – especially where your professional life is concerned – you should find that some rather interesting developments take place which could be to your liking.
---
Indra reveals your life's contradictory urges & drives as well as your basic motivation, perceptions, inclinations and character.
Indra Report
---
Leo: The New Moon at the top of your chart on April 26 bodes well for your career and direction in life. This is the time to start something new, maybe a new project or a new approach to your professional life. The New Moon will help you take a step forward on your path in life or plant seeds that will help you to live out your purpose. Either way, April 26 is the date to begin afresh and to push forward in a new direction. If you can think outside the box and be open to inspiration, so much the better, as innovative thinking will hold the key to resolving any current problems.
---
Want a detailed report for parents to help with the child's growth to strengthen the assets and avert possible problems that the child could face in their life?
Child Astrology Report
---
Virgo: The New Moon on April 26 is a great opportunity to make progress with your plans, especially if they involve communication, such as writing, teaching, speaking or higher education. Travel is also favored, so go on an adventure, even if it's just for a day or two. The important thing isn't so much the distance or the duration, but the experience of something new or different. Break out of your comfort zone. This will help your mind to expand, thus enabling you to see the world in a new way. Mercury is still retrograde so it won't be a case of full steam ahead, but if you can change the way you approach a situation – perhaps by breaking an old habit or pattern and this could have as much to do with emotional and psychological responses as physical habits) – you can at least make substantial progress.
---
Want a birthday to birthday practical guide to help you recognize opportunities and to learn from them.
Astrological Solar Return Report
---
Libra: Good news is on the horizon after what could have been a very trying few weeks. Venus is no longer under the miserable clutches of Saturn, which is good news for both your finances and your relationships (creativity too), and Mercury (although still retrograde) has now backtracked to your relationship zone and is effectively offering you an olive branch. Now is the time to talk and work toward healing any rifts in your partnerships. The more you can see things from a different or higher perspective, the more likely you are to make progress. Don't be afraid to do what works for you even if other people think you're a bit crazy! Further positive influences include the New Moon in your zone of transformation on April 26, bringing the potential for you to emerge from previous difficulties like the phoenix rising from the ashes. Now you can begin to see the value in adversity because whatever tough stuff you've had to deal with in recent times, you should now be able to see the light at the end of the tunnel and feel as if you've achieved something. And with Jupiter in your sign, there is plenty of good stuff in your life with the potential for more to come. Keep your eyes focused on the horizon, and expect a further positive shift on April 28, when Venus enters Aries, at which point you can begin to experience the joy and happiness that you've been aching for in your relationships.
---
Want to know the actual dates when the energies will influence your life in money, career, relationships, and communicaton?
Astro Forecast Report (3 months)
---
Scorpio: The New Moon in your relationship area on April 26 is good news for your personal life, as new beginnings can be created. If you need to renew a relationship with someone, April 26-27 is the time to do it. Existing relationships can be taken to a new level, and new relationships are likely to begin around this time. Meanwhile, your work or daily life comes back into the picture as Mercury retrograde joins Uranus in this area, which means that your best bet is to think outside the box. Be innovative, dare to be different, and say what you think, even if others think it's off the wall. Contemplate a new role for yourself, one that is exciting and unconventional. You might receive health benefits from unconventional choices, especially if you've been repressing your true thoughts and desires. Daring to be different in your daily life is the key to your success, so get ready to march to your own drumbeat.
---
Want a one year forecast to understand the scope of influence for your personal Cards of Destiny?
Cards of Destiny Report
---
Sagittarius: The New Moon on April 26 provides the perfect opportunity for a new start in your work or your health so if either area has been a source of concern, begin planting some new positive intentions, and watch them take root. This would be a great time to begin a new job role, start a new project, clear out your kitchen cupboards, replace any junk food with healthy choices, or begin a new health regimen. It should all feel very refreshing and empowering to set the intention to be healthier and more productive in the way you spend your days. A creative approach will work best, so allow unusual ideas to fuel your creativity. You can create a vision board of what good health looks like to you. Make a collage of your ideal job or your perfect day. Allow the imagery to speak to your subconscious. This will help you connect with the universe in synchronistic ways to bring about your desires.
---
Contemplating a move? This report tells how you will react to the energies of the specific locations for relationships, finances, and security.
Relocation Information Report
---
Capricorn: Fun, love, romance and creativity – these are just a few of the things you can look forward to under the New Moon on April 26 provided that you step aside from your work and chores long enough to allow more fun into your life. Here is an opportunity to get in touch with who you are at a deeper level, which will in turn give you pointers as to how you can get more enjoyment out of life. Good questions to ask around the time of this New Moon include "What do I love doing? What did I love as a child? When does time seem to fly? What changes would I need to make to be able to dance to my own tune?" It could simply be a case that this New Moon brings forth a light-hearted vibration that you can step into and enjoy fully. Therefore, it would be good to seize any opportunity for fun and enjoyment this week.
---
Discover your character traits, relationship and career potentials – based on Edgar Casey Readings.
Cayce Past Life Report
---
Aquarius: The New Moon on April 26 in your domestic zone is a great opportunity to make changes to your home or renew your domestic skills. At the root of this New Moon is the need to say goodbye to the past and to move on to begin a new chapter of life. Sometimes a new addition to the family, a change of address, or creating new décor are signs that we are moving on, so create or invite something new into your home. The refreshing energy that the change brings will have a transformative effect on you, inspiring you to turn a corner or take the next step forward.
---
Discover your past life connections that can carry over into your current life, accounting for interests, habits, even phobias.
Karmic Past Life Report
---
Pisces: The New Moon on April 26 is an opportunity to approach a particular situation in a new way. We are all guilty of harboring negative thoughts from time to time – fear, doubt, or insecurity. We need to remember that if we expect failure, that's what we are likely to get so join forces with the New Moon and make choices that are constructive and empowering. Changing the way you approach the world can have a massive effect on how the world receives you, so even if you pick just one thing and vow to do it differently, it will be a choice well made.
---
Discover your soul's intention for this lifetime, the lessons to be learned, qualities to develop, problems to be resolved, services to be rendered.
Karmic Insight Report
---
For more information about your Horoscope and what the stars
have in store for you, order one of our detailed
Astrology Reports for Couples!
---
Want to know the theme of your relationship? This report compares your temperaments and personalities, whether you are married or living together.
Compatibility Report
Reveal as much information about you and your partner intention of opening doors of understanding and awareness.
Love Cards Report