#Horoscope #Aries #Taurus #Gemini #Cancer #Leo #Virgo #Libra #Scorpio #Sagittarius #Capricorn #Aquarius #Pisces #Horoscope – overview of this week
The Center for the New Age is pleased to present
your Free Weekly Horoscope for May 21 – May 27, 2017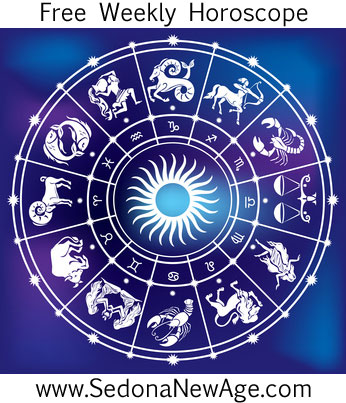 Receive our Free Weekly Horoscope in your Inbox
---
Aries Taurus Gemini Cancer Leo Virgo Libra Scorpio Sagittarius Capricorn Aquarius Pisces
New Moon in Gemini on May 25 allows for novel thoughts and ideas to flow, and new feelings about the way we are thinking will begin to emerge. New Moons are like clean slates. It's time to begin a process of strengthening and celebrating your energy and planning new vistas for growth, particularly in the area of emotional wellbeing. Pay attention to those newer thoughts, ideas and caprices in the wind. This would be a good time to initiate a round of creative writing, or to apply a mental discipline in a manner which will eventually become more personally beneficial. Making an attempt to reach out to an old friend or to open up communications with a new circle will bring great insights to one's field of knowledge at this time.
Venus in Aries is square Pluto in Capricorn (May 25 – May 30). The energetic, swift and intrepid qualities of our affections are likely to take a pretty good beating. Our concepts of beauty may be challenged as the corruption of superpowers prompts action which threatens or alters the beauty and pleasure in our lives. Venus square Pluto usually involves such difficulties as loss or death of a loved one, the obstacles or rejection and general oppression for those aspects of life to which we are undeniably attached and which we hold dear. If something of this nature is occurring for you, it is best to recognize that love will triumph in every dimension, despite the pain of separation, or the disease and strife of the beloved. Be both strong and gentle in matters of love. Let the obstacles of love's pain become the building blocks of a better outlook, and a stronger love will supersede these current trials of the heart.
Aries Taurus Gemini Cancer Leo Virgo Libra Scorpio Sagittarius Capricorn Aquarius Pisces
For more information about your Horoscope and what the stars have in store for you, order one of our detailed
Astrology Reports!
Want to know the theme of your relationship? This report compares your temperaments and personalities, whether you are married or living together.
Compatibility Report
Reveal as much information about you and your partner intention of opening doors of understanding and awareness.
Love Cards Report
Free Weekly Horoscope for your Sign
Aries: The Sun's arrival in Gemini on May 21 is good news for you in the sense that life will be busy, which is how you like it. Increased communication, especially with neighbors, and enjoyable short trips are in order. It's also an ideal time to express yourself. Perhaps you have an important message that you wish to get across. Be mindful, though. With Mars also in the same area, you could easily overdo it, which might result in unnecessary stress or fatigue. As the Moon becomes new in your zone of the mind on Thursday, you have an ideal opportunity to question how you see things and whether your attitude could be adjusted to bring about a happier state of mind.
---
Discover a personal profile and 1-year forecast based on advanced calculations of your name and birth date.
Numerology Report
---
Taurus: You have until May 21 to finish recharging your batteries before the focus shifts to money and material matters. The quickest and easiest way to recharge your batteries isn't necessarily lying down to rest. It's doing the things you really enjoy and that make you feel alive. When we do what we love, we plug into Source, which is infinitely more invigorating that any amount of rest. If there's room for improvement in your material world, May 25 with the New Moon in Gemini, is the day to circle in your date book. Good intentions and a willingness for a fresh start will bear fruit in the months and years ahead.
---
Need a guide for your growth and personal evolution based on astrological influences upon your personality?
New Age Natal Report
---
Gemini: The Sun's entry into your sign on Sunday will bring a welcome boost of energy and enthusiasm as well as open a window of opportunity for you to recharge your batteries. This could come about through increased opportunities for fun and enjoyable activities, so when invitations come your way, it would be a good idea to seize them. The New Moon in your sign further adds to the delightful planetary arrangements, making this a week to seize new beginnings with optimism and hope. Now is your chance to begin again or to move a step further up the cosmic spiral. No matter how painful it might have been, the past can be laid to rest now and although it might not ever be forgotten, it can start to fade, thus freeing up space in your heart and soul for more joyful experiences.
---
This interpretation of your birth chart is written in simple language could be beneficial in self undestanding.
Merlin Report
---
Cancer: The Sun joins Mars in your zone of rest and repose on Sunday. This means that the two planets symbolizing energy, motivation and enthusiasm will effectively be resting behind the scenes. This is precisely what you should do. In our society, though, not being busy and productive all the time is frowned on. We're expected to be switched on 24/7, much like the technology that has come to dominate our lives. To replenish your spirit and restore energy for future use, you need to set some boundaries. Be firm in your need for some time out. For a while, the New Moon in your zone of solitude on Thursday might have you feeling a little lost, like floating through space without a tether to the mother-ship. Fear not. If you keep your focus within by observing your feelings, watching your dreams, or responding to subtle internal prompts or your body's cries for attention, the lost feelings will subside and turn into powerful insights that help you navigate your way back home.
---
Indra reveals your life's contradictory urges & drives as well as your basic motivation, perceptions, inclinations and character.
Indra Report
---
Leo: The Sun's shift into your zone of future hopes and dreams on Sunday is good news for you, as this is the point at which you can start to shape your future in a way that is most pleasing to you. There are times when it seems as if life shapes us rather than the other way around. We sometimes forget how powerful we are so rather than let life happen to you, decide how you would like things to be and set about making them happen. The New moon on May 25 is the ideal point at which to begin shaping your reality. Hopefully, last week's words of guidance inspired you to make some changes or to plant some positive seeds of intent, which at this point is all that's required.
---
Want a detailed report for parents to help with the child's growth to strengthen the assets and avert possible problems that the child could face in their life?
Child Astrology Report
---
Virgo: Make the most of the last of the Sun's journey through your adventurous zone by taking every opportunity to broaden your horizons; explore new concepts, ideas, or places; and seek growth and expansion Ultimately, the soul seeks growth, so spending some time identifying what your soul needs for its development will be time well spent. On May 21, the Sun moves into the success area of your chart, encouraging you to move on to bigger and better things. With Mars there too, there should be no stopping you so if there's an ambition that's been on the back burner, now is the time to push ahead with it. The New Moon at the top of your chart on Thursday is a great omen for new beginnings in your professional life, be it an opportunity for a new venture, a new line of work, a promotion, or whatever means success to you.
---
Want a birthday to birthday practical guide to help you recognize opportunities and to learn from them.
Astrological Solar Return Report
---
Libra: The Sun's move into Gemini on May 21 will be a welcome respite for you, bringing forth a much lighter, cheerful vibration as it joins Mars in your zone of adventure. Now is the time to kick off your shoes, dance a little, explore your dreams and believe in the impossible. It might help to remind yourself that something is only impossible if you think it is, so if you have an unfulfilled dream, now is a good time to start believing in it. The New Moon on May 25 indicates a time when you should be feeling more childlike and optimistic in your approach to life. This is a great week to take a trip, explore a new subject, discover a new place, and generally open up to different experiences. Doing so will broaden your horizons, blow away the cobwebs and give you more enthusiasm for pursuing your dreams.
---
Want to know the actual dates when the energies will influence your life in money, career, relationships, and communicaton?
Astro Forecast Report (3 months)
---
Scorpio: Transformation and rebirth are your themes as the Sun enters the psychological area of your chart on Sunday. This is the point at which life takes on a darker hue, as you naturally consider areas of life normally hidden beneath the surface. This is, of course, natural territory for Scorpios. You have an affinity with all that is hidden, dark, or forbidden so for you, a journey into the underworld can be an exciting trip. This might manifest itself in a variety of ways, from having a physical detox to cleansing your home or performing a ritual that enables you to let go of something or someone. The New Moon in your rebirth area on May 25 is an ideal opportunity for you to make inner changes. It might be time to decide you're ready to move on in some way and this is the week to consider what to do or where to go.
---
Want a one year forecast to understand the scope of influence for your personal Cards of Destiny?
Cards of Destiny Report
---
Sagittarius: A sociable energy arrives as the Sun moves into your opposite sign on Sunday, signaling a good time for interactions with others. Time spent with significant others can provide an enjoyable interlude. Sagittarius people usually score highly when cheerful, but there are times when – being a fire sign – irritation, anger and tastelessness get the better of you and can wound those around you. Here is an opportunity to practice blending sensitivity with your cheerful temperament to see what a difference it makes. The New Moon on Thursday brings an opportunity to renew an existing relationship or to begin a fresh one. Whether new or existing, use the energies of this moon to start as you mean to go on, perhaps vowing to do things differently this time. Old grievances can be forgotten now as this energy is all about the future, not the past.
---
Contemplating a move? This report tells how you will react to the energies of the specific locations for relationships, finances, and security.
Relocation Information Report
---
Capricorn: The Sun moves into your zone of health and well-being on May 21. It might be tempting to channel most of your energy into work or getting organized since this is the other domain associated with this area of your chart. All work and no play, makes "Jack a dull boy," so aim to balance your chores with plenty of rest, relaxation and a good dose of laughter, which as we all know, is the best medicine. The New Moon in your zone of work and health on Thursday is perfect for renewing these areas. Perhaps you'll have an opportunity for a positive change at work, or maybe you'll be inspired to begin a new health regime. Whatever the case, this New Moon is about overhauling your daily routines.
---
Discover your character traits, relationship and career potentials – based on Edgar Casey Readings.
Cayce Past Life Report
---
Aquarius: The Sun's move into Gemini on May 21 is good news for you, as it brings a more playful and creative feel to proceedings. There should be opportunities for fun or a break from the daily grind. To make the most of this fun-loving celestial transit, take some time to consider what you love and whether it plays a big enough role in your life. You might also want to consider whether you're being authentic enough by living life on your own terms and being true to yourself, or whether you've become caught up in society's expectations. Thursday's New Moon in your house of fun is perfect if you want to explore your creativity, let your hair down, and enjoy life a little bit more. It's also auspicious if you want to create more spaces in your life to do whatever makes your heart sing.
---
Discover your past life connections that can carry over into your current life, accounting for interests, habits, even phobias.
Karmic Past Life Report
---
Pisces: The past few weeks are likely to have been busy, with plenty of comings and goings, and now is the time to withdraw from the world a little to recoup, rest and nurture yourself and those closest to you. This is a great time for gathering with family members and enjoying the warmth and closeness that these bonds create. If there has been any conflict in this area, either with a family member or with challenges in your home, the Sun's entry into Gemini will be a blessing, enabling you to create a greater sense of harmony with just the right amount of intention. This is a good week to consider whether your home truly nurtures you and, if not, the New Moon on Thrusday will provide you with a perfect opportunity to freshen up your home and make the necessary adjustments.
---
Discover your soul's intention for this lifetime, the lessons to be learned, qualities to develop, problems to be resolved, services to be rendered.
Karmic Insight Report
---
For more information about your Horoscope and what the stars
have in store for you, order one of our detailed
Astrology Reports for Couples!
---
Want to know the theme of your relationship? This report compares your temperaments and personalities, whether you are married or living together.
Compatibility Report
Reveal as much information about you and your partner intention of opening doors of understanding and awareness.
Love Cards Report