#Horoscope #Aries #Taurus #Gemini #Cancer #Leo #Virgo #Libra #Scorpio #Sagittarius #Capricorn #Aquarius #Pisces #Horoscope – overview of this week
The Center for the New Age is pleased to present
your Free Weekly Horoscope for May 28 – June 3, 2017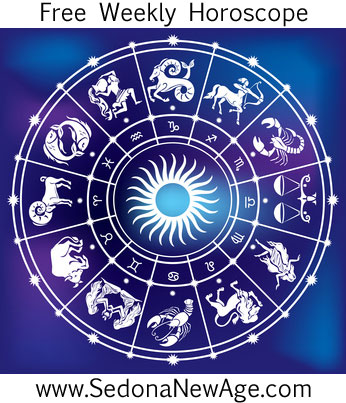 Receive our Free Weekly Horoscope in your Inbox
---
Aries Taurus Gemini Cancer Leo Virgo Libra Scorpio Sagittarius Capricorn Aquarius Pisces
Mercury in Taurus is sextile Neptune in Pisces (May 28 – June 1). This short lived but beneficial aspect serves as a good time to communicate with those who are an aid in spiritual matters. Mercury sextile Neptune is an opportunistic time to apply the work of prayers and spells. Take this opportunity to internalize thoughts and beliefs and mould them into a workable understanding.
Mars in Gemini opposite Saturn in Sagittarius (May 29 – June 1) makes us acutely aware of the timeliness of our actions and the importance of acting in a timely manner, or doing something about a problem before it's too late. Problems with authority, the system, the boss or simply our own internal stern parent could counter our attempts to move forward. It's best to be patient and "look before you leap."
Mercury in Taurus trine Pluto in Capricorn (May 31 – June 6) brings favorable news and optimistic discussion around issues of control and power. This is a favorable aspect for attempting communications with those of another generation, and to put the message out there wherever the gap exists. Mercury is the communications tower that transmits information concerning those lively issues that deeply concern us. Pluto's disruptive energy is focusing our attention on such issues as contagious diseases, senseless crime, misunderstandings between cultures, facing up to addiction and many other painful realities. This is a good time to express encouraging words and reinforce the troubled people of our world with a sense of hope.
Venus in Aries trine Saturn in Sagittarius (June 1 – June 11) brings the timely gift of love. Paradoxically, it also allows for some peace in the closure of a love relationship. This is the aspect to enhance a love vow or oath with the timely application of loving energy, and is also a good aspect to better understand the importance of devotion and responsive caring. Love is a gift as well as a self-created responsibility. Remember when extending love, it is best not to have expectations concerning the need to receive it in return. This will come in due time while one is practicing the application of love's expression.
First Quarter Moon in Virgo is on June 1. There is a strong investigative curiosity at work with the Sun in Gemini and the Moon in Virgo. Both of these Mercury ruled signs (Gemini and Virgo) emphasize the need to keep things flowing both on logical and practical level of application, particularly when passing on information.
Aries Taurus Gemini Cancer Leo Virgo Libra Scorpio Sagittarius Capricorn Aquarius Pisces
For more information about your Horoscope and what the stars have in store for you, order one of our detailed
Astrology Reports!
Want to know the theme of your relationship? This report compares your temperaments and personalities, whether you are married or living together.
Compatibility Report
Reveal as much information about you and your partner intention of opening doors of understanding and awareness.
Love Cards Report
Free Weekly Horoscope for your Sign
Aries: Our perception of life with all its major and minor incidents, determines whether or not we will be happy. We can choose to be angry when the bus is late, or we can see it as an opportunity to watch people or to practice patience. When we greet the world as if it is a friend, magical things happen. Mars, the ruler of your Horoscope – a very important planet – spends almost the entire month of June starting this week, "out of bounds." This shows you're moving outside your normal sphere and you are "out of your usual boundaries" intellectually and in health matters too.
---
Discover a personal profile and 1-year forecast based on advanced calculations of your name and birth date.
Numerology Report
---
Taurus: Be aware of any imbalances of power where money is concerned, as this is often an area where power struggles can easily ensue. Whether you're the one holding the purse strings or being financially controlled by others, make it your goal to transform financial imbalances into empowerment and harmony. Step into your own power by refusing to play power games and by becoming more confident in your ability to manifest whatever you need.
---
Need a guide for your growth and personal evolution based on astrological influences upon your personality?
New Age Natal Report
---
Gemini: With Mars in your sign, along with Jupiter in your house of fun and creativity, you are moving into a time when joy, lightheartedness, play and motivation will be ever present. It's as if all the windows of your soul have been flung open, and the light of a new day washes over you. Your only potential problem could be other people who seem intent on thwarting your happiness. If such people can be avoided or let go of, your problems will be short lived. If that's not possible, learning the lessons that such people might bring to your door will make the difficulty pass all the quicker.
---
This interpretation of your birth chart is written in simple language could be beneficial in self undestanding.
Merlin Report
---
Cancer: With the First Quarter Moon in Virgo on Thursday, the questions to ask yourself are what is home to you and when do you feel at home and where? Maybe you could write a list of when, where and with whom you feel at home, and perhaps you can make a visual representation of them to remind yourself of where you need to be. With this in mind, this week you enter your period of maximum personal independence and power which will last well into next month, so take responsibility for your happiness. It's really up to you and not others. Make the changes that make you happy. It will be much easier to do this at this time. If you procrastinate until later, changes can still be made but with more difficulty.
---
Indra reveals your life's contradictory urges & drives as well as your basic motivation, perceptions, inclinations and character.
Indra Report
---
Leo: Even if all you have is the beginning of an idea or a vague sense of what you would like to manifest, nurture it and it will surely grow just as a young seedling will grow into a strong plant if given enough attention. It might sound like a cliché, but what we focus on grows, so give your attention to only what you want and watch as it takes shape. The planetary power is moving towards you rather than away from you. It supports you. Your personal happiness – your self-interest – is important; now is the time to follow it. Take responsibility for your own happiness and make the changes that need to be made. Let the world conform to you rather than the other way around.
---
Want a detailed report for parents to help with the child's growth to strengthen the assets and avert possible problems that the child could face in their life?
Child Astrology Report
---
Virgo: Try approaching your goals in a more empowered and determined way. After all, Mars is there (in your 10th House) to help you muster the enthusiasm, motivation and determination you need to be a success at pretty much anything. You might feel blocked or held back by certain responsibilities, family duties or issues at home, but these needn't block you from your plans as long as you keep the right mindset. Don't give up when the going gets tough. Remember, that once you make a decision, the universe conspires to make it happen. And with the First Quarter Moon in your sign, you are in balance. You go beyond your everyday identity and look at the larger picture. You are moving ahead with purpose and that is what matters.
---
Want a birthday to birthday practical guide to help you recognize opportunities and to learn from them.
Astrological Solar Return Report
---
Libra: You may experience a fly in the ointment early this week in your relationships with certain people – from partners to family member – who could trigger self-worth issues. Should this occur, try not to let it derail you and your plans. Instead, use any setback as an opportunity to see where there are holes in your confidence. Things change around the First Quarter Moon on June 1. This is a time of relentless hard work as you whip your subordinates and yourself into shape and insist on adherence to deadlines. It is a significant period. There is marked achievement as you move at full throttle, set targets and meet them and renew your confidence in all that you do.
---
Want to know the actual dates when the energies will influence your life in money, career, relationships, and communicaton?
Astro Forecast Report (3 months)
---
Scorpio: Perhaps you want to let go of something or to work toward healing yourself or a dysfunctional part of your life. Think carefully before making dramatic changes, as sometimes it's better to mend or rework something that still has potential rather than getting rid of it. Take a moment to assess what has potential, what can be transformed, and what (if anything) needs to go. Around the First Quarter Moon more challenges are thrown at you and yet you don't succumb. With every change overcome, you evolve stronger and wiser. You have learned to adapt and that is the cue: the species that adapts is the species that survives and you certainly are ambitious and determined and nothing can interfere with you on the road to success.
---
Want a one year forecast to understand the scope of influence for your personal Cards of Destiny?
Cards of Destiny Report
---
Sagittarius: If things have felt stale or stuck, the First Quarter Moon in Virgo on Thursday could bring a breakthrough while progress with difficulties could also be easier than before. With Saturn in your sign opposed by Mars, others might be perceived as the cause of your problems. If so, remember that conflict cannot survive without your participation so why not just refuse to take part? Your declaration in this regard will provide more stability for you as it will enable you to be moving on without upheaval. Albert Einstein got it right: "Life is like riding a bicycle. To keep your balance you must keep moving." Peddle on, Sag; peddle on!
---
Contemplating a move? This report tells how you will react to the energies of the specific locations for relationships, finances, and security.
Relocation Information Report
---
Capricorn: As May ends, where can you be more organized and efficient? How can your health be better, and what steps can you take to bring about these improvements? There is a way to do this: put your heart, mind and intellect into your smallest act and you will have the success you want. The First Quarter Moon in Virgo reflects stability and balance in your dealings. As a result, your life will be on an even keel and you will find it easy to plunge into hard work making rapid progress. This makes you happy with yourself which is, Capricorn, your key to a good life.
---
Discover your character traits, relationship and career potentials – based on Edgar Casey Readings.
Cayce Past Life Report
---
Aquarius: This is the week to rediscover and explore an old passion. Whatever you choose, you might find that you like it so much that you decide to make it a regular part of your life. This is a time to enjoy your life and especially your love relationships. This is a time to do fun things together. Since your love planet is in Gemini, the gift of the gab is still part of the appeal. Love equals good communication and intellectual compatibility. Love opportunities happen at school functions, lectures or seminars – as well as at the usual places – clubs, resorts and places of entertainment – so don't hesitate to visit a variety of venues whenever you can.
---
Discover your past life connections that can carry over into your current life, accounting for interests, habits, even phobias.
Karmic Past Life Report
---
Pisces: The First Quarter Moon is in Virgo and there is relative stability, but you realize that you cannot be resistant to change and insist on the status quo forever. Perhaps it is time for a new beginning – a new home, a new arrival, a positive development with a family member, a change within your home or a sense of things finally moving forward. Now you can begin to leave the past behind and create a new future. A little space clearing would be good at this point, or maybe your walls could benefit from a fresh coat of paint. The options are many, so choose what feels right to you. As long as there's a feeling of newness within your home, family or your inner self, you'll be making the most of the energies of this First Quarter Moon.
---
Discover your soul's intention for this lifetime, the lessons to be learned, qualities to develop, problems to be resolved, services to be rendered.
Karmic Insight Report
---
For more information about your Horoscope and what the stars
have in store for you, order one of our detailed
Astrology Reports for Couples!
---
Want to know the theme of your relationship? This report compares your temperaments and personalities, whether you are married or living together.
Compatibility Report
Reveal as much information about you and your partner intention of opening doors of understanding and awareness.
Love Cards Report