#Horoscope #Aries #Taurus #Gemini #Cancer #Leo #Virgo #Libra #Scorpio #Sagittarius #Capricorn #Aquarius #Pisces #Horoscope – overview of this week
The Center for the New Age is pleased to present
your Free Weekly Horoscope for June 11 – June 17, 2017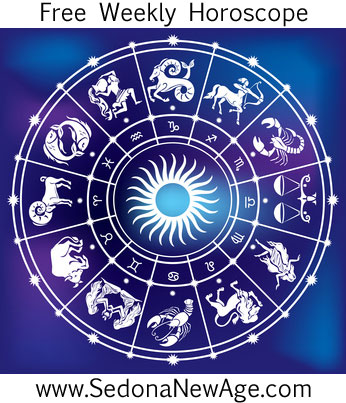 Receive our Free Weekly Horoscope in your Inbox
---
Aries Taurus Gemini Cancer Leo Virgo Libra Scorpio Sagittarius Capricorn Aquarius Pisces
Mercury in Gemini trine Jupiter in Libra (June 13 – June 19) is a most favorable aspect that brings good news of expansion and prosperity to those who are open to broadening their awareness. Mercury brings news, while Jupiter brings wealth and prosperous changes. For some people Mercury trine Jupiter serves as an advantageous time to ask for a job or a loan or a good time to provide a service which may have a bearing on a potential promotion. This is an especially good time to look openly for opportunity when sharing information, and to promote oneself and one's capabilities.
Mercury in Gemini square Neptune in Pisces(June 13 –July 1) commonly brings about difficulty with communications concerning the challenges and obstacles of the spirit world and human spirituality. Mercury applies to the act of communicating while Neptune encompasses the evasive, hypersensitive realms of divinity. While Mercury is squaring Neptune, our minds are a lot more challenged regarding issues of divine experience, and relaying all this information may seem all the more difficult with this aspect. Anticipate religion related arguments and disputes, and resistance to spiritual teachings.
On June 17 the Last Quarter Moon in Pisces promotes a dreamy, mysterious, enchanting, and as some might perceive, fearful depth to the word "entranced." This is the place where the imagination roams with absolute accuracy and one's belief system is profoundly touched. Waning Pisces Moon tends to keep us entranced by an endless number of things. Those areas of our life that bring depth and meaning are often brought out on a Pisces Moon. This is a good time to cleanse the spiritual cobwebs off our own lives, and to reinforce personal fortitude with the strength to overcome addictions using sheer willpower and belief in oneself.
Aries Taurus Gemini Cancer Leo Virgo Libra Scorpio Sagittarius Capricorn Aquarius Pisces
For more information about your Horoscope and what the stars have in store for you, order one of our detailed
Astrology Reports!
Want to know the theme of your relationship? This report compares your temperaments and personalities, whether you are married or living together.
Compatibility Report
Reveal as much information about you and your partner intention of opening doors of understanding and awareness.
Love Cards Report
Free Weekly Horoscope for your Sign
Aries: If something or someone has dampened your spirits, remember that you can do anything if you have enthusiasm and the willingness to try. This week provides a mellow, but highly creative phase for you. Deepak Chopra wrote, "If we want peace we become that peace; if we want love, we become the love within us; if we want abundance or health, we contact and become that part of our Self which is always content, happy and healthy." Do you want to be like this? You have a wonderful opportunity to do just that this week. Manifest the right intention and, like a genie, it will appear and take hold of you around Saturday, the Last Quarter Moon in Pisces.
---
Discover a personal profile and 1-year forecast based on advanced calculations of your name and birth date.
Numerology Report
---
Taurus: It's time to clear the decks! We all accumulate far too much stuff – and not just physical stuff. As we age, we gather experiences, and if we're not mindful and don't practice forgiveness and letting go, we can become heavy with grief and other repressed emotions. The Last Quarter Moon in Pisces arouses your sensitivity. You want to be surrounded by positivity on every level. If you throw yourself into de-cluttering, you'll be amazed at how positive you feel. If lack is a problem, try giving a few things away and making space for fresh energies to come into your life.
---
Need a guide for your growth and personal evolution based on astrological influences upon your personality?
New Age Natal Report
---
Gemini: Saturn is now halfway through the second year of his journey through your sign –only another six months to go! While this can be a constructive transit, there will likely be times when you've felt drained and just a little bit fed up. You might have encountered obstacles, setbacks, conflicts and limitations over the past year or so, the purpose of which may well have been to strengthen your character. You probably have had enough of the tough stuff and are ready for an easier time. The good news is that you are now being offered a respite along with the chance to recharge your batteries, enjoy life and discover what you'd love to do. Now is the time to focus on creating more of what you need and to bear in mind that in life, you don't get what you deserve; you get what you negotiate.
---
This interpretation of your birth chart is written in simple language could be beneficial in self undestanding.
Merlin Report
---
Cancer: Guidance from a higher source combined with the passion and energy of Mars in your sign will be a very powerful combination for you this week. You can choose to meditate or allow your guidance to come while walking in nature or by observing the messages in your dreams. The Last Quarter Moon will assist in viewing the areas of life that bring depth and meaning. This is a perfect time to cleanse any spiritual cobwebs in order to make your life more functional and beautiful. You will find that if you become still and quiet (not easy with Mars in your sign), the answers you seek will come to you. Do not think you have to struggle alone. If you ask for help from the invisible realm and believe, the result you seek will come as surely as night follows day.
---
Indra reveals your life's contradictory urges & drives as well as your basic motivation, perceptions, inclinations and character.
Indra Report
---
Leo: Yours is one of the most capable and enthusiastic of signs, but when there are other demands on your time and stressful situations, it can be difficult to carve the necessary space. Remind yourself that whatever you want to be or do, if you're determined enough, it will happen. This is a period of independence and personal power both of which are very important to a Leo. Yes, it's nice to have friends and a happy social life, but these bring ties and obligations limiting personal power. It's more difficult to do the things that you really want to do but this is changing now. Your personal happiness – your self- interest – is important and the Last Quarter Moon in Pisces will underline that this is the time to follow it. Take responsibility for your own happiness and make the changes that need to be made. Let the world conform to you rather than the other way around.
---
Want a detailed report for parents to help with the child's growth to strengthen the assets and avert possible problems that the child could face in their life?
Child Astrology Report
---
Virgo: Perhaps all you really want is to move forward in the world – show people what you're capable of, realize an ambition, or seize an opportunity. However, there are challenges to this worthy goal, most likely in the form of your family or other relationships. Your commitments to others loom large, but that would be manageable if it weren't for the element of confusion or uncertainty pervading matters. Someone is not being straightforward or is behaving deceptively. Either way, people are making it difficult for you to concentrate on your goals. Your mission – should you choose to accept it – is to find a balance between your commitments and responsibilities to others and your own need to progress in the outside world.
---
Want a birthday to birthday practical guide to help you recognize opportunities and to learn from them.
Astrological Solar Return Report
---
Libra: Things are generally good when it comes to career matters, but there is an unrest that you cannot fathom. You have it all and yet the vacuum is unquenchable. Maybe you decide to take a break from work – a holiday in some exotic locale or do something different from the everyday routine. You think this will assist you to emerge rejuvenated and recast. What is occurring is that your love attitude has changed. Social and professional status is often a romantic turn-on. You are now attracted to power people – the high and mighty. Often this manifests as romantic opportunities with bosses or superiors – clandestine kinds of things. Sometimes it merely indicates dating people above you in importance.
---
Want to know the actual dates when the energies will influence your life in money, career, relationships, and communicaton?
Astro Forecast Report (3 months)
---
Scorpio: You are on the fast track of hard work and achievement. You are ambitious and determined, and nothing can baulk you on the road to success. You are feeling good, but you may be deceiving yourself through wishful thinking or escapism under the Pisces Moon. There is still a situation that needs to be dealt with for you to be in a more comfortable state in terms of finances. You need to be disciplined financially and materially. By taking responsibility and doing what you can, even if taking only very small steps – such as opening a savings account, beginning to pay back a loan, or taking on extra work to get the money you need – you will gradually change your situation for the better. Try to see things as they really are money-wise, and not how you would like them to be.
---
Want a one year forecast to understand the scope of influence for your personal Cards of Destiny?
Cards of Destiny Report
---
Sagittarius: The emphasis now is on your relationships and your home and family. Perhaps a family member or a domestic matter has unsettled you with too many demands. The danger lies in taking things too seriously, so allow that Sagittarian humor to keep things in balance. Things are rarely as bad as they seem, and this week's events are likely to blow over pretty quickly. Sagittarians are not known for their moderate behavior and with the last Quarter Moon in Pisces, it might be easy for you to go overboard in some way. Doing too much is a real possibility. Whether it is health, diet, exercise, work, social life or even an idea that runs away with you, be aware of the tendency to push beyond your limits.
---
Contemplating a move? This report tells how you will react to the energies of the specific locations for relationships, finances, and security.
Relocation Information Report
---
Capricorn: Mercury is moving very quickly this month and your health needs are changing rapidly. They are in a state of flux. Fresh air will be beneficial so get out into the fresh air and just breathe deeply. Your life is on an even keel and you are happy with yourself. If you are single, you're meeting rich and successful kinds of people. If you're in a relationship, your spouse, partner or current love is prospering . Up to now it hasn't been a major factor or focus, but this is a week of change: you are in a yearly love and social peak with more love transporting you to another realm of jubilation. It may be sheer accident: you haven't gone seeking it out but you are the better for it. Just exult and delight in it.
---
Discover your character traits, relationship and career potentials – based on Edgar Casey Readings.
Cayce Past Life Report
---
Aquarius: Aquarians often feel a burning need to make the world a better place. This week your intrinsic idealism is aroused and you take to allocating time and resources for the less fortunate. Sometimes it can all feel a bit much because the task seems insurmountable. There are maudlin moments of regret and you may wish your could do more despite the fact that it all seems impossible. You are not one to suck in your tears, but this week you may shed them copiously. Don't give up hope, though, and make the most of the Last Quarter Moon by taking constructive steps toward doing your bit for society and expressing yourself in a creative or authentic way.
---
Discover your past life connections that can carry over into your current life, accounting for interests, habits, even phobias.
Karmic Past Life Report
---
Pisces: The Last Quarter Moon is in your sign and your sensitivities are at a high point. You could be moody and irritable. This could be a time of intellectual withdrawal when you use "me" time to step back and reflect, rethink and recharge. No matter what you've done for yourself or for humanity, if you can't look back on having given love and attention to your own family, what have you really accomplished? Although it is frowned upon in our society to devote ourselves to our family when we could be movers and shakers in the outside world, the planets know better, and this week you are encouraged to remember that what really matters is reconnecting with those closest to you and enjoying time in your private space.
---
Discover your soul's intention for this lifetime, the lessons to be learned, qualities to develop, problems to be resolved, services to be rendered.
Karmic Insight Report
---
For more information about your Horoscope and what the stars
have in store for you, order one of our detailed
Astrology Reports for Couples!
---
Want to know the theme of your relationship? This report compares your temperaments and personalities, whether you are married or living together.
Compatibility Report
Reveal as much information about you and your partner intention of opening doors of understanding and awareness.
Love Cards Report