#Horoscope #Aries #Taurus #Gemini #Cancer #Leo #Virgo #Libra #Scorpio #Sagittarius #Capricorn #Aquarius #Pisces #Horoscope – overview of this week
The Center for the New Age is pleased to present
your Free Weekly Horoscope for June 18 – June 24, 2017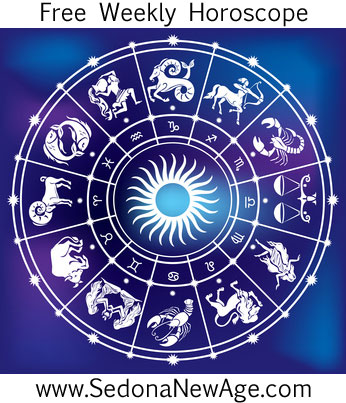 Receive our Free Weekly Horoscope in your Inbox
---
Aries Taurus Gemini Cancer Leo Virgo Libra Scorpio Sagittarius Capricorn Aquarius Pisces
Mercury in Gemini opposite Saturn in Sagittarius (June 18 – June 23) brings a very strong awareness of the need to speak out on serious and important subjects. News, talk, discussions and media tend to revolve around matters of closure, deaths, endings and the establishment of control. There may be an overwhelming tone of command or restriction in some of the more serious subjects being communicated. While Mercury opposes Saturn, be careful where you choose to draw the lines and what you agree to when negotiating.
Venus in Taurus is sextile Neptune in Pisces (June 20 – June 24). Venus is at home in Taurus where it brings love, attraction, beauty and the nature of feminine expression into prominence. Neptune is at home in Pisces and it brings a time to awaken human spirituality and to excel in creative expression through music, art, and spiritual expression. This time also holds the potential for one to realize the profound beauty and the depths of which true love is capable.
Mercury enters Cancer (June 21 – July 6) and the shift in communications turns our attention from an emphasis on details and logic (Mercury in Gemini) to a focus on feelings and senses (Mercury in Cancer). This is a time when many people will appear to intuit their way through conversations. Thoughts may blend with mood as the emphasis on emotional expression takes the stage. As Mercury goes through the sign of Cancer, take special note of a tendency for people to talk more specifically about their feelings, defense, and the need to be nurtured. Mercury in Cancer makes some people more intuitive to the thoughts of others, and this may be an easier time to interpret people's thoughts by observing their emotional body language. Through Cancer, thoughts and communications are shaped by the course of our complex world of emotions.
Venus in Taurus is trine Pluto in Capricorn (June 24 – July 3). Practical beauty, the value of nature and efforts to make the planet greener are enhanced and made stronger as we wade through the hardships of a vast landscape of irreversible change and transformation. Now is the time to let our ecological wishes be known, as those who are in positions of power need to acknowledge the value of land preservation for the sake of delicate eco-systems. Venus trine Pluto represents a love or fascination for the workings of fate and power. This aspect often allows a breakthrough to occur for those who are under stress from hardship. There is hope yet that we will acquire an appreciation for the not so glamorous aspects of existence despite all the differences that separate us in these fast changing times.
The New Moon in Cancer (June 24) beckons to our moods to tune into newly emerging feelings about ourselves. This New Moon invites fresh experience and brings new desires to nurture the child within and build up a fresh outlook on our home life. Cancer focuses on the nurturing strength of the mother. This is a good time to bring new things to the home and brighten up one's outlook with nurturing and uplifting moods and feelings.
Aries Taurus Gemini Cancer Leo Virgo Libra Scorpio Sagittarius Capricorn Aquarius Pisces
For more information about your Horoscope and what the stars have in store for you, order one of our detailed
Astrology Reports!
Want to know the theme of your relationship? This report compares your temperaments and personalities, whether you are married or living together.
Compatibility Report
Reveal as much information about you and your partner intention of opening doors of understanding and awareness.
Love Cards Report
Free Weekly Horoscope for your Sign
Aries: It is likely that the past few weeks have been rather busy – some might say hectic – so it will be a welcome relief to know that from June 21 the pace of life will slow down a little. A softer and more domestic energy enters. However, with Mars in the fray, it is likely that your home life will keep you pretty busy. You might decide that now is the time to spring clean or to de-clutter, redecorate, or renovate. Another use of Mars at the base of your chart is to delve deeply into your inner self and engage in a little psychoanalysis. Bearing in mind that your home is a reflection of your inner self, it doesn't really matter whether you choose to physically tackle your home or study your emotional self. The results will be much the same: a clearing of the past so that you can prepare to embrace new beginnings. The New Moon at the base of your chart on June 24th is strongly suggestive of these new beginnings – in your domestic life and in your life in general.
---
Discover a personal profile and 1-year forecast based on advanced calculations of your name and birth date.
Numerology Report
---
Taurus: As the planets shift into the zone of your mind (especially from June 21 when the Sun and Mercury join Mars), your attitude becomes the key to your success. Take care not to be irritable, impatient or impulsive in your speech, for Mars and Mercury like to operate at a fast pace, but they also lack compassion and empathy, so be mindful of the words you choose and the way you say them. The positive side of this combination is a greater motivation and a more positive attitude. Now is the time to believe that anything is possible, which it probably is if you're prepared to put in the effort. And, of course, your attitude plays an important role when it comes to new opportunities. The New Moon occurs in your zone of the mind. As we get older, it is easy to lose hope, become more cynical, complain about what's wrong rather than look for what's right, or give up trying to put right what is wrong. The New Moon is likely to bring you face-to-face with your attitude, so if things aren't so great, turn the spotlight on yourself to see whether any negativity is at the root.
---
Need a guide for your growth and personal evolution based on astrological influences upon your personality?
New Age Natal Report
---
Gemini: Once we get to June 19 or June 20, things should start to get easier. With Saturn's opposition to your ruling planet Mercury, these past couple of weeks might have been difficult at times and Neptune's square could have added a confusing or deceptive element to proceedings. Thank heavens you have Jupiter in your house of fun to remind you that laughter is the best medicine and that creativity, hobbies and fun outings can make even the most dour circumstances seem acceptable. At the end of the week with the New Moon accompanied by Mercury and Mars , things begin to pick up naturally and the emphasis changes from your personal life (and whatever trials and tribulations you've been experiencing) to the material side of life.
---
This interpretation of your birth chart is written in simple language could be beneficial in self undestanding.
Merlin Report
---
Cancer: Begin doing what you want to do now! It is important to make the most of our precious time on Earth and not wait for some magical moment when all conditions appear favorable before taking action. From June 21, you have the powerful combination of the Sun, Mars and Mercury in your sign enabling you to move mountains. From this point on, you have everything you need to make it all happen. The New Moon on Saturday echoes this dominant theme adding a sense of possibility and potential to proceedings. This is the point at which you can leave the past behind and create new beginnings. The more open you are to change, the more likely the benefits of this New Moon.
---
Indra reveals your life's contradictory urges & drives as well as your basic motivation, perceptions, inclinations and character.
Indra Report
---
Leo: After all the activities of recent weeks, the Sun glides into your house of rest and repose, inviting you to slow down a little and turn within to restore your spirit before a new chapter begins next month. From June 21 onward, use the time to catch up on sleep, develop your spiritual practice or express your inner self through artistic means. This is not so much a time for doing as a time for being. Follow nature's rhythms by taking time out from the busyness of life to get quiet and to remember what is most important to you. The New Moon on June 24 brings opportunity. This is when you can change how you operate in the world. If life seems to be working against you, now is a good time to gain insights into why that is.
---
Want a detailed report for parents to help with the child's growth to strengthen the assets and avert possible problems that the child could face in their life?
Child Astrology Report
---
Virgo: The recent difficult planetary configurations are being replaced with lighter, more pleasant aspects of life. While there might be a residue of personal and professional conflicts, these will continue to fade, leaving you free to concentrate on your goals for the future. Your social life is also set to be energized. This could range from more outings with other people to your playing a more important role in a group or organization. This certainly seems to be where your energy is going and it's an ideal time to channel that energy into a charitable venture or a group that you believe in. Your ideas for progress are likely to be on the nose right now, so don't be shy in putting forward your suggestions. The glorious New Moon falls in the most auspicious area of your chart on Saturday. This suggests positive developments – or the opportunity for them – are in your future . Up to now it might have felt as though your ideas and opinions fell on deaf ears, but with the New Moon, you'll find that others are much more open to what you have to say. This could prove to be very beneficial for everyone involved, including yourself.
---
Want a birthday to birthday practical guide to help you recognize opportunities and to learn from them.
Astrological Solar Return Report
---
Libra: This week, push yourself forward, toot your own horn and show people what you're capable of. This could be a time that you experience success, whether small or large, so it might pay to determine what success means to you so that you can be sure that the opportunities and developments that begin to occur are in alignment with your true self. It's no use going for a promotion if deep down your soul craves more time to enjoy other pursuits. Once you've determined what you really want, you will soon find yourself in a position to move mountains. The New Moon at the top of your chart on Saturday is a glorious omen for success and new developments in your career. This is the time for new beginnings, so if there's something you want to achieve, now is the time to plant those seeds and to take action.
---
Want to know the actual dates when the energies will influence your life in money, career, relationships, and communicaton?
Astro Forecast Report (3 months)
---
Scorpio: As the planets shift into your zone of adventure, there is a much lighter and more positive feel to life, especially from June 21 onward. This is the point at which your previous troubles, especially those relating to financial or emotional issues, can be replaced by a much happier state of affairs. Now is the time to be adventurous and to break out of your comfort zone, delighting in new experiences and perhaps visiting new places or entertaining new ideas and stretching your sense of what's possible. Mars urges you to be bolder and more daring. The New Moon on June 24 will feel like a breath of fresh air, especially if life has felt stagnant. This is your permission to believe in the impossible, move out of your contentment and start pushing forward with a plan or big idea.
---
Want a one year forecast to understand the scope of influence for your personal Cards of Destiny?
Cards of Destiny Report
---
Sagittarius: Try to rein yourself in when you feel things are getting out of hand. (You might need someone else to warn you on this one) A better use of this week's energies is to work toward transforming yourself or a situation. Your options range from changing your appearance or engaging in a detox to choosing a situation – a financial matter, a relationship, or even a possession – to improve. Working on what you already have might feel much more satisfying than chasing after something unattainable or what might turn out to be a disappointment. The New Moon in your zone of transformation on Saturday signals a rebirth. While this week continues the theme of reworking what you already have, it adds the feel of new beginnings, so this New Moon could represent a turning point in your life.
---
Contemplating a move? This report tells how you will react to the energies of the specific locations for relationships, finances, and security.
Relocation Information Report
---
Capricorn: Enjoy a more leisurely pace of life. Make time to be with others, and tend to any relationships that need your attention. If you want to improve a situation with another person, the single, easiest and most effective way to generate progress is simply to listen. Properly listen with your heart and your presence. When we truly listen to others – without judgment or jumping in with our opinions – people feel heard, and healing takes place. It doesn't hurt for romantic relationships either. The New Moon on June 24 paves the way for new beginnings in your personal life. Perhaps you'll feel inspired to work on your relationships. Maybe you'll meet someone new – a lover, a friend or a business partner. Maybe you'll have a change of heart toward someone or adjust your approach when dealing with others. This New Moon is a grand time for moving on in more positive way.
---
Discover your character traits, relationship and career potentials – based on Edgar Casey Readings.
Cayce Past Life Report
---
Aquarius: The emphasis is on fun, creativity and enjoyment at the beginning of the week until June 21 when the focus shifts to work and health. With Mars in the same area, you can effectively move mountains when it comes to these two areas so it is a good time for changing your job or your role within a job, getting organized, increasing your output or beginning a new exercise regime. This is a great time for getting things done and you'll probably find yourself naturally gravitating toward sorting things out that have needed your attention for some time. The best use of this combination of planets in your work zone is to consider how you can be of greater service to others. Observe whether there are any physical symptoms as a result of some sort of frustration you need to address. The New Moon in your health and work zone on Saturday is an ideal time to take more interest in your health or to begin something new with your work. If there is room for improvement with your health, consider how to make changes that would increase your well being.
---
Discover your past life connections that can carry over into your current life, accounting for interests, habits, even phobias.
Karmic Past Life Report
---
Pisces: The good news is that on June 21, a cluster of planets align in your house of fun, casting a very positive glow over proceedings and making you feel more inclined to let your hair down and party a little. This could mean choosing a day at the beach over a day in the office. Or maybe you'll choose a leisurely lunch with a friend followed by an art class over going home to do the housework. It doesn't really matter how you choose to fill your days as long as it feels good for your soul. The purpose of the Sun along with Mercury and Mars in this joyful area is to replenish your spirit and recharge your batteries. In effect, this is your annual opportunity to recreate yourself through activities and pastimes that make you feel glad to be alive. A New Moon joins the others in your house of fun on Saturday. One of the side effects of this New Moon being present is that you could decide to live like this all the time and there's no reason you can't spend your days doing what you love.
---
Discover your soul's intention for this lifetime, the lessons to be learned, qualities to develop, problems to be resolved, services to be rendered.
Karmic Insight Report
---
For more information about your Horoscope and what the stars
have in store for you, order one of our detailed
Astrology Reports for Couples!
---
Want to know the theme of your relationship? This report compares your temperaments and personalities, whether you are married or living together.
Compatibility Report
Reveal as much information about you and your partner intention of opening doors of understanding and awareness.
Love Cards Report