#Horoscope #Aries #Taurus #Gemini #Cancer #Leo #Virgo #Libra #Scorpio #Sagittarius #Capricorn #Aquarius #Pisces #Horoscope – overview of this week
The Center for the New Age is pleased to present
your Free Weekly Horoscope for June 25 – July 1, 2017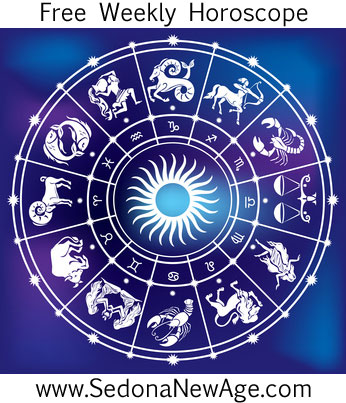 Receive our Free Weekly Horoscope in your Inbox
---
Aries Taurus Gemini Cancer Leo Virgo Libra Scorpio Sagittarius Capricorn Aquarius Pisces
Mars in Cancer is square to Jupiter in Libra (June 25 – July 8). As it occurs, various activities are met with the obstacles of economic oppression and shortfall. This is a very difficult time to excel in business endeavors, especially in actively trading markets. This aspect warns us that there will be trouble when ap
proaching the job market aggressively. Trying to make progress using headstrong attitudes and unwarranted confidence might impede progress. This aspect brings no-nonsense demands or increases in our workload. The square aspect of these two planets creates a challenging dynamic in the struggle to grow economically.
Mars in Cancer is trine to Neptune in Pisces (June 26 – July 10). Actions taken to create balance will be well received, especially with regards to the necessity of upholding our faith in humanity. This will be an active time of obtaining spiritual gifts and helpful guidelines from the spirit world. Mars guarantees activities will occur, and with Neptune in the trine position, these activities will be favorably stirred up with spiritual and psychic awareness. Mars trine Neptune is an ideal time to initiate creative and imaginative spiritual practices; it's a good time to empower the personal outlook and spiritual well-being.
Mercury in Cancer square Jupiter in Libra (June 27 – July 1) brings a tough time to communicate a sense of reassurance, particularly with regard to new enterprises. It may also be a difficult time to raise money for charities. During this aspect, it may be best to hold off on a job request, asking for a raise, buying a new business, or signing any binding contracts concerning long term investment and payment schedules.
Mercury in Cancer trine Neptune in Pisces (June 27 – July 1) brings thoughtful discussions and intuitive knowledge. Communicate about spiritual needs with helpful counsel and receive gifts of renewed faith in your own beliefs. Accept that some messages are there to spiritually uplift you. This is a superb aspect for discussing personal philosophies and metaphysical subjects.
Mercury in Cancer conjunct Mars in Cancer (June 28 – July 20)brings the forces of communication (Mercury) together with the forces of action (Mars). This is not a very good time for bluffing. This conjunction brings words and deeds together, and the greatest action occurs with honest toil and is empowered in the expression of the message. This is an excellent time to get others motivated through speech, but this may be a time of angry words being spoken. Take caution with your words; they could incite a battle.
Mercury in Cancer opposite Pluto in Capricorn (June 29 -July 3) gives the impression that one might wish to speak up before the powers that be, to make an important and vital statement at a crucial time. The intense and grotesque aspects of the news will be emphasized, and this often causes horror, fascination, realization and for some people, a kind of triumph takes place as well. The news will be highlighted with power issues and an ensuing struggle that often leads to an eye opening breakthrough. Mind boggling awareness abounds at this time as the need to comprehend the powerful issues being awakened comes through in our thoughts and discussions.
First Quarter Moon in Libra on July 1 encourages us to harmonize with our partners and friends. This Moon brings a focus on the need to create balance in various relationships, particularly those of a close nature. Throughout Saturday we cannot help but notice that it's time to make adjustments. Compromise is a two way street. Stand up for what you need, but be prepared to put out some effort towards the needs of others.
Aries Taurus Gemini Cancer Leo Virgo Libra Scorpio Sagittarius Capricorn Aquarius Pisces
For more information about your Horoscope and what the stars have in store for you, order one of our detailed
Astrology Reports!
Want to know the theme of your relationship? This report compares your temperaments and personalities, whether you are married or living together.
Compatibility Report
Reveal as much information about you and your partner intention of opening doors of understanding and awareness.
Love Cards Report
Free Weekly Horoscope for your Sign
Aries: Since the world is a mirror for all our thoughts, feelings and beliefs, we can expect some changes to occur in the outside world as inner shifts begin to ripple outward. You don't need to worry about anything as things will unfold naturally when the time is right. On a practical level, this is a great time to freshen up your home – from moving to renovating and decorating – or to adopt a new approach with how you run it. Alternatively, this is a great time for working on a relationship with a family member or for wiping the slate clean. The past only has a hold over us if we allow it, and this is one time when it would be healthy and wise to let go of as much baggage as you can, whether that's physical clutter or emotional pain.
---
Discover a personal profile and 1-year forecast based on advanced calculations of your name and birth date.
Numerology Report
---
Taurus: With Venus in your sign, you are blessed with extra charm and attractiveness. Combine this gift from the goddess of beauty with an intention to change negative self-talk to positive self-talk. You might decide to stop complaining, or you might choose to focus on gratitude, taking an inventory of all that you have to be grateful for at the end of each day. You might prefer to write a list or compile a collage of your desires and to focus on it daily. Choose something to mark the potency of the First Quarter Moon on Saturday and to harness the powerful energies to help you manifest what you want in your life.
---
Need a guide for your growth and personal evolution based on astrological influences upon your personality?
New Age Natal Report
---
Gemini: If there's something you want, you first have to believe that it is possible. Your mind is in several places with the First Quarter Moon in Libra. Develop an appropriate idea how to achieve what you want, but weigh the pros and cons before embarking on this venture. It is advisable to do the groundwork with precision before rushing ahead and then follow it through with action, determination and motivation. There is little that can't be accompanied with enthusiasm, so if there's something you feel passionate about, now is the time to start. "Strike while the iron is hot" is the message of this week.
---
This interpretation of your birth chart is written in simple language could be beneficial in self undestanding.
Merlin Report
---
Cancer: Try to break free from any ruts and push out of your comfort zone this week. This applies particularly to your personal life. What do you want? All eyes are likely to be focused on you now as people wait to see what you will do next. While you want to take action, you also need to guard against being impulsive or acting from frustration or impatience. If you find these states arising, try taking a few drops of the flower essence impatiens, as this will help you to mentally slow down and enable you to take constructive action with enthusiasm and confidence at the root.
---
Indra reveals your life's contradictory urges & drives as well as your basic motivation, perceptions, inclinations and character.
Indra Report
---
Leo: Maybe you're heading in one direction while your unconscious mind is exploring another, resulting in your presenting mixed messages to the world. You have the opportunity this week to reveal your hidden motivations, which might have sabotaged you in the past. Be ready to let certain things go, refrain from making important decisions, and strive toward total honesty and transparency in all your dealings.
---
Want a detailed report for parents to help with the child's growth to strengthen the assets and avert possible problems that the child could face in their life?
Child Astrology Report
---
Virgo: Contemplate what you want your future to look like, and then make a collage of your vision. It is only when we get serious about something, such as by writing it down or compiling visual images, that the universe sits up and takes notice. Actually, it's when the subconscious mind sits up and takes notice. It's all the same thing really, and what you need to bear in mind this week is that you have more power than you realize to shape your future into something that is much more pleasing, so get to it!
---
Want a birthday to birthday practical guide to help you recognize opportunities and to learn from them.
Astrological Solar Return Report
---
Libra: You could experience what appears to be a great opportunity this week. Just make sure it's what you really want before you leap in and accept it. Sometimes things aren't always what they seem, and it can take a few days to be able to see things as they really are. That said, this is a great opportunity to make changes and for doing something new. Perhaps begin a new chapter in your vocational life. Write down your intentions or make a collage of your desires and then remind yourself daily that once you make a decision, the universe conspires to make it happen.
---
Want to know the actual dates when the energies will influence your life in money, career, relationships, and communicaton?
Astro Forecast Report (3 months)
---
Scorpio: Sometimes you look to escape from challenges for a while, but it may not be a good idea right now. It is also against your grain to run and hide so if you have been unethical in your dealings, it may be best to come clean and ask for amnesty. It pays in the long run. There are many loose ends on the work front that call out to you and domestic life also has its urgent demands. It's certainly not the time to stay home so make sure you get out into the world because your perception about life could shift favorably as a result. The First Quarter Moon will make it easier to liberate yourself from that which binds you, but be careful how you proceed. Daring mixed with prudence is the way forward.
---
Want a one year forecast to understand the scope of influence for your personal Cards of Destiny?
Cards of Destiny Report
---
Sagittarius: This is an ideal week to assess everything – from relationships and work right through to your possessions – and decide what has served its purpose and what is worthy of your time and energy if certain changes are made. Get rid of the dross but take care in your zeal you don't dismiss something of value. With a bit of loving polish, something that you might have been tempted to reject could turn out to be an Aladdin's lamp!
---
Contemplating a move? This report tells how you will react to the energies of the specific locations for relationships, finances, and security.
Relocation Information Report
---
Capricorn: This week there is a possibility of a breakthrough especially if you are willing to communicate. Not much can happen if the doors of communication are closed, but with a willingness to hear the other person out and a desire to express you own feelings with honesty (but not anger), much progress can be made. The Moon is in Libra and you are living your life in your mind now with innumerable choices. Perhaps you don't know which fork in the road to take and you could give in to indulgences and escapism. Instead, use the Moon's energy to channel your thoughts in the right direction in order not to miss out on something important.
---
Discover your character traits, relationship and career potentials – based on Edgar Casey Readings.
Cayce Past Life Report
---
Aquarius: This last week of June bodes well for releasing negative habits and replacing them with life-enhancing choices. Your work and daily life are favored during this time, especially if you are willing to make changes that empower you, but bear in mind that your enthusiasm or energy could peter out if the thing in question isn't right for you. The thought to consider before you implement change is whether you can sustain the new regime on an off day. It is more realistic to do a few gentle yoga stretches or go for a daily ten minute walk than to make yourself run five miles a day and live off spirulina smoothies.
---
Discover your past life connections that can carry over into your current life, accounting for interests, habits, even phobias.
Karmic Past Life Report
---
Pisces: Two thousand years of religious indoctrination has led us to believe that the path of suffering is more righteous than the path of joy. This could be a time in your life when you begin to challenge that notion, and no matter how great your life is now, you're right to conclude that there's always room for improvement. As you head toward the end of the month, you will be forgiven for feeling a greater need to dance to your own tune and live a more colorful existence. If you can take one or two small steps toward that worthy vision, then so much the better. Life, as they say, is not a dress rehearsal, so you might as well live it in your own way.
---
Discover your soul's intention for this lifetime, the lessons to be learned, qualities to develop, problems to be resolved, services to be rendered.
Karmic Insight Report
---
For more information about your Horoscope and what the stars
have in store for you, order one of our detailed
Astrology Reports for Couples!
---
Want to know the theme of your relationship? This report compares your temperaments and personalities, whether you are married or living together.
Compatibility Report
Reveal as much information about you and your partner intention of opening doors of understanding and awareness.
Love Cards Report