#Horoscope #Aries #Taurus #Gemini #Cancer #Leo #Virgo #Libra #Scorpio #Sagittarius #Capricorn #Aquarius #Pisces #Horoscope – overview of this week
The Center for the New Age is pleased to present
your Free Weekly Horoscope for July 30 – August 5, 2017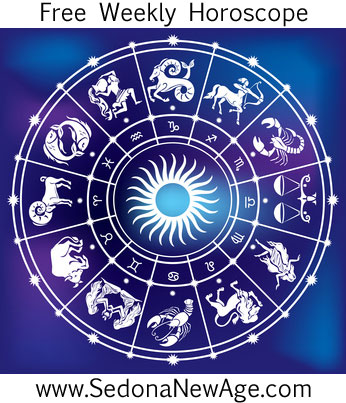 Receive our Free Weekly Horoscope in your Inbox
---
Aries Taurus Gemini Cancer Leo Virgo Libra Scorpio Sagittarius Capricorn Aquarius Pisces
First Quarter Moon in Scorpio on July 30th arouses our moods in deep and impassioned ways. Get in touch with your creative and perceptive side. It is often true that emotional damage can be greater than physical damage. What heals on the outside cannot be hidden as what does – or doesn't – heal on the inside. This is a time to address internal wounds with reassurance and care to mend emotional scars with love and encouragement.
Venus enters Cancer (July 31 – August 25), an appropriate place for the expression of love and affection. It invites those with rocky love relationships to patch things up and to do so with more heart and less uncertainty. Venus in Cancer encourages our affections and affinities to be carefully placed and nurtured. When attractions occur, they will have a lasting impression and will seem very strong and emotionally sound.
Jupiter in Libra is square Pluto in Capricorn (August 4 – October 9). Jupiter represents expansion, prosperity, social advancement and opportunities for growth while Pluto represents transformation, power and fate. This aspect is likely to bring an economic shift. Avoid heavy gambling and risky expenditures, and expect a few rounds of difficult economic transformations during this tricky period of the Jupiter-Pluto square.
Aries Taurus Gemini Cancer Leo Virgo Libra Scorpio Sagittarius Capricorn Aquarius Pisces
For more information about your Horoscope and what the stars have in store for you, order one of our detailed
Astrology Reports!
Want to know the theme of your relationship? This report compares your temperaments and personalities, whether you are married or living together.
Compatibility Report
Reveal as much information about you and your partner intention of opening doors of understanding and awareness.
Love Cards Report
Free Weekly Horoscope for your Sign
Aries: This is a great time to discover more of who you are. Do not make any apologies for marching to your own drumbeat. If others accuse you of self-centeredness, remember that we can't please others unless we're able to please ourselves. The month of August is basically happy and healthy for you. You're in a party period with a powerful 5th house of fun and creativity and with the First Quarter Moon in Scorpio prodding you into secret deals, money fills your coffers from unexpected quarters.
---
Discover a personal profile and 1-year forecast based on advanced calculations of your name and birth date.
Numerology Report
---
Taurus: You could be eyeing a home away from home right now. Are you thinking about exotic holidays and pleasurable times spent with friends and loved ones? Perhaps there are private deals and negotiations of all kinds taking place. When we handle the 4th house (house and home) properly, we enter a joyful, holiday kind of period. The 5th house of fun and creativity follows the 4th house. Fun happens after emotional harmony is established, not before, so your project for this week is to continue to work on your emotional wellness and the harmony of the domestic sphere.
---
Need a guide for your growth and personal evolution based on astrological influences upon your personality?
New Age Natal Report
---
Gemini: It's time to invite new concepts into your life. You might feel restlessness, bored, or fed up with the way things are, which could culminate in the need to get away from it all. Actually you probably don't really need to get away from it all. You just need to add a bit of adventure or sparkle to your life, and this can be achieved by going on a trip, seeing new places, stretching your mind through study or doing something different. So what's holding you up? Make a move this week and enjoy yourself while moving out of the rut that has left you feeling stuck.
---
This interpretation of your birth chart is written in simple language could be beneficial in self undestanding.
Merlin Report
---
Cancer: This is a good time to focus on cleansing, rejuvenation, and letting go of that which you no longer need. This could be stuff that you own that no longer brings you joy, or it could mean letting go of psychological baggage. Either way, don't be afraid to cast your old stuff into the flames so that you can be psychologically reborn. In this regard, Venus in your sign symbolizes the force of attraction in the universe that manifests as love and beauty and all the goodies of life that make life worth living.
---
Indra reveals your life's contradictory urges & drives as well as your basic motivation, perceptions, inclinations and character.
Indra Report
---
Leo: With the Sun and Mars in your sign, you begin August in a strong position, full of enthusiasm, motivation, confidence, and daring. If you need any extra incentive to go for what you want, then this quote might have been written just for you: "Whatever you can do, or dream you can, begin. Boldness has genius, power and magic in it. Begin it now." There is an element of fate and destiny about this phase of your life when you can take a step toward your true purpose, and with Mars pushing you onward and upward, there is no reason you can't be successful in your endeavors.
---
Want a detailed report for parents to help with the child's growth to strengthen the assets and avert possible problems that the child could face in their life?
Child Astrology Report
---
Virgo: If things haven't been flowing well lately, your health hasn't been great, or you've felt frustrated or irritable, pay attention to your intuitive feelings for increased energy and power. What feels right to you? What doesn't feel right? When do you feel good? When do you feel flat? Notice who or what charges your batteries and who or what depletes you. If you need to make a decision again, notice what feels right despite outer appearances. The more you can go with the flow and tune in to your inner knowing, the sooner your life will improve.
---
Want a birthday to birthday practical guide to help you recognize opportunities and to learn from them.
Astrological Solar Return Report
---
Libra: There is an auspicious feeling to your chart at present. This is a time for celebration, so even if there's no major event, find an excuse to invite friends over or to go out and have fun. The more flexible you can be, the better; if you try to stick to your plans – especially work wise – you will find that you're swimming against the tide. The universe may well have other plans for you which will be much more enjoyable than attending to your chores, so be prepared to "down tools and make merry" when the opportunity presents itself. This is a powerful phase and if you tweak it to advantage there will be windfall gains.
---
Want to know the actual dates when the energies will influence your life in money, career, relationships, and communicaton?
Astro Forecast Report (3 months)
---
Scorpio: The Sun and Mars at the top of your chart motivate you to push forward with plans, ambitions and aims. This is a great time to embrace new opportunities and to contemplate the meaning of success. Is success about achieving certain ambitions, getting ahead, receiving recognition, and leaving your mark on the world, or is it more in keeping with just doing what you want to do? Whatever your definition of success, don't neglect your home and personal life in its pursuit because we all recognize that "happiness begins at home."
---
Want a one year forecast to understand the scope of influence for your personal Cards of Destiny?
Cards of Destiny Report
---
Sagittarius: This is a creative phase for you, but you also showcase your sensitive side this week. You may take time off from the pressures of life and indulge in valuable "me" time as you want to reassess and refocus before you take on the world. However, you are moving ahead. The purpose and direction may be divided because there is a lot on your mind, and focus may be hard to come by. Your communication strategies might falter with your insistence on your way or the highway but this is a good time for some deep and honest soul searching. If you are patient and willing to listen, the answers will show up.
---
Contemplating a move? This report tells how you will react to the energies of the specific locations for relationships, finances, and security.
Relocation Information Report
---
Capricorn: The Moon is in Scorpio adding a new intensity to your life. There are several influences at play and you can be pushed to the wall but stick to your guns and refuse to buckle down. Nothing can shake your equanimity. As the week unfolds, people and events may challenge you, but you look away as though nothing is happening, and it riles them even more. You are filled with enthusiasm and energy and your emotions are at an even keel. You are the winner in everything ultimately leaving the opposition far behind.
---
Discover your character traits, relationship and career potentials – based on Edgar Casey Readings.
Cayce Past Life Report
---
Aquarius: The First Quarter Moon is in Scorpio and you are sizzling with intensity and charm. Your hormones could also be jumping all over the landscape and there could be indiscreet alliances that wreck your stability. As a matter of fact, your reputation may be a topic of discussion this week, but hold onto your horses lest you run into trouble which can easily be avoided. This is also a powerfully creative phase although there are several domestic issues tugging at your time. It may be a good idea to attempt to reconcile these during the Scorpio Moon.
---
Discover your past life connections that can carry over into your current life, accounting for interests, habits, even phobias.
Karmic Past Life Report
---
Pisces: There is an inner journey at play with you right now. You want to know more about the purpose of your life. Is it all about just making money, or is there more to it? What happens to the body when it is finally laid to rest? These and innumerable other related questions plague you. In Hindu philosophy, turiya is pure consciousness. It is the background that underlies and transcends the three common states of consciousness – waking consciousness, dreaming, and dreamless sleep. You are in that state now. New learning is presenting itself to you, and you are taking advantage of this opportunity, Pisces, and you are growing as a result.
---
Discover your soul's intention for this lifetime, the lessons to be learned, qualities to develop, problems to be resolved, services to be rendered.
Karmic Insight Report
---
For more information about your Horoscope and what the stars
have in store for you, order one of our detailed
Astrology Reports for Couples!
---
Want to know the theme of your relationship? This report compares your temperaments and personalities, whether you are married or living together.
Compatibility Report
Reveal as much information about you and your partner intention of opening doors of understanding and awareness.
Love Cards Report