#Horoscope #Aries #Taurus #Gemini #Cancer #Leo #Virgo #Libra #Scorpio #Sagittarius #Capricorn #Aquarius #Pisces #Horoscope – overview of this week
The Center for the New Age is pleased to present
your Free Weekly Horoscope for August 27 – September 2, 2017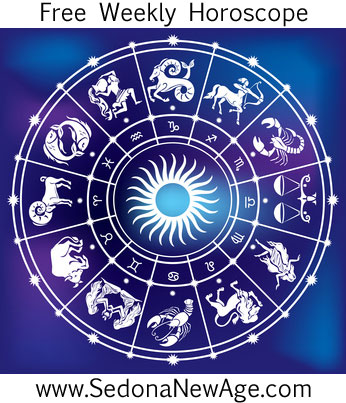 Receive our Free Weekly Horoscope in your Inbox
---
Aries Taurus Gemini Cancer Leo Virgo Libra Scorpio Sagittarius Capricorn Aquarius Pisces
Jupiter in Libra is sextile Saturn in Sagittarius (August 27 –September 3). Jupiter and Saturn are the two social planets of our solar system. When we do something during this aspect that will benefit others at some point in the future, we have performed a deed which makes a lasting mark. We have extended a part of ourselves that will grow and leave an impression. This is a good time to invest in sound markets of reputable merit and take action with retirement plans and financial investments.
First Quarter Moon in Sagittarius on August 29 puts the emphasis on such endeavors as travel and vision quests. With this visionary process comes the desire to expand. While the Virgo Sun reminds us to budget our resources for the coming of the changing season, Sagittarius Moon reminds us to extend ourselves while the brilliant beauty of summer is still happening.
Mercury enters Leo (August 31 – September 9)putting the focus of information, news and discussions on entertainment and the connection of families This is the time when many kids are turning to, or away from, family in an effort to find answers. They seek answers with which they can live, answers with regard to determining self identity, as well as survival skills. Thoughts, ideas and communications shift toward a greater charismatic interplay as Mercury enters Leo.
Aries Taurus Gemini Cancer Leo Virgo Libra Scorpio Sagittarius Capricorn Aquarius Pisces
For more information about your Horoscope and what the stars have in store for you, order one of our detailed
Astrology Reports!
Want to know the theme of your relationship? This report compares your temperaments and personalities, whether you are married or living together.
Compatibility Report
Reveal as much information about you and your partner intention of opening doors of understanding and awareness.
Love Cards Report
Free Weekly Horoscope for your Sign
Aries: While it's not necessarily a case of the party being over, you might find that you need to pay some attention to the demands of everyday life – work, chores or your health and well-being. If your health is the issue, pay more attention to what you can do to improve things with small changes to your daily routine: exercise, be positive in your outlook, and take all the sleep you need. Ultimately, whatever the problem, the cure is likely in your ability to be more organized, efficient and sensible. If that means eating less of the bad stuff, exercising more or tackling your paperwork to stay on top of things, then this is the week to identify the areas needing attention. Remember the importance of taking time for yourself.
---
Discover a personal profile and 1-year forecast based on advanced calculations of your name and birth date.
Numerology Report
---
Taurus: The Sun's move into your zone of fun is likely to be a welcome respite after the recent intensity and busyness. Now you can kick off your shoes and relax a little. In fact, with Mercury backtracking through the same area, you are being encouraged by the cosmos to consider whether you have been neglecting your creative self. Have you been working too hard and not allowing time for play? We all need recreation because that is when we get to re-create ourselves – a vital process if we are to keep enjoying life so examine what way you need to re-create yourself and then seek the hobbies or fun activities that will enable you to plug back into the Source.
---
Need a guide for your growth and personal evolution based on astrological influences upon your personality?
New Age Natal Report
---
Gemini: As the Sun sinks to the bottom of your chart, this week isn't the time to charge headlong into the world to pursue success and achievement. Rather, it's a time to snuggle up with your loved ones to enjoy time at home or in contemplation with your inner self. Mercury's continued backward motion creates extra emphasis on slowing down and making time to just be. In so doing, you will find that things from the past come up to claim your attention. Don't dismiss these issues. Whatever comes up in your consciousness does so for a reason, and by making the time to examine your thoughts and feelings, you can release that which needs to go. This will free up valuable psychological space. You could choose to make space in your home as a symbolic way of clearing the past by clearing out your home's clutter. You'll find that the subsequent life energies and feeling of greater space will have a beneficial effect on your well –being and in your life in general.
---
This interpretation of your birth chart is written in simple language could be beneficial in self undestanding.
Merlin Report
---
Cancer: As the Sun joins Mercury in your zone of communication, it is an opportune time to get your message across. Your message could be expressed through writing, speech or some other artistic means. What is most important is that you are able to communicate your needs and negotiate accordingly. If you feel you've been getting less than you deserve in a particular area of life, now is the time to assert your right to a better situation. If you're fed up with the way things are, then you can look forward to an improvement, along with a healthy desire to enjoy more of what life has to offer. Don't settle for less in business, love or money.
---
Indra reveals your life's contradictory urges & drives as well as your basic motivation, perceptions, inclinations and character.
Indra Report
---
Leo: What is there that you do that you really love? This is a valuable question as the Sun joins retrograde Mercury in your money zone, and it might be time to consider whether you're spending your days in the most fulfilling way. If money is an issue, Mercury's influence suggests the time has come to negotiate what you feel you're worth. It doesn't really matter whether you're negotiating with your boss or yourself because, ultimately, the outside world mirrors what you believe about yourself so it could be beneficial to conduct some self-examination if you still need convincing that you're worth it, and then put that out to the universe.
---
Want a detailed report for parents to help with the child's growth to strengthen the assets and avert possible problems that the child could face in their life?
Child Astrology Report
---
Virgo: Once again, you might need to rely on your intuition as Mercury continues his backward journey through your sign. The whole purpose of this celestial event is to get you to slow down, take stock of your life, and prepare for necessary changes. This certainly isn't the time for rushing ahead, but with the Sun also in your sign, you will feel your spirits lifting and energy positivity and enthusiasm return. Be patient; it won't be much longer before you are able to make forward strides and any difficulties of recent weeks should soon be outdated.
---
Want a birthday to birthday practical guide to help you recognize opportunities and to learn from them.
Astrological Solar Return Report
---
Libra: You have likely been busy lately, and you might be in need of some rest. If so, take your cue from the Sun as he drifts into your zone of quiet repose, and enjoy a little rest and relaxation. If you're lucky enough to be able to take time out, then indulge. Even if you can only snatch half an hour here or there to stretch out with a book in the Sun, then do so. You will find the rest replenishing. Meditation, yoga, spiritual healing or connection with angels, are all ideal ways in which you can replenish your spirit and nourish your body, mind and soul. Art and creativity are very therapeutic ways to enable you to access your inner self, heal a damaged heart, or replenish a tired and thirsty spirit. Take a moment to tune in to what you need, and then be kind enough to give it to yourself.
---
Want to know the actual dates when the energies will influence your life in money, career, relationships, and communicaton?
Astro Forecast Report (3 months)
---
Scorpio: The drive to push forward in your life is still strong, but the Sun in your social zone adds a lighter, more enjoyable feel. This is a great time to network, make new contacts and maybe make some new friends too. But don't forget your old friends. Mercury heading back through your friendship zone reminds you of the value of friendship. The focus is very much on the future: where you want to be, what you want to be doing and who you want to be with. Not everyone will want to come along on the ride, and that's fine, for it's important to remember that there are friends for a season and friends who last a lifetime. Perhaps now is the time to happily release those whose time is done and embrace those who are with you for the long haul.
---
Want a one year forecast to understand the scope of influence for your personal Cards of Destiny?
Cards of Destiny Report
---
Sagittarius: As the Sun glides across the top of your chart, the theme changes from adventure to success. Some good questions to ask yourself now include: what do I want to do with the rest of my life? Where am I going? What do I want to achieve? What does success mean to e? It's worth spending some time with these questions since Mercury is retrograde in the same area, perhaps drawing your attention to work and career matters. There might be frustrations or glitches in terms of your career now, and it might feel as though you can't make much progress. This could be because you're not meant to move forward but rather take time to contemplate your next move. Once you're clear about the direction you wish to take, the brakes will be off, and you'll be able to move forward again.
---
Contemplating a move? This report tells how you will react to the energies of the specific locations for relationships, finances, and security.
Relocation Information Report
---
Capricorn: As the Sun slides into your zone of adventure, a lightening of mood ensues, and life begins to turn in a more positive direction. Events over the past few weeks might have been intense. If you're in need of some relief, then why not take a trip, go on an adventure or try something new? Be prepared to be spontaneous since Mercury retrograde might have plans that differ from yours. As long as you have a flexible itinerary, you will find that whatever happens this week proves to be rather enjoyable and enables you to see life with a fresh perspective.
---
Discover your character traits, relationship and career potentials – based on Edgar Casey Readings.
Cayce Past Life Report
---
Aquarius: With Venus and Mars in Leo, there should be a positive shift in relationship matters. Mars is highlighting the need to assert yourself and ensuring that the balance of power is evenly distributed while Venus will do much to smooth any rough edges and bring light to dark areas. Now is a good point to consider how you can create more cooperation and how you can bring move love, harmony and joy into your relationships. Consider the importance of affection too as it has been said that affection is responsible for nine-tenths of whatever solid and durable happiness there is in our lives.
---
Discover your past life connections that can carry over into your current life, accounting for interests, habits, even phobias.
Karmic Past Life Report
---
Pisces: As the Sun joins Mercury retrograde in your relationship zone, it is a good time to focus on your personal relationships – the ones in need of your time and attention as well as airing your grievances with someone who might be taking you for granted. This week is your time to speak with honesty and compassion. With the Sun in this area, you should find that matters naturally improve, and it will be easier to mend bridges and create more warmth and a deeper connection with anyone who matters to you.
---
Discover your soul's intention for this lifetime, the lessons to be learned, qualities to develop, problems to be resolved, services to be rendered.
Karmic Insight Report
---
For more information about your Horoscope and what the stars
have in store for you, order one of our detailed
Astrology Reports for Couples!
---
Want to know the theme of your relationship? This report compares your temperaments and personalities, whether you are married or living together.
Compatibility Report
Reveal as much information about you and your partner intention of opening doors of understanding and awareness.
Love Cards Report