#Horoscope #Aries #Taurus #Gemini #Cancer #Leo #Virgo #Libra #Scorpio #Sagittarius #Capricorn #Aquarius #Pisces #Horoscope – overview of this week
The Center for the New Age is pleased to present
your Free Weekly Horoscope for September 17 – September 23, 2017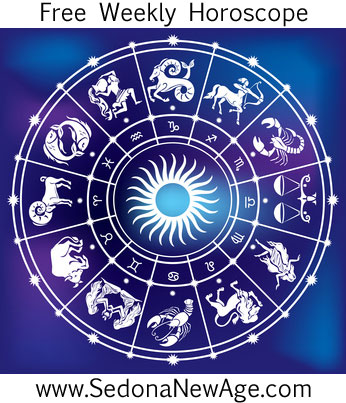 Receive our Free Weekly Horoscope in your Inbox
---
Aries Taurus Gemini Cancer Leo Virgo Libra Scorpio Sagittarius Capricorn Aquarius Pisces
New Moon in Virgo on September 20th invites us to start all over again and organize one's life in a new manner. It asks us to apply a new form of skepticism, and try on new ways of analyzing and approaching our communications. This Moon prepares us for the changes that occur around us in the physical world and encourages us to apply caution when making changes in general.
Mercury in Virgo opposite Neptune in Pisces (September 20 – September 26) brings an acute awareness of personal and spiritual (or religious) beliefs to discussions. It is wise to be clear about your own beliefs, but not put yourself in a position of having to defend those beliefs before a pack of merciless critics. Beliefs go beyond the physical to the metaphysical realms, where information is accessed and spiritual fortification can take place. During this aspect, beliefs are sometimes challenged by information that contradicts the structure of one's own personal understanding.
Venus enters Virgo (September 20 – October 13) enhancing the expression of love and magnetism in practical and bountiful ways. The planet of attraction and feminine vibrations (Venus) is personified with the meticulous attention (Virgo) to simple gestures of affection. Gentle, subtle expressions of love come out with Venus in Virgo. Since Virgo symbolizes the virgin, this may be a time when attraction to virginal purity and newness in love is highlighted.
Mercury in Virgo trine Pluto in Capricorn (September 22 – September 28) brings favorable news and optimistic discussions around issues of control and power. This is an excellent aspect for attempting to communicate with those of another generation, filling the gaps between the two generations with meaning. Mercury is the communications tower that transmits information, and in the case of Pluto, that information usually involves issues that deeply concern us. Pluto's disruptive energy is focusing our attention on issues such as contagious diseases, senseless crime, misunderstandings between cultures, addiction and many other painful realities. This is a good time to express encouraging words and reinforce the troubled people of our world with a sense of hope.
Aries Taurus Gemini Cancer Leo Virgo Libra Scorpio Sagittarius Capricorn Aquarius Pisces
For more information about your Horoscope and what the stars have in store for you, order one of our detailed
Astrology Reports!
Want to know the theme of your relationship? This report compares your temperaments and personalities, whether you are married or living together.
Compatibility Report
Reveal as much information about you and your partner intention of opening doors of understanding and awareness.
Love Cards Report
Free Weekly Horoscope for your Sign
Aries: With a potent New Moon in your health and work zone on September 20, this is a perfect opportunity to make changes in either area. You might feel inspired to start a new diet or exercise regime, get fit, or jettison bad habits. You might also see new beginnings in your work or daily life. Perhaps there'll be a change of some sort in your role, but last week's advice still applies. Be careful not to take on too many responsibilities and chores. Whether it's your boss or family members asking you to do more, it could suddenly feel that there's an awful lot to do. If that places you under too much stress, it might be worthwhile to negotiate a better deal. Overall, though, this is a great opportunity to turn your life into something that really works for you.
---
Discover a personal profile and 1-year forecast based on advanced calculations of your name and birth date.
Numerology Report
---
Taurus: The New Moon in your house of fun marks a turning point in terms of enjoying life. If you haven't had much fun lately or your feel that your life lacks color and vibrancy, this is the point you will realize that you're the artist of your own life, and as such, you have the freedom and the ability to paint your life in whatever colors and styles you choose. Or you could see yourself as the author of your own story. Are you happy with your life story or would you like a happier ending, a different theme – perhaps a romance or an adventure? Under this New Moon – which is very rich in power since it is accompanied by Mars, Mercury and Venus – why not find a creative way to depict how you would like your life to be? Let your imagination run free, and create something that can be a template for a more colorful, enjoyable life.
---
Need a guide for your growth and personal evolution based on astrological influences upon your personality?
New Age Natal Report
---
Gemini: A New Moon and a cluster of planet in your domestic sphere bring the opportunity for a fresh start, especially in your home and family life. This is the time to make some changes or to embrace a new beginning, even if it's just a new philosophy or a new way of approaching matters. This is a good time to make domestic changes, from moving house and welcoming new additions to the family to redecorating or mending a relationship with a family member. Determine what needs to change in your home life, and use the energy of this New Moon to make the necessary alterations.
---
This interpretation of your birth chart is written in simple language could be beneficial in self undestanding.
Merlin Report
---
Cancer: An amazing New Moon accompanied by the Sun, Mercury, Mars and Venus in your zone of the mind and communication bring opportunities to change your approach to life. This is an important moment to become conscious of any negative belief that holds you back. We all have at least one negative belief lurking in our otherwise positive approach, and it's this shadow that can sabotage our best efforts. The New Moon suggests that it's time to stop believing in the negative story you've been telling about yourself and to start writing a new script.
---
Indra reveals your life's contradictory urges & drives as well as your basic motivation, perceptions, inclinations and character.
Indra Report
---
Leo: An amazing New Moon highlights the values area of your chart, so it might be helpful to get a clearer understanding of what yours are. Some obvious choices include freedom, love, beauty, family, truth, authenticity, creativity, honesty, courage, home, security and wealth, but there are many more. Once you've identified the top three things that are most important to you, you'll be able to see whether you're actually living them. When you're clear what your values are, you can work with the energy of this New Moon to create more of what you want, which may or may not include money and material things. By the end of the week, you should have a clearer idea of what you need to be happy along with the determination to manifest it.
---
Want a detailed report for parents to help with the child's growth to strengthen the assets and avert possible problems that the child could face in their life?
Child Astrology Report
---
Virgo: It's party time for Virgos as the Sun, Moon, Mercury, Mars and Venus clamor in your sign for a big celebration. September 20 is the day to mark in your diary, as the New Moon takes place in your sign while Venus makes her entry to join all the other planets enjoying your company. This is most definitely a time of new beginnings when the spotlight is on you. You could be forgiven for being a little wrapped up in yourself, as with so many planets in your sign, the cosmos is giving you permission to focus on your own needs, desires and ambitions. Whatever is personally important to you should be incorporated into your life. Making some changes and greeting the world with enthusiasm is the way to go, and if you start something new around this time, then so much the better.
---
Want a birthday to birthday practical guide to help you recognize opportunities and to learn from them.
Astrological Solar Return Report
---
Libra: With a New Moon and a cluster of planets in your zone of endings, this is a good time to seek closure on any matter that has been troubling you. This New Moon is a good time to cut your ties to the past, whether that means physically ending a situation or by visualizing yourself cutting the cords. The more you can let go of, the better placed you will be in the coming weeks to capitalize on new opportunities. Don't hold on to anything that has had its day, and focus on nourishing your soul through meditation, yoga, retreats, dream work, creative activities, and healing. Any outbursts of emotion (from sadness and depression to irritation and anger) show that there is unfinished business you need to tend to. It's time to heal your past and forgive others for their mistakes.
---
Want to know the actual dates when the energies will influence your life in money, career, relationships, and communicaton?
Astro Forecast Report (3 months)
---
Scorpio: The New Moon on September 20 is a wonderful omen for you, as it suggests new beginnings as far as your future is concerned. At the very least, you should feel a surge of optimism about how things could be. This is also a great time to make amends with friends and groups. Maybe it's time for a change; perhaps join a new group and make some new friends. Unusual and alternative organizations and groups could be of interest as this New Moon suggests something a little different, perhaps something that isn't particularly main-stream. This New Moon also bodes well for any desire to do your bit for society, whether it's volunteering or taking your dream out into the world and allowing it to benefit others.
---
Want a one year forecast to understand the scope of influence for your personal Cards of Destiny?
Cards of Destiny Report
---
Sagittarius: Career, status, recognition, ambition, success, vocation, purpose – take whichever of these rings the loudest bell and give it your full attention because with a New Moon alongside Venus, Mars, Mercury and the Sun at the top of your chart, you are in a most auspicious position in terms of your direction in life. This is a time for new beginnings, and with such a colossal amount of planetary energy in this region, you could witness a big change or a major development. At the very least, your loved ones might complain that they're not seeing enough of you since there will be many demands on your time and lots to accomplish. Pursue your ambitions by all means, but remember the importance of loving what you do.
---
Contemplating a move? This report tells how you will react to the energies of the specific locations for relationships, finances, and security.
Relocation Information Report
---
Capricorn: An amazing conglomeration of planets is lined up in your zone of adventure. This is most definitely not the week to spend curled up in front of the fire in your slippers, unless, of course, you've spent the day hiking up a mountain, in which case you'll have earned your cozy end to the day. This is the week to test your mettle, push beyond boundaries and see what you're capable of. It's the week to see new sights or entertain new concepts and ideas. Challenge yourself whenever you can whether it's walking the extra mile to see the amazing view or asking yourself, "Is that a true statement?" when you catch yourself making a negative comment. This could be a revealing week, especially if you're prepared to say "yes" to whatever comes your way.
---
Discover your character traits, relationship and career potentials – based on Edgar Casey Readings.
Cayce Past Life Report
---
Aquarius: "Transformation" is your keyword as a huge group of planets, including the New Moon on September 20th align in your zone of rebirth and psychological change, so what do you need to let go of? Is it an attitude, a belief, an emotional state, a situation, a person, or a way of being? Do you need to purge and cleanse your physical body, or do you need to cleanse your soul? Do you need to let go of possessions and clear your home, or do you need to liberate yourself from unrealistic expectations? The easiest and most effective way to navigate through what could be a very intense week is to release anything that weighs you down. Snakes shed their skin to allow for further growth. Take a hint from nature: shed your skin and enjoy the feeling that comes with sloughing off the past.
---
Discover your past life connections that can carry over into your current life, accounting for interests, habits, even phobias.
Karmic Past Life Report
---
Pisces: The New Moon in your relationship zone brings with it the opportunity to create a fresh start in an important relationship or to begin a new relationship. This is undoubtedly a time of development in your personal life, so be prepared for a breakthrough of some kind. Expect that others will take much of your time and energy – be it helping people, spending time with them, or thinking about them. Therefore, this isn't a time to be focusing on your own needs but rather on what you can do for others and what you can learn about yourself as a result of your relationship with others. Any difficulties could offer an important lesson, and it might be that you discover some important truths, such as what you do and don't want in a relationship.
---
Discover your soul's intention for this lifetime, the lessons to be learned, qualities to develop, problems to be resolved, services to be rendered.
Karmic Insight Report
---
For more information about your Horoscope and what the stars
have in store for you, order one of our detailed
Astrology Reports for Couples!
---
Want to know the theme of your relationship? This report compares your temperaments and personalities, whether you are married or living together.
Compatibility Report
Reveal as much information about you and your partner intention of opening doors of understanding and awareness.
Love Cards Report