#Horoscope #Aries #Taurus #Gemini #Cancer #Leo #Virgo #Libra #Scorpio #Sagittarius #Capricorn #Aquarius #Pisces #Horoscope – overview of this week
The Center for the New Age is pleased to present
your Free Weekly Horoscope for November 12 – November 18, 2017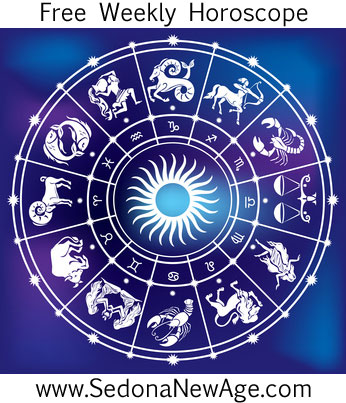 Receive our Free Weekly Horoscope in your Inbox
---
Aries Taurus Gemini Cancer Leo Virgo Libra Scorpio Sagittarius Capricorn Aquarius Pisces
Mercury in Sagittarius square Neptune in Pisces (November 13 – December 10) brings about difficulty with communications concerning the challenges and obstacles of the spirit world and human spirituality. While Mercury is squaring Neptune, our minds are a lot more challenged regarding issues of divine experience and relaying all this information may seem all the more difficult with this aspect. Anticipate religion related arguments and disputes, and resistance to spiritual teachings.
Venus and Jupiter are conjunct in Scorpio (November 13 – November 24). Here, the influence of beauty, love and attraction (Venus) blends and melds with the powers of production, expansion and prosperity (Jupiter). This is a time to enhance love relationships and realize the precious value of love in it's most limitless sense, since the influence of Jupiter reminds us the resources of love in the universe are inexhaustible and love's great bounty is designed to be shared.
Venus in Scorpio trine Neptune in Pisces (November 16 – November 25) brings feminine love in harmony with spiritual expression. When one comes from a place of love, it is easier to draw down a spiritual enhancement of that love. To love unconditionally is a way to acquire gifts of the spirit world. In a time of spiritual turmoil for many, Venus trine Neptune helps to ease our woes with a support network of feminine kindness.
New Moon in Scorpio on November 18 puts us in touch with a new understanding of the passionate depths we experience through birth, sex, death and transformation. This New Moon in Scorpio focuses on a rebirthing process for our emotional body, and this is the time when we are sure to address the proverbial skeletons in our emotional closet. New Moon in Scorpio encourages us to regenerate our hopes while transforming our fears into a courageous and renewed outlook for ourselves. This is the time to take bold steps to defeat undesirable emotional patterns and fear mechanisms.
Aries Taurus Gemini Cancer Leo Virgo Libra Scorpio Sagittarius Capricorn Aquarius Pisces
For more information about your Horoscope and what the stars have in store for you, order one of our detailed
Astrology Reports!
Want to know the theme of your relationship? This report compares your temperaments and personalities, whether you are married or living together.
Compatibility Report
Reveal as much information about you and your partner intention of opening doors of understanding and awareness.
Love Cards Report
Free Weekly Horoscope for your Sign
Aries: The wonders and mysteries deepen as a New Moon joins Venus and Jupiter in your zone of transformation, potentially facilitating some kind of awakening. Perhaps it will feel like a rebirth as the dross falls away. Maybe you will encounter a loss that, although initially painful, reveals hidden blessings. Opportunity is always found in chaos and challenges, so your task under this New Moon is to seek the gift in something that is testing you. If you think back, this year began well and it seems to be ending well too. You are in creative mode and make new associations. You are extravagant and self-indulgent and ready to take on any and every challenge.
---
Discover a personal profile and 1-year forecast based on advanced calculations of your name and birth date.
Numerology Report
---
Taurus: You are in the most enviable of positions as a glorious and auspicious conjunction between Venus and Jupiter occurs in your relationship zone. This is a magical moment to connect with others, helping you find love where previously there was strife. This bodes well for new relationships, and it also brings renewal, greater joy and happiness in long term unions too. The more you can give to others, the more blessed you're going to find yourself because what you give will return to you at least tenfold. Prepare to be on the receiving end of people's warmth, generosity, affection and joviality, but don't wait for it to happen. Give it first, and then see what magic occurs. The New Moon alongside Venus and Jupiter indicates that now is the time to embrace a new beginning of some sort. Perhaps make a commitment to somebody or invite a connection. Turning over a new leaf in your relationships can only be a good thing right now.
---
Need a guide for your growth and personal evolution based on astrological influences upon your personality?
New Age Natal Report
---
Gemini: The glorious conjunction of Venus and Jupiter in your work and health zone is likely to bestow blessings and good fortune in one of these areas. You might receive good news about a health issue or find it effortless to feel fit and healthy. Just be careful not to overindulge or fall into a pattern of laziness, as Venus and Jupiter certainly know how to have a good time. Overindulgence is a real temptation with these two planets so aim to partake in just a little of what you fancy and all will be well. The powerful New Moon in this area of your chart on November 18 makes this the week for new beginnings in these areas. Starting a new health regime is ideal, but make it something that you can enjoy as opposed to something that feels like hard work.
---
This interpretation of your birth chart is written in simple language could be beneficial in self undestanding.
Merlin Report
---
Cancer: This is a great time to discover more about who you really are and the best way of doing this is through creative expression and play. With a New Moon along side Venus and Jupiter in your house of fun and play, this is an appropriate moment to consider whether you have taken on too much at the expense of your inner child or whether you need to be a little rebellious and cast off some of your burdens to feel lighter and more joyous. This New Moon asks you to embrace your inner artist and begin creating a life of vibrancy and joy.
---
Indra reveals your life's contradictory urges & drives as well as your basic motivation, perceptions, inclinations and character.
Indra Report
---
Leo: The New Moon on November 18 is an auspicious occasion as far as your home and family are concerned. You might experience a new beginning in this sphere, or you might feel the desire to take a new approach in how you relate to your home. Perhaps you'll have a desire to de-clutter or treat your home as a living entity with a soul. Maybe you will change how you behave in your relationship with a family member. Any change that you make now should bear positive fruit since the planets are so auspiciously aligned. All you need to do is have a positive intention backed up with taking the first step.
---
Want a detailed report for parents to help with the child's growth to strengthen the assets and avert possible problems that the child could face in their life?
Child Astrology Report
---
Virgo: It's time for a new approach to life, especially if your past behavior has been in any way negative. And let's face it; none of us is 100 percent positive. We all have fears, doubts, insecurities and issues that hold us back. Many of us have victim tendencies we wallow in or bad experiences we focus on. This gets us nowhere, and now more than ever, you're starting to realize this with a desire to kick the victim and the cynic to the curb. The New Moon on November 18 is your cue to leave behind pessimism and welcome optimism.
---
Want a birthday to birthday practical guide to help you recognize opportunities and to learn from them.
Astrological Solar Return Report
---
Libra: It's time for new beginnings in your material life as a wonderful New Moon alongside Venus and Jupiter on November 18 makes this the ideal time to generate new ideas and to take action for making money in the way that you would love to make it. This is a New Moon of power, and it might help to realize that you're more powerful than you know so if you've been sitting around waiting for the world to give you a break, it might do so, but it's far better to make things happen on your own.
---
Want to know the actual dates when the energies will influence your life in money, career, relationships, and communicaton?
Astro Forecast Report (3 months)
---
Scorpio: New beginnings and exciting opportunities occur this week as a lovely New Moon accompanied by Venus and Jupiter occurs in your sign. It doesn't get much better than this, and there should be at least one thing happening in your life that feels good. Alongside new beginnings comes celebration. Whether it is your birthday or some other event that you're raising a glass to, remember the key to life is enjoyment. More serious philosophers might say the purpose of life is to serve others or to make a difference. Both are valid and should be a part of our lives, but if we haven't enjoyed the trip, we might wonder what the point of it all was. We're programmed for happiness. Joy is the true nature of the soul, so if you want to remember the good times, why not make it your mission to create more of them?
---
Want a one year forecast to understand the scope of influence for your personal Cards of Destiny?
Cards of Destiny Report
---
Sagittarius: The New Moon in your unconscious zone could trigger something that would be better left alone. However, once the cat is out of the bag, so to speak, there's no point trying to get it back in. Work constructively with whatever happens this week; see it as an opportunity to put the past behind you. Indeed, the more you can work toward closure of a painful issue, the better. Perhaps it's time to let go of the past and move on.
---
Contemplating a move? This report tells how you will react to the energies of the specific locations for relationships, finances, and security.
Relocation Information Report
---
Capricorn: Look for opportunities in whatever transpires because even the less obvious occurrences will contain a golden nugget if you know where to look. At the very least, this is a good week to get out, mingle and delight the world with your presence. Good things will happen as a result. Many people have limits on the good they believe they're entitled to. Phrases such as "It's too good to be true" and "my luck is bound to run out soon" are indications that an underlying cynical or negative mindset is at work. The question this week (under a glorious New Moon) is, how good can you stand it? If life isn't beginning to resemble a bowl of cherries, maybe you don't feel deserving, or you don't believe in miracles. The New Moon is a good opportunity to challenge the beliefs that may be blocking your good fortune.
---
Discover your character traits, relationship and career potentials – based on Edgar Casey Readings.
Cayce Past Life Report
---
Aquarius: This is a week when you should be reveling in what you're doing, and enjoying your life. If you are attuned to gratitude and abundance, it should be a week when you feel much more inclined to count your blessings. You are blessed with the glorious alignment of the Sun, Venus and Jupiter shining down on you and this week you will also have a New Moon to add to this delicious situation. This is your cue to embrace new beginnings in your professional life as well as life in general. Perhaps a new direction will open up for you. Maybe you will receive a lucky break (if you haven't already). Basically, you will be very much in the spotlight in some way. Life looks good and the New Moon on November 18 is your cue to put the past behind you, move toward that which is calling you, and (if appropriate) accept opportunities that enable positive developments.
---
Discover your past life connections that can carry over into your current life, accounting for interests, habits, even phobias.
Karmic Past Life Report
---
Pisces: Not all Pisces will be gripped by a surge of wanderlust, but if you're one of them, the glorious New Moon on Saturday is your cue to get set for adventure. However, all Pisces are encouraged to embrace growth and to treat life more as though it were an experiment. Heed Ralph Waldo Emerson's advice: "Don't be too timid and squeamish about your actions. All life is an experiment. The more you make, the better." So the big question this week is, what experiment do you need to perform? Which area of your life requires you to embrace growth and step out of your comfort zone? Where has fear been holding you back? This New Moon suggests that it's time to put such fears and limitations behind you and seek out a more adventurous way of living.
---
Discover your soul's intention for this lifetime, the lessons to be learned, qualities to develop, problems to be resolved, services to be rendered.
Karmic Insight Report
---
For more information about your Horoscope and what the stars
have in store for you, order one of our detailed
Astrology Reports for Couples!
---
Want to know the theme of your relationship? This report compares your temperaments and personalities, whether you are married or living together.
Compatibility Report
Reveal as much information about you and your partner intention of opening doors of understanding and awareness.
Love Cards Report