#Horoscope #Aries #Taurus #Gemini #Cancer #Leo #Virgo #Libra #Scorpio #Sagittarius #Capricorn #Aquarius #Pisces #Horoscope – overview of this week
The Center for the New Age is pleased to present
your Free Weekly Horoscope for December 17 – December 23, 2017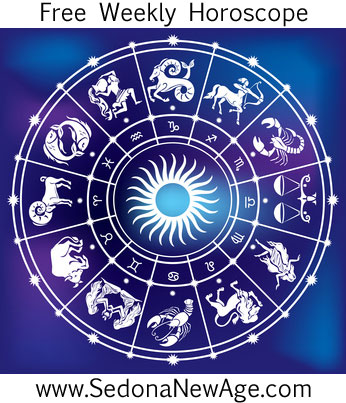 Receive our Free Weekly Horoscope in your Inbox
---
Aries Taurus Gemini Cancer Leo Virgo Libra Scorpio Sagittarius Capricorn Aquarius Pisces
New Moon in Sagittarius on December 18 inspires us to look at life in a whole new way. Sagittarius says "I see," so vision and insight are the primary incentives to explore fresh ground. This is a good day to optimistically look ahead and get in touch with an innovative vision for the coming year.
Saturn enters Capricorn (December 19 – March 22, 2020). We will all begin a new cycle and chapter both individually and collectively. Capricorn is ruled by Saturn so Saturn is very powerful here. Saturn is a no frills sign and deals with power, business and structure. In Capricorn, Saturn is concerned with security and structure, tradition, organization, big business and defense. If left unchecked, big business can become the new Gods of the Universe. Saturn in Capricorn can denote great wealth but also great limitations. While in Capricorn, Saturn will build things that are meant to inspire respect (or intimidation) as much as anything else.
Mercury (retrograde since December 3) turns direct on December 22 in the sign of Sagittarius. After the communication mix-ups and confusion in relaying information that take place in Mercury retrograde, our faculties and manner of communicating will definitely improve within the next few days. This will be a better time to start up new projects and definitely will be a better time for discussing these subjects with others.
Aries Taurus Gemini Cancer Leo Virgo Libra Scorpio Sagittarius Capricorn Aquarius Pisces
For more information about your Horoscope and what the stars have in store for you, order one of our detailed
Astrology Reports!
Want to know the theme of your relationship? This report compares your temperaments and personalities, whether you are married or living together.
Compatibility Report
Reveal as much information about you and your partner intention of opening doors of understanding and awareness.
Love Cards Report
Free Weekly Horoscope for your Sign
Aries: Saturn makes a major move (it only happens every two to two and a half years) into your 10th house. Saturn's move is very significant. It indicates more career responsibilities. These can be burdensome, but it's generally a sign of success. The people who take more responsibility are the people who get promoted. Your career will be demanding, for sure, but if you take up the burdens – don't try to evade them – you will find unexpected help and you'll also be setting the stage for long term and enduring success.
---
Discover a personal profile and 1-year forecast based on advanced calculations of your name and birth date.
Numerology Report
---
Taurus: All the planets will be in the upper half of your chart indicating that career and outer goals are most prominent now. Emotional wellness will happen as a side effect of your outward success so focus on your career right now. There may be a domestic issue for you to attend to this week, hower. The health of a parent may need attention. There are two planets in stressful alignment with you – Mars and Jupiter – but that's it. The other planets are supporting you or leaving you alone but if you feel under the weather with stress, a detox regime will be of help to you.
---
Need a guide for your growth and personal evolution based on astrological influences upon your personality?
New Age Natal Report
---
Gemini: The good news for you this week is that Saturn moves out of your relationship zone paving the way for more joyful times ahead. A major social and love burden is lifted off your shoulders. The only problem is Mercury's retrograde in your 7th house (house of partnerships) and you don't seem sure about what you want. You change your mind too quickly and social confidence is not what it should be. Don't worry; this will improve by the end of the month.
---
This interpretation of your birth chart is written in simple language could be beneficial in self undestanding.
Merlin Report
---
Cancer: Saturn's move into your 7th house (and he will be there for the next two years) shows an attraction for older, more settled, more serious kinds of people. It indicates someone older coming into your love life. It also shows a need to go slow in love and not to rush into anything. You will start to become more selective about whom you date and the parties you attend. This week you are beginning to take a long-term perspective on love with the result that short-term relationships are becoming less interesting to you.
---
Indra reveals your life's contradictory urges & drives as well as your basic motivation, perceptions, inclinations and character.
Indra Report
---
Leo: "Instead of getting depressed or falling into guilt when we see what is wrong in ourselves, we need to say, Thank You Creator for letting me see my demons. Now how can I go above them?" You are moving in the right direction under the New Moon in Sagittarius. This is a week filled with action for you. You are making new associations with people from different cultures as part of the profitable strides you are engaged in at work. This could lead to opening branches of your business in different countries. You have found yourself and know where to go and what to do.
---
Want a detailed report for parents to help with the child's growth to strengthen the assets and avert possible problems that the child could face in their life?
Child Astrology Report
---
Virgo: Family issues are improving with Saturn finally leaving your 4th house this week. Family life (and perhaps a parent figure) has been a burden. This is over with now. You may have felt emotionally blocked for the past few years, not safe in expressing your true feelings. This now becomes much easier. Saturn's move into your 5th house, the house of pleasure, brings a focus on children and children figures. The very planet that has been stressing you out for more than two years, now begins to make harmonious aspects with positive results for you this very week.
---
Want a birthday to birthday practical guide to help you recognize opportunities and to learn from them.
Astrological Solar Return Report
---
Libra: Mars in the money house indicates a change in your love preferences. Material wealth is now a romantic turn-on. Singles gravitate to the "good providers." With love shown in material ways – financially or through material gifts – you feel loved. This is also how love is shown. When Mars was in your own sign, love was romantic and romantic niceties were important, but now with Mars in Scorpio until February, it is a different form of magnetism that attracts you.
---
Want to know the actual dates when the energies will influence your life in money, career, relationships, and communicaton?
Astro Forecast Report (3 months)
---
Scorpio: This week Saturn moves out of your money house where he has been for over two years. He has been a drag on finances, slowing things down. He brought extra financial burdens that you couldn't escape. He forced a reshuffling and reorganization of your finances. Worst of all, he brought a sense of financial pessimism. This week, however, begins a different phase. Financial confidence is restored. Financial burdens seem removed and if not removed, they are now so easily handled as to not feel like burdens. Saturn now moves into your 3rd house to reorganize your intellectual life. Scorpios are deep thinkers by nature, but Saturn will now take you even deeper. This is considerably easier than having to deal with economic issues and makes this week the beginning of a more positive outlook.
---
Want a one year forecast to understand the scope of influence for your personal Cards of Destiny?
Cards of Destiny Report
---
Sagittarius: Saturn moves out of your sign this week. He has been there for more than two year giving you a cold and often forbidding demeanor. Now you can be your natural sunny Sagittarius self, bubbly and full of fun. Saturn's move out of your sign will do much for your love life too. You should see big improvements. At the same time, with Saturn moving into your money house this week, your financial judgment will be more stable and more rational with regard to finances.
---
Contemplating a move? This report tells how you will react to the energies of the specific locations for relationships, finances, and security.
Relocation Information Report
---
Capricorn: This week, Saturn, the ruler of your horoscope and a very important planet in your chart, moves into your own sign indicating that you have achieved your spiritual goals of the past two years. Whatever enlightenment was needed has happened. Now it is about putting it into practice – manifesting your understanding in the world and in your body. Saturn only changes signs every two to two and a half years. This move will strengthen you making you more of a Capricorn than you already are with your natural organizing and management skills stronger than ever.
---
Discover your character traits, relationship and career potentials – based on Edgar Casey Readings.
Cayce Past Life Report
---
Aquarius: Saturn enters your spiritual 12th house this week where he will stay for two to two and a half years. You will need to balance your spiritual ideals and practice with a successful outer life – a successful career. This can be a challenge as the values of the world are very different from spiritual values. Begin now to investigate how you personally can integrate these two areas. Every person has to find their own solution to this situation and this will be a period of inner growth for you.
---
Discover your past life connections that can carry over into your current life, accounting for interests, habits, even phobias.
Karmic Past Life Report
---
Pisces: Saturn moves out of your career house this week, and things will now get a lot easier career-wise. An over-controlling or over-exacting boss leaves the picture. You've earned your success by merit these past few years. You've proved your mettle and now your career will become less intense. With Saturn leaving your 10th house, you will feel an increase in your overall energy and you can maximize your energy by delegating more, by dropping trivia from your life, and by scheduling in more "down time." As always, make sure to get enough rest and all this will keep your health and your outlook on things par excellent.
---
Discover your soul's intention for this lifetime, the lessons to be learned, qualities to develop, problems to be resolved, services to be rendered.
Karmic Insight Report
---
For more information about your Horoscope and what the stars
have in store for you, order one of our detailed
Astrology Reports for Couples!
---
Want to know the theme of your relationship? This report compares your temperaments and personalities, whether you are married or living together.
Compatibility Report
Reveal as much information about you and your partner intention of opening doors of understanding and awareness.
Love Cards Report