#Horoscope #Aries #Taurus #Gemini #Cancer #Leo #Virgo #Libra #Scorpio #Sagittarius #Capricorn #Aquarius #Pisces #Horoscope – overview of this week
The Center for the New Age is pleased to present
your Free Weekly Horoscope for February 11 – February 17, 2018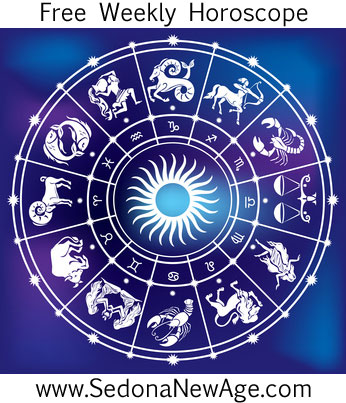 Receive our Free Weekly Horoscope in your Inbox
---
Aries Taurus Gemini Cancer Leo Virgo Libra Scorpio Sagittarius Capricorn Aquarius Pisces
Mercury in Aquarius square Jupiter in Scorpio (February 13 – February 21) creates a difficult block (the square aspect) between the communications industry (Mercury) and the source (Jupiter) that allows wealth to flow: manufacturer, banker, fund raiser, etc. This is a time to be particularly cautious when looking for a job or changing jobs, asking for a raise, or signing any binding contracts concerning long-term investment and payment schedules.
Last Quarter Moon in Scorpio on February 15 is accompanied by a solar eclipse. This is an intense time for the emotions. Issues that matter deep down are likely to come up to the surface. Scorpio rules passion and compassion and it is likely that the dark secrets of our lives will be touched on in some way. Try to find a way to experience emotions without imposing them on others.
The eclipse encourages us to remember all that we carry within us – our ancestors who could be ourselves in other incarnations, our lineage, and our resources. It reminds us to let none of this knowledge go to waste. The efficient use of all that we contain within is what will see us through challenging times.
Venus in Pisces is sextile Saturn in Capricorn (February 15 – February 22). Venus emphasizes the vibrations of love, magnetism, beauty and also sensuality. This aspect often provides an opportunity to attain desired objects. Saturn's influence emphasizes the awareness of time, limitations and restrictions. It also harnesses our dedication to responsibility and discipline. There is a passionate drive at this time to protect loved ones and limit their exposure to whatever creates the protective one's concern. The sextile aspect allows for greater opportunity to stand on guard favorably and be protective in a way that will be easily understood.
Mars in Sagittarius is square Neptune in Pisces (February 17 – March 2). Heated activities run into obstacles in the work of Great Spirit and the fulfillment of spiritual harmony. This aspect brings the potential for many accidents, and perhaps temper tantrums, especially relating to beliefs and sacred matters. Active aggression of some kind occurs around spiritual groups and religious institutions and these outbreaks of heated energy often target the belief system of others.
Aries Taurus Gemini Cancer Leo Virgo Libra Scorpio Sagittarius Capricorn Aquarius Pisces
For more information about your Horoscope and what the stars have in store for you, order one of our detailed
Astrology Reports!
Want to know the theme of your relationship? This report compares your temperaments and personalities, whether you are married or living together.
Compatibility Report
Reveal as much information about you and your partner intention of opening doors of understanding and awareness.
Love Cards Report
Free Weekly Horoscope for your Sign
Aries: The solar eclipse on February 15 brings the potential for new beginnings where your future is concerned. This is a great omen full of promise, especially if you can combine an adventurous spirit with a willingness to shoulder the responsibility of making your dream manifest. At the very least, this eclipse will bring change to your social life, friendships and your role within society.
---
Discover a personal profile and 1-year forecast based on advanced calculations of your name and birth date.
Numerology Report
---
Taurus: New beginnings in your professional life beckon as a solar eclipse falls in the success region of your chart on February 15. Now is the time to embrace any opportunities to move forward in your career, your ambitions, or your direction in life. Expect a change or development in this area around the eclipse but remember the words of Albert Schweitzer: "Success is not the key to happiness. Happiness is the key to success. If you love what you are doing, you will be successful." This week It may help to consider what you would love to do.
---
Need a guide for your growth and personal evolution based on astrological influences upon your personality?
New Age Natal Report
---
Gemini: If life has become a bit stagnant or is lacking in meaning, this week brings good news in the form of an eclipse in your sphere of adventure. Expect to be pushed out of your comfort zone and to entertain new possibilities. If you get the chance to try something new, take it. It will likely do you good. One problem many people have as they get older is that they become jaded. Every so often, though, we get the opportunity to rediscover that childlike curiosity and wonder we had when we were young. This is one of those times.
---
This interpretation of your birth chart is written in simple language could be beneficial in self undestanding.
Merlin Report
---
Cancer: If you are in need of a little healing, this week's eclipse on February 15 will bring a rebirth and a sense of renewal, and if matters have been intense lately, you can expect an ending of some sort that will allow you to move on. All you have to do is be willing to let go, which is sometimes easier said than done, so think of Lao Tzu's advice: "Life is a series of natural and spontaneous changes. Don't resist them; that only creates sorrow. Let reality be reality. Let things flow naturally forward in whatever way they like."
---
Indra reveals your life's contradictory urges & drives as well as your basic motivation, perceptions, inclinations and character.
Indra Report
---
Leo: This week's eclipse in your relationship zone on February 15 brings change to your personal life, potentially leading to new beginnings. This could mean moving on, or it could mean being open to meeting someone new or taking a relationship to a new level. No matter the situation, positive developments are in the cards if you're prepared to let go of any aspect of your personal life that isn't working. Communication is also favored, so if you have something to say, now is the time to say it.
---
Want a detailed report for parents to help with the child's growth to strengthen the assets and avert possible problems that the child could face in their life?
Child Astrology Report
---
Virgo: The solar eclipse on February 15 brings the potential for new beginnings in either your work and daily life or your health. It may be, for example, time for a new health regimen, or it may be appropriate to embrace changes and opportunities in your working life. Either way, how you spend your days is likely to change, which will procure a greater sense of well-being. Some believe that the secret of your future is hidden in your daily routine so why not make the necessary changes and accomplish what's best for you?
---
Want a birthday to birthday practical guide to help you recognize opportunities and to learn from them.
Astrological Solar Return Report
---
Libra: Fun, creativity and recreation are often overlooked in today's busy and overly intellectual world, so this week's eclipse on February 15 is a timely reminder of the importance of play. This is more than about enjoying yourself; it's also about a willingness to march to your own drumbeat and follow the path of joy. To do this, you will need to let go of something. Don't be afraid to move into richer, more colorful territory if that is what is calling and remember these words: "A hunch is creativity trying to tell you something."
---
Want to know the actual dates when the energies will influence your life in money, career, relationships, and communicaton?
Astro Forecast Report (3 months)
---
Scorpio: Something is likely to shift this week under the solar eclipse; it could be a realization of what really matters, or it could be that new beginnings at home or developments with family begin to manifest. Since this is such an important area of your chart, it could even feel as if a new chapter of life is beginning or an old one is ending. Don't resist the changes and observe which doors are opening and closing. Rather than push pointlessly at the closing door, walk toward the open one.
---
Want a one year forecast to understand the scope of influence for your personal Cards of Destiny?
Cards of Destiny Report
---
Sagittarius: This week's solar eclipse contains a hidden prize for Sagittarians. It blitzes the cobwebs from your mind and inspires you to see life differently. As a Sagittarian, you are blessed with a naturally positive attitude, and all you need to do is let go of any unhelpful thoughts and believe that you can achieve the seemingly impossible. Watch out for the synchronicities that confirm you're on the right track and that all is well.
---
Contemplating a move? This report tells how you will react to the energies of the specific locations for relationships, finances, and security.
Relocation Information Report
---
Capricorn: It has been said, "In business as in life, you don't get what you deserve; you get what you negotiate." You might not actually have to do that much negotiating since the solar eclipse on Thursday will bring material changes without much effort – maybe a new job or a change in the way you create or earn money – but at some point in the weeks ahead, an opportunity might arise to negotiate a better deal for yourself. If so, take it, because this is the time to make a financial change which may mean reassessing your value. Has it even occurred to you to value yourself or what you have to offer? When you respect your worth, others will too, and it will rise accordingly.
---
Discover your character traits, relationship and career potentials – based on Edgar Casey Readings.
Cayce Past Life Report
---
Aquarius: This week's solar eclipse on February 15 is big news for you because it falls in your sign. This is a time of new beginnings. It is easy to lose our sense of self, often because of the roles we take on and if we lose our sense of self for long enough, life can begin to feel like a meaningless struggle. Fortunately, the eclipse will help you to recover your identity and renew your passion for life; however, you may have to let something go to be more of your true self. Be brave and make the change.
---
Discover your past life connections that can carry over into your current life, accounting for interests, habits, even phobias.
Karmic Past Life Report
---
Pisces: The solar eclipse on February 15 brings two gifts. The first is a sense of closure to a matter that has troubled you for some time. The second is your intuitive voice becomes a bit stronger, so if you need answers, all you have to do is get quiet and listen. It may also help to notice how you feel about certain things, for your feelings will point the way forward. If something feels good, do more of it; if it doesn't feel good, do less of it. It's simple, really!
---
Discover your soul's intention for this lifetime, the lessons to be learned, qualities to develop, problems to be resolved, services to be rendered.
Karmic Insight Report
---
For more information about your Horoscope and what the stars
have in store for you, order one of our detailed
Astrology Reports for Couples!
---
Want to know the theme of your relationship? This report compares your temperaments and personalities, whether you are married or living together.
Compatibility Report
Reveal as much information about you and your partner intention of opening doors of understanding and awareness.
Love Cards Report