#Horoscope #Aries #Taurus #Gemini #Cancer #Leo #Virgo #Libra #Scorpio #Sagittarius #Capricorn #Aquarius #Pisces #Horoscope – overview of this week
The Center for the New Age is pleased to present
your Free Weekly Horoscope for February 25 – March 3, 2018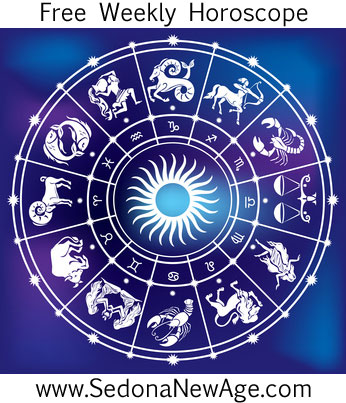 Receive our Free Weekly Horoscope in your Inbox
---
Aries Taurus Gemini Cancer Leo Virgo Libra Scorpio Sagittarius Capricorn Aquarius Pisces
Venus in Pisces square Mars in Sagittarius (February 25 – March 10) tends to create tension and obstacles between the forces of love and the forces of defense. The archetypal images of Venus and Mars are largely that of feminine and masculine counterparts, and this aspect may bring stress between people in love relationships. The pain of separation or the sorrow of unrequited love may be a symptom of this time, as the rocky boat of romance is due to have some notable ups and downs. On the other hand, the difficulties of these tests may strengthen the power of love and, although it is sometimes very difficult to endure love related conflicts, it is also a necessary process to ensure the authenticity of our love experience.
Mercury and Neptune conjunct in Pisces (February 25 –March 3) inspires communications of the hypersensitive issues of people's belief systems and the domain of spirituality. This aspect presents a good time to pray, meditate and connect with that higher spirit that dwells within.
Venus in Pisces sextile Pluto in Capricorn (February 27 – March 5) implies that even in the midst of hardship, there are opportunities arising with regard to the things we treasure and are attracted to, and also in matters of love and affection (Venus). These opportunities often are born out of matters of fate or destiny (Pluto) or sometimes are a result of an unpredictable factor. This aspect may be teaching the lesson of acceptance, of learning to let go of attachments, as well as finding liberation through the transformative process of acceptance, particularly in matters of love.
Mercury in Pisces square Mars in Sagittarius (February 28 – March 9) stimulates arguments and mental blocks concerning people's actions, and it may lead to verbal abuse and destruction. Be cautious and don't sweat it and remember not to shoot the messenger!
Mercury in Pisces sextile Pluto in Capricorn (March 1 – March 5) brings an opportunity for us to get the message across to people in strong positions of power. This is an opportunistic time to reach out to those of another generation and make an attempt to communicate something vital.
Venus in Pisces trine Jupiter in Scorpio (March 1 – March 8) brings intuitive love and affection that inspires regenerative growth and prosperity. This is a great time to give gifts of love, and it offers an expansive outlook of love's power. Getting ahead in life, in this case, has everything to do with appreciating and loving those areas of life in which we want to expand and prosper. A positive outlook can help make this happen.
Mercury in Pisces trine Jupiter in Scorpio (March 2 – March 9) brings therapeutic words which can lead to a gold mine of happiness and wellbeing. Mercury brings news, while Jupiter brings wealth and prosperous change. Look openly for opportunity when sharing information, and promote yourself and your capabilities during this aspect.
Full Moon in Virgo on March 2 reminds us of the need to organize, analyze and constructively criticize our health practices, and our cleanliness practices. Virgo Moon energy purges and purifies our surroundings with sound resourcefulness and simple logic. Virgo rules the intestines of the body and represents the process of elimination. Now is an excellent time to focus on eliminating toxins and purifying the body and is also a good time to purge the useless, destructive or outmoded habits of our life. Celebrate your existing health and do something good for your body on the Full Virgo Moon.
Aries Taurus Gemini Cancer Leo Virgo Libra Scorpio Sagittarius Capricorn Aquarius Pisces
For more information about your Horoscope and what the stars have in store for you, order one of our detailed
Astrology Reports!
Want to know the theme of your relationship? This report compares your temperaments and personalities, whether you are married or living together.
Compatibility Report
Reveal as much information about you and your partner intention of opening doors of understanding and awareness.
Love Cards Report
Free Weekly Horoscope for your Sign
Aries: Spiritual power, such as being tuned into your inner voice, more able to remember your dreams (which could have valuable messages) or more able to spend time in meditation, yoga or other soulful activities will be part of your reality this week and will show you what you need to do to let your whole life be a revelation. With the Full Moon in Virgo on Friday, love and hatred – two sides of the same coin – may both be experienced in relationships, even in social interaction or family matters. Learning to cope is one way of strengthening your inner-being.
---
Discover a personal profile and 1-year forecast based on advanced calculations of your name and birth date.
Numerology Report
---
Taurus: Aside from focusing on your dreams, this is a super week for getting together with friends and making the most of social opportunities. Much enjoyment can be gained from spending time with friends; groups and organizations could also be a source of pleasure. In other words, the more you get out there and mix with like-minded people, the more your world will open up with opportunity, pleasure and enjoyment.
---
Need a guide for your growth and personal evolution based on astrological influences upon your personality?
New Age Natal Report
---
Gemini: This is the perfect week to focus on your work or your purpose in life. Not everyone's purpose in life is to climb the career ladder, but everyone has something to share with the world or a role to play or a direction to follow. You will also see the successful winding up of some business matters which have been very long delayed. By allowing synchronicity to work its magic and to allow your dream to gradually unfold when the time is right, you will find yourself just where you need to be.
---
This interpretation of your birth chart is written in simple language could be beneficial in self undestanding.
Merlin Report
---
Cancer: You might feel the need to get out and see more of life or find it easier to let go of something that previously seemed like a big deal. Now things don't seem quite so serious, and the more willing and able you are to break out of your comfort zone and try new places, experiences, ideas and beliefs, the more able you will be to see the potential in an idea or plan that is growing inside you. The Full Moon in Virgo on Friday with its emphasis on "purging" will assist you in this regard.
---
Indra reveals your life's contradictory urges & drives as well as your basic motivation, perceptions, inclinations and character.
Indra Report
---
Leo: This week has many positive events for you. By month's end, you will begin to feel the growing Full Moon (March 2 in Virgo), that will have a double effect on you. First, it will center you on finances so you will be paying bills but also possibly receiving a generous amount of money, or news of a raise, too. Saturn will be outstandingly supportive to the Full Moon, increasing your sense of security and with Saturn so strong it suggests that whatever you do now will likely have a patina of luxury and beauty. All that you do at this time will grow and stand the test of time.
---
Want a detailed report for parents to help with the child's growth to strengthen the assets and avert possible problems that the child could face in their life?
Child Astrology Report
---
Virgo: Whatever the state of play in your relations with other people, this can be a week in which much delight can be experienced if you open your door to it. Under the Full Moon, your public image and private persona shine forth like a newly minted coin. It's your profession/job/career/business that you'll shine the most in, though some of the glitter rubs off on to family life as well. You will be a true representative of the success and dynamism that most people aspire towards these days.
---
Want a birthday to birthday practical guide to help you recognize opportunities and to learn from them.
Astrological Solar Return Report
---
Libra: Saturn in your 4th house has a great impact on your emotional life – on your everyday moods and feelings. Your 4th house is not just about where you live physically, but where you live emotionally so a reorganization of the emotional life may be happening this week. If you are single, love could be close to home for you, in your own neighborhood. Love opportunities can happen at educational functions – at school or school functions, at lectures and seminars – perhaps even at the library or bookshop. The gift of gab attracts you. Good intellectual compatibility, good exchanges of ideas, are positive turn-on's.
---
Want to know the actual dates when the energies will influence your life in money, career, relationships, and communicaton?
Astro Forecast Report (3 months)
---
Scorpio: Expenses may threaten to go through the ceiling this week, but so will your income grow to match. All in all, you will cope rather well. There could be success at business, the launch of new ventures or campaigns, to add to your confidence. There's also much socializing, party hopping, family outings, trips and visits so you're having a good time on several fronts. Your concerns with welfare, social issues and community projects will also keep pace. All in all, this is a busy and productive week for you Scorpio.
---
Want a one year forecast to understand the scope of influence for your personal Cards of Destiny?
Cards of Destiny Report
---
Sagittarius: What may not be apparent to you is that you're being presented with an opportunity to heal this week. You might let go of something from the past, forgive a family member, or move on from a situation that was holding you back. The Full Moon encourages you to balance your strength with compassion. Avoid being argumentative and demanding unnecessary showdowns; maintain harmony and accord and you will emerge with a curious mix of triumph and inner peace.
---
Contemplating a move? This report tells how you will react to the energies of the specific locations for relationships, finances, and security.
Relocation Information Report
---
Capricorn: All the C's – companions, contracts, correspondence, contacts, communication, collaborations as well as group activities, social ties, reaching out from phone calls to Net chatting, even a chat with your neighbors over the garden fence – that's it for you this week and off and on throughout the coming month. For you, the millennium has truly turned the globe into a little village where you want to know everyone and everything including what's going on with your own home and family, Your ambitions will go better if your home and family are on solid ground.
---
Discover your character traits, relationship and career potentials – based on Edgar Casey Readings.
Cayce Past Life Report
---
Aquarius: This is a great week to develop and enjoy your artistic talents (if you have any), get clear about what your gifts are, and start using more of them. Under the Full Moon, Jupiter bestows gains, property, finance, friendship, fraternity, in addition to ever-increasing self-knowledge. Right now there is security from money in the bank that influences the joys from family life, hospitality, visitors and guests as well as social interactions. This is a prosperous period that will continue off and on for several months. Food, family, finances – the three F's – are most definitely emphasized.
---
Discover your past life connections that can carry over into your current life, accounting for interests, habits, even phobias.
Karmic Past Life Report
---
Pisces: Can you remember who you were before the world told you who you should be? The Full Moon makes you concerned about your image, turnout, personality, physical appearance as to seem almost obsessed by it, but March is a happy and prosperous month for you. The planetary power is at its maximum and thus you have maximum independence. This week, you will be concerned about, and work towards creating/improving the image of the organization you are a part of, the superiors you represent. There is no doubt that appreciation and praise will be heaped upon you. Humility, learning to take a back seat, and retiring into the background will provide significant rewards.
---
Discover your soul's intention for this lifetime, the lessons to be learned, qualities to develop, problems to be resolved, services to be rendered.
Karmic Insight Report
---
For more information about your Horoscope and what the stars
have in store for you, order one of our detailed
Astrology Reports for Couples!
---
Want to know the theme of your relationship? This report compares your temperaments and personalities, whether you are married or living together.
Compatibility Report
Reveal as much information about you and your partner intention of opening doors of understanding and awareness.
Love Cards Report