#Horoscope #Aries #Taurus #Gemini #Cancer #Leo #Virgo #Libra #Scorpio #Sagittarius #Capricorn #Aquarius #Pisces #Horoscope – overview of this week
The Center for the New Age is pleased to present
your Free Weekly Horoscope for March 11– March 17, 2018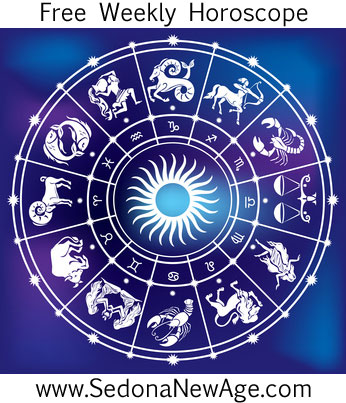 Receive our Free Weekly Horoscope in your Inbox
---
Aries Taurus Gemini Cancer Leo Virgo Libra Scorpio Sagittarius Capricorn Aquarius Pisces
Mercury in Aries square Saturn in Capricorn (March 11 – March18) affects communications and information in a way that is often difficult, especially in the home. It may be hard to get your message out there and have it be taken seriously. Mercury governs communications, and the square aspect presents an obstacle that makes it difficult for information to penetrate, or interferes with meeting deadlines. During this aspect is will be best not to make compulsive assumptions about the conclusion or outcome of important issues.
Venus in Aries square Saturn in Capricorn (March 13 – 20) presents a time when it may be difficult to engage in romance, as it might seem that something is always getting in the way. It is best not to get bent out of shape over some peoples' need to create restrictions and limitations which allows these folks to protect and guard their sense of harmony and peace while love related troubles are being worked out. No matter how much one prioritizes their focuses of love, it is still likely to be misinterpreted on some level during Venus square Saturn.
Mars enters Capricorn on Saturday (March 17 – May 15). Mars in Capricorn is the place where it's exalted. Activities will shift towards dynamic, ambitious and enterprising endeavors. With Mars in Capricorn, a sense of duty is instilled and activities, if successfully managed, will produce long lasting results. This is not a good time to create enemies; the difficulties created will also produce long lasting results and long standing enemies are not a good thing to have when trying to create a sense of forward moving progress.
New Moon in Pisces on March 17 focuses our attention on connecting with our own beliefs, and infusing them with devotion and renewed faith. A good place to begin is with the self, believing in oneself and one's own capabilities and possibilities.
Aries Taurus Gemini Cancer Leo Virgo Libra Scorpio Sagittarius Capricorn Aquarius Pisces
For more information about your Horoscope and what the stars have in store for you, order one of our detailed
Astrology Reports!
Want to know the theme of your relationship? This report compares your temperaments and personalities, whether you are married or living together.
Compatibility Report
Reveal as much information about you and your partner intention of opening doors of understanding and awareness.
Love Cards Report
Free Weekly Horoscope for your Sign
Aries: As the week builds up to the New Moon in your soulful zone, this is a perfect opportunity to clear things from the past. Clear out stuff you no longer need, put the finishing touches on projects, release old ghosts, and prepare for a new phase. Be mindful, though, of unconscious eruptions that could be a clue that something needs addressing. If you have an outburst of anger, irritation or sadness for no apparent reason, try to determine what the underlying cause is. New Moons in this sensitive region can often unleash things that we have suppressed, so keeping a journal at this time could be very helpful. Aside from unconscious rumblings, Mercury and Venus in your sign bring opportunities for pleasure, enjoyment, social interaction and an ability to express yourself in ways that have others paying attention.
---
Discover a personal profile and 1-year forecast based on advanced calculations of your name and birth date.
Numerology Report
---
Taurus: The planetary focus is on your future, particularly your hopes and dreams and to a lesser extent, your social life and the groups and organizations you belong to. The New Moon on March 17 is an auspicious omen for all the above. It offers the potential for healing issues with friends or group dynamics, as well as hinting that you will soon be helping to make the world a better place. Remember, though, that you don't necessarily need to move mountains to make a difference.
---
Need a guide for your growth and personal evolution based on astrological influences upon your personality?
New Age Natal Report
---
Gemini: It's easy to become swept up in the notion that being a successful person means having the big house, the new car, and the prestigious career. However, there is a price to pay for all these trappings and it may very well be your soul. Be mindful of your desires this week as a New Moon and cluster of planets activate the ambitions, hopes and dreams area of your chart. Refuse to be swayed by other people's opinions of what you should do. This week is very much about new beginnings with your path in life, but make sure it's the direction you want to be heading in.
---
This interpretation of your birth chart is written in simple language could be beneficial in self undestanding.
Merlin Report
---
Cancer: We can't always get people to see things the way we do, nor should we. The world would be a dull place if everyone thought the same. However, we can learn from what others have to offer, and if you are able to see other people – particularly the ones you're not seeing eye-to-eye with – as your teachers or mirrors, you will break an impasse or transform a difficult relationship. With the New Moon on March 17 bringing an adventurous mood into play, it seems silly to be bogged down in petty squabbles.
---
Indra reveals your life's contradictory urges & drives as well as your basic motivation, perceptions, inclinations and character.
Indra Report
---
Leo: If you've been struggling with a difficult issue lately, this is the week you will experience a rebirth. The New Moon in your transformation zone is a positive omen for overcoming some kind of adversary. This might be a habit, some kind of insecurity (such as anxiety, jealousy, fear) or a serious situation. You can help this cleansing process by getting rid of things you don't need in your life, from clutter to dead-end situations. Either way, whatever has been weighing you down will soon have had its day so long as you're able to approach it with courage.
---
Want a detailed report for parents to help with the child's growth to strengthen the assets and avert possible problems that the child could face in their life?
Child Astrology Report
---
Virgo: A lovely New Moon builds in your opposite sign. Once again healing, forgiveness and compassion are the order of the day, and you are more likely to end this week with a sense of new beginnings in a particular partnership. The more able you are to embrace healing, the more likely you are to see positive developments between you and another. You might also benefit from considering how much of your heart is engaged in not just your relationships but also everything else you do. Is it time to let go of a creative project your heart's not really in, or can you find ways to engage more? Loving what you do can create a more inspiring situation.
---
Want a birthday to birthday practical guide to help you recognize opportunities and to learn from them.
Astrological Solar Return Report
---
Libra: There is a strong healing theme in your chart at present, so if there's room for improvement with your health, then this week's New Moon on March 17 is the ideal time to make a change. The focus needs to be on a gentle approach rather than punishing regimes or strict diets, so go easy on yourself by tuning in to your body and listening to what it needs. Gentle exercise such as walking, swimming and cycling are better choices than feats of endurance and strenuous workouts at the gym. Meanwhile, yoga and meditation will provide healing benefits to body, mind and spirit. Foods and activities that nourish your essence will work far better than whatever the latest fads advise. A similar approach will help your work since this is another area that could benefit from the New Moon's fresh energies. Adopt a gentle approach to your duties with inspiration as your guide.
---
Want to know the actual dates when the energies will influence your life in money, career, relationships, and communicaton?
Astro Forecast Report (3 months)
---
Scorpio: If your inner child isn't happy, neither are you. The trouble is that as we get older, the past wounds we've suffered, along with a dwindling playful spirit, are liable to cause our inner children to feel somewhat woeful, which can manifest in bouts of anxiety, depression, cynicism, anger or frustration. Fortunately, such a condition is easy to cure, and when looking at your chart, the timing is right for you to pay attention to the needs of your inner child. All you have to do is invite more of what you love and enjoy into your life. This doesn't have to mean massive changes. It could mean taking up an artistic hobby or making time to be more creative at home or work. It might help to remember what you used to love doing as a child or young person, and invite that back into your life. Whatever you choose, the New Moon suggests it's time to begin the process of self-expression.
---
Want a one year forecast to understand the scope of influence for your personal Cards of Destiny?
Cards of Destiny Report
---
Sagittarius: The New Moon on March 17 brings new beginnings in your domestic sphere, from new additions and changes to your home to positive developments with family members. This is a great time to connect with something deeper and more meaningful than you have been used to. Since this New Moon is sandwiched between Chiron (represents our deepest wound and our efforts to heal the wound) and Neptune, you have the opportunity to heal a family matter or a wound from the past. Either way, this could feel like a very soulful and sentimental New Moon, perfect for reminiscing about the past, but when you're done, put it to bed in order to begin a new chapter.
---
Contemplating a move? This report tells how you will react to the energies of the specific locations for relationships, finances, and security.
Relocation Information Report
---
Capricorn: With a New Moon and a cluster of planets in your thoughts and reality zone, this is an ideal time to observe and adjust your thinking patterns. Is there a belief running in your unconscious that is doing you no favors? Do you believe that you're unlucky, certain things are hard to come by, or life is generally hard work? Try to catch your negative thoughts and place them in an isolation chamber while you determine whether they actually serve you. The New Moon is your invitation to change your attitude, which in turn will begin to positively alter your life.
---
Discover your character traits, relationship and career potentials – based on Edgar Casey Readings.
Cayce Past Life Report
---
Aquarius: The financial theme continues, but this week the planets are building toward a New Moon on March 17, which is your cue to make some positive changes in your material world. You might need a little healing so letting go of old concepts about money might be the order of the day. With Neptune influencing matters, inspiration could be the key to your happiness in this area. If you're not feeling inspired with your work, perhaps your current job doesn't allow you to use your best gifts and talents. Is there another way that you can earn a living that would feel more soulful, colorful and inspired? Whatever needs to happen, this is a good week to make positive changes.
---
Discover your past life connections that can carry over into your current life, accounting for interests, habits, even phobias.
Karmic Past Life Report
---
Pisces: As the New Moon builds in your sign, you might feel extra sensitive or a little edgy about something. Exploring those feelings will be useful because this week is ideal for clearing out what you don't need and preparing for a new start in some way. Could you use a little healing? Would you benefit from letting go of some aspect of the past, perhaps offering forgiveness to someone, maybe yourself? Healing wounds is the focus for this week. With Mercury and Venus in your money zone, it's a good time for turning your thoughts toward obtaining more of what you need.
---
Discover your soul's intention for this lifetime, the lessons to be learned, qualities to develop, problems to be resolved, services to be rendered.
Karmic Insight Report
---
For more information about your Horoscope and what the stars
have in store for you, order one of our detailed
Astrology Reports for Couples!
---
Want to know the theme of your relationship? This report compares your temperaments and personalities, whether you are married or living together.
Compatibility Report
Reveal as much information about you and your partner intention of opening doors of understanding and awareness.
Love Cards Report