#Horoscope #Aries #Taurus #Gemini #Cancer #Leo #Virgo #Libra #Scorpio #Sagittarius #Capricorn #Aquarius #Pisces #Horoscope – overview of this week
The Center for the New Age is pleased to present
your Free Weekly Horoscope for March 18– March 24, 2018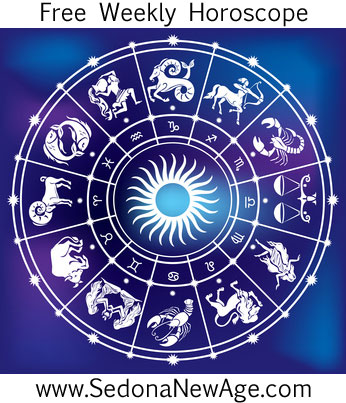 Receive our Free Weekly Horoscope in your Inbox
---
Aries Taurus Gemini Cancer Leo Virgo Libra Scorpio Sagittarius Capricorn Aquarius Pisces
Venus in Aries square Pluto in Capricorn (March 23 – March 30) often involves such difficulties as loss or death of a loved one, the obstacles of rejection and general oppression for those aspects of life to which we are undeniably attached and which we hold dear. If something of this nature is occurring for you, it is best to recognize that love will triumph in every dimension despite the pain of separation or the disease and strife of the beloved.
First Quarter Moon in Gemini on March 24 brings the necessity for our moods to be changeable and adaptable. The Gemini Moon puts us in touch with how we feel about our thoughts. If you don't like how you feel about your thoughts, endeavor to alter your way of thinking. Omit thoughts which attempt to defeat your sense of purpose; encourage thoughts that uplift and inspire your spirit.
Aries Taurus Gemini Cancer Leo Virgo Libra Scorpio Sagittarius Capricorn Aquarius Pisces
For more information about your Horoscope and what the stars have in store for you, order one of our detailed
Astrology Reports!
Want to know the theme of your relationship? This report compares your temperaments and personalities, whether you are married or living together.
Compatibility Report
Reveal as much information about you and your partner intention of opening doors of understanding and awareness.
Love Cards Report
Free Weekly Horoscope for your Sign
Aries: The Sun enters your sign on March 21, signaling a new phase and the opportunity to recharge by spending more time engaged in activities and pursuits that make you feel good to be alive. This is your annual chance to plug into the universal battery pack and replenish your energy, enthusiasm, and motivation. All you need to do is say yes to those things that make you happy and no to those that don't. If this sounds a little self-centered, it's because it is. There are times in life when, having become depleted by all that we give to others, we need to give back to ourselves; otherwise, our giving to others will be tinged with resentment, tiredness or martyrdom so this is a good time to take a short holiday. If this is not possible, at least take some time out from your normal routines. Perhaps you should spend a bit of extra time engaged in your hobbies or interests. Ultimately, this is a week for self-discovery and finding out what you need for further progress.
---
Discover a personal profile and 1-year forecast based on advanced calculations of your name and birth date.
Numerology Report
---
Taurus: If you are feeling the need for a little solitude or quiet time, it would be wise to heed it because as the planets shuffle into your zone of spiritual reflection, it won't do you any good to keep up a busy pace. Sometimes we need to come home to ourselves, and this is one of those times. Your need for withdrawal becomes even more important when you consider that you are due a seven-year visit from the renegade planet Uranus in a few weeks time. When you know you will be welcoming the company of a loose cannon, you will likely prepare yourself by creating a sense of calm and inner peace. You could do this by meditating, keeping up with a daily spiritual or artistic practice, making time for extra rest or quiet contemplation, clearing your clutter and releasing past issues. It's time to prepare yourself for an exciting new phase of life.
---
Need a guide for your growth and personal evolution based on astrological influences upon your personality?
New Age Natal Report
---
Gemini: As the planets shift from your career zone to your social area, you will be happy to know that this week brings an easing of professional responsibilities and more opportunities to enjoy yourself with friends, groups and organizations. This means that you'll be out and about enjoying functions or hanging out with friends. Or you might feel more engaged with life through your community or a greater connection with others. This is a great time to nurture your friendships, become involved with projects that benefit the world in some way, or express yourself in a group, whether it's through a hobby or something more work orientated. The only thing you need to be mindful of this week is allowing yourself to feel down for matters outside your control. Somewhere in your life there is a heaviness, and the only way to make it lighter is to accept it.
---
This interpretation of your birth chart is written in simple language could be beneficial in self undestanding.
Merlin Report
---
Cancer: As the focus shifts from philosophical musings and a freewheeling, adventurous spirit to success and achievement, this is the ideal week to make progress in your professional life, particularly from March 21st. Now is the time to push on with your goals, but with Venus and Mercury here, it's not about hard headed ambition. It's more about bringing love, harmony and peaceful negotiations to your work. For example, a door might magically open as a result of your getting along well with people in your working life or from your making a win-win suggestion for all involved. Don't be shy about broadcasting your ideas, for this is one week when whatever you have to say is likely to be met with a very favorable response.
---
Indra reveals your life's contradictory urges & drives as well as your basic motivation, perceptions, inclinations and character.
Indra Report
---
Leo: The vibration begins to lighten as the planets shift into your zone of adventure. After what might have felt like a heavy few weeks, the Sun's change of signs on March 21 will feel like a breath of fresh air to you. Suddenly it seems that the world is lighter and brighter – full of potential. Use this optimistic spirit to deal with niggling issues in your world as Mars, Saturn and Pluto in your zone of health and work could be bringing up challenges here, and it might help to consider how you can simplify your life. From eating regularly at the right time of day and taking a leisurely daily walk to reducing your workload and making space for meditation, the current planetary energies are suggesting it's time for a serious release.
---
Want a detailed report for parents to help with the child's growth to strengthen the assets and avert possible problems that the child could face in their life?
Child Astrology Report
---
Virgo: We often think of transformation as a tremendous effort, a struggle, and a sorrowful release of the old, but there is also the possibility to have a much easier passage. Perhaps it all depends on your attitude. When we think something is going to be hard, it usually is. The act of going into a situation feeling stressed is more likely to result in things being more difficult than they need to be. Whatever issue is bugging you this week or whatever challenge is calling you to rise, remember that a positive attitude counts for much. It could also help to remember that transformation is more painful when we try to hold on, so release whatever needs to go. As Lao Tzu said, "Life is a series of natural and spontaneous changes. Don't resist them; that only creates sorrow. Let reality be reality. Let things flow naturally forward in whatever way they like."
---
Want a birthday to birthday practical guide to help you recognize opportunities and to learn from them.
Astrological Solar Return Report
---
Libra: From March 21 the focus begins to shift from your work, health and daily life to your personal life, in particular your relationships and family. This is a good time to work with others and to make progress in at least one important relationship. Perhaps progress could be made by communicating more honestly, expressing your feelings or making time to properly listen. This is a good week to put others' needs before yours and to help people whenever you can. Take the time to understand what makes a person tick, give a thoughtful compliment, or deliver an act of kindness. This will help to smooth the wrinkles in your personal life.
---
Want to know the actual dates when the energies will influence your life in money, career, relationships, and communicaton?
Astro Forecast Report (3 months)
---
Scorpio: The past few weeks might have been focused on what you need to be happy, how crucial self-expression is, and how important it is to make time for play. As the planets move into your zone of service, you should be carrying some of that creative enthusiasm into your work and daily responsibilities. Much can be achieved now, whether it's organizing your files and accounts, getting through a pile of work, or sorting out things that have been sitting on the backburner for a long time. Your focus and concentration levels will be high, enabling you to get more done than normal, so as the old saying goes, make hay while the sun shines. However, be careful not to do too much, as your health could suffer if you subject yourself to too much pressure. Overall, this is likely to be a productive week, and the more you can focus on the joy of humble but heart-centered service, the more you'll be likely to find that this week gives you as much as you give to it.
---
Want a one year forecast to understand the scope of influence for your personal Cards of Destiny?
Cards of Destiny Report
---
Sagittarius: As Mars enters you house of money, you will be blessed with motivation to make changes to your financial or material situation. This is not the time to go for quick fixes or short-term gains. Rather, think long term, and put sustained effort into improving things. Meanwhile, the Sun journeying through your domestic sphere means that your attention is likely to be focused inward. You might be concentrating on your home, family or personal issues through inner contemplation. It's easy to forget that home is where the heart is, but events this week will likely remind you of this, making it obvious that your attention needs to be with those who matter most.
---
Contemplating a move? This report tells how you will react to the energies of the specific locations for relationships, finances, and security.
Relocation Information Report
---
Capricorn: Mars moved into your sign on the 17th bringing increased energy levels, an extra dose of motivation, and a willingness to confront anything that is less than easy. Basically, whatever you have been putting off, now is the time to do it. Meanwhile, the Sun moves into your domestic zone on March 21, making this a good time to get things done around the house and to spend more time with your family. With Venus and Mercury also in this area, the vibe is warm, snug and welcoming – ideal for inviting friends around for something to eat or for making your home more harmonious or beautiful. This is an introspective transit, so don't expect to be a mover and shaker in the outside world right now. Other things are more important.
---
Discover your character traits, relationship and career potentials – based on Edgar Casey Readings.
Cayce Past Life Report
---
Aquarius: A cluster of planets ignites your mental zone inspiring greater positivity and a busy pace of life in the weeks ahead. Interactions are favorable now, and you could meet people who have a positive influence on you. You can increase this positive vibe by weeding out destructive or nonproductive thoughts and feelings, such as cynicism, frustration, anger or a defeatist attitude. These are things you have to be aware of because while the picture is generally positive, you have Saturn, Mars and Pluto rummaging around in your psychological basement. This isn't the kind of company you want down there, and the result could be atypical outbursts, unpleasant moods, or intense emotional states. However, if you can tune in to what these states are really about and work with them, you could emerge with a priceless nugget of wisdom and a welcome return to inner peace.
---
Discover your past life connections that can carry over into your current life, accounting for interests, habits, even phobias.
Karmic Past Life Report
---
Pisces: As the planets align in your financial zone, you might find your attention turning to money and resources. Do you have enough? If not, how can you make more? Would it be more prudent to cut back? Actually, with Venus here, cutting back might not feel great. Perhaps you can come up with an innovative idea, and your problems could be swiftly solved. It might also help to remember that we tend to get what we feel we deserve in life. If things are currently lacking, it might help to consider how much value you place on yourself and to try seeing your gifts and abilities in a new light.
---
Discover your soul's intention for this lifetime, the lessons to be learned, qualities to develop, problems to be resolved, services to be rendered.
Karmic Insight Report
---
For more information about your Horoscope and what the stars
have in store for you, order one of our detailed
Astrology Reports for Couples!
---
Want to know the theme of your relationship? This report compares your temperaments and personalities, whether you are married or living together.
Compatibility Report
Reveal as much information about you and your partner intention of opening doors of understanding and awareness.
Love Cards Report