#Horoscope #Aries #Taurus #Gemini #Cancer #Leo #Virgo #Libra #Scorpio #Sagittarius #Capricorn #Aquarius #Pisces #Horoscope – overview of this week
The Center for the New Age is pleased to present
your Free Weekly Horoscope for April 1 – April 7, 2018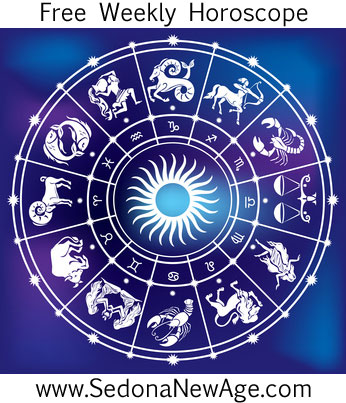 Receive our Free Weekly Horoscope in your Inbox
---
Aries Taurus Gemini Cancer Leo Virgo Libra Scorpio Sagittarius Capricorn Aquarius Pisces
Mars and Saturn are conjunct in Capricorn (April 2 – April 14). This aspect unites the forces of action itself (Mars) with the diligence to take this action to the limit (Saturn). This is the perfect time to apply discipline as it is always important to pay attention to those aspects of one's life that are active and hold the potential for negative occurrences.
Mercury in Aries square Mars in Capricorn (April 4 – April 8) creates complications and indecisiveness or confusion around some activities. Under the influence of this aspect, it is not a good time to lose one's temper. Be especially careful to watch what you say, preferably thinking before you speak; words can be easily taken the wrong way. This aspect stimulates arguments and mental blocks concerning the actions of others.
Mercury in Aries is square Saturn in Capricorn (April 5 – April 9). It is wise to use caution when attempting communications. This aspect makes it difficult to put a message out there and be taken seriously.
Venus in Taurus trine Saturn in Capricorn (April 7 – April 15) may assist in bringing some peace to the structuring or closure of a love relationship. This is also a good time to set into motion or enhance a love vow or oath, and to apply the values of devotion and responsive caring.
Aries Taurus Gemini Cancer Leo Virgo Libra Scorpio Sagittarius Capricorn Aquarius Pisces
For more information about your Horoscope and what the stars have in store for you, order one of our detailed
Astrology Reports!
Want to know the theme of your relationship? This report compares your temperaments and personalities, whether you are married or living together.
Compatibility Report
Reveal as much information about you and your partner intention of opening doors of understanding and awareness.
Love Cards Report
Free Weekly Horoscope for your Sign
Aries: The month begins with the focus on relationships, which might experience a little tension. Power struggles could be a feature and these might be showing you that you need to stand up for yourself (since Aries are usually pretty good at assertiveness) or that maybe the tension is more about allowing others to have some degree of autonomy. With Mercury retrograde in your sign, this is an important period to look at yourself with a detached eye, if possible, to see where your life needs an adjustment to help things flow more smoothly. If you're being blocked in your desires to get what you want, for example, it might be that what you want isn't what's best for your soul. Try to let go and balance constructive action with a "go with the flow" approach.
---
Discover a personal profile and 1-year forecast based on advanced calculations of your name and birth date.
Numerology Report
---
Taurus: With Venus in your sign, it's as if you've been granted permission to have an easier time: a time of pleasure, beauty, relaxation and enjoyment. If you've been working hard or if life has been challenging, relax into Venus's soothing embrace, and simply focus on the softer side of life – sleeping in, soaking in a candlelit bath, taking a lovely walk in the country, or eating a nourishing meal with loved ones. There's no need to rush or struggle; at least there shouldn't be so if you find you are in this state, then you could be making things harder than they need to be. All you need to do is give yourself permission for things to be easier, and they will be. It is often unconscious guilt that results in life being hard.
---
Need a guide for your growth and personal evolution based on astrological influences upon your personality?
New Age Natal Report
---
Gemini: Despite the fact that there's some deep stuff going on in your life at present, this week holds many opportunities for fun, enjoyment and lightheartedness. Socially, romantically, and creatively, the outlook is good, but plans with friends and groups might not always be easy-going with Mercury retrograding through this area of your chart, but you can make progress by reassessing one or two things and making time to catch up with people you've not seen for a while. In terms of the difficulties, a case of strength and determination will probably win out, so hang in there and don't forget that things can seem much less arduous by making time for fun, laughter and good times with friends.
---
This interpretation of your birth chart is written in simple language could be beneficial in self undestanding.
Merlin Report
---
Cancer: Home, family, relationships, career, direction – any or all of these could be themes in the week ahead, and it might not all be smooth sailing. With Mars, Saturn and Pluto in your opposite sign, it could appear that you're encountering one obstacle after another, and if it seems that people are being obstinate, they probably are! If so, the first thing you should do is identify whether what's going on is a power issue. If you feel you're being bullied, you need to stand your ground. However, if you're being bossy or controlling, you might need to step back and allow others a little autonomy. Either way, the answer probably lies in creating a more level playing field in your relationships, personal and professional. Also, you can be reassured that with Mercury retrograde at the top of your chart, you're not actually meant to be forging ahead right now. Perhaps it's a time for sorting things out and getting your life flowing more harmoniously.
---
Indra reveals your life's contradictory urges & drives as well as your basic motivation, perceptions, inclinations and character.
Indra Report
---
Leo: With the emphasis on travel, expansion and adventure, it's time to broaden your horizons and, where possible, step outside your comfort zone. If you're currently standing on the precipice of something, wondering whether to jump, the planets say, "Go for it." However, you need to be mindful about Mercury retrograding through the same area of your chart, so some element of caution needs to be applied. Perhaps you need to cross your t's and dot your i's before you launch into something new. This is one time when you're traveling that you need to make sure you have your map and compass as well as a plan for where you are going.
---
Want a detailed report for parents to help with the child's growth to strengthen the assets and avert possible problems that the child could face in their life?
Child Astrology Report
---
Virgo: If you don't have enough of what you need – love, money, or something else, think positively and try to bring clarity to your situation. Once you have the necessary information, you will be in a good position to transform your situation which is what you need to do. Sometimes it becomes evident that things can't carry on as they are, and this might be one of those times. However, there is nothing to fear, because once you take control, it will begin to shift surprisingly easily and you will soon come to enjoy the feeling of empowerment that taking charge of your affairs brings. So knuckle down, and do what needs to be done.
---
Want a birthday to birthday practical guide to help you recognize opportunities and to learn from them.
Astrological Solar Return Report
---
Libra: This month is likely to get off to an interesting start. It could be difficult to maintain emotional balance, but forewarned is forearmed so try to prepare by remembering this quote from Dr. Wayne Dyer: "Conflict cannot survive without your participation." If you encounter conflict, you might want it to continue at some level. Ask yourself whether it's worth it and focus instead on the positives of the situation. With Mercury traveling retrograde in your partnership zone, you are being offered the perfect opportunity to resolve differences, mend damaged relationships, and rekindle the spark that might have dwindled in one or two of your unions. Ultimately, whether this is a good week or not largely depends on how you choose to respond to others. Yes, sometimes they push our buttons and yes, sometimes people act unkindly or thoughtlessly, but you were lucky enough to be born under the sign of diplomacy, so if anyone can bring peace to a troubled situation, you can.
---
Want to know the actual dates when the energies will influence your life in money, career, relationships, and communicaton?
Astro Forecast Report (3 months)
---
Scorpio: Work and health could be key features for you this week, and focusing on both is necessary to get your life working more effectively. Perhaps you'd benefit from some organization or tidying up the sloppy areas. Maybe you need to examine your diet, sleep habits, working hours or filing system. You need to look to see where you can make improvements in your life, and sometimes those little tweaks make a big difference. As it's been said, "The secret of your future is hidden in your daily routine.
---
Want a one year forecast to understand the scope of influence for your personal Cards of Destiny?
Cards of Destiny Report
---
Sagittarius: The potential for enjoyment this week is high, provided you don't let practical or material issues get you down. It's better to concentrate on fun, pleasure, creative activities and hobbies. Also, when you return from your fun, you will be better able to deal with practical problems. We're always in a more positive frame of mind when we've refilled our wells and spent time nourishing the inner self. Even though you feel compelled to take greater responsibility for your financial or material situation, the true purpose this week is to connect with your heart's desire so that you can live with greater authenticity.
---
Contemplating a move? This report tells how you will react to the energies of the specific locations for relationships, finances, and security.
Relocation Information Report
---
Capricorn: How often do we make ourselves unhappy by wishing things were different? The mantra goes something like this: "I'll feel happy when I have a bigger house, a fulfilling relationship, a better job, more money, renewed health, more time to myself or a more harmonious family situation." Often we postpone our happiness because things aren't "right" today. As a matter of fact, with Mars, Saturn and Pluto in your sign, things are unlikely to be "right" for some time. The purpose of this trio in your sign is to get you to work with what you have, which might be far from ideal, but at least it's something. Things might not be smooth sailing at home or at work, but you have what it takes to shape your life into something meaningful, even if it is a bit messy to begin with.
---
Discover your character traits, relationship and career potentials – based on Edgar Casey Readings.
Cayce Past Life Report
---
Aquarius: Youth blesses us with natural optimism – the belief that anything is possible. However, because of life's disappointments, that optimism gives way to a more cynical way of thinking. It can happen slowly and imperceptibly until one day you catch yourself thinking the kind of thoughts that don't get you anywhere. This week you need to ask yourself how your thoughts serve you. With the Sun in your zone of communication, the time is ideal for getting your message across and for observing those little synchronicities that show you're on the right track. There are other influences that could cast a dark cloud over your otherwise buoyant nature, but don't let them. Embrace adventure, step out of your comfort zone with faith that all will be well (even if you lack the confidence), and trust that someone has your back.
---
Discover your past life connections that can carry over into your current life, accounting for interests, habits, even phobias.
Karmic Past Life Report
---
Pisces: The Sun and Mercury retrograde are in your zone of money-making, and Saturn, Mars and Pluto are encouraging you to focus on your future to shape it into something real and effective. This is a difficult week for you and there needs to be a transformation of sorts, a letting go of something that no longer serves you. None of this is particularly easy and suggests a need to work for what you want, whether it's something as big as manifesting a long-held dream or as small as making a few more dollars to meet your expenditures. No matter where you are on this scale of manifesting, you now have a very real opportunity to bring your wishes to fruition as long as you are willing to put the effort in.
---
Discover your soul's intention for this lifetime, the lessons to be learned, qualities to develop, problems to be resolved, services to be rendered.
Karmic Insight Report
---
For more information about your Horoscope and what the stars
have in store for you, order one of our detailed
Astrology Reports for Couples!
---
Want to know the theme of your relationship? This report compares your temperaments and personalities, whether you are married or living together.
Compatibility Report
Reveal as much information about you and your partner intention of opening doors of understanding and awareness.
Love Cards Report