#Horoscope #Aries #Taurus #Gemini #Cancer #Leo #Virgo #Libra #Scorpio #Sagittarius #Capricorn #Aquarius #Pisces #Horoscope – overview of this week
The Center for the New Age is pleased to present
your Free Weekly Horoscope for April 15 – April 21, 2018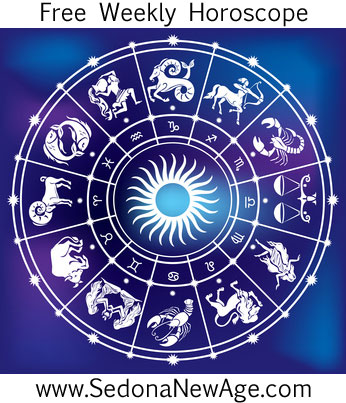 Receive our Free Weekly Horoscope in your Inbox
---
Aries Taurus Gemini Cancer Leo Virgo Libra Scorpio Sagittarius Capricorn Aquarius Pisces
On Sunday April 15 Mercury turns direct, but there may still be some miscommunications and lost objects. However, everything will return to normal on Monday.
New Moon in Aries on April 16 invokes the powers of initiation and newness; it is the essential part of regenerative force to take the initiative and to start anew. This is the time when the new arts of the self begin to emerge, and our moods are encouraged by confidence, motivation, courageousness, and fiery intent. This is the time to generate and promote inspiration and happiness.
Venus in Taurus is opposite Jupiter in Scorpio (April 17 – April 24). The dynamics of beauty are opposing wealth as we become acutely aware of how our pleasure and fantasy are opposed to (or overwhelmed by) prudent budgets and the need for moderation in expenditures. Venus opposite Jupiter increases awareness of the need for sensual pleasures and of what determines the depth of that pleasure.
Venus in Taurus trine Pluto in Capricorn (April 17 – April 22) brings the timely gift of love. Paradoxically, it also allows for some peace in the closure of a love relationship. Remember, when extending love, it is best not to have expectations about the need to receive it in return. Genuine love, when given without expectation, will return naturally, and bring love into your life.
Aries Taurus Gemini Cancer Leo Virgo Libra Scorpio Sagittarius Capricorn Aquarius Pisces
For more information about your Horoscope and what the stars have in store for you, order one of our detailed
Astrology Reports!
Want to know the theme of your relationship? This report compares your temperaments and personalities, whether you are married or living together.
Compatibility Report
Reveal as much information about you and your partner intention of opening doors of understanding and awareness.
Love Cards Report
Free Weekly Horoscope for your Sign
Aries: Mercury turning direct in your sign on April 15 is your green light to go, and with Mars, Saturn and Pluto at the top of your chart, this is a good week to make amazing progress, provided you play your cards right. It's as if you've been handed a very powerful tool that could be either a magical key or a destructive weapon. Which way things go depends on how you choose to handle these incredibly powerful energies. If you find yourself coming unstuck and you've not played by the rules or have trodden on too many toes, the universe will deliver a lesson in humility. Accept such lessons with good grace, and move on. To go for the magical key option, use your power for good: try to instill changes that will help you as well as others.
---
Discover a personal profile and 1-year forecast based on advanced calculations of your name and birth date.
Numerology Report
---
Taurus: Your beliefs are the magical key to a better world, and your beliefs also have the power to keep you locked in your personal prison, so all that's required is a switch of thinking. Unfortunately, beliefs are stubborn things. They help make sense of our reality, and they help us know our place in that reality. Sometimes, though, they can keep us stuck in a reality we are outgrowing, and this is where the conflict begins. If you find yourself in an uncomfortable place right now, that's actually a good thing because it shows that you are changing and growing. Don't beat yourself up. Instead, keep questioning your assumptions and keep being willing to see life in a new way.
---
Need a guide for your growth and personal evolution based on astrological influences upon your personality?
New Age Natal Report
---
Gemini: The Sun slips into Taurus on April 20 signaling an easier, more relaxed vibe that invites you to settle back and tend to your soul's needs. With Mercury now direct, there is the added bonus of enabling your life to run smoothly once more especially where friends, groups and organizations are concerned. This is also good for your future plans, enabling you to make headway with your hopes and dreams which might have stalled due to one thing or another over the past few weeks. Remember, though, with the sun in your most private and contemplative zone, this isn't a time for pushing yourself but rather for tuning in to the whispers of your soul so that you can become more aware of what exactly those hopes and wishes need to be for your well-being and happiness.
---
This interpretation of your birth chart is written in simple language could be beneficial in self undestanding.
Merlin Report
---
Cancer: The planets begin to shift in a more favorable direction for you this week, particularly in terms of your career and responsibilities. As Mercury turns direct and the Sun moves into Taurus on April 20, life should begin to feel a little less arduous. Still, you have the three malefic planets – Mars, Saturn and Pluto – in your relationship zone, so this is an area that needs some work. It might help to focus on commitment, duty and responsibility, no matter how much you want to cut loose from a situation that feels oppressive and restrictive. These three heavyweights demand a certain level of maturity, so the more able you are to deal with difficult people or problems in your relationships, the better you will feel about yourself and the sooner things will improve. This is not a pleasant combination of planets to have in your relationship zone, so make sure to be kind to yourself, especially when others aren't.
---
Indra reveals your life's contradictory urges & drives as well as your basic motivation, perceptions, inclinations and character.
Indra Report
---
Leo: As the Sun enters your professional zone and as Uranus – planet of change and revolution – hovers at the door of the same place, your direction could be about to change. At the very least, we can say with confidence that a break from the past is imminent. Changes are most likely to relate to your career and your future goals, so it's worth spending some time on figuring out what success means to you and what you would do if you could spend your life however you choose. Never forget that you have more power than you realize to shape the course of your life, and you are now entering a time when this will become more obvious.
---
Want a detailed report for parents to help with the child's growth to strengthen the assets and avert possible problems that the child could face in their life?
Child Astrology Report
---
Virgo: The mood lightens and life begins to pick up as the Sun enters Taurus on April 20. This is when your optimism returns after what could have been a less-than-inspiring few weeks. There's further good news in the shape of Uranus finally coming to the end of a seven-year journey through your psychological zone, which likely triggered a kind of emotional roller coaster. If you feel that over the past few years you have been emotionally turbulent, you can now look forward to a more settled phase of life in which you feel more serene and content within. If you have a problem this week, the days around April 21 will reveal a solution when four celestial bodies will form what is known as a mystical rectangle – an aspect that has spiritual connotations providing an opportunity to reach some kind of enlightenment – and all you have to do to find the best road ahead is to step through the doorway that opens.
---
Want a birthday to birthday practical guide to help you recognize opportunities and to learn from them.
Astrological Solar Return Report
---
Libra: If the personal side of your life has been less than rosy recently (conflict at home, issues with family members, or discord with other people), Mercury's forward motion is good evidence that the tide is beginning to turn and Chiron moving into this area provides a much needed healing tonic. Here is a great opportunity to heal tattered relationships or to forge closer, healthier connections with people who matter. Conflicts relating to home and family might still be evident, but even under the harsh glare of Mars, Saturn and Pluto, there is a solution, and it's much easier than you might have previously envisaged. All you have to do is wait for that solution to present itself (be very mindful around April 21 and 22 when four celestial bodies will form what is known as a mystical rectangle – an aspect that has spiritual connotations providing an opportunity to reach some kind of enlightenment) and then accept it with gratitude.
---
Want to know the actual dates when the energies will influence your life in money, career, relationships, and communicaton?
Astro Forecast Report (3 months)
---
Scorpio: The Sun moves into Taurus on April 20 and Mercury is just turning direct on Sunday. Both these celestial developments are good news for you, as the focus shifts from problems with work or health issues to a lighter and more enjoyable period with the emphasis on relationships. Now is the time to enjoy yourself with others and to invite more love and connection into your life, especially if recent weeks have been full of work, errands and duties that you needed to attend to. This week also offers solutions to any problem you are dealing with. It might be that an opportunity arises that provides the answer to a difficulty. Sometimes, though, answers stare us in the face, and we don't see them, so it might be worthwhile to ask others for their opinions. You might find that talking things over magically produces a solution that you have overlooked.
---
Want a one year forecast to understand the scope of influence for your personal Cards of Destiny?
Cards of Destiny Report
---
Sagittarius: To be our best in our work and daily lives, we need to ensure that we are being spiritually fed. Soul nourishment usually involves doing things that make us feel good to be alive or that we find soothing. Therefore, trips away or time spend relaxing, playing and having fun all rank highly when it comes to inner nourishment. You have until April 20 before the Sun changes signs and moves into your work and service area, at which point it will be business as usual. This could be a time of great fulfillment if you have taken sufficient time to recharge. Therefore, if you're raring to go, then great, if not, maybe you need to make a little more time for yourself. Remind yourself that the world and those around you will benefit from you "me time" too.
---
Contemplating a move? This report tells how you will react to the energies of the specific locations for relationships, finances, and security.
Relocation Information Report
---
Capricorn: The Sun's move into Taurus on April 20 is good news for you as it symbolizes a lightening of mood and a more carefree approach to life. Now is the time to focus on those things that give you pleasure and enjoyment, so whether you decide to schedule a trip to the cinema or spend a weekend away, you should find that circumstances support your need to have more fun. The other good news is that solutions to problems will be more easily attainable than they previously were, and the answer could be to not take things so seriously.
---
Discover your character traits, relationship and career potentials – based on Edgar Casey Readings.
Cayce Past Life Report
---
Aquarius: After what could have been a busy few weeks, now is the time to return home, whatever home means to you. Maybe it's a feeling of security, or maybe it is comfort and relaxation. Maybe home means connecting with your loved ones and realizing that there's nothing as important as being with family. Perhaps it's returning home to yourself. Most people keep so busy and are under so much pressure these days that they have little idea of who they really are. This is a good week to reconnect with yourself and to remember what makes you happy, what you like, and what's good for your soul. As you put the pieces together and remember who you are and what you came here to do, you will gain a deeper sense of security from within, which is what the purpose of the Sun's journey through your house of home and family is really all about.
---
Discover your past life connections that can carry over into your current life, accounting for interests, habits, even phobias.
Karmic Past Life Report
---
Pisces: The Sun's move into Taurus on April 20 is good news for you, as it signals a more enjoyable phase of life based on short journeys, meeting people, interactions with others and a general air of positivity. Now you can get your ideas across to others and begin manifesting your vision. It doesn't stop there. You're about to be liberated from financial and material instability too, because hot on the heels of the Sun's exit from your financial area is Uranus, also getting ready to leave your money zone after seven long years. More good news this week is that a door of opportunity could open that allows you to step through into a better place. This could be an actual situation or it could be a state of mind. Either way, the opportunity won't last long so be vigilant around April 21 and 22, when a solution or an easier path could present itself.
---
Discover your soul's intention for this lifetime, the lessons to be learned, qualities to develop, problems to be resolved, services to be rendered.
Karmic Insight Report
---
For more information about your Horoscope and what the stars
have in store for you, order one of our detailed
Astrology Reports for Couples!
---
Want to know the theme of your relationship? This report compares your temperaments and personalities, whether you are married or living together.
Compatibility Report
Reveal as much information about you and your partner intention of opening doors of understanding and awareness.
Love Cards Report