#Horoscope #Aries #Taurus #Gemini #Cancer #Leo #Virgo #Libra #Scorpio #Sagittarius #Capricorn #Aquarius #Pisces #Horoscope – overview of this week
The Center for the New Age is pleased to present
your Free Weekly Horoscope for April 29 – May 5, 2018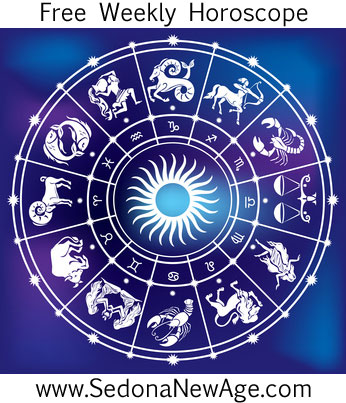 Receive our Free Weekly Horoscope in your Inbox
---
Aries Taurus Gemini Cancer Leo Virgo Libra Scorpio Sagittarius Capricorn Aquarius Pisces
Full Moon in Scorpio on April 30 brings about very intense and vibrant feelings. As this lunar fullness builds to a crescendo of emotional dramas, our emotional patterns are being played out in interesting ways. Intense desires – and what provokes them – reveal a lot about who we are and what we need to appease the satisfaction-hungry inner child. Entertaining fun, and off-the-cuff kinds of play and humor are good medicine. Safe physical exercises and activities are excellent avenues of release.
Aries Taurus Gemini Cancer Leo Virgo Libra Scorpio Sagittarius Capricorn Aquarius Pisces
For more information about your Horoscope and what the stars have in store for you, order one of our detailed
Astrology Reports!
Want to know the theme of your relationship? This report compares your temperaments and personalities, whether you are married or living together.
Compatibility Report
Reveal as much information about you and your partner intention of opening doors of understanding and awareness.
Love Cards Report
Free Weekly Horoscope for your Sign
Aries: The trend for the lunar month is usually ushered in by the new period. For you, Aries, it will be finances that occupy your time, energy, talents and more so, contracts, memoranda of understanding, agreements, joint finance. There are times in life when there's nothing else to do but knuckle down and get on with it. This seems to be where you are as Saturn, Mars and Pluto reside at the top of your chart, putting the emphasis on your direction in life, your professional responsibilities and your public role.
---
Discover a personal profile and 1-year forecast based on advanced calculations of your name and birth date.
Numerology Report
---
Taurus: The Full Moon in your own sign ushers in a more favorable phase. This week provides some happy times to be enjoyed, so that eating out, dressing up, acquiring some new clothes, at least much more cash – are the things that help you in a positive way. The planets encourage you to lighten up and see the funny side of life. It might be time for a dose of comedy or to enjoy more of your hobbies and interests or to take opportunities to socialize or go places that lift your spirits.
---
Need a guide for your growth and personal evolution based on astrological influences upon your personality?
New Age Natal Report
---
Gemini: The Full Moon brings clarity, completion and fulfillment to your work and daily life, especially if things have been a bit cloudy. Expect things to start moving forward, as you will feel inspired to put the finishing touches to work projects that should bring a very real sense of satisfaction. The rewards are there now, but so also the grinding hard work that you put in to deserve these rewards. You will be truly aware of your responsibilities to your family and to society. This is a time when your conscience, the higher self, the career and provider in you will be completely awakened and will inspire you to great heights – especially intellectual and spiritual.
---
This interpretation of your birth chart is written in simple language could be beneficial in self undestanding.
Merlin Report
---
Cancer: The month ends on a positive note as a Full Moon lands in your house of fun. Now you have the opportunity to let your hair down, relax a little, and forget about your troubles. You are less in need of the approval of others than usual so this is a time to make those changes that need to be made. This is a time to take responsibility for your own happiness. You have a few more months of heightened independence. If you wait too long – when the planets start moving away – changes can be made but with greater difficulty.
---
Indra reveals your life's contradictory urges & drives as well as your basic motivation, perceptions, inclinations and character.
Indra Report
---
Leo: Under the Full Moon in Scorpio, there is a conjunction of the Moon and Jupiter, the great benefactor of the planets, on the fourth house that is all about the very roots of our existence. This goes a long way towards offsetting the Sun-Saturn conjunction of the tenth house which pertains to social success and professional destiny which could have proved harmful. All it does now is slow you down and make you introspective. Although this is a good time to make progress and get lots done, you need to take care that you don't become overwhelmed.
---
Want a detailed report for parents to help with the child's growth to strengthen the assets and avert possible problems that the child could face in their life?
Child Astrology Report
---
Virgo: The Full Moon will bring expenses that go off into the outer hemisphere, they're so high, but income will match, so really speaking, there will be no money worries. Part of the expenses could well be gadgets, comforts and luxuries that you have been wanting for your home. May brings an active, eventful, successful time and there is never a dull moment. It's a time to push beyond your comfort zone and expand your sense of what's possible. Regardless of the intensities you might have in your life, your spirit is being called toward something bigger.
---
Want a birthday to birthday practical guide to help you recognize opportunities and to learn from them.
Astrological Solar Return Report
---
Libra: A fresh new look comes into your life under the Full Moon – the glitter of money. There are several different ways in which you could find yourself pursuing the making of money – buying and selling, also contracts, negotiations, even commission agencies. You could be signing legal documents, instruments of understanding, handling loans. As the Sun journeys through your house of transformation, the time is ripe to shed your old skin. The month ahead is infinitely easier for you than the past two months seem to have been.
---
Want to know the actual dates when the energies will influence your life in money, career, relationships, and communicaton?
Astro Forecast Report (3 months)
---
Scorpio: With the Full Moon in your sign this is the ideal time to pause and take stock of your life with a view to making necessary changes. This seems to be a change in your fortune, you will think. Worries, doubts and uncertainties will ease, legal cases, contracts, deeds will be taken care of, prospects for future gain from business will be visible now. You will be enjoying a fair amount of wining and dining, extending and receiving hospitality, guests and family interaction. This is a different and very welcome trend for the period to come.
---
Want a one year forecast to understand the scope of influence for your personal Cards of Destiny?
Cards of Destiny Report
---
Sagittarius: There's a very practical feel to life making this a good week to get as much done as possible. First of all, you'll put out all the stops on the work front. The focus will be on intellectual activities, full of insight and vision for future gain and better relationships at the same time. You will be loyal, dedicated, and steadfast in family bonds and matters even if you need to trample on others, not just tread on their toes. There will be strain and tension in emotional attachments, children's issues and marital issues. You may feel imposed upon; don't be too harsh in your dealings.
---
Contemplating a move? This report tells how you will react to the energies of the specific locations for relationships, finances, and security.
Relocation Information Report
---
Capricorn: Success will seem so close that you will feel you can reach out and touch it this week. Dreams and wishes may come true, perhaps in connection with someone or something truly near and dear like home, parents, family. Having the three most powerful planets in your sign must have its perks! All through the coming period the trend will be of achievement – that's something Capricorns are no strangers to. Some projects which you've had on the anvil for some time will now get started with a flourish.
---
Discover your character traits, relationship and career potentials – based on Edgar Casey Readings.
Cayce Past Life Report
---
Aquarius: With a cluster of planets in your zone of secrets, it is likely that things won't remain hidden for long. Domestic harmony and family relationships will be your main concerns this week. Matters related to property and house – and their renovation and improvement will need to be considered as well. Older relatives and in-laws will be in the picture as a matter of fact this week and through the coming period. All of these are monthly trends, but there will be pleasure, creativity and much personal liberty despite these concerns. However, some questions regarding your health may come to the surface this week.
---
Discover your past life connections that can carry over into your current life, accounting for interests, habits, even phobias.
Karmic Past Life Report
---
Pisces: The marvelous phase of the last two weeks seems to firm up – in fact, gets better all the time. And the truly wonderful part is that this is the trend for the month of May. This period is really likely to blossom for Pisceans. You'll have the best of both worlds – home and office, family and profession, love and money, beauty and utility. You will truly enjoy even the most mundane of chores and tasks. Money will flow freely but with true Piscean carelessness, you may just tend to let it fly away altogether so take heed and be watchful!
---
Discover your soul's intention for this lifetime, the lessons to be learned, qualities to develop, problems to be resolved, services to be rendered.
Karmic Insight Report
---
For more information about your Horoscope and what the stars
have in store for you, order one of our detailed
Astrology Reports for Couples!
---
Want to know the theme of your relationship? This report compares your temperaments and personalities, whether you are married or living together.
Compatibility Report
Reveal as much information about you and your partner intention of opening doors of understanding and awareness.
Love Cards Report