#Horoscope #Aries #Taurus #Gemini #Cancer #Leo #Virgo #Libra #Scorpio #Sagittarius #Capricorn #Aquarius #Pisces #Horoscope – overview of this week
The Center for the New Age is pleased to present
your Free Weekly Horoscope for July 8 – July 14, 2018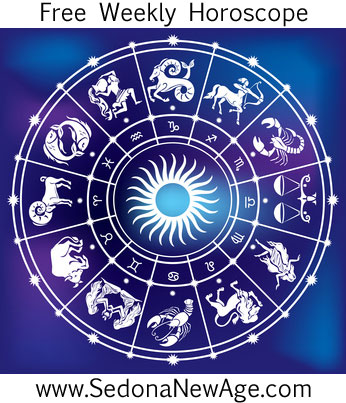 Receive our Free Weekly Horoscope in your Inbox
---
Aries Taurus Gemini Cancer Leo Virgo Libra Scorpio Sagittarius Capricorn Aquarius Pisces
Mercury in Leo square Jupiter in Scorpio (July 9 – July 17) creates a difficult block between the media, or communications industry and the sponsors and producers of consumer goods. This is a time to be particularly cautious when looking for a job or changing jobs, asking for a raise or signing any binding contracts concerning long-term investment and payment schedules. This aspect has a tendency to create expensive misunderstandings concerning real estate and other large-scale investments. Dig harder to clarify the details of investigating a long term investment.
Venus enters Virgo (July 9 – August 6) promoting gentle, subtle expressions of love. We should be careful not to promise more than we can deliver and we should avoid going to extremes. Blind trust is not recommended, nor is spending more than is available to us. During the next four weeks, seek purity in relationships, and express feelings in a sober and practical manner while bringing healing and order to interactions with others in selfless service.
Jupiter turns direct in Scorpio (July 11 – October 7) providing a chance for the masculine to practice integrity with the divine Feminine. As new understanding and expanded consciousness develop in men and women, better communication can emerge based on renewed sensitivity and greater respect.
New Moon in Cancer (July 13) beckons our feelings and our moods to acknowledge new feelings about ourselves. The New Moon inspires a new experience, the desires to nurture the child within, and to build up a new outlook on our home life. This is a time when we learn to realize new things about ourselves emotionally.
Venus in Virgo trine Saturn in Capricorn (July 14 – July 24) brings the timely gift of love. Paradoxically, it also allows for some peace in the closure of a love relationship. This is the aspect to enhance a love vow or oath with the timely application of loving energy, and is also a good aspect to better understand the importance of devotion and responsive caring. Love is a gift as well as a self-created responsibility. Remember when extending love, it is best not to have expectations concerning the need to receive it in return.
Aries Taurus Gemini Cancer Leo Virgo Libra Scorpio Sagittarius Capricorn Aquarius Pisces
For more information about your Horoscope and what the stars have in store for you, order one of our detailed
Astrology Reports!
Want to know the theme of your relationship? This report compares your temperaments and personalities, whether you are married or living together.
Compatibility Report
Reveal as much information about you and your partner intention of opening doors of understanding and awareness.
Love Cards Report
Free Weekly Horoscope for your Sign
Aries: A solar eclipse falls in your domestic zone on July 13, making this the perfect time for new beginnings. Be prepared to wipe the slate clean and start afresh. Obviously, this is a favorable time to move or renovate your living quarters, welcome a new addition to the family, or say goodbye to someone. This week could have a sense of fate and destiny about it, and your life could change in some way, particularly if you were born between April 7 and 13. However all Aries can benefit from this eclipse by being willing to change course and create new foundations.
---
Discover a personal profile and 1-year forecast based on advanced calculations of your name and birth date.
Numerology Report
---
Taurus: You have a choice this week under a powerful solar eclipse on July 13 to modify your life. Small changes may be enough, in which case, try to adopt a more positive approach to life, and remember that thoughts create feelings and feelings create our reality. However, with Pluto opposing this eclipse in your mental zone, it may be time for a complete shift in thinking, and you might not have to work particularly hard to do this. Sometimes we wake up and have an epiphany and this could be what happens to you, so be ready to leave your old mental concepts behind and embrace a new way of looking at the world.
---
Need a guide for your growth and personal evolution based on astrological influences upon your personality?
New Age Natal Report
---
Gemini: The solar eclipse in your money zone on July 13 is an ideal time to make a change where your finances are concerned. You might start a new job, increase your income, or start using a gift or talent that has thus far been underused. There is a transformative element to your material world, so July 13 is the day to plant positive seeds for your levels of prosperity and abundance. This is a good week to tell yourself that things don't have to carry on the way they have been and that now is a good time to make proactive changes.
---
This interpretation of your birth chart is written in simple language could be beneficial in self undestanding.
Merlin Report
---
Cancer: A powerful solar eclipse in your sign on July 13 is a strong indication of new beginnings. It could even mark a new phase of life, so be prepared to close the door on the past and embrace a fresh start. Life might feel rather intense around this eclipse, especially if you're born between July 9 and 15, in which case change of some sort is inevitable. If a door seems to be closing in your life, let it, for this could be the hand of destiny taking charge. Allow whatever happens this week to happen, knowing that it is for your higher good.
---
Indra reveals your life's contradictory urges & drives as well as your basic motivation, perceptions, inclinations and character.
Indra Report
---
Leo: This week is likely to involve closure of some sort as a powerful solar eclipse falls in your zone of endings on July 13. This could be a relief if you feel as if you've been carrying a heavy burden for too long or it could mark the end of a sad time. The emotions that this eclipse arouses are likely to be powerful, so cut yourself some slack this week, and allow yourself space to contemplate or to be with your feelings. The best use of this eclipse is to say goodbye to the past and to allow transformations to take place in your work, health and private life.
---
Want a detailed report for parents to help with the child's growth to strengthen the assets and avert possible problems that the child could face in their life?
Child Astrology Report
---
Virgo: We can't expect things to stay the same indefinitely, and as a solar eclipse occurs on July 13 in an auspicious area of your chart, a development with a friend or group could be the catalyst for change in your world. This could catapult you into a new kind of existence. If you have a hope or wish, this solar eclipse is a good time to nurture it, perhaps by planting new seeds or setting your intention. For you, this eclipse is very much about your life in the outside world, so expect friends, groups, community or organizations to be themes, including endings and beginnings in these areas.
---
Want a birthday to birthday practical guide to help you recognize opportunities and to learn from them.
Astrological Solar Return Report
---
Libra: A powerful solar eclipse at the top of your chart on July 13 brings new beginnings and successful outcomes to your work and professional life as long as you're prepared to let go of the past and embrace the future. This may be easier said than done, because with Pluto at the bottom of your chart, issues connected with the past may seem to have a strong hold over you. However, this is the time to let them go and move on. Remember that success and abundance can be yours as long as you follow your inspiration and release all that holds you back.
---
Want to know the actual dates when the energies will influence your life in money, career, relationships, and communicaton?
Astro Forecast Report (3 months)
---
Scorpio: The powerful solar eclipse on July 13 seeks to bring you a broader perspective on life, so be prepared for something to shake up your everyday routines. You might gain a more inspired outlook from going on an adventure or traveling somewhere new, or your existence could be shaken up through someone you meet. Perhaps your mind takes a quantum leap through something you read or learn. Regardless of the impetus, the status quo is unlikely to remain intact under the influence of this eclipse, which wants you to see things in a new way. Expect to be pushed out of your comfort zone that will lead to growth and greater confidence.
---
Want a one year forecast to understand the scope of influence for your personal Cards of Destiny?
Cards of Destiny Report
---
Sagittarius: This week you should be better able to deal with the events surrounding the solar eclipse on July 13 which might involve a powerful change in the cards. This could relate to finances, something you value, or a tired situation. You might have been through a difficult time emotionally or psychologically, and this eclipse triggers the rebirth you so desperately need. In any event, this week signals a renewal, and all you have to do is be willing to let go of false attachments. "Trust and let go" is the message of this eclipse.
---
Contemplating a move? This report tells how you will react to the energies of the specific locations for relationships, finances, and security.
Relocation Information Report
---
Capricorn: The relationship theme continues as the solar eclipse on July 13 brings change or new beginnings to your personal life. One relationship in particular is likely to experience developments as a result of this eclipse, but it's nothing that isn't already in need of happening. Whether you see endings or beginnings, renewals or dramas, your part in the process must be the same: total honesty and transparency. Pluto in you sign demands nothing less, and your transformation will lead to the renovation of your relationship. Be prepared to let go and surrender, for it seems something is trying to manifest.
---
Discover your character traits, relationship and career potentials – based on Edgar Casey Readings.
Cayce Past Life Report
---
Aquarius: The solar eclipse on July 13 brings a turning point in your health and well-being and is the perfect time to make a change. However, if you want to improve your health, you might first need to let go of something you've been carrying for a long time. It could be grief, regret, guilt, anger, resentment or a situation you've banished to the sidelines. Whatever it is, chances are that you don't particularly want to look at it. Pluto residing in your zone of unconscious suggests there's a dark shadow that needs to be illuminated. This could also apply to any problem in your work or your day-to-day life. Whatever is currently amiss, it's likely that the roots lie in the past and that now is the time to let it go. Once that's done, you can work toward creating a positive new beginning.
---
Discover your past life connections that can carry over into your current life, accounting for interests, habits, even phobias.
Karmic Past Life Report
---
Pisces: The most important thing we can do for ourselves and others is to be true to ourselves. Many of us, particularly as we get older become bound by commitments, responsibilities and a fear of change only to find that our authenticity begins to slip away like a thief in the night. Under this week's solar eclipse on July 13, you get the chance to recover your sense of self. This may mean disappointing one or two people, but in the long run, everyone will appreciate the honesty, so don't fear whatever you need to do to demonstrate your unique shining spirit.
---
Discover your soul's intention for this lifetime, the lessons to be learned, qualities to develop, problems to be resolved, services to be rendered.
Karmic Insight Report
---
For more information about your Horoscope and what the stars
have in store for you, order one of our detailed
Astrology Reports for Couples!
---
Want to know the theme of your relationship? This report compares your temperaments and personalities, whether you are married or living together.
Compatibility Report
Reveal as much information about you and your partner intention of opening doors of understanding and awareness.
Love Cards Report