#Horoscope #Aries #Taurus #Gemini #Cancer #Leo #Virgo #Libra #Scorpio #Sagittarius #Capricorn #Aquarius #Pisces #Horoscope – overview of this week
The Center for the New Age is pleased to present
your Free Weekly Horoscope for July 15 – July 21, 2018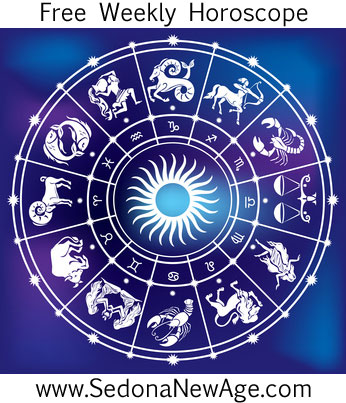 Receive our Free Weekly Horoscope in your Inbox
---
Aries Taurus Gemini Cancer Leo Virgo Libra Scorpio Sagittarius Capricorn Aquarius Pisces
First Quarter Moon in Libra on July 19 encourages us to harmonize with our partners and friends. This is the Moon that brings out a focus on the need to create balance in various kinds of relationships, particularly close relationships. This would be a good time to connect with our loved ones. We may be challenged at this time to tread softly with regard to the dreams of others, and to read between the lines concerning the inconvenient qualities of facing the difficulties of life.
Aries Taurus Gemini Cancer Leo Virgo Libra Scorpio Sagittarius Capricorn Aquarius Pisces
For more information about your Horoscope and what the stars have in store for you, order one of our detailed
Astrology Reports!
Want to know the theme of your relationship? This report compares your temperaments and personalities, whether you are married or living together.
Compatibility Report
Reveal as much information about you and your partner intention of opening doors of understanding and awareness.
Love Cards Report
Free Weekly Horoscope for your Sign
Aries: Because of the fast-paced lives we now lead, it is very difficult to opt for a slower lifestyle. You also were born under the first and fastest sign of the zodiac, so you're not that keen on waiting for things or operating at a snail's pace. Therefore, this could be a frustrating week as Mars continues to retrograde and Mercury grinds to a halt. The saving grace is that the Sun is still in your sphere of home, encouraging you to enjoy the simple pleasures of life and to not worry too much about progress and achievement or making headway in the outside world. All that can wait and Mars retrograde is actually a blessing because it encourages you to slow down so that you can gather your strength and reconnect with your priorities.
---
Discover a personal profile and 1-year forecast based on advanced calculations of your name and birth date.
Numerology Report
---
Taurus: Perhaps your world has been shaken up during the previous few weeks, and while that is probably not a bad thing (particularly if you're seeing the world and your role in it differently), the ground beneath your feet might seem a bit wobbly. This is a good indication that you should drop anchor and rest for a while. And while there may be plenty to do at home, at least this will be grounding, especially if you're working in the garden or doing practical jobs around the house. This is also a great time to reconnect with your family and enjoy the warmth and affection of time spent with those you love.
---
Need a guide for your growth and personal evolution based on astrological influences upon your personality?
New Age Natal Report
---
Gemini: The financial and material theme continues this week so make hay while the Sun shines and question your beliefs around money, especially if they have been limiting you. This is a good time to throw out any negative beliefs that hold you back. Don't give in to pessimism or a "what's the point?" attitude. Mars might be retrograding through your optimistic area, and you could lose some of your joie de vivre, but this is merely a sign that something is ripe for a challenge.
---
This interpretation of your birth chart is written in simple language could be beneficial in self undestanding.
Merlin Report
---
Cancer: Life might have been pretty intense lately, but the First Quarter Moon in Libra will help you realize that life in the fast lane is over for the time being. It's not that you're suddenly taking a break/holiday and leading a relaxed, easy-going life. There will be intense but internalized activity as you lay bare your soul and your innermost being before your very own eyes. You may feel a renewed sense of purpose in your material world by finding a new way to earn money, taking on a new job, or realizing that the simple things bring you the most joy. Go in for some intensive, deep introspection this week, and try to determine your values and future course of action.
---
Indra reveals your life's contradictory urges & drives as well as your basic motivation, perceptions, inclinations and character.
Indra Report
---
Leo: Although you still have a retrograde Mars in your relationship zone that makes your personal life a source of difficulty, no matter what's going on in your life (particularly around work, health and relationships), the First Quarter Moon will encourage a surge of confidence, enthusiasm, motivation, and optimism that will allow you to take greater control of matters. And when a Leo takes charge, things tend to work out pretty well. The key is to focus on your direction and not let issues with others knock you off course.
---
Want a detailed report for parents to help with the child's growth to strengthen the assets and avert possible problems that the child could face in their life?
Child Astrology Report
---
Virgo: Slow down a little this week and take time out from modern life so that you can replenish your parched spirit. Mars retrograding through your work and health zone isn't making life easy and could have been a source of frustration or flagging energy. Consequently, you really need to retreat and recover. Venus in your sign urges you to focus less on work and more on beauty and pleasure. This isn't an easy philosophy for a Virgo, as you're naturally geared toward busyness, but a little rest now will pay dividends in the days and weeks to come.
---
Want a birthday to birthday practical guide to help you recognize opportunities and to learn from them.
Astrological Solar Return Report
---
Libra: The focus will remain on your direction and progress in the outside world this week. This should feel pretty positive and enjoyable, and life will take on a much more colorful hue under the First Quarter Moon on Thursday. This is the week to get out and about, meet new people, and forge new connections. Friendships, groups and organizations are likely to emerge as themes. Follow any new directions, opportunities or avenues that appear, because they are likely to be auspicious for you.
---
Want to know the actual dates when the energies will influence your life in money, career, relationships, and communicaton?
Astro Forecast Report (3 months)
---
Scorpio: The adventurous theme continues so use this week to shed outdated beliefs or routines, which is what the previous week's solar eclipse asked you to do. The emphasis will shift to your position in the outside world and with the First Quarter Moon in Libra on Thursday there is a strong indication of a new direction opening up as though destiny is stepping in to help you get on the right path. Don't resist the changes, as they are likely to be for your greater good.
---
Want a one year forecast to understand the scope of influence for your personal Cards of Destiny?
Cards of Destiny Report
---
Sagittarius: After an intense few weeks, this week signals renewed optimism and a much more positive and adventurous frame of mind. Gone is the heaviness of previous times and you probably feel the need to spread your wings and seek new pastures. If you find that you have itchy feet, plan a trip or just take time off for a day or two. A supporting influence from Venus and Neptune to your ruling planet Jupiter confers a certain amount of ease and spiritual protection and opportunities for happiness are likely available if you are open to them.
---
Contemplating a move? This report tells how you will react to the energies of the specific locations for relationships, finances, and security.
Relocation Information Report
---
Capricorn: Life has a tendency to mirror our thoughts and can only give us what we believe is possible or what we're comfortable with. This is why it's healthy to periodically push beyond our comfort zones to experience new concepts and a different way of seeing the world. This week, Capricorn, it pays to think outside the box. Entertain new ideas and concepts, reserve judgment on matters you would normally jump to conclusions on, or be willing to see a situation in a way that might not be your normal approach. In other words, dare to be different, and gently challenge your limited thinking by asking "what if?" The results might be quite surprising.
---
Discover your character traits, relationship and career potentials – based on Edgar Casey Readings.
Cayce Past Life Report
---
Aquarius: If you seem to lack the drive or the motivation to move forward, it may be because the direction you were heading was the wrong one. Or it could be that you have overdrawn your energy account and need to rest. Regardless, this is a good point to reassess your life in terms of what motivates you. What do you feel passionate about? What gets you out of bed in the morning? We all need a mission in life, and Mars currently suggests that it's time to remember yours. The more you can reconnect with your inner drive, the sooner you will recover your lust for life.
---
Discover your past life connections that can carry over into your current life, accounting for interests, habits, even phobias.
Karmic Past Life Report
---
Pisces: We all have times when our emotions take over and we can't seem to keep a lid on things any more. We may lose our tempers over something quite trivial, or we may find ourselves tearful for no particular reason. Usually this is because an emotion that wasn't expressed at the time is locked inside us until a suitable trigger comes along and sets it off. Whether or not you find yourself being prone to emotional outbursts, this is the time to nourish your soul and heal an old wound, perhaps by going on a retreat, engaging in meditation, exploring your psyche through art, or just visiting nature and enjoying some quiet time. Now is the time to engage with whatever you find healing.
---
Discover your soul's intention for this lifetime, the lessons to be learned, qualities to develop, problems to be resolved, services to be rendered.
Karmic Insight Report
---
For more information about your Horoscope and what the stars
have in store for you, order one of our detailed
Astrology Reports for Couples!
---
Want to know the theme of your relationship? This report compares your temperaments and personalities, whether you are married or living together.
Compatibility Report
Reveal as much information about you and your partner intention of opening doors of understanding and awareness.
Love Cards Report