#Horoscope #Aries #Taurus #Gemini #Cancer #Leo #Virgo #Libra #Scorpio #Sagittarius #Capricorn #Aquarius #Pisces #Horoscope – overview of this week
The Center for the New Age is pleased to present
your Free Weekly Horoscope for August 19 – August 25, 2018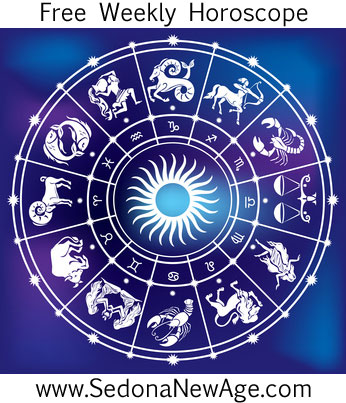 Receive our Free Weekly Horoscope in your Inbox
---
Aries Taurus Gemini Cancer Leo Virgo Libra Scorpio Sagittarius Capricorn Aquarius Pisces
Mercury turns direct Sunday and those of us that are so strongly affected by Mercury retrograde can move forward in our thinking and our way of presenting our thoughts. We can interpret others better and get on with business. Unsettled contracts can be corrected and negotiated more clearly and there is likely to be much less difficulty interpreting and translating conditions.
Jupiter in Scorpio is trine Neptune in Pisces (August 19). This aspect occurs for a long period of time due to the speed of these two slower moving planets. Jupiter directs our senses to prosperity and brings expansion and new realms of fulfillment and discovery. Neptune brings the unknown and life's great mysteries into a place in the human spirit where they can be felt and believed in. Jupiter trine Neptune provides us with gifts of new awareness and confidence, and the spirit may be newly empowered with divine intuition. When the planet of expansion (Jupiter) trines with the planet of spirituality (Neptune) discoveries are made about how to stretch out our spiritual experience of life, and to empower our beliefs with something that brings us pure joy and fulfillment.
Aries Taurus Gemini Cancer Leo Virgo Libra Scorpio Sagittarius Capricorn Aquarius Pisces
For more information about your Horoscope and what the stars have in store for you, order one of our detailed
Astrology Reports!
Want to know the theme of your relationship? This report compares your temperaments and personalities, whether you are married or living together.
Compatibility Report
Reveal as much information about you and your partner intention of opening doors of understanding and awareness.
Love Cards Report
Free Weekly Horoscope for your Sign
Aries: This week, the emphasis is still on living a heart-centered life, one that beats with passion, creativity and joy. Now that Mercury is turning direct on Sunday, it will become much easier to do just that. It's not necessarily about dumping everything in your life that feels a bit gray. You might need to take a symbolic action, such as removing the uninspiring or unflattering clothes from your wardrobe and replacing them with garments that you absolutely love and feel great in. Maybe you should start a hobby: learn how to paint, sing, dance, draw or take photographs. Perhaps you should reduce your hours at work so that you have more time to do what you want. A symbolic gesture might be to simply remove a dreary commitment from your calendar. By removing the drab, heavy stuff, you will allow your spirit to soar higher and your heart will feel lighter.
---
Discover a personal profile and 1-year forecast based on advanced calculations of your name and birth date.
Numerology Report
---
Taurus: Family and domestic affairs may still be a dominant theme for you, but as Mercury turns direct on August 19, things should move forward and feel less awkward. Now is the time to make progress at home or to feel like you can leave the past behind. This is an ideal time to de–clutter your house, remove the things that no longer have meaning, and clear your space with a view to inviting new energies. Winston Churchill once said, "We shape our buildings, and afterwards our buildings shape us." In what way is your home shaping you? More important, how can you ensure that it's shaping you in the right way?
---
Need a guide for your growth and personal evolution based on astrological influences upon your personality?
New Age Natal Report
---
Gemini: Life returns to a sense of normality after August 19 as Mercury turns direct. If progress has been difficult (and it's questionable whether we should actually strive for progress under Mercury retrograde), then you can look forward to easier times and a sense of things moving forward. This is a great opportunity to use the power of your mind to its best effect. How can you communicate to bring about the best results? People are more likely to do things for us when we express gratitude and appreciation. They are also more likely to say yes to us when we are sparkling with vivacity than when we're downbeat. Consider how you come across to others, and pay attention for ways to tweak your listening skills, improve your speech, or lift your attitude.
---
This interpretation of your birth chart is written in simple language could be beneficial in self undestanding.
Merlin Report
---
Cancer: The financial picture begins to take on a more pleasing hue as Mercury turns direct. This is a good time to build on whatever you learned or experienced last week and to start moving forward in this area of your life. This could mean tying up loose ends, or it might mean starting to build on a new idea. Whatever the issue, any problems relating to money or possessions should soon become a distant memory. Make the most of this week's more positive influences by remembering that getting what you're worth depends on a combination of valuing yourself and being able to negotiate what you want. Confidence is the key.
---
Indra reveals your life's contradictory urges & drives as well as your basic motivation, perceptions, inclinations and character.
Indra Report
---
Leo: The good news this week is that any impasse will be resolved as Mercury in your sign turns direct on August 19. This spells an end to a frustrating lack of progress and enables you to take what you've learned over the past few weeks and apply it to your life. Plans that you were formulating can be implanted now, so if there's something you've wanted to do, now is the time to do it. The Sun will remain in your sign a bit longer, so capitalize on this benevolent period to recharge your battery by doing things you enjoy.
---
Want a detailed report for parents to help with the child's growth to strengthen the assets and avert possible problems that the child could face in their life?
Child Astrology Report
---
Virgo: Mercury will be turning direct on August 19 and is good news as you can make progress now. As Mars slips back into your creative zone, you might wonder what you should create. From a piece of art to a business or from a beautiful living space to a more autonomous life, you might not yet be in a position to give birth to something, but you can at least begin to prepare the way. It's also worth remembering that creation isn't always effortless. We might hear about others who experience flashes of inspiration from which entire novels or symphonies were written in one fell swoop, but generally, bringing something to fruition takes determination, hard work, preparation and patience.
---
Want a birthday to birthday practical guide to help you recognize opportunities and to learn from them.
Astrological Solar Return Report
---
Libra: Venus is at home in your sign while Mercury turns direct in an auspicious region of your chart. This positive combination signifies a pleasurable and enjoyable week, one in which you could experience a change of heart concerning your social life. Thus, matters in this area of your life can begin to move forward, hopefully now with a better understanding. This could be a time in which your friendships really flourish and when new connections are deepened and enjoyed. This is a perfect week to gather with friends and enjoy a shared meal, ideas, conversation and laughter. More and more studies are conclusively proving that loneliness is a precursor to ill health. Fortunately for you, this week is likely to foster deeper connections, helping you realize that there are many people who care about you.
---
Want to know the actual dates when the energies will influence your life in money, career, relationships, and communicaton?
Astro Forecast Report (3 months)
---
Scorpio: Mercury turns direct on August 19, signaling an end to frustrations in your career. Now you can really begin to move forward. In fact, your focus needs to be on where you are going, whether that's with your career or your general direction in life. Now that Mars has slipped out of your domestic sphere, you can enjoy a period of respite. This will allow you to focus more energy on where you are headed. You should also feel more determined, but keep an eye on anger, frustration, irritation, and impatience. Aim to use the Mars energy constructively; adopt a can-do attitude.
---
Want a one year forecast to understand the scope of influence for your personal Cards of Destiny?
Cards of Destiny Report
---
Sagittarius: Adventure is your theme for the weeks ahead as the Sun, along with Mercury turning direct, inspires you to bigger and better things. This could include stretching your mind through studies, traversing new terrain, or pushing out of your comfort zone. There is an expansive and colorful flavor to the fading summer days, and while practical matters such as work or finances may be pressing or troublesome, you could benefit from a change of scenery, which could bring a new perspective to your problems.
---
Contemplating a move? This report tells how you will react to the energies of the specific locations for relationships, finances, and security.
Relocation Information Report
---
Capricorn: The theme is still on transformation and rebirth this week, but things get easier as Mercury turns direct on August 19 and Mars slips back into your sign. Although Mars is retrograde, his return to your sign is a good omen in the sense that you will have the motivation to sort yourself out, whatever that means to you. And Mercury's forward motion in your transformation area suggests that letting go of the outdated stuff in your life will be much easier. Perhaps your issues are with psychological baggage, an emotional wound, or clutter that could do with throwing out. Whatever the case, do what you can to simplify your world. This will lead to a lighter sense of being and clarity about what to do and where to go next.
---
Discover your character traits, relationship and career potentials – based on Edgar Casey Readings.
Cayce Past Life Report
---
Aquarius: The improvements begin in earnest as Mercury turns direct in your opposite sign and Saturn arrives on the scene to help you. Now you can make constructive progress, especially in your personal and domestic life. Previous impasses with others are likely to be resolved, and life in general will begin to flow better. There may be a question of what you are doing with your life and where you are going, which could be under scoring recent difficulties, so it's worth identifying your purpose and carrying on with it. It is important to not overlook the importance of having a mission in life – a direction, a sense that you matter and that the world needs you, so carry on with healing the planet, and many of your inner demons will shrink into the shadows.
---
Discover your past life connections that can carry over into your current life, accounting for interests, habits, even phobias.
Karmic Past Life Report
---
Pisces: Daily life begins to run more smoothly as Mercury turns direct, spelling an end to difficulties or frustrations with work, health or day-to-day matters. It will be much easier for you to be productive and begin new projects. Indeed, this is a good week to buckle down and get lots done. Work, jobs, and tasks can seem much more fulfilling now, as you're more inclined to invest greater time, care and attention into what you're doing. Your current planetary picture is reminiscent of a Japanese tea ceremony, in which the simple act of making a cup of tea is invested with such meaning that it becomes a sacred ritual. This is the kind of feeling you should aspire to so that everything you do becomes sacred, and your whole life will become rich with meaning.
---
Discover your soul's intention for this lifetime, the lessons to be learned, qualities to develop, problems to be resolved, services to be rendered.
Karmic Insight Report
---
For more information about your Horoscope and what the stars
have in store for you, order one of our detailed
Astrology Reports for Couples!
---
Want to know the theme of your relationship? This report compares your temperaments and personalities, whether you are married or living together.
Compatibility Report
Reveal as much information about you and your partner intention of opening doors of understanding and awareness.
Love Cards Report