#Horoscope #Aries #Taurus #Gemini #Cancer #Leo #Virgo #Libra #Scorpio #Sagittarius #Capricorn #Aquarius #Pisces #Horoscope – overview of this week
The Center for the New Age is pleased to present
your Free Weekly Horoscope for September 9 – September 15, 2018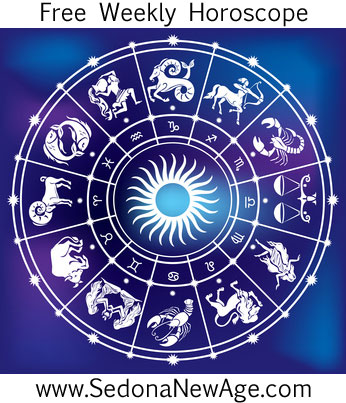 Receive our Free Weekly Horoscope in your Inbox
---
Aries Taurus Gemini Cancer Leo Virgo Libra Scorpio Sagittarius Capricorn Aquarius Pisces
September 9 the New Moon in Virgo is a splendid time to organize one's life in a new manner. New Moon in Virgo calls to our feelings a new form of skepticism, a new way of analyzing and to apply caution. New Virgo Moon prepares us for the changes occurring around us in the physical world.
Venus enters Scorpio (September 9 – October 31) bringing out deep and passionate levels of care and concern. Venus in Scorpio brings out a love for and attraction to the more passionate experiences of life: birth, sex, death and rebirth, and transformation. Magnetism runs strong and love affairs are often torrid and well hidden. Sometimes the dark side of our love and our hidden fears surface with regard to loved ones while Venus is in Scorpio, forcing us to come clear on what's haunting us and to take strong measures to ensure a functional harmony with those whom we love.
Mars enters Aquarius (September 11 – November 20) emphasizing activities concerning science, technology and computer data banks, as well as humanitarian endeavors. Watch out for the tendency of electrical equipment to overheat and fry during these months when Mars is in Aquarius.
Jupiter in Scorpio is sextile Pluto in Capricorn (September 12 – October 11). Jupiter affects our sense of prosperity, our aspirations and hope, and our expansion into new realms of fulfillment and discovery. Pluto affects world powers and the transformational processes of societies, cultures and generations. When Jupiter is in the sextile position to Pluto, it powerfully expedites our sense of advancement, giving us the opportunity to expand to great heights and address heavy issues with regard to power.
Venus in Scorpio is sextile Saturn in Capricorn (September 13 – September 20). Venus emphasizes the vibrations of love, magnetism, beauty and also sensuality. This aspect often provides an opportunity to attain desired objects. Saturn's influence emphasizes the awareness of time, limitations and restrictions. It also harnesses our dedication to responsibility and discipline. There is a passionate drive at this time to protect loved ones and limit their exposure to whatever creates the protective one's concern.
Mercury in Virgo opposite Neptune in Pisces (September 14 – September 20) brings out an acute awareness in discussions concerning disputes or challenges with regard to personal and religious beliefs. It also brings out strong discussions regarding spiritual matters, and there is often a push for a really good argument to ensue. It is wisest to be clear on one's own beliefs, and not to put oneself in a position of having to defend or expose those beliefs before a pack of merciless critics.
Aries Taurus Gemini Cancer Leo Virgo Libra Scorpio Sagittarius Capricorn Aquarius Pisces
For more information about your Horoscope and what the stars have in store for you, order one of our detailed
Astrology Reports!
Want to know the theme of your relationship? This report compares your temperaments and personalities, whether you are married or living together.
Compatibility Report
Reveal as much information about you and your partner intention of opening doors of understanding and awareness.
Love Cards Report
Free Weekly Horoscope for your Sign
Aries: The New Moon in your health and work zones makes this week the perfect time to embrace a new beginning in these areas. Sometimes the little changes make big differences, such as applying feng shui principles to your office or taking a daily walk. The keywords this week are "communication" and "organization," so it could be time to discuss how you can make improvements and then do whatever you can to make your life work more efficiently.
---
Discover a personal profile and 1-year forecast based on advanced calculations of your name and birth date.
Numerology Report
---
Taurus: The New Moon gives you permission (should you need it) to follow your passion and pursue things that give your life meaning. You may need to rattle a few cages to make the changes that will allow you greater authenticity or enjoyment, but you can do this in a way that benefits the people involved by explaining your motivations and listening carefully to their concerns. Ultimately, something needs to change, and you can best do this by following your impulses.
---
Need a guide for your growth and personal evolution based on astrological influences upon your personality?
New Age Natal Report
---
Gemini: The New Moon is the perfect time to leave the past behind and focus on your future. If something has been weighing on you, this is an appropriate moment to let it go. Sometimes all that's required is to decide to stop carrying around harmful beliefs, memories and so on. It can be helpful to clear clutter, as the old energies that accumulate around piles of neglected stuff can symbolically hold us back. Embrace the energies of this New Moon by creating fresh spaces in and around your home which will renew your inner spirit.
---
This interpretation of your birth chart is written in simple language could be beneficial in self undestanding.
Merlin Report
---
Cancer: The New Moon in your communication zone is perfect for generating a positive and optimistic attitude. With all the heavy weight planets in your opposite sign, life might have seemed like hard work over the past few months, and your optimism may have taken a battering. The good news is that Mars is done in Capricorn this week, which will remove a lot of intensity from your relationships and dealings with others. Furthermore, Venus moves into Scorpio and joins Jupiter in your house of fun, boding very well for a lighter, more enjoyable state of affairs. Use this New Moon to rev up your attitude, communicate a message, or become more conscious of what's going on within you. On the whole, your relationships with others – especially neighbors, relatives and business associates – will improve this week.
---
Indra reveals your life's contradictory urges & drives as well as your basic motivation, perceptions, inclinations and character.
Indra Report
---
Leo: As the emphasis on work and money continues, it may be timely to consider whether your work feels like play. If it doesn't, use the New Moon to invite new beginnings. Although it is questionable whether work can ever really seem as play, there is certainly a huge difference between doing something we don't much like because it pays the bills and following our passion. Confusion, disorientation or financial issues could indicate that you need to take a more soulful approach to life, particularly in the way you make money.
---
Want a detailed report for parents to help with the child's growth to strengthen the assets and avert possible problems that the child could face in their life?
Child Astrology Report
---
Virgo: If you welcome a new beginning, the New Moon in your sign is the perfect moment to begin again or to start something new. It all begins with a new approach, and it is likely that you will be imbued with greater confidence and a more positive, can-do frame of mind, both of which will do wonders for your ability to make progress in the world. So whatever you want to do, such as pursuing a personal change, a creative desire, an innovative idea, or a professional ambition, now is the time to make it happen.
---
Want a birthday to birthday practical guide to help you recognize opportunities and to learn from them.
Astrological Solar Return Report
---
Libra: The New Moon in your quiet, soulful zone brings you three potential gifts. The first is the gift of solitude. Not every Libra likes time alone; nonetheless, it is valuable in getting to know yourself better. It is also a tonic for the soul, as peace and quiet soothe Libra's delicate nervous system. The second gift of this New Moon will likely close the door on an old situation so that you can properly move on. You've probably had to deal with some heavy issues as Mars, Saturn and Pluto have likely created tension within your home and family so if you've felt stuck in the past or mired by domestic issues, this New Moon could cut you free. Finally, the New Moon brings the gift of intuition best summed up by Eileen Caddy: "Cease trying to work everything out with your minds. It will get you nowhere. Live by intuition and inspiration and let your whole life be a revelation."
---
Want to know the actual dates when the energies will influence your life in money, career, relationships, and communicaton?
Astro Forecast Report (3 months)
---
Scorpio: The New Moon falls in the most auspicious region of your chart: your future, hopes and dreams and friends and helpful people. This bodes well for new beginnings in these areas, such as meeting a new friend or acquaintance, joining a new group, or planting seeds for your future. Under this New Moon, it becomes obvious that no man is an island, and the more you focus on working as a team, being with your friends, or becoming part of a group or organization you believe in, the more you will feel a sense of belonging and connection to something bigger than yourself.
---
Want a one year forecast to understand the scope of influence for your personal Cards of Destiny?
Cards of Destiny Report
---
Sagittarius: If you welcome a new beginning in your career, want to head in a new direction, or feel the need to make progress with an ambition, the New Moon is your cue to embrace change or create a new beginning. This week is hugely favorable for changing your direction in life. If you can leave some aspect of the past behind, you're much more likely to be successful in your attempts to move forward.
---
Contemplating a move? This report tells how you will react to the energies of the specific locations for relationships, finances, and security.
Relocation Information Report
---
Capricorn: The New Moon along with Mercury in your adventurous zone nicely offsets the seriousness of the planets in your sign, and now you can take the positive side of having Saturn, Pluto and Mars in your sign – determination, power, and strength against adversity – and blend it with the expansive, optimistic New Moon. Now is the time to push out of your comfort zone and expand into new territory in your work, business, or personal life. There is great power and potential within you now; you just need to harness and channel it into whatever inspires you.
---
Discover your character traits, relationship and career potentials – based on Edgar Casey Readings.
Cayce Past Life Report
---
Aquarius: The key to successfully dealing with the New Moon in your transformation zone is to not resist whatever is happening. The more you surrender, the more likely you are to emerge from this week like the phoenix from the ashes. Change of some sort is imperative, and dropping your controls and allowing the changes to happen will be the best way forward. It may help to remind yourself that you can't control some things in life, and rather than reacting with anger or frustration, you can accept that there is a lesson that will make you a wiser, more rounded person if you choose to go with it.
---
Discover your past life connections that can carry over into your current life, accounting for interests, habits, even phobias.
Karmic Past Life Report
---
Pisces: A friend, an associate, a business or romantic partner, or even a stranger might test you under this week's New Moon, but that astrological alignment also brings the potential for new beginnings in your personal life. It may be time to let bygones be bygones or to move on from a draining situation. It is certainly a very good time to communicate and clear the air if need be, as telling someone how you feel is likely to be well received. By putting in the necessary effort and communicating in love and kindness, your relationships can become a source of support and happiness again.
---
Discover your soul's intention for this lifetime, the lessons to be learned, qualities to develop, problems to be resolved, services to be rendered.
Karmic Insight Report
---
For more information about your Horoscope and what the stars
have in store for you, order one of our detailed
Astrology Reports for Couples!
---
Want to know the theme of your relationship? This report compares your temperaments and personalities, whether you are married or living together.
Compatibility Report
Reveal as much information about you and your partner intention of opening doors of understanding and awareness.
Love Cards Report