#Horoscope #Aries #Taurus #Gemini #Cancer #Leo #Virgo #Libra #Scorpio #Sagittarius #Capricorn #Aquarius #Pisces #Horoscope – overview of this week
The Center for the New Age is pleased to present
your Free Weekly Horoscope for September 23 – September 29, 2018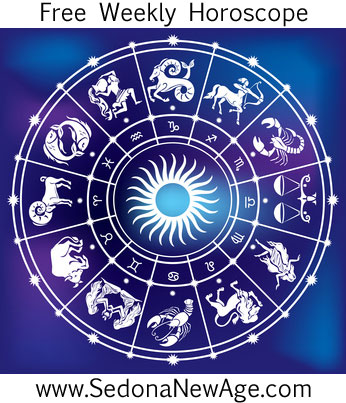 Receive our Free Weekly Horoscope in your Inbox
---
Aries Taurus Gemini Cancer Leo Virgo Libra Scorpio Sagittarius Capricorn Aquarius Pisces
Mercury in Libra square Saturn in Capricorn (September 23 – September 30) may be a difficult time to ask for favors, or to make requests of others in a way that they don't feel as if they're being used or taken advantage of. It may be a challenging time to communicate instructions or to inform someone of the need of something. Whatever the desired effect may be, it is wise to use caution when attempting communication during Mercury square Saturn.
Mercury in Libra trine Mars in Aquarius (September 24 – October 2) brings news and communications into a most favorable position when it comes to taking action. The trine aspect acts like a gift and this is a superb time to communicate and to take affirmative action when needed.
Full Moon in Aries is on September 25. This is a restless and impatient time for some people. In everyone is a warrior spirit allowing then to muster the confidence and fortitude needed to persevere through the endless tests of life, especially the challenging tests of self-hood. Strength and vitality are blessings that Aries Moon energy allows us to tap into and it assists us in handling the mounting tasks of the season. While the spirit of Aries Moon may seem relentless to some, the necessity to forge our will with precision and expertise brings a better sense of well-being. Taking action to complete personal goals is the most natural way to channel this hard driving energy of Aries Moon.
Aries Taurus Gemini Cancer Leo Virgo Libra Scorpio Sagittarius Capricorn Aquarius Pisces
For more information about your Horoscope and what the stars have in store for you, order one of our detailed
Astrology Reports!
Want to know the theme of your relationship? This report compares your temperaments and personalities, whether you are married or living together.
Compatibility Report
Reveal as much information about you and your partner intention of opening doors of understanding and awareness.
Love Cards Report
Free Weekly Horoscope for your Sign
Aries: What do you need to say to someone? It seems that by having the courage to clear the air, you could heal a wound. If you are hurting this week, don't try to cover it up with Aries bravado. Take a moment to share an important communication. Remember also that external pressures and responsibilities may be making life difficult at present, so be gentle and forgiving with yourself and others, and then move forward.
---
Discover a personal profile and 1-year forecast based on advanced calculations of your name and birth date.
Numerology Report
---
Taurus: The Full Moon spans your work and health zones on September 25 making this a good time to focus on practical issues and tackle what needs to be done. This is a good time to become better organized. If you can't find your car keys in the morning or if you forget where you're supposed to be or when someone's birthday is, this Full Moon will bring a greater sense of clarity and will inspire you to clear out unnecessary clutter or find ways to organize. Part of this sorting process may apply on an inner level. The outer world is a reflection of the inner, so it may be time to meditate, engage in some quiet time, or observe the themes and messages of your dreams. By taking note of what your soul is trying to tell you, you can apply the answers to your daily life, making your world and your health function much more effectively.
---
Need a guide for your growth and personal evolution based on astrological influences upon your personality?
New Age Natal Report
---
Gemini: When a shaman treats an ill person, the shaman will usually ask the patient when he or she stopped singing. Shamans understand that when we are in our natural joyful state, we sing or dance or express ourselves in some other happy way. While this week certainly welcomes you to lighter times as the Sun and Mercury dance into your house of fun, it also invites you to tap into your joy and use creative ways to express yourself. Whether you sing along to some songs on the radio, dance with your kids, or write in a journal, you are ideally placed to unblock stuck energies through fun, creative activities and by remembering the importance of play.
---
This interpretation of your birth chart is written in simple language could be beneficial in self undestanding.
Merlin Report
---
Cancer: The Full Moon on September 25 is likely to highlight your home and career. There could be a positive development here, particularly in your role in the outside world, but that may not come without a challenge or two. Saturn is throwing a monkey wrench in the works, so be prepared for a hurdle and don't give up when you reach it. To get what you want, you may first have to heal a wound or express how you feel. If someone else appears to be blocking you, know that it is a test and that by persevering, you will overcome this week's adversities and may even find yourself in a minor celebratory mood.
---
Indra reveals your life's contradictory urges & drives as well as your basic motivation, perceptions, inclinations and character.
Indra Report
---
Leo: This week's Full Moon on September 25 is an adventurous one for you, and it should feel as though your world is expanding. However, there likely will be a problem connected to your work, health or day-to-day life. Things that need to be done may make life seem as if it's intent on spoiling your fun, but if you tackle whatever is most pressing and clear as much as you can, you should still be able to discover new landscapes by going on a journey or trying something different. Ultimately, this Full Moon asks you to do what you need to do to help your life work more efficiently and then expand your sense of what is possible so that you can enlarge your world. Finding the midpoint between realism and optimism is the purpose of this Full Moon. Do what is possible, but don't take on more than you can handle.
---
Want a detailed report for parents to help with the child's growth to strengthen the assets and avert possible problems that the child could face in their life?
Child Astrology Report
---
Virgo: This week's Full Moon spans the financial areas of your chart, and although Saturn isn't making things easy, Mercury's presence is still strong so you have the upper hand, particularly when it comes to negotiating and having things go your way. You may need to make a sacrifice in exchange for what you want, so be prepared to relinquish that which you no longer need. Being willing to move on and allow change to happen will put you in the best position.
---
Want a birthday to birthday practical guide to help you recognize opportunities and to learn from them.
Astrological Solar Return Report
---
Libra: Things continue to improve as the Sun arrives in your sign on September 23 alongside Mercury, bolstering your confidence and energy levels and giving you an even greater dose of charm and persuasion than normal. This is an opportune time to negotiate for what you want, make purchases, obtain bargains (especially if you are prepared to haggle in a nice way), and communicate effectively with others. In fact, you're more able now to listen really well and speak from your heart, which could allow your relationships (particularly any that have been a bit strained) to be re-energized. Be mindful of issues with home and family members and use those empathic, rational communication skills to repair bridges and soothe wounds. The abundant vibe continues, so do not work too hard. It's better to embrace relaxation and pleasure because when we feel good about ourselves, we attract more of the same.
---
Want to know the actual dates when the energies will influence your life in money, career, relationships, and communicaton?
Astro Forecast Report (3 months)
---
Scorpio: This week's Full Moon falls in your sphere of work and everyday life, so there will likely be activity in this domain. Something work related could come to fruition, or a confusing situation could resolve. Now the path ahead is clearer, but you may need to take time to contemplate your next move. The Sun's move into your zone of rest and repose suggests that you might benefit from some quiet time, a slower pace of life, and activities that nourish mind, body and spirit. This is particularly relevant if you feel under par, as it may be that the Moon will highlight where you need to take greater care of your physical well-being. With Venus and Jupiter in your sign, you will receive protection and good fortune, so don't forget to count your blessings. Sometimes we need a reminder of the good things we have.
---
Want a one year forecast to understand the scope of influence for your personal Cards of Destiny?
Cards of Destiny Report
---
Sagittarius: This week's Full Moon should bring a welcome respite from the work and responsibility of previous weeks, offering the chance to kick back and enjoy yourself. Now you can focus on fun, enjoyment and social affairs, but you may need to watch the pennies. Try not to let a lack of resources stop you from doing what you would really enjoy, and use your resourcefulness and positive attitude to find a happy solution, one that allows you to do what you want without breaking the bank. Whether that means having faith that the money you need will appear, or living within your budget, will depend on what you want to do and the state of your bank balance.
---
Contemplating a move? This report tells how you will react to the energies of the specific locations for relationships, finances, and security.
Relocation Information Report
---
Capricorn: This week's Full Moon illuminates the domestic and career areas of your chart, making this the week for something in these areas to resolve or come to fruition. You may also need to find balance between work and home, and the Full Moon provides a way forward. Of the two, your career is likely to see the greater progress, especially if you start implementing those bright ideas you've been receiving. This could mean having a conversation with a boss or other authority figure, or it might mean brainstorming to find the solution to a problem. Meanwhile, your home or your inner self could feel more sensitive, especially around September 25. This would be a good time to solve a problem, soothe a wound or let go of baggage that is weighing you down. "Onward and upward" is the motto of this Full Moon.
---
Discover your character traits, relationship and career potentials – based on Edgar Casey Readings.
Cayce Past Life Report
---
Aquarius: Mars is back in your sign but without all the problems of the past few months. Now Mars is unfettered and forward moving, making it much easier for you to make progress. Other planets are also shifting in your favor, which is likely to result in a new lease on life. If the past few months have been heavy, this is when things begin to change for the better. The current planetary alignments bring you optimistic and positive thinking, an adventurous spirit, and a willingness to push out of your comfort zone and break old, familiar patterns, making this the perfect time to try something new and take a much more experimental approach to life. After all, if you don't try, you'll never know what might have been.
---
Discover your past life connections that can carry over into your current life, accounting for interests, habits, even phobias.
Karmic Past Life Report
---
Pisces: The emphasis shifts to money and intimacy, which may mean you need to open up and share yourself in a deep way. Sharing a secret, a fear, your vulnerability or your cash could prove to be a good move, as it is likely to foster closeness. In your financial situation, there is a need for transparency and communication, as there could be an issue that needs resolving. You are in a good position to negotiate, but be conscious of the possibility that any money issues or developments this week could be linked to an unconscious motivation or a wound you've carried for some time. Healing that wound is the best way forward if you want your finances to be on a more solid footing.
---
Discover your soul's intention for this lifetime, the lessons to be learned, qualities to develop, problems to be resolved, services to be rendered.
Karmic Insight Report
---
For more information about your Horoscope and what the stars
have in store for you, order one of our detailed
Astrology Reports for Couples!
---
Want to know the theme of your relationship? This report compares your temperaments and personalities, whether you are married or living together.
Compatibility Report
Reveal as much information about you and your partner intention of opening doors of understanding and awareness.
Love Cards Report