#Horoscope #Aries #Taurus #Gemini #Cancer #Leo #Virgo #Libra #Scorpio #Sagittarius #Capricorn #Aquarius #Pisces #Horoscope – overview of this week
The Center for the New Age is pleased to present
your Free Weekly Horoscope for September 30 – October 6, 2018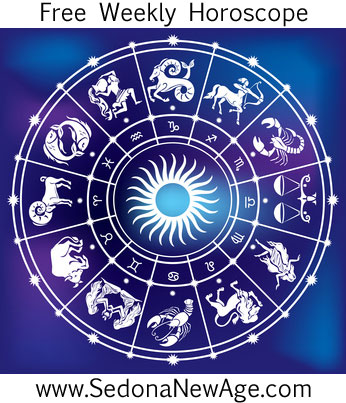 Receive our Free Weekly Horoscope in your Inbox
---
Aries Taurus Gemini Cancer Leo Virgo Libra Scorpio Sagittarius Capricorn Aquarius Pisces
Last Quarter Moon in Cancer occurs on October 2. The emotional concerns surfacing at this time require that extra bit of nurturing and understanding. Feelings must surface at times during the morning and as the Moon enters Leo, bold self-expression and alertness entice our moods to be playful and friendly.
Mercury in Libra square Pluto in Capricorn (October 3 – October 6) instigates a difficult time to deal with burdensome issues and discuss them in a manner that relieves tension. This may be an especially difficult time to discuss matters involving permanent change.
Aries Taurus Gemini Cancer Leo Virgo Libra Scorpio Sagittarius Capricorn Aquarius Pisces
For more information about your Horoscope and what the stars have in store for you, order one of our detailed
Astrology Reports!
Want to know the theme of your relationship? This report compares your temperaments and personalities, whether you are married or living together.
Compatibility Report
Reveal as much information about you and your partner intention of opening doors of understanding and awareness.
Love Cards Report
Free Weekly Horoscope for your Sign
Aries: When we make others feel better about themselves, everyone wins. Shamanic wisdom states that when we criticize others, our bodies don't know the difference, since at some level we are all one, and our bodies tense up. If this is perpetuated, it leads to a lack of well-being. This is why criticism is so destructive and praise is so health giving. If you can remember to praise others during your interactions, you won't just be making them feel better. You'll be doing yourself a favor as well.
---
Discover a personal profile and 1-year forecast based on advanced calculations of your name and birth date.
Numerology Report
---
Taurus: Venus retrograding through your relationship zone strongly suggests that you need to give some time and attention to your relationships. Much joy and happiness can be found in them, so perhaps all that's needed is to focus on giving and sharing. If there is conflict (and there might be with Venus squaring up to Mars), it probably won't last long because you'll be more than willing to accommodate the other person's wishes. In fact, Venus and Jupiter in your partnership zone are doing much to ensure that this area of your life runs smoothly but the more love, affection, kindness and generosity you can show to someone who needs it, the better the situation will be. Even if your attention is fixed on work and your daily responsibilities, remembering the importance of your personal relationships will help to ensure a healthy balance.
---
Need a guide for your growth and personal evolution based on astrological influences upon your personality?
New Age Natal Report
---
Gemini: Do you have time to enjoy yourself, to do things that you want to do and to express yourself? The Sun's journey through your zone of fun and recreation puts the emphasis firmly on following your heart and spending time doing more of whatever gives you joy. This doesn't mean discarding all your responsibilities or breaking free from your restrictions. It means you should make time to do whatever replenishes your spirit, whether it's a creative hobby or some other form of recreation. A parched spirit leads to a parched mind and body so if you've been feeling a bit flat, then take that as your cue to have a bit more fun.
---
This interpretation of your birth chart is written in simple language could be beneficial in self undestanding.
Merlin Report
---
Cancer: Deep down, we all know how important home is: it's our safe haven where we restore ourselves and nourish our loved ones. Home is our foundation and when we get it right, the rest of life is easier to manage. As the Sun and Mercury journey through your domestic sphere, the time is ripe for making positive changes to your domestic situation – from family dynamics to your home, so "keep house" as best you can, and while you may not have any enemies to confound, you will surely delight your friends and loved ones.
---
Indra reveals your life's contradictory urges & drives as well as your basic motivation, perceptions, inclinations and character.
Indra Report
---
Leo: Communication is the name of the game this week, and you're in a favorable position to say whatever needs to be said. This could range from an important conversation to putting pen to paper; whatever the case, now is the time to get your message across to others. This is also likely to be a very busy time with plenty of comings and goings and interactions with others, most of which should be enjoyable and interesting. There are few impediments to your success this week, with the possible exception of Mars in your relationship zone. This could raise the temperature somewhat, which is all the more reason to get your message across and to communicate with an assertive but loving heart.
---
Want a detailed report for parents to help with the child's growth to strengthen the assets and avert possible problems that the child could face in their life?
Child Astrology Report
---
Virgo: With the Sun and Mercury in your money zone, you are now is a prime position to negotiate for a better situation. While this is likely to involve negotiating with another person, it won't hurt to do a little negotiating with yourself too, especially if you need to believe in yourself a bit more or if you have been settling for less than you deserve. Become clear about what you feel you're worth and then ask for it. The results might be pleasantly surprising.
---
Want a birthday to birthday practical guide to help you recognize opportunities and to learn from them.
Astrological Solar Return Report
---
Libra: What's important to you? What really matters above all else? Often life has a habit of taking us down the wrong path, and we wake up one day posing the question: "How did I end up here?" If you feel as if you have made a wrong turn somewhere along the way, this is your opportunity to head back on the right path. That could range from a change of job to remembering to enjoy the simple pleasures of life. By ascertaining what matters most to you, you can start to make some changes that will lead to a happier state of affairs.
---
Want to know the actual dates when the energies will influence your life in money, career, relationships, and communicaton?
Astro Forecast Report (3 months)
---
Scorpio: To have two beneficial planets, Venus and Jupiter, in your sign is a good omen; it suggests a level of protection and good fortune. This is a time when you shouldn't have to try too hard, and you will find that life will flow if you just get out of its way and allow it to happen. Trying to control things now is counterproductive, whereas trusting your intuition and observing the signs from the universe are powerful ways to move in sync with a higher guiding power. When we are relaxed and trusting, life becomes an effortless state of flow and synchronicity. If anything feels like a struggle, it is probably a sign that you're trying too hard.
---
Want a one year forecast to understand the scope of influence for your personal Cards of Destiny?
Cards of Destiny Report
---
Sagittarius: If you have a wish in mind, you have the power to make it come true, but you may have to work for it. You probably won't need to work very hard, however. There is an effortlessness about life at the moment, or at least there will be if you step into a synchronous kind of flow and do not try to struggle of force things. Your greatest asset at present is your wisdom and intuition that – if listened to – will guide you seemingly effortlessly to wherever and whatever is best for you. This works as much for the small choices as for the big stuff, like making your dreams come true, so remember that the less you try, the easier things will be.
---
Contemplating a move? This report tells how you will react to the energies of the specific locations for relationships, finances, and security.
Relocation Information Report
---
Capricorn: Your work and social life get gold stars this week, making this an ideal time to progress in your professional life and enjoy good times with friends and associates. In fact, your social situation is so glowing that it would be silly not to make the most of it. You could greatly benefit from getting out and about and interacting with people. Opportunities are likely to come through friends, groups and acquaintances, and success and achievement are likely to come more easily than normal. This is also the time to negotiate for what you want or to pitch your ideas and to communicate with those in power and authority. If you want to move onward and upward, now is the time!
---
Discover your character traits, relationship and career potentials – based on Edgar Casey Readings.
Cayce Past Life Report
---
Aquarius: An adventurous spirit is the key to your success this week, so whether you need to think more optimistically about a situation or to be more courageous and daring, the way forward is to push out of your comfort zone. Some of us can become so stuck in our ways that we read the same newspaper, eat the same food, or listen to the same kind of music, rejecting anything outside our normal methods of operation. This can result in stagnancy, so if any area of your life (from your work to your health and your relationships) feels that it could use a boost, then start by changing the small things. You might find that sampling something new leads you to feel more energized, optimistic and able to believe that something you desire might just be possible.
---
Discover your past life connections that can carry over into your current life, accounting for interests, habits, even phobias.
Karmic Past Life Report
---
Pisces: We all need to shed our skins from time to time; otherwise, we become bound by our old stuff. Sometimes it can be cathartic to have a physical detox, and allow the body to get rid of all its toxins. Other times, we can benefit by having an emotional release as we purge toxic emotions. Sometimes it's more relevant to change our way of being. We can also invite transformational energies into our lives by clearing our homes of clutter or getting rid of something that has been causing us problems. Sometimes it's more appropriate to rework a situation or a possession. You might decide to engage in a little bit of space clearing, give some aspect of your life a facelift, or purge yourself of old energies. Whatever you choose, this is a good week to focus on regenerating some aspect of yourself or your life.
---
Discover your soul's intention for this lifetime, the lessons to be learned, qualities to develop, problems to be resolved, services to be rendered.
Karmic Insight Report
---
For more information about your Horoscope and what the stars
have in store for you, order one of our detailed
Astrology Reports for Couples!
---
Want to know the theme of your relationship? This report compares your temperaments and personalities, whether you are married or living together.
Compatibility Report
Reveal as much information about you and your partner intention of opening doors of understanding and awareness.
Love Cards Report