#Horoscope #Aries #Taurus #Gemini #Cancer #Leo #Virgo #Libra #Scorpio #Sagittarius #Capricorn #Aquarius #Pisces #Horoscope – overview of this week
The Center for the New Age is pleased to present
your Free Weekly Horoscope for October 21 – October 27, 2018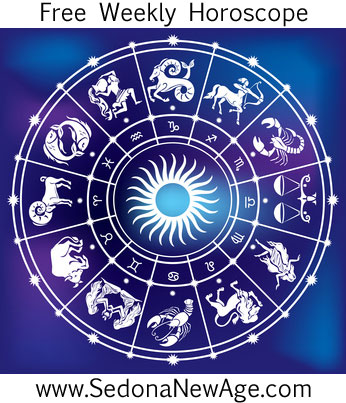 Receive our Free Weekly Horoscope in your Inbox
---
Aries Taurus Gemini Cancer Leo Virgo Libra Scorpio Sagittarius Capricorn Aquarius Pisces
Full Moon in Taurus on October 24 invites us to celebrate beauty and the perfection of the valuable elements of the earth, and brings us an appreciation for the beauty in nature. This Full Moon reminds us to take the time to enjoy and create beauty around us, and indulge ourselves a little in some luxurious pleasures or leisure time.
Mercury in Scorpio is sextile Pluto in Capricorn (October 22 – October 26). Communications and discussions are enhanced, with an opportunity to make a breakthrough in negotiations with a strong power. Mass media may well be entranced by a notable event or by news concerning world superpowers during this aspect.
Venus in Scorpio is sextile Saturn in Capricorn (October 24 – October 31). Venus emphasizes the vibrations of love, magnetism, beauty and also sensuality. This aspect often provides an opportunity to attain desired objects. Saturn's influence emphasizes the awareness of time, limitations and restrictions. It also harnesses our dedication to responsibility and discipline. There is a passionate drive at this time to protect loved ones and limit their exposure to whatever creates the protective one's concern. The sextile aspect allows for greater opportunity to stand on guard favorably and be protective in a way that will be easily understood.
Aries Taurus Gemini Cancer Leo Virgo Libra Scorpio Sagittarius Capricorn Aquarius Pisces
For more information about your Horoscope and what the stars have in store for you, order one of our detailed
Astrology Reports!
Want to know the theme of your relationship? This report compares your temperaments and personalities, whether you are married or living together.
Compatibility Report
Reveal as much information about you and your partner intention of opening doors of understanding and awareness.
Love Cards Report
Free Weekly Horoscope for your Sign
Aries: "Wealth consists not in having great possessions, but in having few wants." The Full Moon on October 24 illuminates your financial situation, and the key to success in this area is to break your pattern. If you've developed a lot of attachments, perhaps by needing a certain level of income or the "best" possessions, then this Full Moon challenges you to be happy with less. If your financial pattern is laissez faire, then the answer might be to become more proactive and responsible.
---
Discover a personal profile and 1-year forecast based on advanced calculations of your name and birth date.
Numerology Report
---
Taurus: The Full Moon in your sign on October 24 translates as unexpected developments. These developments could be large or small and are likely to involve your personal life, making your relationships and your desires the key areas to work with this week. One thing is for sure: you can't stay in your comfort zone (if you still have one), and the more you can break out of your patterns and routines, the better. Of course, as a Taurus, you need some stability; too much change and uncertainty is not healthy for you. Try to keep the main structures of your life intact, and use these as an anchor.
---
Need a guide for your growth and personal evolution based on astrological influences upon your personality?
New Age Natal Report
---
Gemini: Beware of over-the-top reactions this week, especially around the Full Moon on October 24 when it might be difficult to keep a lid on things. We're all good at pretending things aren't a problem, usually because there's some kind of payoff. But this is one time when the reward doesn't seem worth it. You might be overreacting and if you can get your concerns across without histrionics, a delicate situation can be salvaged and then improved.
---
This interpretation of your birth chart is written in simple language could be beneficial in self undestanding.
Merlin Report
---
Cancer: The Full Moon on October 24 continues the theme of change and breaking free from the past, but this should feel fairly effortless and possibly even fun. As the planets align in your zone of enjoyment, the trick now is to follow the path of joy. This might require a little bit of rebellious independence on your part, but the rewards will be worth it. When you're happier, everyone around you is happier, so think about what you need for your happiness, and then follow that path, knowing that everything else will fall into place once you make your decision.
---
Indra reveals your life's contradictory urges & drives as well as your basic motivation, perceptions, inclinations and character.
Indra Report
---
Leo: Prepare for change in your professional life or your life path as a Full Moon on October 24 brings a little upheaval to proceedings. Whatever is happening in the outside world is likely to have an effect on your domestic situation, yet strangely, it looks as though all is going to turn out rather well. Whether you experience a change in direction or a shift in your career, it could have a positive impact on your home life and certainly on your inner well-being.
---
Want a detailed report for parents to help with the child's growth to strengthen the assets and avert possible problems that the child could face in their life?
Child Astrology Report
---
Virgo: An adventurous approach to life will serve you well under the Full Moon on October 24, so be willing to break out of your comfort zone. Entertain new ideas, visit new places, or try something new. This adventurous experimental approach is likely to have a positive effect on you as your world opens up and you begin to see new possibilities. The only danger is that you could become too optimistic and over confident, which could lead you to take on more than you can handle or to not see something as it really is.
---
Want a birthday to birthday practical guide to help you recognize opportunities and to learn from them.
Astrological Solar Return Report
---
Libra: There is a strong financial theme running through this week, especially around the Full Moon on October 24 to 25 when six planets will occupy your money zone. Now is the time to get things sorted, allow your growing confidence to boost your resources, and make changes where necessary. It is important that you don't try to keep things as they are, because taking a chance or doing things differently will be rewarded. Part of the challenge may be to let go of a particular attachment, and gratitude could be the magical key that invites greater levels of abundance to your door.
---
Want to know the actual dates when the energies will influence your life in money, career, relationships, and communicaton?
Astro Forecast Report (3 months)
---
Scorpio: Relationships and the balance of power become key themes as the Full Moon on October 24 illuminates your personal life. You are well armed with a bevy of benevolent planets in your sign so it should not be difficult to win people over or be forgiving and tolerant in light of unpredictable behavior from others. Expect a change of some sort – from a clearing of the air and a sense of things improving to a feeling of excitement or uncertainty. It's all for the good as Venus and the Sun align in your sign, strongly suggesting that good things are on their way.
---
Want a one year forecast to understand the scope of influence for your personal Cards of Destiny?
Cards of Destiny Report
---
Sagittarius: The Full Moon on October 24 could bring a disruptive influence to your day-to-day life. From domestic mishaps to hiccups at work, this is the week to expect the unexpected. The best use of this Full Moon is to change your routine, particularly if things have become a little monotonous. You might discover new inspiration with your work, or this could be the week to take up a new diet or exercise regimen. In general, the more you're willing to be unorthodox and make changes to your routines, the more interesting and refreshing life will become.
---
Contemplating a move? This report tells how you will react to the energies of the specific locations for relationships, finances, and security.
Relocation Information Report
---
Capricorn: The Full Moon on October 24 builds on the carefree spirit of last week and encourages you to run counter to whatever might be oppressing you. Do your own thing, or enjoy being a little bit different or a tad rebellious. Daring to be different – especially with creative projects or self expression – will work well this week. With a strong social theme, this could be a good time to throw a party, host a get together, take an art class or pursue another creative activity, or attend a fun function. This could be a really colorful and interesting week if you're prepared to break out of your rut.
---
Discover your character traits, relationship and career potentials – based on Edgar Casey Readings.
Cayce Past Life Report
---
Aquarius: Last week we talked about the need to do things differently and this week, under a Full Moon, this becomes even more appropriate. Don't expect life at home to run smoothly, but you can expect things to be interesting. The more open to change you are, the more refreshing you are likely to find this week's events. Therefore, if you can break one or two of your routines of if you can take an experimental approach to domestic matters, from DIY to feng shui, you could receive certain rewards in exchange this week.
---
Discover your past life connections that can carry over into your current life, accounting for interests, habits, even phobias.
Karmic Past Life Report
---
Pisces: This could be a wonderful week, rich with adventure, optimism, confidence and big ideas. Your only danger is that you could get carried away with an inspiration, and forget to stay grounded. Mostly, you will benefit from being open to experimental ideas and beliefs and trying out new places and situations. If you receive an opportunity to do something a little different, take it because it will probably do you a world of good.
---
Discover your soul's intention for this lifetime, the lessons to be learned, qualities to develop, problems to be resolved, services to be rendered.
Karmic Insight Report
---
For more information about your Horoscope and what the stars
have in store for you, order one of our detailed
Astrology Reports for Couples!
---
Want to know the theme of your relationship? This report compares your temperaments and personalities, whether you are married or living together.
Compatibility Report
Reveal as much information about you and your partner intention of opening doors of understanding and awareness.
Love Cards Report