#Horoscope #Aries #Taurus #Gemini #Cancer #Leo #Virgo #Libra #Scorpio #Sagittarius #Capricorn #Aquarius #Pisces #Horoscope – overview of this week
The Center for the New Age is pleased to present
your Free Weekly Horoscope for November 18 – November 24, 2018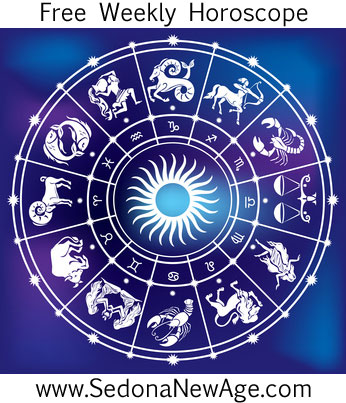 Receive our Free Weekly Horoscope in your Inbox
---
Aries Taurus Gemini Cancer Leo Virgo Libra Scorpio Sagittarius Capricorn Aquarius Pisces
Mercury is still in Sagittarius but is now moving in a retrograde position until December 6. During a retrograde period it is not a good idea to push forward any practical venture. It is better to prepare for it rather than doing it and to move ahead later with the direct phase of Mercury.
Mars in Pisces is square Jupiter in Sagittarius (November 19 – November 29). When Mars squares Jupiter, various activities are met with the obstacles of economic oppression and shortfall. This is a very difficult time to excel in business endeavors, especially in actively trading markets. This aspect warns us that there will be trouble when approaching the job market aggressively. Trying to make progress using a headstrong attitude and unwarranted self-confidence might impede progress. This aspect brings no-nonsense demands or increases in our workload.
Mars enters Pisces (November 20 – January 21, 2019). Wherever there is force, vitality, energy or action there is Mars' influence. The nature of Pisces is fluid, passive and dreamy and this is the spiritual realm of the constellations. Mars in Pisces opens the gates of active visions and dreams. Intuitive strength is realized. This is a time to activate our creative senses and to work out hot feelings such as anger in an artful and healthy manner. Mars is also the famed god of war, reminding us to be especially cautious given the fact that hatred, violence, aggression and strife are often touching on the pulse of our belief structures (Pisces).
Full Moon in Gemini on November 23 emphasizes conversations, talks, sales, discussions, secretarial chores and writing. This is a time of built-up emotional energy, usually brought on by mental stress, while there is a strong need to converse and be heard. The full lunar expression of Gemini is accentuating the reflective awareness that all of us have our own unique ways of seeing things.
Aries Taurus Gemini Cancer Leo Virgo Libra Scorpio Sagittarius Capricorn Aquarius Pisces
For more information about your Horoscope and what the stars have in store for you, order one of our detailed
Astrology Reports!
Want to know the theme of your relationship? This report compares your temperaments and personalities, whether you are married or living together.
Compatibility Report
Reveal as much information about you and your partner intention of opening doors of understanding and awareness.
Love Cards Report
Free Weekly Horoscope for your Sign
Aries: Jupiter's move into Sagittarius is very favorable for you now. It can be summarized as a broadening of your horizons. This could involve more adventures, or it could involve contact with foreign people. If you're academically inclined, the themes of learning, teaching, education and publishing will be auspicious. Whatever the case, there is going to be a sense of expansion and possibility. However, you might just need to be patient before all this really gets going because Mercury turning retrograde in the same region (Sagittarius) suggests that there are some loose ends to tie up before you can take flight. By ensuring that your plans are watertight and by seeking whatever guidance you need, you will protect yourself against mishaps with whatever you're trying to achieve.
---
Discover a personal profile and 1-year forecast based on advanced calculations of your name and birth date.
Numerology Report
---
Taurus: Complications might emerge this week with contracts, legal terminology, financial dealings or small print, and you need to be very cautious when signing anything that you're not sure about. Jupiter is on hand to lend you protection, so it's unlikely that anything will go very wrong, but it could benefit you in the long run to give plenty of time and thought to issues you're normally tempted to skim over. There is a mysterious and potentially rich element to this Mercury retrograde transit, though, making this a rewarding time to seek guidance from an astrologer.
---
Need a guide for your growth and personal evolution based on astrological influences upon your personality?
New Age Natal Report
---
Gemini: Mercury turning retrograde in your partnership zone will likely see you spending much time contemplating your relationships, and now is the time to mend broken bridges, clear the air, and generally rework any relationship that has been floundering through lack of attention. This is an ideal time to spend some quality time with your partner or to engage in couple's counseling. However, simply taking the time to listen to your partner could well do the trick, especially if you do so with an open, loving heart. Resolving problems with others is the purpose of this Mercury retrograde transit, and much healing can take place now if you're willing to put in the effort.
---
This interpretation of your birth chart is written in simple language could be beneficial in self undestanding.
Merlin Report
---
Cancer: As Mercury turns retrograde, a work or health issue is likely to need your attention. Now is the time to get your health checked, attend to any niggling issues, or consider how your diet, lifestyle, or your mental state is influencing your well-being. Take the time to resolve matters you've been putting off, such as getting a dental checkup or signing up for an exercise class. The key to your success right now in your health, work or daily life is to be organized and keep on top of things. When we prioritize the things that make our lives run smoothly – sweeping the floor, keeping the car well maintained, or keeping up with our accounts, then we're less likely to run into problems down the line.
---
Indra reveals your life's contradictory urges & drives as well as your basic motivation, perceptions, inclinations and character.
Indra Report
---
Leo: With Mercury retrograde in your zone of fun and pleasure, it is a stark reminder to you of the importance of fun. It's easy to forget about that in today's high-pressured world, and many of the creative or physical outlets (whether artistic hobbies or sports) have become tainted by the need to achieve, win, or succeed. Attaining our personal best sometimes ruins our enjoyment of whatever we're doing so try to remove the competitive element from whatever you're doing, and do it simply for the love of doing it. You will be happier and you might also boost your immune system in the process.
---
Want a detailed report for parents to help with the child's growth to strengthen the assets and avert possible problems that the child could face in their life?
Child Astrology Report
---
Virgo: With Mercury retrograde in your domestic region, the spotlight is on your inner world. From your home and your family to your baggage from childhood, this is an area in which you can make much progress if you're prepared to turn your attention to whatever domestic or psychological matters rise. This is a great time to feng shui your home and clear out clutter so that fresh energies can uplift your space. It's also a good time to attend to those jobs around the home that have needed doing for some time. When you get your house in order, it will be easier to make headway in other areas of your life. If you're aware of the need to resolve the past so that you can move on, Mercury's retrograde journey will help you to unravel the deeper issues and reassemble yourself in a much healthier way. Whichever way it manifests, this is about healing the past, improving your home life and possibly beginning a new chapter of your life.
---
Want a birthday to birthday practical guide to help you recognize opportunities and to learn from them.
Astrological Solar Return Report
---
Libra: Sometimes you have to go backward before you can go forward, and this could be one of those weeks. If you find that your car, computer, or phone is acting up or that something seems to be slowing you down or blocking your progress, there might be a good reason for that, especially if you're trying to run before you can walk. Slow down. Perhaps take time to meditate, contemplate or write in your journal. Make time for a "mental defrag" to sort things out. Much like a computer that's running slow, you might need to eliminate the junk and reorder your world so that you can function more efficiently.
---
Want to know the actual dates when the energies will influence your life in money, career, relationships, and communicaton?
Astro Forecast Report (3 months)
---
Scorpio: Jupiter's purpose is to grow whichever area of life he happens to be visiting. Mercury retrograde's purpose, however, is quite different, requesting a cautious and reflective approach. With both these planets currently in your money zone, this is an area of life that is bound to be ripe for change and development. The good news is that you won't have to try too hard to create the growth you need; you simply need to refrain from running before you can walk. Sort out pressing matters, tie up loose ends, and review whatever needs repaired. Then you will begin to see progress.
---
Want a one year forecast to understand the scope of influence for your personal Cards of Destiny?
Cards of Destiny Report
---
Sagittarius: With Mercury retrograde in your sign alongside Jupiter, it could feel as though you have a voice in one ear urging you on and a voice in the other ear whispering caution. This might feel like an odd week. Part of you will want to embrace life, but the universe might have other ideas. You might notice that certain things in your life are working very well while others are problematic. Your best bet is to turn your attention to whatever needs sorting, as everything else will take care of itself. Ultimately, Mercury retrograde asks you to take inventory and make changes where necessary, from your appearance to resolving matters that have been holding you back.
---
Contemplating a move? This report tells how you will react to the energies of the specific locations for relationships, finances, and security.
Relocation Information Report
---
Capricorn: With Mercury retrograde in the spiritual area of your chart, your attention is drawn inward. While you might have many obligations to fulfill in the outside world, life will flow much easier if you allow time for quiet contemplation and solitude. This is a great time to draw on wisdom from your dreams or from your spiritual connections you believe in – God, angels or your guides. Messages from the invisible realm will be much stronger now. Your intuition will also be strong since you will be plugged into the source, and marvelous synchronicities will abound when you can go with the flow so the message for this week is very clear: Ask and you shall receive.
---
Discover your character traits, relationship and career potentials – based on Edgar Casey Readings.
Cayce Past Life Report
---
Aquarius: With Mercury retrograde in your social zone, it might be time to examine a particular friendship or your role in a group or organization. Perhaps you need to have a conversation to mend a situation, or maybe you feel the urge to catch up with friends you've not seen in a while. Mercury's backward motion also indicates a time when you'll be contemplating your role within society. Jupiter is on hand to ensure that you make the right choices based on what feels right and meaningful for you. If a group or a friendship no longer feels meaningful, then it might be time for a change.
---
Discover your past life connections that can carry over into your current life, accounting for interests, habits, even phobias.
Karmic Past Life Report
---
Pisces: Mercury retrograde at the top of your chart encourages you to ask questions about your direction in life and your career. Are you making the right choices for where you want to go? Do you need to review something or reconsider a decision? Jupiter is on hand to make sure that you select the more meaningful path or Jupiter could be what's provoking the questions in the first place. Mars moving into your sign will also add greater confidence and motivation, along with a refusal to endure unsatisfactory conditions. If you aren't fully satisfied with your career or your life in general, the days ahead could prove pivotal in enabling you to determine exactly what needs to happen to allow you to flourish.
---
Discover your soul's intention for this lifetime, the lessons to be learned, qualities to develop, problems to be resolved, services to be rendered.
Karmic Insight Report
---
For more information about your Horoscope and what the stars
have in store for you, order one of our detailed
Astrology Reports for Couples!
---
Want to know the theme of your relationship? This report compares your temperaments and personalities, whether you are married or living together.
Compatibility Report
Reveal as much information about you and your partner intention of opening doors of understanding and awareness.
Love Cards Report