#Horoscope #Aries #Taurus #Gemini #Cancer #Leo #Virgo #Libra #Scorpio #Sagittarius #Capricorn #Aquarius #Pisces #Horoscope – overview of this week
The Center for the New Age is pleased to present
your Free Weekly Horoscope for November 25 – December 1, 2018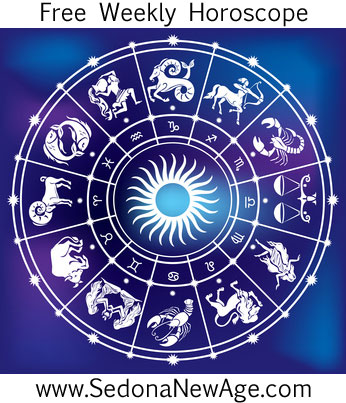 Receive our Free Weekly Horoscope in your Inbox
---
Aries Taurus Gemini Cancer Leo Virgo Libra Scorpio Sagittarius Capricorn Aquarius Pisces
Mercury in Sagittarius square Mars in Pisces (November 26 –December 12) may project unintended words that could be exchanged without thinking leaving an indelible trace. Aggressive opinions might create major dissentions. It's a good time to stay away from others, especially potentially violent people, and to be careful while driving.
Mars in Pisces is sextile Saturn in Capricorn (November 27 – December 6). During this aspect, actions create opportunities, provided there is an application of discipline and timing. Movement and the application of energy (Mars), plus responsibility and awareness of limitation (Saturn) allow the timely qualities of completion and new beginnings to occur. Mars sextile Saturn may be a good time to start a new enterprise, and is an especially opportunistic time to practice control or discipline.
Mercury and Jupiter are conjunct in Sagittarius (November 27 – December 5) creating expansive talk which spreads quickly with news about the economic state of matters. Thoughts and information regarding some form of visionary breakthrough highlight this aspect. On more mundane levels, this is a prosperous aspect for communicating the need for a job or financial loan.
Last Quarter Moon in Virgo on November 30 calls for the release of emotional currents which are often caused by our doubts. This release or expression can sometimes come in disruptive ways. Virgo Moon affects the general course of moods with the need to create protective defenses, often causing skeptical, analytical or even cynical interactions with others. This is a time to be aware; what one is protecting may quite possibly be an ill of some kind that may actually need to be banished and released.
Mercury enters Scorpio (December 1 – December 12) and during the next eleven days, we are inquisitive. We seek deep answers to profound questions. We are drawn to the metaphysical, fascinated by secrets and possibly interested in investigating the mysteries of life after death. Because superficial conversations are not interesting to us, solitude could feel more attractive. Our abilities to concentrate and examine situations and people are particularly enhanced.
Venus enters Scorpio (December 1 – January 7, 2019). During the next month, our emotions run deep. We seek loyalty, trustworthiness, and integrity in our relationships. Our feelings are very black and white and we tend to avoid luke-warm or wishy-washy people. We need to experience and express passion. Tempers flare quickly and direct words are spoken without much thought, creating irreparable separations. Potentially aggressive people or situations should be avoided, as they could easily escalate into violence.
Aries Taurus Gemini Cancer Leo Virgo Libra Scorpio Sagittarius Capricorn Aquarius Pisces
For more information about your Horoscope and what the stars have in store for you, order one of our detailed
Astrology Reports!
Want to know the theme of your relationship? This report compares your temperaments and personalities, whether you are married or living together.
Compatibility Report
Reveal as much information about you and your partner intention of opening doors of understanding and awareness.
Love Cards Report
Free Weekly Horoscope for your Sign
Aries: This is likely to be a busy week, but with Mercury retrograde and your ruler Mars involved in a feisty T-square, it is unlikely to be smooth sailing. You might find that your plans don't go quite the way you wanted and that something occurs to sabotage your efforts, so this probably isn't the best week for traveling: even just getting from point A to point B could be fraught with difficulties, especially under the Last Quarter Moon. You could be quick to overreact or overextend yourself, so think carefully before you agree to anything you might regret later. The best use of the energies this week is to undertake a spiritual journey or to spend time pondering the meaning of life. If you have a big idea, this is a great time to give it more thought and to start making plans.
---
Discover a personal profile and 1-year forecast based on advanced calculations of your name and birth date.
Numerology Report
---
Taurus: You can expect to receive clarity on previously confusing matters. Things will certainly come to a head this week, but you must be careful not to over identify with material matters or take things too personally if you feel that your values are under attack. If you really value something, whether it's an object or a concept, it shouldn't really matter what anyone else thinks. Stick to your principles, and don't fixate on the small stuff. Your goal now should be to think on a bigger scale.
---
Need a guide for your growth and personal evolution based on astrological influences upon your personality?
New Age Natal Report
---
Gemini: This could be a crucial week for you: expect the spotlight to be on you, and you can capitalize on this by promoting yourself and letting yourself shine. It's also a good time to take stock of where you are to see whether you need to make any changes to your trajectory. Getting the balance right in relationships and your career could prove tricky, and you might feel as though you're being spread too thin. Conflict could emanate from authority figures and work related issues, but at least everything will be out in the open. This will give you the chance to clear the air and resolve matters.
---
This interpretation of your birth chart is written in simple language could be beneficial in self undestanding.
Merlin Report
---
Cancer: No matter what is going on in your life right now, the answers lie within you, and they should be easy to access when you trust what you feel. There is a big emphasis on your daily affairs, from work to responsibilities and all the other things you need to do but feel you don't have enough time for. When you slow down and turn within, you will manage to have all the time you need. Take care of your health this week by not rushing, stressing or trying to do too much; otherwise, you could have a mini burnout. Don't let unrealistic expectations or pie-in-the-sky ideas put undue pressure on you, either. Sometimes it is good to live within limits and this is one of those times.
---
Indra reveals your life's contradictory urges & drives as well as your basic motivation, perceptions, inclinations and character.
Indra Report
---
Leo: Leos have a reputation for being drama queens; even the quiet ones can kick up a fuss when they feel they're being overlooked or not granted the respect they deserve, and this Last Quarter Moon is likely to trigger your dramatic tendencies. If you find yourself becoming overly emotional or taking on more than you can deal with, this might be a sign that some need within you isn't being met. It might be that something you're not happy about suddenly bursts forth with all the fury of an un-caged tiger so this week will likely be intense, but there is also a lot of potential for fun and enjoyment. Be mindful of whatever is boiling up inside and find a healthy way to express it.
---
Want a detailed report for parents to help with the child's growth to strengthen the assets and avert possible problems that the child could face in their life?
Child Astrology Report
---
Virgo: It seems something is holding you back or weighing you down. There might also be a certain amount of conflict that needs to be dealt with. Despite all this difficulty, there is a bright light at the base of your world bursting forth to illuminate your path. Perhaps you just need to make the decision to let go of whatever isn't serving you. So often we're hindered by things from the past, but we can choose to not let them dominate us. It seems you have an important choice to make this week. Aim for follow the path of joy.
---
Want a birthday to birthday practical guide to help you recognize opportunities and to learn from them.
Astrological Solar Return Report
---
Libra: Life is likely to be busy this week and it could also be frustrating as presently there is a push-pull influence from the planets. This will mirror a situation within you that you want to get going but can't. Perhaps you have a big idea, a plan, or a vision born in your imagination that wants to fly, but something keeps stifling your progress. Frustration might not begin to cover it, but there is always a reason for these interruptions. The key to your success is to slow down and remember to breathe. There are great possibilities open to you now, and no one will be able to inhibit your optimism and confidence, but something needs your attention before you can move on. Take care of your health, don't overdo things, and try to find the balance between flying high and attending to the details of life.
---
Want to know the actual dates when the energies will influence your life in money, career, relationships, and communicaton?
Astro Forecast Report (3 months)
---
Scorpio: If you have to make a decision that involves money, trust your intuition. By following your instincts, you could make a very wise move, but pay attention to the small print to ensure no mistakes are made down the line. However, we have to remember that Mercury retrograde in your finance zone isn't the best time for signing contracts or making big financial deals and decisions. This is why you must listen to your gut but not be carried away by emotions, needs or desires. It's a tough balancing act to try to walk the line between expansion and playing it safe, but all Scorpios are blessed with a powerful sixth sense, and this is what you must rely on this week to make the right choice.
---
Want a one year forecast to understand the scope of influence for your personal Cards of Destiny?
Cards of Destiny Report
---
Sagittarius: The antidote to any conflicts or disagreements you encounter this week is to be true to yourself, but empathize with others' views and opinions. This is your time which means that you shouldn't let others knock you off course if you're sure the course is right. Home and family dynamics could be troublesome, but at least the Last Quarter Moon will bring things out into the open. You should find that it all blows over fairly quickly. There's always something to learn from these occasions though, so take the lesson and apply it where it feels appropriate. Then move on; you've bigger fish to fry!
---
Contemplating a move? This report tells how you will react to the energies of the specific locations for relationships, finances, and security.
Relocation Information Report
---
Capricorn: The soulful vibe continues with Jupiter and Mercury in your zone of soul and spirit, making this the perfect week to go on a retreat. Not everyone can take off to some wonderful secluded place, but you may get the opportunity to draw the curtains, run a hot bath, light some candles and incense, and forget about the world outside. This time spent alone will be very therapeutic for you now, as it seems your soul has an important message that it wishes to impress on you, and the best way to receive that message is to become still and quiet. If you are concerned about your health and well-being, it might be because the balance between your inner and outer life needs to be corrected. Watch out for anger, as this could be the cause of upsets in your daily life and physical health. Remember that a peaceful mind equals a peaceful body.
---
Discover your character traits, relationship and career potentials – based on Edgar Casey Readings.
Cayce Past Life Report
---
Aquarius: Your social life looks very rich right now, and the potential for an enjoyable week is high. The danger is that you could either overspend in your pursuit of fun and enjoyment or allow the desire to have more of something (whether that's money or approval) get in the way of innocent pleasures or creative activities. This week may not feel particularly settled, but it will work in your favor if you decide to seek out unusual entertainment or recreation. The more you can break free from your everyday habits and routines in search of something offbeat and exciting, the more you will find this week to be a source of inspiration.
---
Discover your past life connections that can carry over into your current life, accounting for interests, habits, even phobias.
Karmic Past Life Report
---
Pisces: On one hand, it's great having Mars in your sign because it's rather like having a warrior by your side or even like a rocket on your back to propel you toward situations you wouldn't normally have the energy for. On the other hand, the god of war can increase the tempo to such a degree that we forget to be patient, compassionate and tolerant. If you experience conflict this week, there' a good chance it's emanating from your frustrations. Getting clear about these frustrations is the key to unlocking the problem to help you move forward; that is what this time is all about. Push on, by all means, but don't forget to remember and consider the needs of those around you.
---
Discover your soul's intention for this lifetime, the lessons to be learned, qualities to develop, problems to be resolved, services to be rendered.
Karmic Insight Report
---
For more information about your Horoscope and what the stars
have in store for you, order one of our detailed
Astrology Reports for Couples!
---
Want to know the theme of your relationship? This report compares your temperaments and personalities, whether you are married or living together.
Compatibility Report
Reveal as much information about you and your partner intention of opening doors of understanding and awareness.
Love Cards Report