#Horoscope #Aries #Taurus #Gemini #Cancer #Leo #Virgo #Libra #Scorpio #Sagittarius #Capricorn #Aquarius #Pisces #Horoscope – overview of this week
The Center for the New Age is pleased to present
your Free Weekly Horoscope for December 9 – December 15, 2018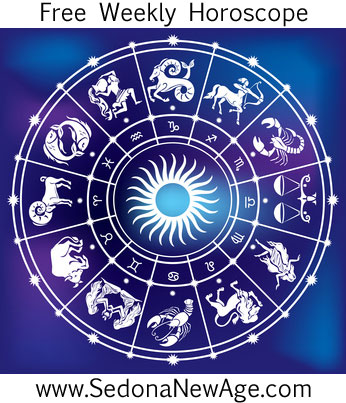 Receive our Free Weekly Horoscope in your Inbox
---
Aries Taurus Gemini Cancer Leo Virgo Libra Scorpio Sagittarius Capricorn Aquarius Pisces
Mercury enters Sagittarius (December 12 – January 5, 2019). News always comes across with a more philosophical tone when Mercury is in this sign. People are most curious in their communicative efforts to ascertain what is happening in the world. Mercury in Sagittarius is a good time to share visions with others.
First Quarter Moon in Pisces on December 15 provides a drifting, spacey, dreamy sort of consciousness that leads to strong psychic awareness. Unhappy people may turn to intoxicants to escape their troubles. Passive, cheerful and kind sentiments will be greatly appreciated. Deep meditation and spiritual practices will empower the imagination at this time.
Aries Taurus Gemini Cancer Leo Virgo Libra Scorpio Sagittarius Capricorn Aquarius Pisces
For more information about your Horoscope and what the stars have in store for you, order one of our detailed
Astrology Reports!
Want to know the theme of your relationship? This report compares your temperaments and personalities, whether you are married or living together.
Compatibility Report
Reveal as much information about you and your partner intention of opening doors of understanding and awareness.
Love Cards Report
Free Weekly Horoscope for your Sign
Aries: It's time for action, but a vastly different kind. All the C words – communications, connections abroad, contacts, computer technology – come together to form a single unit – creativity – and that too, is truly with a capital C. All the media, all forms of self-expression, all the creative arts – you can choose your own special forte and perform brilliantly and effectively. If you have good ideas, it is a positive time to attract outside investors. This is a good period to make money for others and with other people's money. This week is a good time to borrow or repay debt – according to your need. Good tax planning will pay off now too.
---
Discover a personal profile and 1-year forecast based on advanced calculations of your name and birth date.
Numerology Report
---
Taurus: On the 13th, Mercury moves into your 8th house again. This is good for tax and estate planning (for those of you of appropriate age), for paying down or making debt (according to your need) and for focusing on the financial well-being of others. It is good for attracting outside money to your projects in the form of either investors or credit. You will need to work as a team both at work and within the family, presenting a solid front to the world. A sense of discipline and decorum will be necessary when handling colleagues and family this week.
---
Need a guide for your growth and personal evolution based on astrological influences upon your personality?
New Age Natal Report
---
Gemini: The First Quarter Moon in Pisces introduces a tremendously busy phase for you. You'll be active in your every possible way – work, socializing, family affairs and functions, even some secret negotiations and or politics, if you are inclined that way. In fact, you'll have to make a conscious effort to relax and rest or there could be a total burnout. Financial jugglery or at least rethinking of it will also be part of this activity, as you think of new ways to add to your income, balance the budget and save for the future.
---
This interpretation of your birth chart is written in simple language could be beneficial in self undestanding.
Merlin Report
---
Cancer: As Mercury enters Sagittarius, there is a shift in energies this week and with it comes a change in your well-being. What changes could you make to live a more creative life? If you r existence could use more color, then this is the time to make it happen. This could range from taking up a creative hobby to pruning the heavy stuff from your life, which might include any relationship that weighs you down. This week you will not seek to exhibit or show off your personal values, idealism, even convictions. All this is bound to reflect on both your professional life and your personal relationships. Perhaps you are afraid it will all get dissipated or frittered away or perhaps it is too intensely personal to be displayed. However, you will be concerned about how others do see you; about the image you project and you will probably realize in hindsight that this is the key to your well-being.
---
Indra reveals your life's contradictory urges & drives as well as your basic motivation, perceptions, inclinations and character.
Indra Report
---
Leo: You are likely to be feeling extra generous and also creative this week which means that you could gain much enjoyment from festive crafts and time spent with children. Creative projects should be a source of pleasure too, as your creative muse is more likely to show up now. On the 13th Mercury will move into your 5th house and we have a repeat of last month, only better. Last month Mercury was retrograde. Now he is direct. This aspect shows, like last month, happy money – money that is earned in happy ways and that is spent on joyful things. You will be involved with plenty of activity, in terms of raising finances, loans, funds, deals to be negotiated and perhaps a shift or office move. Don't harbor wrong emotions; be a stickler for your rights, your freedom, your leisure if you feel they are threatened.
---
Want a detailed report for parents to help with the child's growth to strengthen the assets and avert possible problems that the child could face in their life?
Child Astrology Report
---
Virgo: This is a time for psychological breakthroughs. The psyche is very active these days and closer to you. Memories that arise might seem random to the conscious mind, but they are giving deep messages about your present condition. Observe these memories. Write them down. Look at them from your present perspective. Many of them will lose their hold on you as you see them for what they are. When you reinterpret past events – put them in proper perspective – you change the past (in a manner of speaking). Whatever happened, happened, but you see it in a different light. This is great therapy. You'll hold out the olive branch to your enemies, get in touch with long-lost relatives, long-forgotten friends and visit childhood haunts in a trip down memory lane.
---
Want a birthday to birthday practical guide to help you recognize opportunities and to learn from them.
Astrological Solar Return Report
---
Libra: Communication is exceptionally favorable now (teaching, speaking, writing and connecting with others) so concentrate on these areas. This charge of energy gives you the vigor and "go" to spectacularly achieve the most wonderful of results. The results will really be spectacular, but in a more personal way. By spectacular, think about the literal meaning – worth watching! However, your work, health or matters in your day-to-day life could clash with your enthusiasm. You could burn yourself out, which could result in a temporary loss of positivity. Try to pace yourself if you feel inclined to overextend yourself or are unrealistic in what you can accomplish.
---
Want to know the actual dates when the energies will influence your life in money, career, relationships, and communicaton?
Astro Forecast Report (3 months)
---
Scorpio: You're still very much in a yearly financial peak. You're a big spender and perhaps an impulsive spender these days, but you don't seem to mind. Earnings come easily and are spent easily. This week you'll have to deal with money matters at all levels, from the nitty-gritty of domestic expenses and funds to the higher, esoteric realm of finance/capital for projects, larger issues, profits, stocks and shares. Hard work, commensurate rewards will sum it up – financially and otherwise. "Otherwise" will include a rise in status that is on the burner right now. However, the situation has to be studied carefully and approached with a healthy amount of caution because your good professional reputation is important in your finances and in your future.
---
Want a one year forecast to understand the scope of influence for your personal Cards of Destiny?
Cards of Destiny Report
---
Sagittarius: Your birth month is proving truly hectic and that's wonderful. There are a lot of behind the scene activities and perhaps even a secret love affair; most certainly romance, secretive, hush-hush deals, and also much partying and socializing. Your love life started to improve last week and it gets really good from the 13th onwards as Mercury moves into your 1st house referred to as the ascendant: the self, demeanor and vitality. It shows someone who is having love on his or her own terms. The spouse, partner or current love (and others in general) are eager to please. Singles need not do much to attract love. It will find you. Just go about your daily business. Since Mercury is also your career planet, his move into your 1st house brings happy career opportunities. People see you as successful and this is how you feel right now.
---
Contemplating a move? This report tells how you will react to the energies of the specific locations for relationships, finances, and security.
Relocation Information Report
---
Capricorn: Your inner psyche, your intellect, avenues to peace of mind, are very important to you right now. You may undertake higher education and study, research, even travel to broaden the vistas of the mind. Good interaction with friends, the supportive and caring attitude of your mate/spouse and love will give you much pleasure and comfort. You yourself will be more caring, more sympathetic, warmer, and that makes for solace and joy for yourself as well as others. It also impacts on your health. This is a good period to delve deeper into the spiritual dimensions of health. More attention should be given to the colon, bladder and sexual organs. Safe sex and sexual moderation are important too.
---
Discover your character traits, relationship and career potentials – based on Edgar Casey Readings.
Cayce Past Life Report
---
Aquarius: Your 11th house of friends is very strong this week so you are in your natural milieu. Your online activity seems to increase and social media activity as well. It is not so much about romance, but more about friendship and group activities. Last month you were attracted to power and position. Now you want friendship in a lover – a relationship of peers. Often with the love planet (Venus) in the 11th house, someone who has always been "just a friend" now becomes more than that. Sometimes, romantic encounters are engineered by friends or through social media. This is not a position of marriage or commitment. It is more like "friendship with benefits" as the saying goes.
---
Discover your past life connections that can carry over into your current life, accounting for interests, habits, even phobias.
Karmic Past Life Report
---
Pisces: Mercury enters your 10th house of career this week and stays there for the rest of the month. You're very much in a yearly career peak and for some of you this will be a lifetime career peak. You're very much a day person now so focus on your career and outer goals. Home and family issues can take a back seat for a while. Mars in your sign is not only good for prosperity but gives courage, energy and a 'can do' spirit. You are getting things done in a hurry. The only problem with this is that one can push the body further than it was designed to handle and burn-out is a potential danger. Mercury at the top of your horoscope tends to bring success to one's social life and all indications are that this is high on your agenda.
---
Discover your soul's intention for this lifetime, the lessons to be learned, qualities to develop, problems to be resolved, services to be rendered.
Karmic Insight Report
---
For more information about your Horoscope and what the stars
have in store for you, order one of our detailed
Astrology Reports for Couples!
---
Want to know the theme of your relationship? This report compares your temperaments and personalities, whether you are married or living together.
Compatibility Report
Reveal as much information about you and your partner intention of opening doors of understanding and awareness.
Love Cards Report