#Horoscope #Aries #Taurus #Gemini #Cancer #Leo #Virgo #Libra #Scorpio #Sagittarius #Capricorn #Aquarius #Pisces #Horoscope – overview of this week
The Center for the New Age is pleased to present
your Free Weekly Horoscope for December 23 – December 29, 2018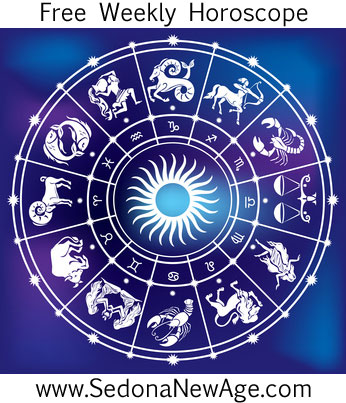 Receive our Free Weekly Horoscope in your Inbox
---
Aries Taurus Gemini Cancer Leo Virgo Libra Scorpio Sagittarius Capricorn Aquarius Pisces
Mercury in Sagittarius square Neptune in Pisces (December 24 – January 6, 2019) brings about difficulty with communications concerning the challenges and obstacles of the spirit world and human spirituality.
While Mercury is squaring to Neptune, our minds are a lot more challenged regarding issues of divine experience, and relaying all this information may seem all the more difficult with this aspect. Anticipate religion related arguments and disputes, and resistance to spiritual teachings.
Venus in Scorpio sextile Pluto in Capricorn (December 28 – January 3, 2019) points to the opportunity to grow and transform with love related struggles. This is best done with kind gestures of love. For some this may mean having an opportunity to seize power for the love of power. For others it may represent a favorable encounter with those in more powerful positions in life. Let love be your greatest weapon. Its value is priceless. Set your price high, and don't sell yourself short.
Last Quarter Moon in Libra on December 29 reminds us of the need to continue working on the imbalances in our relationships. This is the time to let emotional pressure be released and to handle matters with friends and loved ones carefully and congenially. The Last Quarter Moon aspect confirms the need to make amends with others and unite peacefully.
Aries Taurus Gemini Cancer Leo Virgo Libra Scorpio Sagittarius Capricorn Aquarius Pisces
For more information about your Horoscope and what the stars have in store for you, order one of our detailed
Astrology Reports!
Want to know the theme of your relationship? This report compares your temperaments and personalities, whether you are married or living together.
Compatibility Report
Reveal as much information about you and your partner intention of opening doors of understanding and awareness.
Love Cards Report
Free Weekly Horoscope for your Sign
Aries: Jupiter will be encouraging you to fly higher than ever before, so whether you feel like making this Christmas different or whether you have a plan that is further reaching, it is important that you act on it. The year 2018 is drawing to a close and new trends for 2019 will be ushered in. This is a time when you realize that though heaven always exceeds a man's grasp, the joy of reaching for the stars is not possible without hard, even unremitting, work and toil. The rewards are bound to be there so don't let hidden fears and doubts sour your enthusiasm and be alert for self-defeating tendencies.
---
Discover a personal profile and 1-year forecast based on advanced calculations of your name and birth date.
Numerology Report
---
Taurus: Although Christmas is traditionally a busy time that barely grants us a moment to think, if you pause for a moment, you will become aware that something quite wonderful is happening. Something seems to be changing in you. Whatever name you choose – healing, regeneration, mystical awakening, or some sort of enlightenment – it should feel like the dawning of an inner strength. You're on a total high, not induced by drugs or strong spirits, but your own confidence and sense of self-worth. This attitude will be coupled with a willingness not only to learn, but to work hard, to strive, to struggle.
---
Need a guide for your growth and personal evolution based on astrological influences upon your personality?
New Age Natal Report
---
Gemini: Christmas is all about warmth and connections with other people. The holiday season tends to be a more social period in the world, but for you, Gemini, it is more so than usual – more so than past holiday seasons. This Christmas you will seem to have it all. Whether or not you do is another matter, but you certainly have what you need in place for a happy and heart-warming festive period. To make the most of this, you could invite people over or partake in as many social events as you can mange without overextending your energy.
---
This interpretation of your birth chart is written in simple language could be beneficial in self undestanding.
Merlin Report
---
Cancer: Your challenge this week is to balance optimism with realism so that you can bring your dreams and inspirations into everyday reality. Perhaps you should start small, and then watch the changes grow. You will seek to address disputes, contentions regarding family/joint property; perhaps there could be family funds or even a divorce to be negotiated. What you realize now is that is where you're needed the most. In spite of this, you are not willing to compromise one iota with your career or professional goals and demands.
---
Indra reveals your life's contradictory urges & drives as well as your basic motivation, perceptions, inclinations and character.
Indra Report
---
Leo: Lucky you! Jupiter – the planet of abundance and good fortune – arrives in your house of fun and enjoyment to ensure that Christmas is a fun-packed, jovial, heart-centered affair. When people wish you a Merry Christmas, you are likely to take it literally, as you are able to conjure the true spirit of the holiday. This is a time for brilliance, scintillating social interaction, sparkling at parties and/or on the cocktail circuit. Imagination, inventiveness, entertainment are all at white heat enhancing some marvelous creativity. This enhances your approach even to the most humdrum activities from cookery to games, to love-making, to sports, to amusements.
---
Want a detailed report for parents to help with the child's growth to strengthen the assets and avert possible problems that the child could face in their life?
Child Astrology Report
---
Virgo: What better place to be this Christmas than nestled in front of a cozy fire enjoying the festive cheer. It goes deeper than this, though, because home is a symbol of your inner life; you have every reason to feel optimistic because the foundation of your life is now in place, or beginning to be. This will enable you to go out into the world with greater confidence. It is, however, a time to steer clear of involvement in money matters with friends, associates or colleagues. All in all, you will be more friendly and more magnanimous, but be careful to not be more extravagant as well.
---
Want a birthday to birthday practical guide to help you recognize opportunities and to learn from them.
Astrological Solar Return Report
---
Libra: With the Last Quarter Moon in your sign, money, money and more money will be your focus – rentals, taxes, investments, trade and commerce, capital formation. These will all be favored – also publicity and communications – both the spoken and the written word, ads and campaigns, friends and acquaintances, some romantic interludes and on top of it all, some gains in terms of pleasure. It seems that the universe has singled you out for the golden goose, so whether you're looking for an increase in your income or a more joyful way of earning your living, money is one area that will take care of itself. You're in a lucky streak, and opportunities to manifest more of what you want are plentiful.
---
Want to know the actual dates when the energies will influence your life in money, career, relationships, and communicaton?
Astro Forecast Report (3 months)
---
Scorpio: Despite the fact that this is Christmas week, a time of joy and pleasure, finances will be at the forefront, as there may be some rather drastic changes in your financial profile. You may find these a trifle unsettling with your love of stability, but looking at the long-term benefits will not be too difficult. By the end of the week, philosophical issues will gain in importance and slow the need to resolve a very personal issue like a wedding/engagement. This will be a time to invest wisely which will lead to an increase in income, but not making a quick buck.
---
Want a one year forecast to understand the scope of influence for your personal Cards of Destiny?
Cards of Destiny Report
---
Sagittarius: Associations formed this week will be long-term ones. You will also learn to reconcile what your vocation is with your true nature. You will work out personal issues revolving around your career, identity and home. And it is at home that your heart is this Christmas. Your identification with both house and home will be very close, also with your parents and ancestors, going back to your roots in a fine show of genuine bonding.
---
Contemplating a move? This report tells how you will react to the energies of the specific locations for relationships, finances, and security.
Relocation Information Report
---
Capricorn: Perhaps with all the challenges you've experienced in the past year, you'd quite happily settle for a quiet, uneventful Christmas, which is right on track for what you can expect. Jupiter's arrival in your zone of soul and spirit suggests that you will benefit more from a behind-the-scenes approach than a full-on rugby tackle attitude. Your spirit might be tired from the endurance tests you have experienced and would benefit from rest, contemplation and softness. This isn't to say that you need to bow out of all the festivities; on the contrary, there is much to enjoy if you're prepared to just do it more soulfully. Having a few friends round for a warm cup of tea and treats with good humored conversation might work better for you than hitting the town and partying until dawn.
---
Discover your character traits, relationship and career potentials – based on Edgar Casey Readings.
Cayce Past Life Report
---
Aquarius: Limits are important and it is your challenge this week to identify what those limits are and how to set them. The social theme continues but you might crave a deeper, more meaningful connection with people. This desire could extend to wanting to make a difference in either your community or the world at large. You will be formulating – and discussing – ideas as to how you can be the change you wish to see in the world. You will find that everything is on your side to help you create a more meaningful life – not just for yourself but others too. What a gift to celebrate at Christmas!
---
Discover your past life connections that can carry over into your current life, accounting for interests, habits, even phobias.
Karmic Past Life Report
---
Pisces: With Jupiter in the success and achievement area of your chart, this is the time to focus on where you are going in life. Are you truly fulfilling your purpose? Is a change in direction calling you? Is there an ambition you would love to fulfill? The trick is to begin to let the past go so that a new avenue can open up. Indeed, it could already be opening up. In that case, all you need to do is step toward it with confidence. The confidence bit is important because there may be times when you feel a bit unsure of your direction and whether what you're doing is right. Press on through the holiday season, however, keeping your bigger vision in mind, and all the wobbles will soon disappear.
---
Discover your soul's intention for this lifetime, the lessons to be learned, qualities to develop, problems to be resolved, services to be rendered.
Karmic Insight Report
---
For more information about your Horoscope and what the stars
have in store for you, order one of our detailed
Astrology Reports for Couples!
---
Want to know the theme of your relationship? This report compares your temperaments and personalities, whether you are married or living together.
Compatibility Report
Reveal as much information about you and your partner intention of opening doors of understanding and awareness.
Love Cards Report