#Horoscope #Aries #Taurus #Gemini #Cancer #Leo #Virgo #Libra #Scorpio #Sagittarius #Capricorn #Aquarius #Pisces #Horoscope – overview of this week
The Center for the New Age is pleased to present
your Free Weekly Horoscope for January 6 – 12, 2019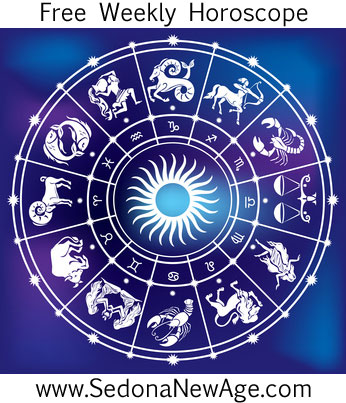 Receive our Free Weekly Horoscope in your Inbox
---
Aries Taurus Gemini Cancer Leo Virgo Libra Scorpio Sagittarius Capricorn Aquarius Pisces
Venus enters Sagittarius (January 7 – February 3) bringing forth an outgoing spirit of camaraderie among people in general and the effort to take affections beyond the usual bound is viably present.
Mercury in Capricorn square Mars in Aries (January 8 – January 14) is a good time to be especially careful to watch what you say, preferably thinking before you speak as words can be easily taken the wrong way. This aspect stimulates arguments and mental blocks concerning the actions of others. Mercury square Mars makes it difficult for some to justify their actions or explain why they take a certain stand in life. Refrain from making risky comments, and be careful not to misinterpret information as being hostile or personal. It is not a good time to lose one's temper.
Aries Taurus Gemini Cancer Leo Virgo Libra Scorpio Sagittarius Capricorn Aquarius Pisces
For more information about your Horoscope and what the stars have in store for you, order one of our detailed
Astrology Reports!
Want to know the theme of your relationship? This report compares your temperaments and personalities, whether you are married or living together.
Compatibility Report
Reveal as much information about you and your partner intention of opening doors of understanding and awareness.
Love Cards Report
Free Weekly Horoscope for your Sign
Aries: Although this isn't the easiest time in your life, you can be very successful now, whether you change the course of your life to follow a long-held dream or focus to achieve a particular goal or ambition. Maybe you will take on more responsibility in the world and achieve more recognition. People will certainly be noticing you now, so make sure it's for the right reasons.
---
Discover a personal profile and 1-year forecast based on advanced calculations of your name and birth date.
Numerology Report
---
Taurus: The White Queen in Alice in Wonderland made it a daily ritual to believe in six impossible things before breakfast, and with a cluster of planets resident in your beliefs zone, you should aim to do the same. How would your life change if you entertained notions and possibilities that previously seemed too far-fetched? What if you believed in your ability to do certain things, to fulfill a dream, for example? How would your life change if you believed that the universe was a benevolent force designed to help and support you?
---
Need a guide for your growth and personal evolution based on astrological influences upon your personality?
New Age Natal Report
---
Gemini: How comfortable are you with baring your soul – sharing your deepest secrets with another or admitting your darkest fears? How comfortable are you with the darker side of life, the unpleasant emotions such as jealousy, grief, rage and deep desire? Whatever is going on with you at present may be a bit of a mystery – to you as well as others – but it most certainly has a purpose. You are being invited to get in touch with your deeper aspects to stop denying them.
---
This interpretation of your birth chart is written in simple language could be beneficial in self undestanding.
Merlin Report
---
Cancer: Personal matters continue to be the major theme; however, with Mars and the Moon at the top of your chart, your direction in life or your vocation is also calling for your attention. This could be a very important time in your life for changes, shifts or decisions. Communication is going to be the key factor as far as your relationships are concerned, so be prepared to talk and clear the air.
---
Indra reveals your life's contradictory urges & drives as well as your basic motivation, perceptions, inclinations and character.
Indra Report
---
Leo: A trip or move you have been considering is put aside right now as you spend a considerable degree of introspection on subjects that are more genuine. The opportunity to transform or change your life becomes more possible this week, and your themes are efficiency and organization. Perhaps for your life to work better, you could be more organized or effective, cutting out the superfluous and prioritizing the more important matters.
---
Want a detailed report for parents to help with the child's growth to strengthen the assets and avert possible problems that the child could face in their life?
Child Astrology Report
---
Virgo: "Follow your heart and intuition. They somehow already know what you truly want to become. Everything else is secondary." Steve Jobs said it all, so here's the big question to consider this week: What is your heart urging you to do? Try not to let a sense of inadequacy drive you; instead, focus on what you love and follow that. Express yourself, march to your own drumbeat and follow the path to happiness.
---
Want a birthday to birthday practical guide to help you recognize opportunities and to learn from them.
Astrological Solar Return Report
---
Libra: Your health needs some attention this week so make sure, as always, to get enough rest – always the most important thing. At least 60 percent of the planets are in stressful alignment with you, so if possible, spend more time at a health spa or schedule more massages or health treatments. Changes and developments in your home life are likely to be significant and long lasting. It's a perfect time to feng shui your abode, move house, make changes, welcome a new addition, or say farewell to someone. Whatever is going on, try not to force things or resist what is happening. Just go with the flow.
---
Want to know the actual dates when the energies will influence your life in money, career, relationships, and communicaton?
Astro Forecast Report (3 months)
---
Scorpio: The year has begun reflecting a period of personal independence, but it will not last long so if there are changes to be made, make them right now. Make it your intention to work with what you have, since most of our suffering stems from life not measuring up to what we think it should be. Switch your attention from what's wrong to what's right or to that which has potential, such as greater abundance, prosperity and an opportunity to make living in a more meaningful way.
---
Want a one year forecast to understand the scope of influence for your personal Cards of Destiny?
Cards of Destiny Report
---
Sagittarius: Jupiter in your sign signals a new chapter in your life. Here is your opportunity for a more significant and adventurous life and a happier state of affairs. You just need to sort out the material side of life. Changes are imminent and it's probably going to be a case of "out with the old and in with the new," but make sure any decisions or choices you make this week are aligned with your higher values. Jupiter's presence says that you must live a life that feels meaningful. To do that, you may have to make a financial or material sacrifice. Can you sacrifice a want in favor of a meaningful need??? It's up to you!
---
Contemplating a move? This report tells how you will react to the energies of the specific locations for relationships, finances, and security.
Relocation Information Report
---
Capricorn: The planetary power is mostly in the Eastern sector of your chart. Thus, you are in a period of maximum personal independence. It is time to focus on your interests and personal happiness. This is not selfish or evil. It's just the cycle you're in. Basically, this is a happy and prosperous period. And to keep it this way, a relaxed, stress-free schedule is mandated. Spend some quiet time at home. Things that can be rescheduled should be rescheduled. You have to redefine yourself for yourself or others will do it for you and it won't be so pleasant. In the coming months you will adopt a new image that reflects your internal redefinition.
---
Discover your character traits, relationship and career potentials – based on Edgar Casey Readings.
Cayce Past Life Report
---
Aquarius: The Eastern sector of your chart is unusually strong this week – probably stronger than it will ever be this year. All the planets are in the East, the sector of self so you are in a period of maximum personal independence. Self-esteem and self-confidence are strong. You are therefore expected to create your own happiness and to make the changes that need to be made in your life. Just be mindful of succumbing to fear and anxiety. Instead, focus on your friends and the future. This is where your key to happiness and well-being lies.
---
Discover your past life connections that can carry over into your current life, accounting for interests, habits, even phobias.
Karmic Past Life Report
---
Pisces: This week you may need to let changes happen in your social life, including friends, groups and organizations. If a responsibility or commitment feels too much, the universe might give you a sign that it's time to let it go. You might witness a new beginning that relates to your future or your social situation. Whether you see beginnings or endings, this week is about getting clear on what you want your future to be and then to be mindful of letting go of that which does not support your vision.
---
Discover your soul's intention for this lifetime, the lessons to be learned, qualities to develop, problems to be resolved, services to be rendered.
Karmic Insight Report
---
For more information about your Horoscope and what the stars
have in store for you, order one of our detailed
Astrology Reports for Couples!
---
Want to know the theme of your relationship? This report compares your temperaments and personalities, whether you are married or living together.
Compatibility Report
Reveal as much information about you and your partner intention of opening doors of understanding and awareness.
Love Cards Report