#Horoscope #Aries #Taurus #Gemini #Cancer #Leo #Virgo #Libra #Scorpio #Sagittarius #Capricorn #Aquarius #Pisces #Horoscope – overview of this week
The Center for the New Age is pleased to present
your Free Weekly Horoscope for January 20 – 26, 2019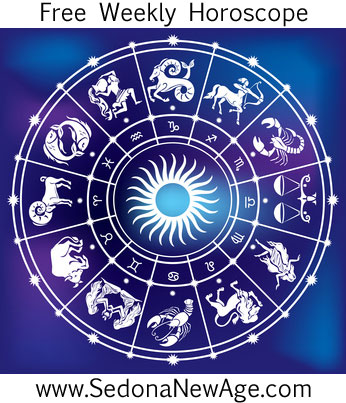 Receive our Free Weekly Horoscope in your Inbox
---
Aries Taurus Gemini Cancer Leo Virgo Libra Scorpio Sagittarius Capricorn Aquarius Pisces
Full Moon in Leo accompanied by a solar eclipse on January 21 may provide an opportunity to enhance and harmonize friendships and family situations in a fulfilling and enriching manner. The eclipse may encourage us to redefine our priorities and create new dynamics in our lives. As we do, we can dream new dreams that revitalize us.
Venus in Sagittarius square Neptune in Pisces (January 21 – January 30) may be a hard time for some people to make a personal connection with spiritual teachings. This may also appear to be a hard time to concentrate or meditate on spiritual activities, but this is a time to persist with loving expression despite all conflicts. Certainly it is best to avoid arguments concerning spiritual beliefs with loved ones at this time.
Mars in Aries is square to Saturn in Capricorn (January 21 – February 4) where the pressure of deadlines, competition and family conflicts may result in accidents or sacrifices of some nature. Offensive and defensive forces are likely to be confrontational so this is a good time to proceed with extra caution.
Venus and Jupiter are conjunct in Sagittarius (January 22 – January 31). The powers of attraction (Venus) blend with the powers of prosperity (Jupiter). The influence of Jupiter reminds us that the resources of love in the universe are inexhaustible and love's great bounty is designed to be shared. Love can be infectious. Libra-related things such as friendship, gourmet feasting, travel and getaways with a loved one are all highlighted with this aspect.
Mercury enters Aquarius, the fixed air sign of the zodiac which represents humanity's knowledge (January 24 – February 10). As the force of communication (Mercury) travels through the constellation of fixed thought and meditation (Aquarius), there are great opportunities for us to share and to empower each other through our knowledge. This is a splendid time to communicate ideas and investigate the latest in technology, science and the world of invention. Mercury in Aquarius is also a special time to speak out on humanitarian issues and the rights of freedom. Eccentric talk and unusual subjects will fill the airwaves while Mercury is in Aquarius.
Mars is in Aries trine Jupiter in Sagittarius (January 25 –February 4). Mars in Aries activates a strong focus on self-reliance, competition, winning and pacing an all-around emphasis on the power of success. Jupiter in Sagittarius expands our economic growth through global awareness, travel, sports and special skills. During this aspect, act on opportunities as they arise and set visions and dreams into a feasible plan that holds the potential for favorable actions to occur. Mars trine Jupiter allows us to activate a stronger grasp of our domain, and gives many folks the extra energy and spark to boost their sense of achievement and advancement.
Aries Taurus Gemini Cancer Leo Virgo Libra Scorpio Sagittarius Capricorn Aquarius Pisces
For more information about your Horoscope and what the stars have in store for you, order one of our detailed
Astrology Reports!
Want to know the theme of your relationship? This report compares your temperaments and personalities, whether you are married or living together.
Compatibility Report
Reveal as much information about you and your partner intention of opening doors of understanding and awareness.
Love Cards Report
Free Weekly Horoscope for your Sign
Aries: The lunar eclipse in your fun zone on January 21 reminds you of the importance of play, especially if you've been neglecting that side of life lately. If your responsibilities have seemed heavy or if you've witnessed some adversity, it can be easy to take life too seriously. This is where the eclipse comes in, urging you to take time out to recharge and replenish your joyful spirit. Creative hobbies, sports, fun activities or even just relaxing (which might be difficult with Mars in your sign) will help you get back in touch with who you really are. Ultimately, this is the deeper point of this heavenly phenomenon.
---
Discover a personal profile and 1-year forecast based on advanced calculations of your name and birth date.
Numerology Report
---
Taurus: Your domestic life takes center stage this week, and your professional life comes in at a close second as a lunar eclipse on January 21 brings a little disruption to your situation. Try to be mindful of what is going on at a subconscious level, because it looks as though suppressed energies could be making their way out and causing a little chaos in your life, even if it seems that the source of the problem is external. It will pay to examine yourself with great honesty, admit to what you might be angry or frustrated about, or illuminate any secret resentments or hidden agendas. When you bring these hidden gremlins out into the light, they will cease to have as much power over you and your life can resume a semblance of calm and stability.
---
Need a guide for your growth and personal evolution based on astrological influences upon your personality?
New Age Natal Report
---
Gemini: All you may be wishing for right now is a quiet life, but some other part of you, whether you call it your soul or something else, is calling for change and growth. This week's lunar eclipse (which activates the beliefs area of your chart) says it's time to let something go, whether it's an outdated belief or a stagnant situation. The fact that your ruling planet, Mercury, is involved with this eclipse makes it extra potent for you, so events this week could feel significant – or could even be a turning point in your life. Whether you perceive things as good or bad, there is a growing clarity about the shape your life is taking, and the best advice is to just roll with it. Everything will make sense further down the line.
---
This interpretation of your birth chart is written in simple language could be beneficial in self undestanding.
Merlin Report
---
Cancer: Money matters become central for a while this week as a lunar eclipse activates the material zone of your chart on January 21, making it easier to resolve any issues that have been a source of concern. Things should begin to move forward alter this eclipse, but in the mean time, it might help to take greater control of what's happening financially and to learn any lessons that seem to be occurring. Of course, the eclipse could bring a happy development with your finances; perhaps something changes in your career and alters the course of your material situation. Whether this eclipse brings good or bad news, it won't hurt to examine where your money is going and why.
---
Indra reveals your life's contradictory urges & drives as well as your basic motivation, perceptions, inclinations and character.
Indra Report
---
Leo: Periodically, we have to put our needs first; otherwise, resentment will set in. Do you have time for yourself? Do you have hobbies or interests that give you a sense of meaning, enjoyment or inspiration? If not, the lunar eclipse in your sign on January 21 could bring up a bad mood, an outburst of frustration, or feelings of sadness. Be mindful of whatever feelings emerge around this eclipse, because they will offer clues as to what you need to do. While it's important to take into account the needs of others, it shouldn't be at the expense of your own well-being.
---
Want a detailed report for parents to help with the child's growth to strengthen the assets and avert possible problems that the child could face in their life?
Child Astrology Report
---
Virgo: This week's eclipse illuminates the health and soulful areas of your chart, bringing clarity to matters of your well-being or spiritual development. Although these two areas might seem unconnected, our well-being largely depends on fulfilling the soul's purpose so when we are off-kilter in our life paths, our health can suffer. Tiredness and fatigue, while sometimes signals we simply need more rest, could also be signs that we are not on track with our purpose. This is your opportunity to download information from your soul to fulfill the mission you came here to do. You can do this by paying attention to the messages in your dreams or by simply trusting your feelings.
---
Want a birthday to birthday practical guide to help you recognize opportunities and to learn from them.
Astrological Solar Return Report
---
Libra: The introspective energy of the past few weeks gives way to a lighter, more upbeat dynamic as the Sun moves into your zone of fun and the lunar eclipse illuminates your social life, casting an auspicious glow on your future hopes and dreams. While there may be developments relating to your friends, groups, clubs, organizations and your social scene, the eclipse asks you to consider your goals in life to determine whether they are a reflection of your true self or a byproduct of unconscious drives no longer relevant to you. Now is the time to align your goals with your heart so that you can be who you came here to be.
---
Want to know the actual dates when the energies will influence your life in money, career, relationships, and communicaton?
Astro Forecast Report (3 months)
---
Scorpio: The lunar eclipse in the success area of your chart on January 21 shines the spotlight on your professional world, making this a great time to receive clarity and insight about your direction in life. Expect any confusion to dissolve and for changes to be set in motion. Try not to resist these changes because this is an eclipse that spells an end to stagnancy. Therefore, it will seek to liberate you from any situation that outlived its usefulness. Expect to be on show for a short while. It's likely that all eyes will be on you, so try to conduct yourself in an accepting manner, especially around January 21. All in all, this is a week when you can make much progress with your aims and ambitions, provided you're willing to experiment or try something new.
---
Want a one year forecast to understand the scope of influence for your personal Cards of Destiny?
Cards of Destiny Report
---
Sagittarius: A Venus -Jupiter conjunction in your sign is good news for you since this is the most auspicious combination in the whole planetary zodiac. Anything you begin or undertake now will have the blessings of the Universe. The lunar eclipse on January 21 urges you to embrace adventure. A new road may be calling and it would certainly benefit you to leave the old ways behind; maybe you need to release a belief system, a situation, or a way of life. At the very least, try something new this week, as your rewards will come from breaking your patterns and being more experimental.
---
Contemplating a move? This report tells how you will react to the energies of the specific locations for relationships, finances, and security.
Relocation Information Report
---
Capricorn: Things should begin to get easier this week s Saturn's frustrating square to Mars begins to break. Annoying impediments will ease up, allowing you to make progress, and from January 22, it becomes a productive time to focus on your financial and material situation. However, there is the small matter of the lunar eclipse on January 21 and while it shouldn't affect you too adversely, it might bring up an element of discomfort where finances and material matters are concerned. This will soon give way to greater clarity, though, and the eclipse will actually help you to see a situation in a new, more positive way. All you need to do is break a pattern. Perhaps you need to leave the past behind or find a different way of dealing with domestic issues, property matters, or financial problems. Whatever your situation, this week's theme is transformation so prepare to shed your old skin and emerge anew.
---
Discover your character traits, relationship and career potentials – based on Edgar Casey Readings.
Cayce Past Life Report
---
Aquarius: Relationship issues come to the fore under this week's lunar eclipse, and you could feel the need to break free from a situation that feels restrictive. Aquarians never do well when they're tied down, as freedom is very important to you, so it may be time to put your cards on the table and assert your right to be you – so long as that's not hurting anyone. It is very important right now that you prioritize your needs, because when the Sun is in your sign, you need to get in touch with yourself to determine what you need to be happy. Under this eclipse, there could be some opposition to that, but you need to stand firm in your right to be you and recognize that no purpose will be served by denying your needs, especially in a misguided concept of duty. Right now, it seems that your first duty is to you.
---
Discover your past life connections that can carry over into your current life, accounting for interests, habits, even phobias.
Karmic Past Life Report
---
Pisces: As the Sun meanders through your quiet zone and a lunar eclipse occurs in your work and health area, it might be prudent to take time out for yourself, particularly if life has been busy or stressful. Too much activity at this time could affect your energy or general well-being. The eclipse could focus your attention on your health, but you might find that where there once was uncertainty or confusion, clarity emerges. Try not to let financial or material issues put a strain on you. Yeh, it's easy to say, but it might help to recall this quote: "If only people knew the healing power of laughter and joy, many of our fine doctors would be out of business."
---
Discover your soul's intention for this lifetime, the lessons to be learned, qualities to develop, problems to be resolved, services to be rendered.
Karmic Insight Report
---
For more information about your Horoscope and what the stars
have in store for you, order one of our detailed
Astrology Reports for Couples!
---
Want to know the theme of your relationship? This report compares your temperaments and personalities, whether you are married or living together.
Compatibility Report
Reveal as much information about you and your partner intention of opening doors of understanding and awareness.
Love Cards Report