#Horoscope #Aries #Taurus #Gemini #Cancer #Leo #Virgo #Libra #Scorpio #Sagittarius #Capricorn #Aquarius #Pisces #Horoscope – overview of this week
The Center for the New Age is pleased to present
your Free Weekly Horoscope for February 17 – 23, 2019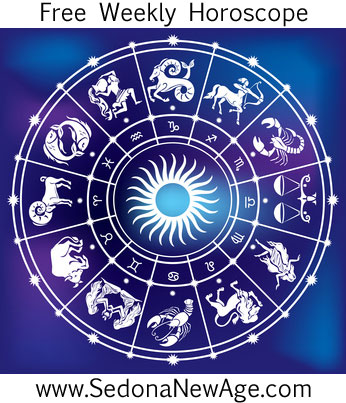 Receive our Free Weekly Horoscope in your Inbox
---
Aries Taurus Gemini Cancer Leo Virgo Libra Scorpio Sagittarius Capricorn Aquarius Pisces
Venus in Capricorn sextile Neptune in Pisces (February 17 – February 25) is a good time to focus love on spiritual beliefs. This aspect can have a strong healing effect on the soul, and reaches into the feminine parts of our being with a calm fortitude. This aspect holds the potential for one to realize the profound beauty and the depths of which true love is capable.
Venus and Saturn conjunct in Capricorn (February 18 – February 28) is a favorable time to apply discipline with regard to art and love related matters. It represents the diligent application of taking care of the people and things we love. It may also indicate there is a strong timely quality about love matters taking place, or that love matters are undergoing a restriction, or possibly even closure of some kind. This aspect can go either way on the positive-negative scale, since the loving attraction of Venus can be either encouraged or thwarted by the responsible, serious and limiting discipline of Saturn's energy.
Full Moon in Leo (February 19) captures our moods and there may be an opportunity here to enhance and harmonize friendships and family situations in a fulfilling and enriching manner. Moon in Leo brings out the playful, imaginative and creative side of our moods. Most of us are easily drawn towards the need to find warmth and affection, or just plain attention at this time.
Mercury and Neptune conjunct in Pisces (February 19 – February 27) brings out communications on the hypersensitive issues and matters concerning people's belief systems and domains of spirituality. This aspect also represents a good time to pray, meditate and connect with the higher spirit within.
Mercury in Pisces sextile Saturn in Capricorn (February 20 – February 23) gives people an opportunity to learn vital lessons concerning boundaries, limitations and responsibilities. This tends to be a time when struggles and difficulties are frequently discussed, and people collectively draw conclusions concerning how to best handle their problems or responsibilities.
Mercury in Pisces square Jupiter in Sagittarius (February 22 – March 2) creates a difficult block of energy between Mercury, represented as the salesman, informant and negotiator and Jupiter, represented as the source that allows wealth to flow, where one's value is realized and assessed and potential for growth is emphasized through the tedious process of trial and error. Mercury square Jupiter is a time to be particularly cautious when looking for a job or changing jobs, asking for a raise, or signing any binding contracts concerning long-term investment and payment schedules.
Venus and Pluto are conjunct in Capricorn (February 23 – March 5). This aspect represents a love or fascination at work concerning matters of fate as well as power. This is the place where the influences of love and power merge into one, and may help to create a breakthrough for those who are having difficulty accepting the work of fate or higher powers. A lot of what seems uncontrollable these days is really in our mind and not our heart. What is in our heart speaks the truth, and the unpredictable facets of the hardships of loss or death are often brought to light with the Venus conjunct Pluto aspect.
Mercury in Pisces is sextile Pluto in Capricorn (February 23 – February 27). Communications and discussions are enhanced, with an opportunity to make a breakthrough in negotiations with a strong power. This serves as a good time to reach out to those of another generation and make an attempt to communicate something vital.
Aries Taurus Gemini Cancer Leo Virgo Libra Scorpio Sagittarius Capricorn Aquarius Pisces
For more information about your Horoscope and what the stars have in store for you, order one of our detailed
Astrology Reports!
Want to know the theme of your relationship? This report compares your temperaments and personalities, whether you are married or living together.
Compatibility Report
Reveal as much information about you and your partner intention of opening doors of understanding and awareness.
Love Cards Report
Free Weekly Horoscope for your Sign
Aries: The manic pace of previous weeks will soon soften and slow to such an extent that you might become aware of the need to slow down and rest. The Full Moon on February 19 illuminates the need for inner peace, and your energy could decrease or health matters might come to the fore around this time. However, the Full Moon forms a supportive angle to your ruler, Mars, so whatever happens around this lunar event should have a positive influence. Perhaps all you need to do is pay greater attention to your body, mind, or spirit and then you will begin to function much more effectively in the outside world.
---
Discover a personal profile and 1-year forecast based on advanced calculations of your name and birth date.
Numerology Report
---
Taurus: It's all change this week with Mars in your sign and a Full Moon activating your fun and social zones on February 19 reminding you not to take everything so seriously. Getting out there and having some fun may be vitally important now as the pressures begin to build; everyone needs to let off steam occasionally, and this is probably one of these times for you. There is a lot to be done, and Mars in your sign for the next several weeks ensures you will be successful. You need to pace yourself, have an outlet such as a hobby, or schedule some downtime in which you can simply relax and have fun. Try to strike the balance this week between work and enjoyment and make sure that this balance becomes a feature in your life. Also remember your loved ones and other important relationships. The conjunction of Venus and Saturn could blow a cool wind over your personal life, and you will need to make the effort to bring the love. This in itself will have a greater benefit to your health and happiness than you might realize.
---
Need a guide for your growth and personal evolution based on astrological influences upon your personality?
New Age Natal Report
---
Gemini: You finally return to your center this week, as a Full Moon in your domestic sphere inclines you to spend more time at home, even if just for a day or two to tend to your needs and the needs of those around you. This could clash somewhat with demands from the outside world, whether it's your work or other obligations but your first priority now is to yourself and your family. You can still make progress with your ambitions, as it's a good time to communicate and spread your knowledge and ideas, but around February 19, your inner needs and domestic life should take precedence. By having some quiet time alone, you will receive a sense of what needs to happen next, and that's where your role in the outside world will benefit.
---
This interpretation of your birth chart is written in simple language could be beneficial in self undestanding.
Merlin Report
---
Cancer: The Full Moon on February 9 puts the emphasis on your attitude and your belief system. What do you believe is possible? What are you telling yourself is not possible? Are you trying to manifest a dream without a plan or any firm idea of how you're going to do it? This Full Moon suggests that you can if you think you can but that you need to have some sort of workable plan to make things happen. The trick to your success this week is to believe in possibilities but to ground them in reality and back them up with action.
---
Indra reveals your life's contradictory urges & drives as well as your basic motivation, perceptions, inclinations and character.
Indra Report
---
Leo: Whatever problem you are facing now, it will help to develop an attitude of nonattachment. It's not easy to let go, adapt, and allow others to be right (especially for Leos!) but it's worth remembering that the trees that survive a storm are the ones that are able to bed with the wind. The Full Moon on February 19 will bring clarity to a situation, and this is a good time to make progress in your material world. However, things will be so much easier if you can detach from the outcome. Interestingly, if you detach from the outcome, you're likely to find that the situation magically changes and produces an outcome you'll like.
---
Want a detailed report for parents to help with the child's growth to strengthen the assets and avert possible problems that the child could face in their life?
Child Astrology Report
---
Virgo: The Full Moon in your sign on February 19 casts the spotlight directly on you. This is your time to shine, toot your horn, sell yourself, or simply bask in the limelight – even if it is short-lived. Sometimes a compliment or a little appreciation and applause for your efforts are all that's needed to enable you to live your days with greater inspiration. The Full Moon asks you to not be shy or bashful of your own greatness. If you can't see it yourself, allow others to mirror your strengths to see whether you can capitalize on them by allowing more of your gifts to go out into the world.
---
Want a birthday to birthday practical guide to help you recognize opportunities and to learn from them.
Astrological Solar Return Report
---
Libra: The Full Moon on Tuesday falls in your zone of rest and repose, quiet contemplation and spiritual development. Meanwhile, the Sun is journeying through your house of health. Putting the two together can help you find the answer to your problems – physical or mental. Maybe you need more rest, or maybe you need to connect with your inner self through solitude by listening to your dreams or asking for spiritual guidance. The time is ripe to postpone immediate gratification and put your energies into making your life (and your health) function more effectively. You might determine that you need to slow down or that you need to take up yoga or another form of exercise. You might decide that you need to be more organized in your affairs or that a daily meditation will provide the peace you seek. Allow the Full Moon to gently illuminate the way forward, and follow any hunches that appear at this time.
---
Want to know the actual dates when the energies will influence your life in money, career, relationships, and communicaton?
Astro Forecast Report (3 months)
---
Scorpio: The Full Moon on February 19 is likely to illuminate the path ahead, making it much easier to know where you are going. This also applies to your friendships and social life as much as your future, so expect developments in any of these areas. The focus should be on fun and lighthearted interactions, so don't expect too much from this week, since you're meant to be regenerating through social fun, creative pleasures, engaging hobbies, romantic interludes, or carefree activities. As you regenerate and recover your spirits, it will be easier to glimpse a future that works for you. Allow your heart – which will be whispering to you this week – to guide the way, and let passion and good feelings be your compass.
---
Want a one year forecast to understand the scope of influence for your personal Cards of Destiny?
Cards of Destiny Report
---
Sagittarius: The Full Moon at the top of your chart on February 19 illuminates your career and professional role, making this the ideal week to stand in the spotlight or take center stage at work, so any work involving public relations or sales should be fruitful this week. What you may need to watch out for is allowing your personal life to be on display, as it may be harder than normal to keep things private. Whatever is hidden will likely come to light, and if you only have good things hidden, this should be a rewarding time. It's certainly a good week to make progress with your work and ambitions, but try to keep your emotions in check if you don't want everyone knowing your business.
---
Contemplating a move? This report tells how you will react to the energies of the specific locations for relationships, finances, and security.
Relocation Information Report
---
Capricorn: This week, a Full Moon on February 19 illuminates your zone of adventure and higher knowledge, which is likely to bring greater optimism and a sense of things moving and developing. It's also a good opportunity to push out of your comfort zone and embrace new possibilities. We can all get stuck in our ways, and this Full Moon is a good opportunity to break free and inject new life into your days. On a more serious level, Saturn's conjunction to Pluto and Venus could make this a chilly week in the sense that others might not seem to be the most encouraging or that circumstances seem hard, but with strength and persistence, you will emerge triumphant.
---
Discover your character traits, relationship and career potentials – based on Edgar Casey Readings.
Cayce Past Life Report
---
Aquarius\: The Sun's move into Pisces shifts the focus to money and material matters, and Mars's entry into your domestic sphere makes this a week to put energy into your home. Just watch out for conflict here, and try to have patience when things aren't as harmonious or as flowing as you'd like. Good uses of the Mars energies is to do an early spring cleaning, decorate your surroundings, or make other changes that require a fair bit of energy. Meanwhile, the financial side of your life will benefit from a letting-go approach, particularly around the Full Moon on February 19. Money can do strange things to people and make us forget who we really are.
---
Discover your past life connections that can carry over into your current life, accounting for interests, habits, even phobias.
Karmic Past Life Report
---
Pisces: Positive changes can occur in your relationships under the Full Moon on Tuesday, so expect some clarity here if matters with another person have been tricky. The other good news is that on the same day, the Sun enters your sign, bringing a change in perspective and a return of your energy, enthusiasm, and motivation. The Full Moon should kick-start this process by wiping away any confusion and sluggishness, so the days from February 19 onward should feel quite fresh and upbeat. You might be feeling extra sensitive, so try not to overload yourself with things to do or put yourself in overly stimulating environments. On the plus side, if you grant yourself some silence and space, you will be more able to tune in to higher guidance or impressions from the intangible worlds. It's a good week to write some poetry, create music, see a film, paint a picture, or channel answers. "Inspiration" is your keyword, so whatever inspires you is probably what you're meant to be doing, so go do it!
---
Discover your soul's intention for this lifetime, the lessons to be learned, qualities to develop, problems to be resolved, services to be rendered.
Karmic Insight Report
---
For more information about your Horoscope and what the stars
have in store for you, order one of our detailed
Astrology Reports for Couples!
---
Want to know the theme of your relationship? This report compares your temperaments and personalities, whether you are married or living together.
Compatibility Report
Reveal as much information about you and your partner intention of opening doors of understanding and awareness.
Love Cards Report