#Horoscope #Aries #Taurus #Gemini #Cancer #Leo #Virgo #Libra #Scorpio #Sagittarius #Capricorn #Aquarius #Pisces #Horoscope – overview of this week
The Center for the New Age is pleased to present
your Free Weekly Horoscope for February 24 – March 2, 2019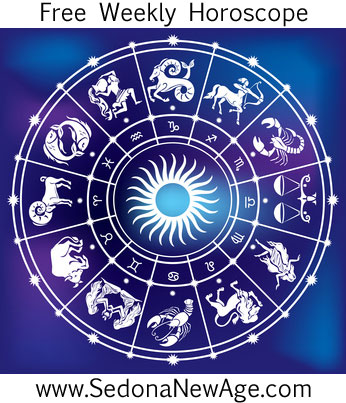 Receive our Free Weekly Horoscope in your Inbox
---
Aries Taurus Gemini Cancer Leo Virgo Libra Scorpio Sagittarius Capricorn Aquarius Pisces
Last Quarter Moon in Sagittarius on February 26 is a good time to focus on healing disruptive feelings and letting go of unsatisfactory habits. This is the time to broaden the mind and allow oneself to go further than anticipated, particularly when envisioning the future.
Venus enters Aquarius (March 1 – March 26) creating a fondness for the pleasures of social life. Venus in Aquarius puts the focus of attraction and adoration on eccentric, brilliant or humanitarian-related causes. It's the time to work out and perfect our love of humanity and the time to teach tolerance.
Aries Taurus Gemini Cancer Leo Virgo Libra Scorpio Sagittarius Capricorn Aquarius Pisces
For more information about your Horoscope and what the stars have in store for you, order one of our detailed
Astrology Reports!
Want to know the theme of your relationship? This report compares your temperaments and personalities, whether you are married or living together.
Compatibility Report
Reveal as much information about you and your partner intention of opening doors of understanding and awareness.
Love Cards Report
Free Weekly Horoscope for your Sign
Aries: Your life is about to get easier. Aries folk don't particularly appreciate life in the slow lane, but after all the difficulties of recent years, you're probably ready for a more stable and nourishing state of affairs. Start this week by listening to the whispers of your soul. It is highly likely that it needs something that has been neglected for quite some time. Rest, inner peace, nourishment, or a deeper connection with the invisible realms can offer you guidance. Whatever it is, you will be able to sense it if you slow down and ask: "What do I need right now?" Once you have your answer, circumstances should begin to magically shift to give you what you need.
---
Discover a personal profile and 1-year forecast based on advanced calculations of your name and birth date.
Numerology Report
---
Taurus: With Mars in your sign, there should be no stopping you, and there is so much you can achieve right now that it would seem silly to waste this opportunity. Therefore, it is essential to prioritize your personal goals and desires and to pursue them with steady determination. Things will likely be intense, and this can be offset via your social life, especially if things start getting a bit too heavy. Friendship, togetherness, and connection are the themes this week. They will serve to remind you of what's important. Alek Wek said, "The most beautiful things are not associated with money; they are memories and moments. If you don't celebrate those, they can pass you by." Make sure you don't miss those special moments this week.
---
Need a guide for your growth and personal evolution based on astrological influences upon your personality?
New Age Natal Report
---
Gemini: Help is on hand this week, so whatever the problem, it will be a case of "ask and you shall receive." It seems something is working to assist you behind the scenes, and certainly by the time you get to February 24, a positive development of some kind should be taking shape, so when your fairy godmother appears waving her magic wand or when things just go your way, remember to give thanks. The more gratitude you feel, the more of these good things you'll attract. That is the key to your success this week: a positive feeling that you're being taken care of and that all is well. Carry this feeling with you, and all will indeed be well.
---
This interpretation of your birth chart is written in simple language could be beneficial in self undestanding.
Merlin Report
---
Cancer: The Sun's move into your zone of adventure is good news for you, as it spells the beginning of a more optimistic phase in your life. This may mean a spot of travel or the desire to study something tht stretches your mind. It could simply mean a time of growing potential as you're feeling more inspired and able to entertain new ideas and concepts. It might seem as though the sky is the limit right now despite whatever might be going on in your personal life, and although you need to give your time and attention to others, you will be doing yourself a big favor if you don't lost sight of your possibilities and keep on believing in your dream.
---
Indra reveals your life's contradictory urges & drives as well as your basic motivation, perceptions, inclinations and character.
Indra Report
---
Leo: What in your life needs transforming? Whether it's a situation or you, this is a good week to let go of the old or, at the very least, to rework something if it still has potential. With a helpful alignment from Mars, it's much easier to make headway with whatever is important to you, and you will have more energy and motivation to make things happen. Whether you decide to get rid of something or improve on what you have, this is a week when there is likely to be a sense of progress with the possibility of victory, especially if you can meander your way through the days accepting the things you can't change while striving to alter what you can.
---
Want a detailed report for parents to help with the child's growth to strengthen the assets and avert possible problems that the child could face in their life?
Child Astrology Report
---
Virgo: As the Sun journeys through your house of relationships, you're in a prime position to get more out of your personal associations – romantic, business, family, friends or acquaintances. This is a good time to forge new connections, join forces with someone else, or simply spend more time in the company of other people, realizing as you do so that it's difficult to create precious memories without other people. Put your effort into your partnerships, allowing others to be right if need be and remembering that conflict and renewal cannot survive without mutual participation.
---
Want a birthday to birthday practical guide to help you recognize opportunities and to learn from them.
Astrological Solar Return Report
---
Libra: If last week seemed hard going, the good news is that this is the week when troubles lessen and life gets more interesting. Whether it becomes more stable or not is another matter, but it will at least have developments that initially might feel unsettling but will quickly lead to greater awareness or a sense of liberation. The temptation in the face of any oppression or restriction, though, might be to respond in a knee-jerk kind of a way without allowing the passage of time to reveal things. Therefore, it is not advisable to act on impulse or to make rash decisions. Instead, remind yourself that patience is a virtue and that Uranus will very soon be leaving your sign of opposition, which should then usher in greater calm and stability (particularly in your relationships). You'll be able to make headway in your life once more.
---
Want to know the actual dates when the energies will influence your life in money, career, relationships, and communicaton?
Astro Forecast Report (3 months)
---
Scorpio: The Sun's move into Pisces brings a lighthearted feel to things this week. Mars in your relationship zone puts the emphasis on personal affairs, making this a time to think less about practical or material matters and rather a time to indulge your feelings. First ask: "How can I apply creative solutions to any particular problem?" Next, consider: "How can I join forces with others (or one person in particular) in a way that works?" Mars journeying through one's relationship zone brings passion of some kind, often in the form of heated arguments, conflict, or romantic excitement. However, the best use of Mars here is to join forces with others so that you can achieve a goal. Focus on creative exchange, and then enlist the help and support of others. Together, you can achieve more than you could alone.
---
Want a one year forecast to understand the scope of influence for your personal Cards of Destiny?
Cards of Destiny Report
---
Sagittarius: "The strength of a nation derives from the integrity of the home" (Confucius). How much integrity is there in your home right now? Are you present enough? Is everything functioning as it should? Does your house feel like a home? Does your home support and nurture you and your family? Is there commitment between you and your family members? Is everyone singing from the same hymn sheet? Does your home life feel stable and secure? These are just a few of the questions you could ask yourself, so maybe pick one or ask one of your own if it feels more appropriate, and work with it to determine how you can make your home feel like a place of strength and integrity.
---
Contemplating a move? This report tells how you will react to the energies of the specific locations for relationships, finances, and security.
Relocation Information Report
---
Capricorn: Our attitude counts for so much, but there are times in life when it's understandable when our thoughts are less than positive. With Saturn, Pluto and Venus aligned in your sign, this is very much a testing time for you that reveals your true character. Sometimes, though, we don't know what our true character is until we are tested, and then we are pleasantly surprised. We discover that we are stronger than we thought, more resilient, or still able to be kind to others despite our trials and tribulations. This week, watch out for those trials to identify where you are being tested. Then remind yourself that you can rise above it all and maintain your dignity.
---
Discover your character traits, relationship and career potentials – based on Edgar Casey Readings.
Cayce Past Life Report
---
Aquarius: We all have gifts, but some are more obvious than others. If you're not sure what your gifts are or what your purpose is, take some time this week to identify what the Universe blessed you with at birth so that you can greater fulfill your purpose. Remember also that some people are blessed with the ability to enjoy the pleasures of life or the ability to create a nurturing home. It's not always about talents that are easily translated into careers or money making ventures. When you have your list, see whether there's any you could better utilize for your happiness or the betterment of others.
---
Discover your past life connections that can carry over into your current life, accounting for interests, habits, even phobias.
Karmic Past Life Report
---
Pisces: "Without leaps of imagination, or dreaming, we lose the excitement of possibilities. Dreaming, after all, is a form of planning" (Gloria Steinem). What are you dreaming of? Where does your imagination take you when your mind wanders? Some wander into negative territory, conjuring up worst-case scenarios or playing out their fears and worries. Clearly, you don't want to let your imagination take you into fear, so make sure you keep your focus on the side of possibilities. If there is something you'd like to do (even if your logical mind says it's not feasible or throws up a load of "what ifs?"), just keep telling yourself that your soul communicates its desires and guidance through dreams, whether night dreams or daydreams. Start paying attention to the signs that appear and then follow the path of possibility.
---
Discover your soul's intention for this lifetime, the lessons to be learned, qualities to develop, problems to be resolved, services to be rendered.
Karmic Insight Report
---
For more information about your Horoscope and what the stars
have in store for you, order one of our detailed
Astrology Reports for Couples!
---
Want to know the theme of your relationship? This report compares your temperaments and personalities, whether you are married or living together.
Compatibility Report
Reveal as much information about you and your partner intention of opening doors of understanding and awareness.
Love Cards Report