#Horoscope #Aries #Taurus #Gemini #Cancer #Leo #Virgo #Libra #Scorpio #Sagittarius #Capricorn #Aquarius #Pisces #Horoscope – overview of this week
The Center for the New Age is pleased to present
your Free Weekly Horoscope for March 3 – March 9, 2019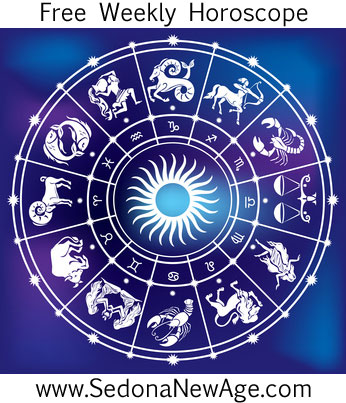 Receive our Free Weekly Horoscope in your Inbox
---
Aries Taurus Gemini Cancer Leo Virgo Libra Scorpio Sagittarius Capricorn Aquarius Pisces
Mercury in Pisces turns retrograde on Wednesday (March 5 – March 28). We are called during this time to revisit our perception of the divine. Mystical concepts are attractive and projects requiring both imagination and inspiration return to the forefront. The natural development of our intuition and psychic abilities helps us see beyond the veil.
New Moon in Pisces on March 6 focuses our attention on connecting with our own beliefs, and infusing them with devotion and renewed faith. A good place to begin is with the self, believing in oneself and one's own capabilities and possibilities. Crisp new psychic and intuitive inclinations lead to a spark of inspiration, which will carry us through the dwindling days of winter towards the renewed light of spring. Let the intuitive and creative processes begin!
Aries Taurus Gemini Cancer Leo Virgo Libra Scorpio Sagittarius Capricorn Aquarius Pisces
For more information about your Horoscope and what the stars have in store for you, order one of our detailed
Astrology Reports!
Want to know the theme of your relationship? This report compares your temperaments and personalities, whether you are married or living together.
Compatibility Report
Reveal as much information about you and your partner intention of opening doors of understanding and awareness.
Love Cards Report
Free Weekly Horoscope for your Sign
Aries: The planets, along with a New Moon and Mercury turning retrograde in your zone of soul and spirit, create a soft and subtle vibration. If things feel too busy, then it's probably a sign that you're making life more difficult than it needs to be, and you would benefit from jumping off the hamster wheel and taking some time out to rest, replenish and connect with your inner self. Meditation and all quiet, contemplative, creative or spiritual activities will be particularly rewarding, so it's a good idea to disconnect the phones, computers and TV and batten down the hatches for a little solitude. You might find that your quiet time leads to insights that are extremely valuable.
---
Discover a personal profile and 1-year forecast based on advanced calculations of your name and birth date.
Numerology Report
---
Taurus: It's all systems go, as Uranus and Mars join forces in your sign. Now is the time to implement changes, do things differently, and rewrite the rulebook of who you are and how your life should be. A little rebellion might be healthy, but the danger is that you might become too rebellious and assertive or overdo it in some way. While it's important that you strive to be true to yourself, it's also import that you are motivated by the right reasons. The New Moon on March 6 suggests that the way forward is to join forces with others – particularly in a group situation – and focus your energies on making a difference while at the same time expressing your originality.
---
Need a guide for your growth and personal evolution based on astrological influences upon your personality?
New Age Natal Report
---
Gemini: It's time to set sail for success as the New Moon at the top of your chart promises potential for achievement and advancement. Approach this gently; there is no need to rush or push. In fact, the more you strive or strain to achieve something, the more likely it is to backfire. Mercury turning retrograde in the same sphere of your chart suggests that this isn't the time to make big advancements. Instead, use the time to go back and make alterations to your trajectory, rework your career, rethink your vocation, or contemplate your direction with a view to making changes that will benefit you in the long run. It's also the ideal time to go back and complete a project you left on the backburner. Perhaps this is where your success lies?
---
This interpretation of your birth chart is written in simple language could be beneficial in self undestanding.
Merlin Report
---
Cancer: Philosophers and seekers of knowledge have long sought after the meaning of life, as though there is a definite answer to this centuries-old question, but the meaning of life differs from man to man, from day to day and from hour to hour. Astrologers know this, as everyone's chart is different, and the planets are constantly shifting to bring new experiences. If you've been holding yourself back due to uncertainty, allow the New Moon on March 6 to gently usher in a new awareness. You don't have to continue down the same path; you can choose anew from this point on. Something needs to change. New possibilities need to be embraced, and the best path for you now may well require a leap of faith.
---
Indra reveals your life's contradictory urges & drives as well as your basic motivation, perceptions, inclinations and character.
Indra Report
---
Leo: The more we hold on to something or someone, the more difficult the situation becomes. The same can be said for resisting whatever is happening; we don't like it, so we resist it. This is often the cause of our suffering. So as the New Moon occurs in your transformation zone, it might seem that you are being asked to relinquish control. This is not easy for most people and definitely not easy for a Leo, but know that when you do let go, magical things will happen. Much like a snake shedding its skin, there will be a rejuvenation process that occurs when you let go of the thing that is no longer working for you.
---
Want a detailed report for parents to help with the child's growth to strengthen the assets and avert possible problems that the child could face in their life?
Child Astrology Report
---
Virgo: With a New Moon in your relationships zone on March 6, this week brings opportunities to move forward in your personal life, and letting go of hurts and grievances could be the answer to your current problems. By being willing to put the past behind you and start afresh, you will be able to take your partnerships to a new level. A gentle release is called for and a willingness to communicate and clear the air. While the path of love may not necessarily run smooth, it certainly does have the potential to turn a tricky corner and move into easier terrain. "Affection is responsible for nine-tenths of whatever solid and durable happiness there is in our lives." (C. S. Lewis)
---
Want a birthday to birthday practical guide to help you recognize opportunities and to learn from them.
Astrological Solar Return Report
---
Libra: The New Moon on March 6 invites you to make changes where your health and well-being are concerned. This is a good time to start a new regimen by adopting a healthier lifestyle and working toward redefining your body, mind and spirit. If you have been suffering at all physically, it might be because some sort of stagnation occurred, and the cure could be to get moving and follow your inspirations. Trust your impulses. This is a very sensitive New Moon, and higher guidance will be on hand to enable you to make the right choices. However, Mercury's backward motion suggests that you need to take care of your well-being, perhaps by paying much more attention to your health, watching what you eat, and monitoring your exercise and also your thoughts since what we think as well as what we do, has as huge impact on our well-being.
---
Want to know the actual dates when the energies will influence your life in money, career, relationships, and communicaton?
Astro Forecast Report (3 months)
---
Scorpio: The New Moon in your zone of fun and recreation on March 6 suggests that this is a time to shake yourself free from your constraints. Even though it might seem as though circumstances are the problem, there might be a lot you can do with your attitude that can give you a more liberating perspective. Perhaps you need to focus on inspiration and let that be your guide because trying to solve a dilemma with your head won't be as successful as listening to your heart. Ultimately, this New Moon is about tuning in to the creative flow that constantly surrounds us and plucking something inspirational out of the ethers.
---
Want a one year forecast to understand the scope of influence for your personal Cards of Destiny?
Cards of Destiny Report
---
Sagittarius: The New Moon on March 6 is a great opportunity for a fresh start in your home or domestic situation, so something might be changing here. However, Mercury turning retrograde suggests this new beginning isn't as straightforward as you may like. Perhaps there is a matter that needs to be dealt with before you can move on. But this combination is very good for tending to any jobs that you've been putting off around the home, and it is the perfect time to clean out your home and incorporate the principles of feng shui into your living space. In some cases, it will be out with the old, in with the new, and in other aspects of your home life, it will be a case of fixing, ending, and sorting. Either way, this is a great week for tending to your home and your deeper needs.
---
Contemplating a move? This report tells how you will react to the energies of the specific locations for relationships, finances, and security.
Relocation Information Report
---
Capricorn: It may be difficult to be full of joy this week when you have Saturn, Pluto, and the lunar south node (what you were in past lifetimes) in your sign. This is not the happiest, nor the easiest of combinations to have as your constant companions. Whether you're feeling the effects of austerity or life has dealt you a challenge to overcome, you can be forgiven for having an attitude of trudging forward and not necessarily expecting great things around the corner. However, the New Moon on March 6 suggests that you will lift yourself out of the negative soup by shifting your attitude to a primarily Zen-like approach where challenges are seen as equally important to your soul's journey as much as the good times. This is a good week to practice meditation or quiet contemplation so that you are better able to understand whatever is happening in your life. Creating a peaceful mind will also lead you to a place where synchronicity begins to appear and the universe presents you with signs and answers to your questions.
---
Discover your character traits, relationship and career potentials – based on Edgar Casey Readings.
Cayce Past Life Report
---
Aquarius: With a New Moon in your money zone on March 6, it's time to make positive changes in your material world. If this area of life hasn't been working well or there's a particular sphere that has room for improvement (money, possessions, work, and so on), you may benefit from changing your approach. There is also a very strong emphasis on detachment, and this might be the answer to your dilemma. Detach from the outcome, let go of the need to possess, and allow the universe to give you what you need.
---
Discover your past life connections that can carry over into your current life, accounting for interests, habits, even phobias.
Karmic Past Life Report
---
Pisces: You should find yourself in a good position this week, as a New Moon in your sign aligns with Neptune, inviting new beginnings and positive developments brought about in a gentle way. Although new vistas may be calling, this isn't the time to rush into things as Mercury turns retrograde on the day of the New Moon. This suggests that careful thought needs to be given to where you are in life and where you'd like to be. On the mundane level, you may decide to change your appearance as a sign to the world that you are changing, or you might decide to implement a bigger change. Either way, this is a week in which you'd benefit from some time to consider what you want and what will make you happier. All the signs are there that you can have it; you just need to be bold and believe in yourself.
---
Discover your soul's intention for this lifetime, the lessons to be learned, qualities to develop, problems to be resolved, services to be rendered.
Karmic Insight Report
---
For more information about your Horoscope and what the stars
have in store for you, order one of our detailed
Astrology Reports for Couples!
---
Want to know the theme of your relationship? This report compares your temperaments and personalities, whether you are married or living together.
Compatibility Report
Reveal as much information about you and your partner intention of opening doors of understanding and awareness.
Love Cards Report