#Horoscope #Aries #Taurus #Gemini #Cancer #Leo #Virgo #Libra #Scorpio #Sagittarius #Capricorn #Aquarius #Pisces #Horoscope – overview of this week
The Center for the New Age is pleased to present
your Free Weekly Horoscope for March 31 – April 6, 2019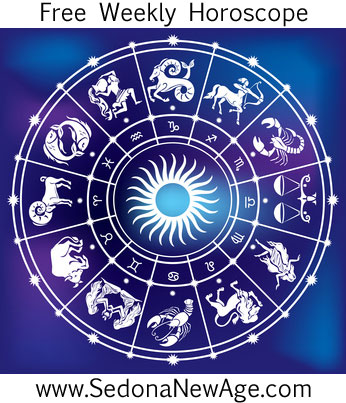 Receive our Free Weekly Horoscope in your Inbox
---
Aries Taurus Gemini Cancer Leo Virgo Libra Scorpio Sagittarius Capricorn Aquarius Pisces
New Moon in Aries on April 5 invokes the powers of initiation; it is the essential part of regenerative force to take the initiative and to start anew. This is the time when the new parts of the self begin to emerge, and our moods are encouraged by confidence, motivation, courageousness and fiery intent.
Mercury and Neptune are conjunct in Pisces (April 2 – April 7) inspiring communications on the hypersensitive issues of people's belief systems. It is here we strive to believe in ourselves and our own capabilities in order to survive spiritually. Additionally, we must endeavor to communicate our beliefs, not to prove them, or to prove them wrong, but to establish our beliefs in those areas of life where we need to have faith in the face of the unknown.
Aries Taurus Gemini Cancer Leo Virgo Libra Scorpio Sagittarius Capricorn Aquarius Pisces
For more information about your Horoscope and what the stars have in store for you, order one of our detailed
Astrology Reports!
Want to know the theme of your relationship? This report compares your temperaments and personalities, whether you are married or living together.
Compatibility Report
Reveal as much information about you and your partner intention of opening doors of understanding and awareness.
Love Cards Report
Free Weekly Horoscope for your Sign
Aries: Aries isn't renowned for its ability to be patient, and as the New Moon falls in your sign on April 5, you'll doubtless want to be moving forward and generating a sense of newness. However, with a hard angle from Saturn, it looks like you're going to be tested in whatever you're hoping to achieve. Try not to let frustration get the better of you; instead, quietly bide your time knowing that good things come to those who wait. There is a time for everything, and you might just have to wait a little longer before you can make progress.
---
Discover a personal profile and 1-year forecast based on advanced calculations of your name and birth date.
Numerology Report
---
Taurus: The New Moon on April 5 brings an opportunity for closure, so be prepared to cross off your list something that is finished. It's also an opportune time to connect with your soul and receive insights and guidance about what's next. New beginnings will soon be in the cards. For now, you need to clear the decks so that you can be ready for what's to come. You are entering a time of change, and if it feels like the path ahead is uncertain, you need to withdraw your energies a bit and become quiet and still so that you can sense what you need to do to prepare.
---
Need a guide for your growth and personal evolution based on astrological influences upon your personality?
New Age Natal Report
---
Gemini: What do you want to accomplish? What would you like to achieve? Whether it's something large or small, from starting a project to taking on an opponent, having Mars in your sign is a lot like having a warrior by your side, giving you the boost of motivation, energy, and enthusiasm you need to move mountains so pick a goal and go for it.
---
This interpretation of your birth chart is written in simple language could be beneficial in self undestanding.
Merlin Report
---
Cancer: The New Moon on April 5 signals the time to get moving with your career or your direction in life. Embrace a new beginning, make a change in direction, or revise an advancement or development in the role you play. Alternatively, you might be happy with the way things are going but could focus on smaller changes, such as giving your website or resume a face-life or adding a new service to your business. Whatever you choose to do, it's time to inject fresh energy into your career and life path. Ask yourself these questions: Am I happy with the way my life is going? Am I heading in the right direction or is there room for improvement? Does my career feel meaningful? Are my goals and ambitions being fulfilled? It's fine to focus on success so long as it's the kind of success you actually want. Consider what Gerry Spence said: "To freely bloom – that is my definition of success."
---
Indra reveals your life's contradictory urges & drives as well as your basic motivation, perceptions, inclinations and character.
Indra Report
---
Leo: As a Leo, you don't lack courage, but you (like the rest of us) can get too cozy in your comfort zone, and now might be a good time to consider how you can push out of yours. Perhaps you would benefit from a little adventure. Maybe a possibility appears in your life that would be good to follow. Sometimes the grass is greener on the other side, and it will do you no harm whatsoever to investigate what's out there. This adventurous state of mind could lead to positive changes in your professional life – an area ripe for change. So take advantage of the New Moon in your zone of optimism and follow the yellow brick road.
---
Want a detailed report for parents to help with the child's growth to strengthen the assets and avert possible problems that the child could face in their life?
Child Astrology Report
---
Virgo: Expect to experience transformation of some sort under the New Moon on April 5. Try to let go of anything you no longer need. Over time, we accumulate stuff that weighs us down, whether it's too much physical stuff that becomes clutter and blocks energy in the home, or an accumulation of toxins in the body evidenced by aches and pains, poor skin and fatigue, or psychological baggage from holding on to painful situations, which can lead to depression, anxiety or general malaise. Pick something that you know is adversely affecting you, and try to let it go. The results will be more energy, greater positivity, and an overall feeling of rejuvenation.
---
Want a birthday to birthday practical guide to help you recognize opportunities and to learn from them.
Astrological Solar Return Report
---
Libra: Relationships are the theme as the New Moon falls in your opposite sign on April 5, making this the week to focus on others and to work on important relationships. All type of relationships can move forward now, from romantic to business. It's not just your partners and associates you can enjoy being with. This is also the perfect time to gain insights from professional people who can help you such as doctors, lawyers, astrologers, counselors, therapists and so on. While you are likely to benefit from the kindness ad helpfulness of other people, remember that your greatest joy will come when you share.
---
Want to know the actual dates when the energies will influence your life in money, career, relationships, and communicaton?
Astro Forecast Report (3 months)
---
Scorpio: The New Moon on April 5 puts the emphasis on your work and health, making this an ideal time to start afresh in your daily life as a whole. Consider what you need to do for your life to function better. Perhaps taking up some form of exercise or eating a more natural diet will give you the energy you need to function better. Maybe becoming more organized and efficient – at home or at work – is the way forward. Whatever the case, now is the time to make some changes in these areas and to streamline your life so that you can become more effective.
---
Want a one year forecast to understand the scope of influence for your personal Cards of Destiny?
Cards of Destiny Report
---
Sagittarius: The New Moon on April 5 encourages you to focus on the delightful rather than the heavy and laborious. No matter what's going on in your life and no matter how despondent you may feel at the state of the world, there comes a point when you just have to take the time to enjoy your life. So don't overlook the importance of recreation, and if you find yourself feeling irritable or fed up, it's obviously time to go and do something fun instead.
---
Contemplating a move? This report tells how you will react to the energies of the specific locations for relationships, finances, and security.
Relocation Information Report
---
Capricorn: The New Moon on April 5 signals new beginnings in your home and domestic situation, making this the ideal time to give your home a fresh coat of paint or to redefine a relationship with a family member. Either way, the chances of domestic progress and development are high as long as you keep your focus on the future rather than the past. You may be facing considerable challenges, but the willingness to let go of what has gone could be the key to everything. It may also be time to dare to be different, so get ready to put your unique stamp on things.
---
Discover your character traits, relationship and career potentials – based on Edgar Casey Readings.
Cayce Past Life Report
---
Aquarius: Any dark clouds that have been blocking the sun will shift under this week's New Moon, leaving you with a more vibrant, upbeat attitude. Just keep a watchful eye out for any fear and anxiety creeping in through the back door, as these could sabotage your success. But if you are armed with a positive approach, you will be able to accomplish more and feel more optimistic about your chances of succeeding in whatever endeavor is currently important. As we know, attitude is everything.
---
Discover your past life connections that can carry over into your current life, accounting for interests, habits, even phobias.
Karmic Past Life Report
---
Pisces: Money is the issue you need to focus on this week as the New Moon on April 5 invites you to wipe the slate clean or create new initiatives in your financial world. Now that Uranus has left the money sector of your chart, it should be much easier to create stability and security in your material world. This puts you in a very strong position to take charge and improve your situation. However, before the money can roll in, you need to heal a wound or belief that says you're not good enough or that money is not spiritual. Put the effort in to weeding out any negative beliefs about money or your self-worth, and chances are you will be rewarded down the line.
---
Discover your soul's intention for this lifetime, the lessons to be learned, qualities to develop, problems to be resolved, services to be rendered.
Karmic Insight Report
---
For more information about your Horoscope and what the stars
have in store for you, order one of our detailed
Astrology Reports for Couples!
---
Want to know the theme of your relationship? This report compares your temperaments and personalities, whether you are married or living together.
Compatibility Report
Reveal as much information about you and your partner intention of opening doors of understanding and awareness.
Love Cards Report