#Horoscope #Aries #Taurus #Gemini #Cancer #Leo #Virgo #Libra #Scorpio #Sagittarius #Capricorn #Aquarius #Pisces #Horoscope – overview of this week
The Center for the New Age is pleased to present
your Free Weekly Horoscope for April 14 – April 20, 2019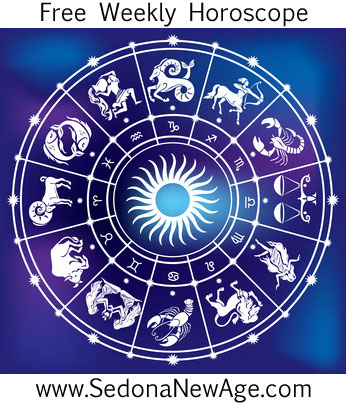 Receive our Free Weekly Horoscope in your Inbox
---
Aries Taurus Gemini Cancer Leo Virgo Libra Scorpio Sagittarius Capricorn Aquarius Pisces
Venus in Pisces sextile Pluto in Capricorn (April 14 – April 19) implies that even in the midst of hardship, opportunities are arising with regard to the things we treasure and are attracted to, and also in matters of love and affection (Venus). These opportunities often are born out of fate or destiny (Pluto) or sometimes are a result of an unpredictable factor. For some, this aspect may be teaching them the lessons of acceptance, of learning to let go of attachments, as well as finding liberation through the transformative process of acceptance, particularly in matters of love.
Venus in Pisces square Jupiter in Sagittarius (April 15 – April 24) brings love and attraction (Venus) into difficulty or hard work (the square aspect) over material growth and our sense of jubilation (Jupiter). This aspect may create an obstacle to acknowledging the expenses incurred by our attractions and love-needs. It reminds us that something more than love's blindness is required in order for us to fully realize our riches and the value of what we care about most.
Mercury enters Aries (April 17 – May 6) bringing a focus of communications on selfhood, initiation, new projects and new ways of seeing and experiencing life. Mercury is the messenger, activating information and Aries is the warrior and the force of nature that takes on life with fearless vigor and aggression. While Mercury is in Aries, talk, news and discussions will be actively focused on the challenging and demanding enterprises and battles that await us.
Last month, the Full Moon was in Libra on March 21. This month, the Full Moon is once again in Libra, on April 19. Use this Full Libra Moon energy to empower your relationships. Diplomacy, peace and goodwill can be achieved among loved ones, but a definite effort is required.
Venus enters Aries (April 20 – June 9) and the expression of beauty, love and attraction assumes a fascination for the warrior spirit. Venus represents magnetic draw and attraction, and the planet of love and beauty focuses our attention on the force and fire of Aries related interests. Venus in Aries brings out the warrior and conqueror quality in people, and a new sense of life and vitality will be evident. Aries rules the head; there are numerous ways you can use your head before plunging head first into love matters. Try not to be too militant in the display of personal defenses and in the expression of true feelings of affection. New love is inspired with Venus in Aries.
Aries Taurus Gemini Cancer Leo Virgo Libra Scorpio Sagittarius Capricorn Aquarius Pisces
For more information about your Horoscope and what the stars have in store for you, order one of our detailed
Astrology Reports!
Want to know the theme of your relationship? This report compares your temperaments and personalities, whether you are married or living together.
Compatibility Report
Reveal as much information about you and your partner intention of opening doors of understanding and awareness.
Love Cards Report
Free Weekly Horoscope for your Sign
Aries: The Full Moon on April 19 throws the spotlight on relationships and other people in general. Thus, you can take a back seat for a day or two and let someone else be in the spotlight. You can also expect any issues with others to be clarified and resolved around this time. Something is coming to a head, and the good news is that with Mercury now in your sign, you're in a prime position to negotiate and put your ideas and opinions across in the best possible light, so there should be no need for heavy-handed tactics. Instead, focus on what's best for yourself and others. This is also a suitable time to remember that words have the power to hurt or heal.
---
Discover a personal profile and 1-year forecast based on advanced calculations of your name and birth date.
Numerology Report
---
Taurus: The Full Moon on April 19 brings attention to your health and well-being, and this is a good time to nurture yourself and tend to any little niggles. Health issues can be resolved now, or at the very least, you're likely to receive clarity about your physical well-being. Work can be improved around this time too, but ultimately, this Full Moon signals the need to get your daily affairs in order. It's a good time to sort out paperwork, tend to jobs that have been building up, or generally work to become more efficient. Be it your body, your car, or your office, when things function efficiently, it makes life much easier, which is the lesson of this week's Full Moon.
---
Need a guide for your growth and personal evolution based on astrological influences upon your personality?
New Age Natal Report
---
Gemini: You may have a clear idea of what you want and where you're going, but if circumstances sabotage your best efforts or an element of confusion appears, take heed of the Full Moon in your zone of recreation and have some fun. Although it might seem counterproductive, taking time out to enjoy yourself or even do nothing in particular could be the tonic you need. Perhaps life throws you a curved ball, and the little diversion, although initially inconvenient, could turn out to be quite refreshing. So your message for this week is: don't be afraid to take time out when things aren't going according to plan.
---
This interpretation of your birth chart is written in simple language could be beneficial in self undestanding.
Merlin Report
---
Cancer: Home and family matters are likely to gain your attention this week, especially around April 19 when the Full Moon illuminates this sector of your chart. Matters that have been brewing are likely to come to a head, and the result could range from enjoying your time at home to needing to escape for a break. Either way, this Full Moon encourages you to decide how things need to be at home so that you can feel better. From completing a project to airing a grievance with a family member, it's time now to bring a sense of completion to your domestic situation.
---
Indra reveals your life's contradictory urges & drives as well as your basic motivation, perceptions, inclinations and character.
Indra Report
---
Leo: Communication is the name of the game under this week's Full Moon, and it may be helpful to consider what your message is and how you can get it out there. It may be a simple message in which you talk to people and resolve one or two matters, or it might be a bigger message that needs to be imparted to a wider audience. Either way, this is the week to speak up and enjoy the process of communication. The Full Moon is also likely to shed light on issues with your attitude, revealing whether your approach to life helps or hinders you. Remembering that your attitude is perhaps the most important tool you have when it comes to creating successful outcomes, this is a good point to embrace life and to believe the best about yourself as well as other people and situations.
---
Want a detailed report for parents to help with the child's growth to strengthen the assets and avert possible problems that the child could face in their life?
Child Astrology Report
---
Virgo: The spotlight is on your financial state as a Full Moon illuminates any problems in this area. It might be time for a change; maybe it's time to do things differently so that you can improve your situation. It might be time to try to eradicate ay areas of instability and uncertainty that could be eroding your security. Whatever the case, this is an opportune time to wrap things up financially speaking – to bring matters to completion, make the final payments, finish projects and generally tie up loose ends. Since your judgment may be a little off, be wary of buying things you don't really need. Instead, seek to make the most of what you already have.
---
Want a birthday to birthday practical guide to help you recognize opportunities and to learn from them.
Astrological Solar Return Report
---
Libra: It's time to take stock of your life as the Full Moon falls in your sign on April 19. Are you happy with the way things are or is there room for improvement? What do you need to make you happy, and what can you do to increase positive relationships? Try not to let negative feelings direct your answers, because you're likely to be at the mercy of your emotions to such an extent that you can't see the situation objectively. Wait until the Full Moon has passed before making any firm decisions. However, it certainly won't hurt to consider whether you would benefit from allowing yourself to shine a bit more; this isn't the time to keep yourself hidden in the shadows. Welcome the spotlight, and you might find that the disgruntlements quickly disappear.
---
Want to know the actual dates when the energies will influence your life in money, career, relationships, and communicaton?
Astro Forecast Report (3 months)
---
Scorpio: How well are you doing in your mission to stay on the right side of trouble? Are you refraining from letting barbed comments slip from your lips? Are you managing to think well of people and of yourself? The proof will be in the pudding this week as the Full Moon shines on your zone of secrets and the unconscious. If something bursts forth – a bad mood, an angry word, or a tearful outburst – see it as a wound that needs to be healed, and try not to engage in confrontation or make matters worse. Bringing dark things to light so that they can be healed and transformed is the way to go, and continue to focus your energies on your work and chores.
---
Want a one year forecast to understand the scope of influence for your personal Cards of Destiny?
Cards of Destiny Report
---
Sagittarius: Your friends and social life take center stage under the Full Moon on April 19, signifying it's a good time to make new connections as well as enjoy the friendships you already have. The Full Moon in this sphere of your chart is the perfect time to throw a party (or attend one) or to simply gather with friends and enjoy the bonhomie. It's also favorable for resolving matters connected with friends, groups, clubs and organizations. It should become clear this week what you want from them and whether they're having a positive impact or not. At the very least, some sort of clarity will be forthcoming relating to your role in society, your friends and groups, or your hopes and wishes for your future. There isn't much that you need to do. Just watch what unfolds, and then respond accordingly.
---
Contemplating a move? This report tells how you will react to the energies of the specific locations for relationships, finances, and security.
Relocation Information Report
---
Capricorn: The Full Moon on April 19 puts the spotlight on your career or role in the outside world. It asks you to create balance between home and work. This may be tricky, as Full Moons can symbolize tension, but after that, matters should improve considerably. Expect a situation to be resolved and remember that you have more power to transform things than you realize. A spot of self-promotion wouldn't go amiss, and although the temptation may be to hibernate at home, putting the effort in to push yourself forward regarding your aims and ambitions will be rewarded.
---
Discover your character traits, relationship and career potentials – based on Edgar Casey Readings.
Cayce Past Life Report
---
Aquarius: Building on last week's confidence boost, the Full Moon on April 19 illuminates your zone of faith and adventure, making this the time to push out of your comfort zone – even if only in some very small way. Perhaps you can do something new that challenges you which in turn further boosts your confidence. Ultimately, this Full Moon encourages you to have faith in yourself and others. It could also be that a situation will work out in your favor.
---
Discover your past life connections that can carry over into your current life, accounting for interests, habits, even phobias.
Karmic Past Life Report
---
Pisces: The Full Moon on April 19 continues the financial theme, but this time it's about pulling everything together and resolving any matters that have been building up or causing confusion. This should be the week when everything becomes clear, because when your confidence is in place and your ability to communicate your wants is strong, you have real potential to clinch a deal, get a loan, or secure anything else you've been after. However, this Full Moon is also about restoring things or making the most of what you already have, so "refurbishing" could be a keyword for you this week. That might be a possession, a project, a place or even yourself.
---
Discover your soul's intention for this lifetime, the lessons to be learned, qualities to develop, problems to be resolved, services to be rendered.
Karmic Insight Report
---
For more information about your Horoscope and what the stars
have in store for you, order one of our detailed
Astrology Reports for Couples!
---
Want to know the theme of your relationship? This report compares your temperaments and personalities, whether you are married or living together.
Compatibility Report
Reveal as much information about you and your partner intention of opening doors of understanding and awareness.
Love Cards Report