#Horoscope #Aries #Taurus #Gemini #Cancer #Leo #Virgo #Libra #Scorpio #Sagittarius #Capricorn #Aquarius #Pisces #Horoscope – overview of this week
The Center for the New Age is pleased to present
your Free Weekly Horoscope for April 28 – May 4, 2019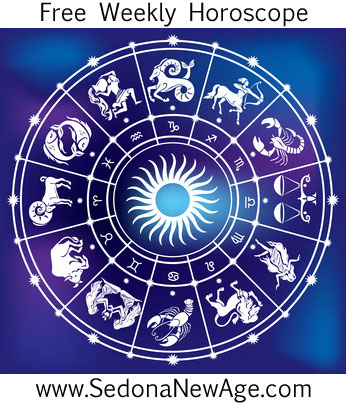 Receive our Free Weekly Horoscope in your Inbox
---
Aries Taurus Gemini Cancer Leo Virgo Libra Scorpio Sagittarius Capricorn Aquarius Pisces
Mercury in Aires square Saturn in Capricorn (May 1 – May 8) affects communications and information in a way that is often difficult. It may be hard to get your message out there and have it be taken seriously. Mercury governs communications and the square aspect presents an obstacle that makes it difficult for information to penetrate or interferes with meeting deadlines.
Mercury in Aries square Pluto in Capricorn (May 2 – May 5) makes this a particularly difficult time to deal with burdensome issues and discuss them in a manner that relieves tension. Talk revolves around the corruption of superpowers and the setbacks caused by this corruption. This may be an especially difficult time to discuss matters involving permanent change.
New Moon in Taurus on May 4 emphasizes the acquisition of new possessions, or it could mean there is a need to restore, replenish and maintain the old ones. New Moon in Taurus is exalted and calls to us to enjoy the beauty that surrounds us; shut down the noise and go celebrate nature!
Aries Taurus Gemini Cancer Leo Virgo Libra Scorpio Sagittarius Capricorn Aquarius Pisces
For more information about your Horoscope and what the stars have in store for you, order one of our detailed
Astrology Reports!
Want to know the theme of your relationship? This report compares your temperaments and personalities, whether you are married or living together.
Compatibility Report
Reveal as much information about you and your partner intention of opening doors of understanding and awareness.
Love Cards Report
Free Weekly Horoscope for your Sign
Aries: Your career is stronger than it has been all year. It is not dominant, but is at its strongest yearly level. Take this opportunity to spend more time with the family, and strive towards emotional wellness. If you would benefit from a change in your finances, the New Moon on May 4 is a good omen. Perhaps the key is to take a different approach. If you've never saved, now is the time to start thinking about your future. If money has controlled you in any way, then this is an appropriate moment to put it in its rightful place.
---
Discover a personal profile and 1-year forecast based on advanced calculations of your name and birth date.
Numerology Report
---
Taurus: In your spiritual life and practice you're outside your normal comfort zone. Perhaps you're exploring exotic or alien teachings. (There's nothing wrong with this. Truth is truth and we should welcome it from whatever source). Generally this happens when the answers you're seeking are not to be found where you usually seek them and you must go outside that sphere. It takes courage and daring. Despite the pressures and difficulties that you are currently facing, the New Moon and Uranus in your sign invite you to make a change – in yourself, in some aspect of your life, or by rewriting the rulebook of your existence.
---
Need a guide for your growth and personal evolution based on astrological influences upon your personality?
New Age Natal Report
---
Gemini: The New Moon on May 4 suggests that it's time to release something so that you can move on. Mars in your sign gives energy, courage and an ability to get things done quickly. You're more fearless these days. With Mars in your sign, there is a tendency to exhibit aggressive behavior. Anger can flare too quickly and conflict can happen as a result, so be strong, brave and active, but tone down the anger. In fact, leaving the negative elements of your past behind is very good advice as it seems that there is baggage weighing you down and that is contributing to your belligerence.
---
This interpretation of your birth chart is written in simple language could be beneficial in self undestanding.
Merlin Report
---
Cancer: This is a good time to pay down debt or to attract outside investors to your projects. You and the beloved seem in financial synch and there is good cooperation between you. However, as the New Moon alongside Uranus falls in your zone of friendships and social life on May 4, it may be also timely to consider who is supportive and who isn't. If someone doesn't have your best interests at heart, there's someone who brings you down rather than elevates you, or there's someone who messes with your head, it might be time to demote that person to a place where he or she can do less damage.
---
Indra reveals your life's contradictory urges & drives as well as your basic motivation, perceptions, inclinations and character.
Indra Report
---
Leo: Health needs some attention this week. There is nothing serious afoot, just a period of lower-than-usual energy. Make sure you get enough rest and cut down on some of your fast food predilections, consuming instead, a diet richer in fruits, vegetables and lower carbohydrates. The New Moon at the top of your chart on May 4 is a great omen for success and new developments in your work and career. Now is the time to make a change, promote yourself, give your website or resume a facelift, or apply for a new position or pursue a particular goal or ambition.
---
Want a detailed report for parents to help with the child's growth to strengthen the assets and avert possible problems that the child could face in their life?
Child Astrology Report
---
Virgo: The financial planet in Aries indicates someone who can jump into financial deals too quickly – too impulsively. When your intuition is spot on, these things work out but if it is off, you can get hurt. Sleep on things before making important financial decisions now. The New Moon on May 4 brings new possibilities, so be prepared to tread where the path hadn't been trodden. You never know where it might lead, and the chances are that it will be better than where you've been.
---
Want a birthday to birthday practical guide to help you recognize opportunities and to learn from them.
Astrological Solar Return Report
---
Libra: You're outside your normal sphere in your search for love. Or love, a relationship, pulls you outside your normal sphere – possibly in foreign or exotic places. Regeneration is the key to your well-being under the transformative New Moon on May 4. This is your annual opportunity to gain a new lease on life and shake yourself free from all the detritus. This might happen naturally, or you might feel the urge to let go of some stuff. Ultimately, it is perhaps most important to release those parts of you that are no longer alive and vital.
---
Want to know the actual dates when the energies will influence your life in money, career, relationships, and communicaton?
Astro Forecast Report (3 months)
---
Scorpio: Your health needs a little attention this week, especially the arms, shoulders and respiratory system. Arm and shoulder massage and plain old fresh air – breathing exercise – will enhance the health of these parts for you. The New Moon on May 4 is a perfect opportunity to make changes in your relationships. In fact, with Uranus there too, change is the order of the day and trying to keep things as they are will be counterproductive and not in alignment with the higher plan so be willing to pay attention to whatever difficulties are occurring in your personal life in the same manner as you should pay attention to your body's condition.
---
Want a one year forecast to understand the scope of influence for your personal Cards of Destiny?
Cards of Destiny Report
---
Sagittarius: You may have the feeling your self-confidence and independence have been lessened. This is not absolutely bad; you don't need to be in charge. Let others have their way sometime. Adapt to conditions as best you can but it's time to make changes to your day-to-day life as a New Moon falls in your work zone. From adopting a new approach to planting new seeds, now is the time to get super organized so that everything functions better and life flows more effectively.
---
Contemplating a move? This report tells how you will react to the energies of the specific locations for relationships, finances, and security.
Relocation Information Report
---
Capricorn: You're in the midst of a yearly personal pleasure peak and although fun may seem frivolous to you, Capricorn, it is part of life and just as important in its way as work. It relaxes the mind and allows solutions to reveal themselves. It's a different order of responsibility and when done properly, it assists responsibility. The New Moon on May 4 reminds you that even if there are things you have to do, it's important to take time out to remember what life's really about. This is a good time to engage in recreation, hobbies and pastimes you enjoy. Make time to be creative and set aside a timeout from your worries.
---
Discover your character traits, relationship and career potentials – based on Edgar Casey Readings.
Cayce Past Life Report
---
Aquarius: You show love by giving emotional support and this is how you feel loved too. An old flame from the past may come back into the picture or sometimes it is someone who reminds you of the old flame. This is generally to help resolve old issues. The New Moon on May 4 indicates changes and developments in your domestic life and a break of some sort may be necessary as changes are occurring at a fundamental level, deep within you. Correspondingly, changes in your home life will need to happen to reflect that. Don't worry about doing the wrong thing, as whatever has been limiting your freedom or restricting your right to be you is what's wrong.
---
Discover your past life connections that can carry over into your current life, accounting for interests, habits, even phobias.
Karmic Past Life Report
---
Pisces: You are in a yearly financial peak with money coming from work or overtime or second jobs. With your financial planet in your 4th house of home and family, you're probably spending more on the home right now. It is a good time for repairs or renovations in the home if you need to make them; to say nothing of our lives. Every now and again, we need reminding of the power of our beliefs and their ability to shape our lives. With a New Moon and Uranus in your mental area this week, it's a great opportunity to reboot your mental computer and send any unhelpful beliefs to the recycling bin. T hen around May 4, make the necessary tweaks to get your mind working for you and not against you.
---
Discover your soul's intention for this lifetime, the lessons to be learned, qualities to develop, problems to be resolved, services to be rendered.
Karmic Insight Report
---
For more information about your Horoscope and what the stars
have in store for you, order one of our detailed
Astrology Reports for Couples!
---
Want to know the theme of your relationship? This report compares your temperaments and personalities, whether you are married or living together.
Compatibility Report
Reveal as much information about you and your partner intention of opening doors of understanding and awareness.
Love Cards Report