#Horoscope #Aries #Taurus #Gemini #Cancer #Leo #Virgo #Libra #Scorpio #Sagittarius #Capricorn #Aquarius #Pisces #Horoscope – overview of this week
The Center for the New Age is pleased to present
your Free Weekly Horoscope for May 5 – May 11, 2019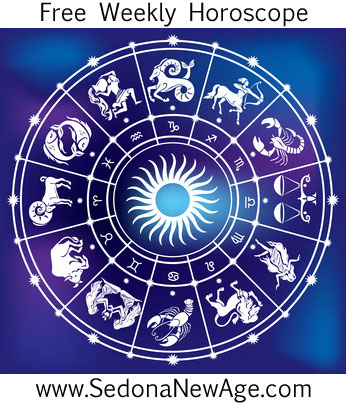 Receive our Free Weekly Horoscope in your Inbox
---
Aries Taurus Gemini Cancer Leo Virgo Libra Scorpio Sagittarius Capricorn Aquarius Pisces
Mars in Gemini opposite Jupiter in Sagittarius (May 5 – May 30) may bring an acute awareness of those places where there is economic oppression or shortcomings. Mars opposite Jupiter may be causing unexpected expenses which could lead some folks to anger and protest. This aspect suggests that it would not be advisable to approach the job market with an aggressive level of output. While Mars is opposing Jupiter, it is wise to remember that when one is spurred to angry levels take heed not to bite the hand that feeds you.
Mercury enters Taurus (May 6 – May 21) where communications will focus on manifesting sales and generating economic growth. While Mercury moves forward through Taurus, it is a good time to clean up concerns around valuables and to deal with issues concerning documents, contracts, speeches and business procedures. Mercury is classically known as the Merchant, the Trickster and the Thief. In the fixed earth sign of Taurus, Mercury inspires the inclination to buy, sell, trade, barter and negotiate terms of sale.
Venus in Aries trine Jupiter in Sagittarius (May 9 – May 19) is a favored and prized aspect that allows for greater potential to receive and expand gifts of love. Love (Venus) is harmoniously paced with prosperity and opportunity (Jupiter). This is a great time to use love to expand your outlook on life.
Venus in Aries square Pluto in Capricorn (May 9 – May 18) usually involves difficulties such as loss or death of a loved one, and the obstacles of rejection and general oppression concerning those aspects of life to which we are undeniably attached and we hold dear. If something of this nature is occurring for you at this time, it is best to recognize that love will triumph in every dimension despite the pain of separation or the disease and strife of the beloved.
Aries Taurus Gemini Cancer Leo Virgo Libra Scorpio Sagittarius Capricorn Aquarius Pisces
For more information about your Horoscope and what the stars have in store for you, order one of our detailed
Astrology Reports!
Want to know the theme of your relationship? This report compares your temperaments and personalities, whether you are married or living together.
Compatibility Report
Reveal as much information about you and your partner intention of opening doors of understanding and awareness.
Love Cards Report
Free Weekly Horoscope for your Sign
Aries: Are you concerned with a specific problem? The solution may lie in being innovative. By thinking outside the box or by trying different options, you will likely stumble across the key that unlocks a successful outcome; a word of caution though: Try not to push things (or yourself) beyond their limit. Know when to stop and when to back off. The trick to this week is to strike a balance between knowing your limits and following your ingenuity. Look out for the eureka moment that could change everything, and put your energy into making that real.
---
Discover a personal profile and 1-year forecast based on advanced calculations of your name and birth date.
Numerology Report
---
Taurus: If there are aspects of your life that feel stagnant, you feel tired for no obvious reason, or there's something you really want to do yet haven't dared to take the chance, then now is the time to act. When an opportunity comes knocking, it would be wise to open the door. At the very least, plant one or two new seeds in alignment with your desires and believe in their capacity to grow. At this stage, that's all that's required.
---
Need a guide for your growth and personal evolution based on astrological influences upon your personality?
New Age Natal Report
---
Gemini: You are in a period of maximum personal independence. No one is making you lug around your sadness, disappointment, anger or resentment. This is a time for taking responsibility for your own happiness. It's up to you. There's no one else to blame. If conditions irk you, change them. You have the power now to do so. The cosmos cares about your personal welfare. Perhaps what's really needed in your life is forgiveness. Whatever has been taken from you, whatever has been lost or has not worked out, accept that it was not meant to be and move on. Better things are waiting for you.
---
This interpretation of your birth chart is written in simple language could be beneficial in self undestanding.
Merlin Report
---
Cancer: Now is the time to ensure that only those people who bring out the best in you are kept in your inner circle. In everyone's life, there are active periods when changes happen and life moves forward. This is not a static time in your life, and although it's not the easiest time, it is also a time when you have more power than you realize to change your future. This week you're likely to have ideas regarding where you are going. They could come in intuitive flashes or sudden knowing. However they appear, they should be acted on because they are the key to your future.
---
Indra reveals your life's contradictory urges & drives as well as your basic motivation, perceptions, inclinations and character.
Indra Report
---
Leo: Doing something different, heading in a new direction, or following your heart are all indicated this week. There is a strong indication that any stagnancy in your life – especially your career – is over. The more willing you are to embrace change the more likely you are to be successful. So be brave and take a chance. You never know where it might lead.
---
Want a detailed report for parents to help with the child's growth to strengthen the assets and avert possible problems that the child could face in their life?
Child Astrology Report
---
Virgo: It is time for a change, to push out of your comfort zone and entertain new potentials of how your life could be. Just because something has always been a certain way doesn't mean that it always will be. It all begins with a change of heart, and right now, that is the most important thing. Since Mars is going out of bounds in your 10th house of career, it is likely that career demands are also pulling you out of your normal comfort zone. The solution might be to take yourself on a physical adventure to see what's out there or embark on a mental adventure by expanding your sense of what's possible.
---
Want a birthday to birthday practical guide to help you recognize opportunities and to learn from them.
Astrological Solar Return Report
---
Libra: We all reach stages in Iife when the old life is no longer working and a new life wishes to be born. It seems you're in such a phase now, so mourn your old self, and then start preparing to welcome in the new you. You can help this process along by getting rid of anything that no longer fits with the new self that is emerging, from clothes and music from a bygone era to a job, a role, a relationship, or a place that you have outgrown. You should focus more on your outer goals. You won't be able to totally focus on the career, but you will be able more than you have been. Your duties and responsibilities of the family can't be ignored, however.
---
Want to know the actual dates when the energies will influence your life in money, career, relationships, and communicaton?
Astro Forecast Report (3 months)
---
Scorpio: The purpose of any change and instability is to liven things up in your relationships. This is especially the case if things have become stagnant. It may also help you discover new facets of yourself. As others change, you have to change too. Your financial planet, Jupiter, is still retrograde this month, so earnings are happening more slowly than usual. You just have to work harder to achieve your goals. There are financial disagreements with parents, parent figures and bosses and you seem temporarily out of favor with them. You will have to find the middle ground.
---
Want a one year forecast to understand the scope of influence for your personal Cards of Destiny?
Cards of Destiny Report
---
Sagittarius: You might feel compelled this week to clear out the clutter and organize your home, your workspace or even your car. This spring-cleaning may extend to your body and you would benefit now from looking at how you can improve your well-being. From changing what or how you eat to making changes to your exercise routine, this is the perfect week to get yourself – and your life – in shape.
---
Contemplating a move? This report tells how you will react to the energies of the specific locations for relationships, finances, and security.
Relocation Information Report
---
Capricorn: A carefree attitude will work best this week, along with the determination to march to your own drumbeat. In fact, if you're feeling just a tad rebellious that may be a good thing. You shouldn't be paying too much attention to what others think, and the way forward now is to dare to be different and do what feels right for you. Maybe when life feels heavy, the antidote is to play. When we play – a sport, a game, a hobby or anything else that is fun – we adopt a more carefree spirit in which troubles are put into perspective and life seems more colorful and optimistic.
---
Discover your character traits, relationship and career potentials – based on Edgar Casey Readings.
Cayce Past Life Report
---
Aquarius: Uranus at the base of your chart may be stirring up unsettling emotions from deep within, but whatever is experienced needs to be recognized. Use the energies of the Universe to create a fresh start and to make the changes that will nourish and invigorate your spirit. Your health needs watching so as always, make sure to get enough rest. It would be beneficial to add things that the body needs – vitamins, minerals or other supplements and in addition, later in the month, think about a detox regime to get rid of things that don't belong in the body.
---
Discover your past life connections that can carry over into your current life, accounting for interests, habits, even phobias.
Karmic Past Life Report
---
Pisces: All that was said last week is doubly appropriate this week as Mercury joins Uranus in your mental zone, which is likely to have a very inspiring and electrifying impact on you. Your financial focus is winding down. Short-term financial goals have been more or less achieved and now you have the freedom to pursue other interests – intellectual, psychological and family interests if you are so inclined. You are liable to be buzzing with new ideas, creative inspiration, exciting thoughts and innovative solutions to problems. You are in a very good place. Enjoy it!
---
Discover your soul's intention for this lifetime, the lessons to be learned, qualities to develop, problems to be resolved, services to be rendered.
Karmic Insight Report
---
For more information about your Horoscope and what the stars
have in store for you, order one of our detailed
Astrology Reports for Couples!
---
Want to know the theme of your relationship? This report compares your temperaments and personalities, whether you are married or living together.
Compatibility Report
Reveal as much information about you and your partner intention of opening doors of understanding and awareness.
Love Cards Report