#Horoscope #Aries #Taurus #Gemini #Cancer #Leo #Virgo #Libra #Scorpio #Sagittarius #Capricorn #Aquarius #Pisces #Horoscope – overview of this week
The Center for the New Age is pleased to present
your Free Weekly Horoscope for June 2 – June 8, 2019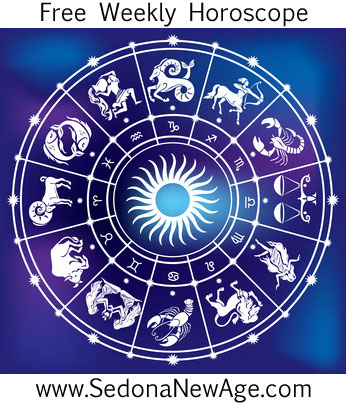 Receive our Free Weekly Horoscope in your Inbox
---
Aries Taurus Gemini Cancer Leo Virgo Libra Scorpio Sagittarius Capricorn Aquarius Pisces
New Moon in Gemini on June 3 allows for new thoughts and ideas to begin to flow, and ew feelings about the way we are thinking will begin to emerge. New Moons are like clean slates. It's time to begin again a process of strengthening and celebrating your energy, to plan new vistas for growth, particularly the emotional well-being of your mental growth. This represents a time for paying attention to those newer thoughts, ideas and caprices in the wind.
Venus in Taurus trine Pluto in Capricorn (June 3 – June 11) allows a breakthrough to occur for those who fear accepting the work of fate. This aspect can often help us to overcome the pain of separation concerning love. It is the place where love triumphs over death. Replace what is lost with the act of love itself. In this there is great power.
Mercury enters Cancer (June 4 – June 26) and the shift in communications turns from attention to detail to a focus on feelings. This is a time when many will appear to intuit their way through conversations. Thoughts will tend to blend with mood as the emphasis on emotional expression takes the stage. As Mercury goes through Cancer, take special note of the tendency for people to talk more specifically about their feelings, their defenses and their need for nurturing.
Aries Taurus Gemini Cancer Leo Virgo Libra Scorpio Sagittarius Capricorn Aquarius Pisces
For more information about your Horoscope and what the stars have in store for you, order one of our detailed
Astrology Reports!
Want to know the theme of your relationship? This report compares your temperaments and personalities, whether you are married or living together.
Compatibility Report
Reveal as much information about you and your partner intention of opening doors of understanding and awareness.
Love Cards Report
Free Weekly Horoscope for your Sign
Aries: Life is like a cinema screen, and your mind is the projectionist who gets to determine what you see and experience on the screen. Therefore, with a New Moon in your mental zone on June 3, it might be beneficial to consider whether you're happy with the movie that's currently playing. If not, maybe it's time to experience a different projection by changing your thoughts and beliefs. Whether it would help to see a situation differently or you would benefit from deciding to be more positive in a particular area, this is the week to remember that your attitude counts for everything.
---
Discover a personal profile and 1-year forecast based on advanced calculations of your name and birth date.
Numerology Report
---
Taurus: Money matters take center stage as a New Moon on June 3 in your financial zone makes this the ideal week to turn over a new leaf in all things material. Perhaps what's needed is a new way of looking at things or trusting your ideas. Either way, clever thinking and swift action could be the key to financial progress right now. It might also be appropriate to consider how you can better use your talents. Either way, this is not the time to hide your light under a bushel basket or to keep quiet. Speak up and be proud of what you have to offer, and you might find that the universe responds accordingly.
---
Need a guide for your growth and personal evolution based on astrological influences upon your personality?
New Age Natal Report
---
Gemini: The New Moon on June 3 supports new beginnings, particularly in your personal life, so this is a good week to think about what you want and need to be happy and fulfilled. But before you rush into making changes, just make sure that any actions or decisions you make are rooted in reality and not flights of fancy. Neptune's harsh alignment to the Moon suggests there could be an unreliable influence in your life, so if you're finding it difficult to see the forest for the trees or something seems too good to be true, take some time before committing yourself. It could reveal itself to be an illusion. The best choices you can make this week are those that give you a sense of empowerment and help you to move forward.
---
This interpretation of your birth chart is written in simple language could be beneficial in self undestanding.
Merlin Report
---
Cancer: This is likely to be an eventful month, so prepare yourself by taking care of your soul. Much as athletes prepare for a big race by taking good care of themselves, you are now in a demanding phase of your life that requires you to be in good shape emotionally and psychologically. Therefore, as the Sun and Moon languish in your zone of the soul, take time out to go within, rest, and build up your inner self. Mars is in your sign, so there should be no problem with energy, motivation and determination. It would help to bring an end to what no longer serves you. Prepare this week to draw a line under an old matter so that you can be ready to move forward.
---
Indra reveals your life's contradictory urges & drives as well as your basic motivation, perceptions, inclinations and character.
Indra Report
---
Leo: While this week's New Moon shines a positive glow on your future and makes this an ideal time to plant positive seeds and take small steps that will connect you with others, be aware of a presence lurking in the shadows that could – if you're not careful – undermine your efforts to improve your situation. This presence might be a person or a sequence of events that could be moving you in the wrong direction without your realizing it. Or it could be that your unconscious motivations are on the verge of tripping you. Therefore, before you rush into anything, be mindful of whatever is going on to make the best use of the positive energies currently surrounding you. Ignore what doesn't have your best intentions at heart.
---
Want a detailed report for parents to help with the child's growth to strengthen the assets and avert possible problems that the child could face in their life?
Child Astrology Report
---
Virgo: The New Moon at the top of your chart on June 3 is a good omen for your career and general direction in life. Now you can start to move forward through doors that magically open. Just be careful not to let relationship issues interfere with your progress. Someone, it seems, could prove to be confusing (at best) or deceitful and underhanded (at worst). Take what others say with a grain of salt, and keep your eyes fixed on the main event. With a little focus and the confidence to follow through on your ideas and opportunities, this could be a week of positive forward movement.
---
Want a birthday to birthday practical guide to help you recognize opportunities and to learn from them.
Astrological Solar Return Report
---
Libra: It's time for a little adventure as the New Moon on June 3 reveals new horizons and emerging possibilities. By embracing the call to adventure – however large or small that might be – you will be better able to deal with irritations and difficulties closer to home. What is currently calling you? Is it a place, a subject, or a belief system? What matters now is that you have the courage to follow your convictions and do what feels right and meaningful.
---
Want to know the actual dates when the energies will influence your life in money, career, relationships, and communicaton?
Astro Forecast Report (3 months)
---
Scorpio: Transformation and rebirth are your key themes for the week ahead as a New Moon on June 3 invites you to shed your old skin and emerge renewed and refreshed. You can help the process along by getting rid of anything you don't need, particularly things that weigh you down. This could be an attitude or a situation, clutter in your home, or toxin and unhealthy energies in your body. Shake off the detritus and watch your energy rise.
---
Want a one year forecast to understand the scope of influence for your personal Cards of Destiny?
Cards of Destiny Report
---
Sagittarius: Relationships are a precious commodity. If there's room for improvement in any of yours, then the New Moon on June 3 can help you start fresh and make improvements. From starting new relationships to helping established relationships find their feet again, this is a good week to focus on other people and to enjoy the mutual benefits that loving and friendly pairings produce. You're more likely to be in a forgiving mood, which will be helpful if someone has been causing problems. Be aware that you might need to be mindful of confusing or uncertain influences where your home and family members are concerned. This could be a potential fly in the ointment, and you might need to be vigilant about not taking things at face value; don't believe everything you hear. That said, a forgiving and magnanimous attitude will go a long way to transforming difficulties.
---
Contemplating a move? This report tells how you will react to the energies of the specific locations for relationships, finances, and security.
Relocation Information Report
---
Capricorn: The first week of June is ideal for making positive changes in your working life or in your health. Now is the time to turn over a new leaf in either or both of these areas so that you can function better in your daily life. Be alert to any ideas you have, as these could carry more weight than you think. You need to be mindful of confusing yourself or talking yourself out of something that could be a good move. Also, be wary of delusional thoughts. Get the opinion of an honest, practical-minded person who cares about you. Such a person could help you see where you might be kidding yourself. These little warnings aside, this should be a productive week for getting things done. So long as you pace yourself and don't do too much, your health should hold up.
---
Discover your character traits, relationship and career potentials – based on Edgar Casey Readings.
Cayce Past Life Report
---
Aquarius: "Where would you be if you left all your cares behind?" Marty Rubin poses an interesting question that perhaps leads you to the important question: How can you leave all your cares behind? The New Moon on June 3 should provide some clues and make it easier for you to step into a light-hearted frame of mind. There may be one or two opportunities for enjoyable interludes, such as going to a movie, seeing a play, or experiencing some other form of entertainment. It could be that the creative side of life is beckoning so don't ignore the little voice that urges you to pick up a paintbrush, pen, camera or musical instrument. Much anxiety can be alleviated through creative expression while laughter is the best medicine, so sing, dance and laugh your way to happiness.
---
Discover your past life connections that can carry over into your current life, accounting for interests, habits, even phobias.
Karmic Past Life Report
---
Pisces: Nourishment for the soul is the order of the day as a New Moon falls at the base of your chart. This is your opportunity to come home to yourself, so start providing yourself with whatever you need. That might be more time to relax; home-cooked, nourishing food; time with love ones; or space to write your thoughts in a journal. This is also a perfect week for generating fresh new energies at home, perhaps by tidying things up or clearing things out. It is also a good week for turning over a new leaf in any sphere of your domestic life, from improving family relationships to being clear about what home means to you.
---
Discover your soul's intention for this lifetime, the lessons to be learned, qualities to develop, problems to be resolved, services to be rendered.
Karmic Insight Report
---
For more information about your Horoscope and what the stars
have in store for you, order one of our detailed
Astrology Reports for Couples!
---
Want to know the theme of your relationship? This report compares your temperaments and personalities, whether you are married or living together.
Compatibility Report
Reveal as much information about you and your partner intention of opening doors of understanding and awareness.
Love Cards Report