#Horoscope #Aries #Taurus #Gemini #Cancer #Leo #Virgo #Libra #Scorpio #Sagittarius #Capricorn #Aquarius #Pisces #Horoscope – overview of this week
The Center for the New Age is pleased to present
your Free Weekly Horoscope for June 16 – June 22, 2019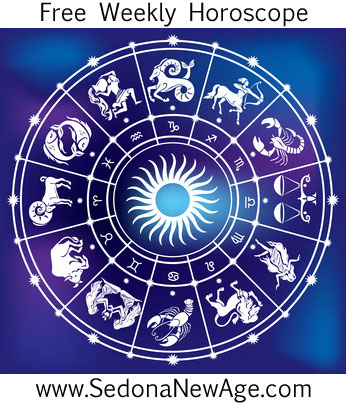 Receive our Free Weekly Horoscope in your Inbox
---
Aries Taurus Gemini Cancer Leo Virgo Libra Scorpio Sagittarius Capricorn Aquarius Pisces
Full Moon in Sagittarius on June 17 brings fulfilling insights about life, and emotional energy runs very high. For many, there is a tendency to go way out beyond the usual bounds and discover new territory as a matter of circumstance. Howe we chose to perceive and develop our understanding of this new territory has a lot to do with what stage in our life we have come to, and what kind of philosophy best suits our own individual needs.
Mercury in Cancer opposite Saturn in Capricorn (June 16 – June 21) brings a very strong awareness of the need to speak out on serious and important subjects. Be careful where you choose to draw the lines and what you agree to when negotiating.
Jupiter in Sagittarius square Neptune in Pisces (June 16 – August 3 and again in early September) join forces to expand your consciousness. Dream big and don't worry if you're dreaming the impossible dream. Give yourself permission to do just that and let your spirit soar.
Saturn in Capricorn sextile Neptune in Pisces (June 18 – June 22) brings material gain from spiritual pursuits. You can make you dreams come true with hard work and a sensible, realistic approach. You will understand your own limitations but will be optimistic at the same time gaining a deeper understanding of your spiritual goals and how they fit into the bigger picture.
Mercury and Mars conjunct in Cancer (June 18 – June 24) brings the forces of communication (Mercury) together with the forces of action (Mars). There may be an overwhelming tone of command or restriction in some of the more serious subjects being communicated. While Mercury opposed Saturn, be careful where you choose to draw the lines and what you agree to when negotiating. This is not a very good time to bluff. This aspect brings words and deeds together, and in this case, the greatest action occurs with communication and is empowered in the expression of the message.
Mercury in Cancer is opposite Pluto in Capricorn (June 19 –June 23). Emotional perspectives of the intense and grotesque aspects of the news may be emphasized, causing horror, fascination, realization and for some people, a kind of triumph as well. This aspect will only be evident for a short time, but the long term affects for some folks may be unforgettable. Mind boggling awareness abounds as the need to comprehend awakening powerful issues comes through in our thoughts and discussions.
Mars in Cancer opposite Pluto in Capricorn (June 19 – July 3) stirs up emotional activities in the home over career-related transformations. This aspect activates big changes. Oppositions have a strong impact. Combine that fact with two strong planetary influences, Mars and Pluto – and the outcome often involves swift, marital transformation. This is a time to be vigilant and guarded and expect permanent changes.
Aries Taurus Gemini Cancer Leo Virgo Libra Scorpio Sagittarius Capricorn Aquarius Pisces
For more information about your Horoscope and what the stars have in store for you, order one of our detailed
Astrology Reports!
Want to know the theme of your relationship? This report compares your temperaments and personalities, whether you are married or living together.
Compatibility Report
Reveal as much information about you and your partner intention of opening doors of understanding and awareness.
Love Cards Report
Free Weekly Horoscope for your Sign
Aries: While it is part of the Aries spirit to fight for what you want or what you think is right, there are times then discretion is the better part of valor. It's not about giving up; it's about knowing which battles to fight and either this one really isn't that important or your chances of victory are so slim that it's not worth the effort. Therefore, while power struggles might be occurring, it would be wise to disengage and direct your energies elsewhere. If there is conflict in your home or family life or issues or blockages in your career or life direction, the answer might lie in projecting a kind and loving approach. It might not seem it, but kindness, whether through word or deed and directed to others or yourself, can unlock a happy outcome.
---
Discover a personal profile and 1-year forecast based on advanced calculations of your name and birth date.
Numerology Report
---
Taurus: The financial theme continues and reaches a head as the Full Moon illuminates the wealth and power area of your chart. It is likely you will be fortunate around this Full Moon, perhaps receiving some kind of help, so watch for someone who appears to offer a helping hand and accept all assistance. Your part of the bargain lies in making the effort to do more of what you love or use more of your God-given talents. It could be that someone in a position of power or influence recognizes your talent and offers to help in some way, so make sure you're ready to show what you're capable of and you're able to articulate what you have to offer.
---
Need a guide for your growth and personal evolution based on astrological influences upon your personality?
New Age Natal Report
---
Gemini: While the emphasis is generally on you and your life, the days around the Full Moon will put the spotlight on other people and your relationships in general. This should mostly be a positive time, when you can learn or benefit from other people and they enjoy being in your company. Around June 17, someone might have a beneficial effect on your life, perhaps by helping you or offering some words of wisdom. It would be advantageous to be receptive to offers of help in whatever guise they may come and to focus on partnership and teamwork rather than going it alone.
---
This interpretation of your birth chart is written in simple language could be beneficial in self undestanding.
Merlin Report
---
Cancer: It can be difficult to see the bigger picture. You have no idea what the purpose of a difficult time is until you're on the other side and have the benefit of hindsight. Sometime you don't get to understand the reason until you've left the earth plane and are able to see the journey your soul has taken through many lifetimes. All your trials and tribulations suddenly make perfect sense. If you can't see the bigger picture, try imagining what it might look like. If it helps to see whatever is going on as a karmic test for your soul, then view it from that perspective. There is something you can't escape, something unavoidable. You have a meeting with fate, destiny or an old karmic lesson, but you have control over how you perceive the situation. That is the key to unlocking your prison door.
---
Indra reveals your life's contradictory urges & drives as well as your basic motivation, perceptions, inclinations and character.
Indra Report
---
Leo: You spend your life playing it safe. You work hard, perhaps in a job that doesn't really fulfill you, to make money, which enables you to feel secure. Or you work in an unfulfilling job for other reasons: your parents would be upset if you followed your dreams, or your family might say, "What about me?" You might do work that makes you feel useful because you believe you need to earn the right to be here. In reality, no one has to earn the right to be here. Of course, helping people and being of service is important, but if what you're doing doesn't make you sing with joy or it wears you out (and it takes a lot to wear out a Leo!), it might be time to reconsider your options. The path of joy is calling, and that's where you need to be heading.
---
Want a detailed report for parents to help with the child's growth to strengthen the assets and avert possible problems that the child could face in their life?
Child Astrology Report
---
Virgo: Have you agreed to too much and taken on too many jobs and responsibilities, or have you over scheduled yourself with social engagements? You could be busy to the point of feeling overwhelmed. If you feel squashed, oppressed, trapped or burdened, the antidote might be to relinquish a few of your commitments and to get out in nature to be soothed and grounded. Or curl up at home with a good book and a nourishing meal. If the universe seems to be blocking you, take that as a sign that you probably need to consider another way to create some inner peace.
---
Want a birthday to birthday practical guide to help you recognize opportunities and to learn from them.
Astrological Solar Return Report
---
Libra: From short journeys to long, the Full Moon, Venus and the Sun in your travel and adventure zone make this an opportune week to pack your bags and head somewhere different from your usual mundane surroundings. No matter what's going on at home or with your career and life direction, it won't hurt to take a break from your duties and responsibilities. In fact, you're likely to return refreshed and with a broader perspective on the little irritations in your daily life. What will benefit you now is culture, a taste of the exotic, or a visit to a spiritual place where you can soak up wisdom and higher knowledge. A creative retreat might also work well, so pick whatever calls to your soul, and leave your everyday world behind.
---
Want to know the actual dates when the energies will influence your life in money, career, relationships, and communicaton?
Astro Forecast Report (3 months)
---
Scorpio: The frustrating lack of progress begins to give way this week, and the Full Moon is good news for your material situation and finances. You're not quite out of the woods yet, though, as Pluto opposes your ruling planet, Mars. This could give rise to power struggles or toxic situations. While it is important to stand up to people and be assertive, engaging in a power struggle is unlikely to produce positive results. Be careful that what starts out as a minor incident does not escalate into a full-blown war. Once again, your attitude or unconscious beliefs could be at work here, so it might be better to step back from the conflict to see what part you might be playing in it. This is never easy, but it will produce far better results than trying to fight fire with fire.
---
Want a one year forecast to understand the scope of influence for your personal Cards of Destiny?
Cards of Destiny Report
---
Sagittarius: The Full Moon in your sign on June 17 is your cue to take stock of your life or of a particular situation. If you've felt unable to move forward or confusion and uncertainty have made it difficult to know the best thing to do, the Full Moon will bring everything to a head and enable you to see things more clearly. What was previously messy, frustrating, or vague will be illuminated which in turn will enable you to take much needed action. No matter what is going on in your material life, it is important that you make decisions that feel meaningful rather than practical. Many actions are motivated by fear and insecurity, but this is one time when you are being called to respond with your heart and to follow the path that calls to your soul.
---
Contemplating a move? This report tells how you will react to the energies of the specific locations for relationships, finances, and security.
Relocation Information Report
---
Capricorn: Whatever has been suppressed or withheld is likely to come to the surface under this week's illuminating Full Moon. Prepare to have a secret or a private thought, issue, or situation made a little more public, particularly if you haven't been vigilant about keeping private things private. In the main, though, this airing of inner things will be positive, since things only have power over us when they are hidden. You might need to give extra care and attention to your health, which is another reason why it is better to air suppressed emotions and feelings. Tune into what your body needs, and you can defer any illness that might otherwise catch you unaware. This is a good time to schedule a massage or some other form of therapy that enables your body to better do its job.
---
Discover your character traits, relationship and career potentials – based on Edgar Casey Readings.
Cayce Past Life Report
---
Aquarius: The Full Moon on June 17 illuminates the path ahead. The best way to cut through any darkness and drama is to keep your focus fixed firmly on where you want to be. Friends can be helpful and supportive and groups, clubs, and organizations can also be a benefit, so perhaps the important thing this week is to prioritize your social life. Make time for friends and like-minded people, and get out in the world where you can give and receive joyfulness and wisdom. Perhaps your future is brighter than you think. All that's required is a little faith that all will be well.
---
Discover your past life connections that can carry over into your current life, accounting for interests, habits, even phobias.
Karmic Past Life Report
---
Pisces: Any confusion regarding your path in life begins to clear as a Full Moon on June 17 illuminates the way and brings career issues to completion. Now is when you'll receive clarity about what will work best, and you can start moving forward. It is also a good time to engage in self-promotion and to put yourself out into the world. From sprucing up your website to advertising your skills, this is a good week to get yourself noticed and to share with the world what you have to offer. Doors may be opening and opportunities may be forthcoming. If something seems too good to be true, it's probably because you're not used to Lady Luck smiling on you. Now would be a good opportunity to receive and give appropriate thanks.
---
Discover your soul's intention for this lifetime, the lessons to be learned, qualities to develop, problems to be resolved, services to be rendered.
Karmic Insight Report
---
For more information about your Horoscope and what the stars
have in store for you, order one of our detailed
Astrology Reports for Couples!
---
Want to know the theme of your relationship? This report compares your temperaments and personalities, whether you are married or living together.
Compatibility Report
Reveal as much information about you and your partner intention of opening doors of understanding and awareness.
Love Cards Report